 Movie Park Germany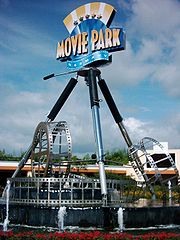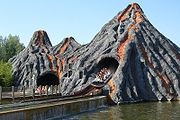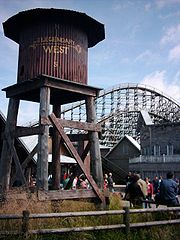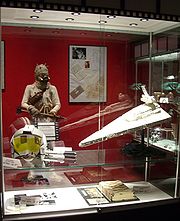 The
Movie Park Germany
is a theme park with real movie studios in
Bottrop
Bottrop
Bottrop is a city in west central Germany, on the Rhine-Herne Canal, in North Rhine-Westphalia. Located in the Ruhr industrial area, Bottrop adjoins Essen, Oberhausen, Gladbeck and Dorsten. The city had been a coal-mining and rail center and contains factories producing coal-tar derivatives,...
-Kirchhellen. It consists of 6 areas based on the topic "fascination film".
The park was opened in June 1996 as "Warner Bros. Movie World Germany" on the former territory of the
amusement park
Amusement park
thumb|Cinderella Castle in [[Magic Kingdom]], [[Disney World]]Amusement and theme parks are terms for a group of entertainment attractions and rides and other events in a location for the enjoyment of large numbers of people...
"Traumlandpark", which had already replaced an earlier attraction called "Märchenwald". During the time from 1992 to 1993, a short lived theme park called "Bavaria Filmpark" existed in this location as well. The laying of the cornerstone was in May 1994.
At the end of 1999, Warner Bros. Movie World started a cooperation with
Six Flags
Six Flags
Six Flags Entertainment Corp. is the world's largest amusement park corporation based on quantity of properties and the fifth most popular in terms of attendance. The company maintains 14 properties located throughout North America, including theme parks, thrill parks, water parks and family...
Inc. As part of this cooperation, Warner Bros. gave the license rights to Six Flags, who in turn managed the park under the name Warner Bros. Movie World as a licencee.
In 2004, the park was under the leadership of StarParks, a sub-group of Palamon Capital, leading to the name of the park being changed into "Movie Park Germany" in 2005, with the Warner brothers theming excluded out of the park, and replaced by newer themes from 20th Century Fox, MGM, and Nick. In 2010 Parque Reunidos bought the park from Palamon Capital, and it still operates under the name Movie Park Germany, and has the same old theme lands, rides and etc.
Streets of New York
Time Riders – Time-travel with John Cleese

John Cleese

John Marwood Cleese is an English actor, comedian, writer, and film producer. He achieved success at the Edinburgh Festival Fringe and as a scriptwriter and performer on The Frost Report...


- Venturer simulators
NYC Transformer - a Huss Top Spin

Top Spin (ride)

The Top Spin is a thrill ride developed by HUSS Maschinenfabrik, and is the generic name for a series of rides from other manufacturers that follow the same principle. The ride consists of a passenger platform suspended between two counterweighted arms...



NEW 2011 Van Helsing Factory - Rollerghoster darkride - a Gerstlauer Sleigh-Rollercoaster - This ride is set in the Ex-Gremlins building
Nickland
Adventure Express - a SBF Kiddie Train
Avatar Air Glider - a Zamperla

Zamperla

Zamperla is a designing and manufacturing company in Vicenza, Italy. It is best known for creating thrill rides and roller coasters worldwide. The company also makes smaller coin operated rides commonly found inside shopping malls....


Giant Skychaser
Backyardigans: Mission to Mars

Backyardigans: Mission to Mars

Backyardigans: Mission to Mars is a steel family roller coaster located at Movie Park Germany. The ride is part of the Nickland section of the park and is themed to Nickelodeon's Backyardigans television show....


- Vekoma

Vekoma

Vekoma Rides Manufacturing B.V. is a roller coaster and thrill ride designer with its facilities based in the Netherlands. The company was founded in 1926 by Hendrik op het Veld under the name "Veld Koning Machinefabriek" and had first manufactured agricultural machinery and mining equipment...


Family Roller Coaster
Barnyard Bumpers - a set of SBF Bumper Cars
Blue's Skidoo - a SBF Jet ride
Danny Phantom Ghost Zone - a set of Mack

MACK Rides

Mack Rides is a German company that designs and constructs roller coasters. The family that owns the company also owns Europa Park.-History:The creation of the Mack company goes back to 1780, by Paul Mack, when he started building carriages. The Mack company started to design roller coasters in 1920....


teacups

Teacups

Teacups is an amusement ride characterized by cup-style spinning vehicles atop a turntable-like floor.-Operation:Typically, each set of four teacup vehicles has a circular floor or a motor capable of turning 360 degrees. The circular floor or motor sits within a larger, turntable-like floor...


as a dark ride

Dark ride

A dark ride or ghost train is an indoor amusement ride where riders in guided vehicles travel through specially lit scenes that typically contain animation, sound, music, and special effects....



Diego's Rescue Rider - a Zamperla Jump Around
Dora's Big River Adventure - a Zamperla Log Flume
Ghost Chasers

Ghost Chasers (Movie Park Germany)

Ghost Chasers is a steel wild mouse roller coaster in the Nickland section of Movie Park Germany. The original ride opened in 2000 as Tom and Jerry's Mouse in the House, before the name was changed in 2005 to Mad Manor. The ride has been known as Ghost Chasers since 2008....


- a Mack wild mouse
Jimmy Neutron's Atomic Flyer

Jimmy Neutron's Atomic Flyer

Jimmy Neutron's Atomic Flyer is a steel suspended family roller coaster at Movie Park Germany. This is the first Vekoma Suspended Family Coaster to feature their redesigned restraints....


- a Vekoma Suspended Family Coaster
Sea Swing - a SBF Swing Ride
Splat-O-Sphere - a Chance Rides Aviator
SpongeBob Splash Bash - a Preston & Barbieri Splash Battle
Swiper's Sweeper - a Zamperla Speedway
Teenage Robot Roundabout - a Zamperla Kiddie carpet
Wonder Pets Flyboat - a SBF Kiddie Freefall Tower
The Old West
Bandit

Bandit (Movie Park Germany)

Bandit is a wooden roller coaster located at Movie Park Germany. It opened in 1999 as Wild Wild West, in The Old West section of the park....


– Germany's first wooden roller coaster of modern times (Based on the Coney Island

Coney Island

Coney Island is a peninsula and beach on the Atlantic Ocean in southern Brooklyn, New York, United States. The site was formerly an outer barrier island, but became partially connected to the mainland by landfill....


roller coaster The Cyclone)
MP Xpress

MP Xpress

MP Xpress is a steel suspended looping roller coaster located at Movie Park Germany. The ride is located in The Old West section of the park and was previously named Eraser and FX ....


– a Vekoma Suspended Looping Coaster
Side Kick - a Huss Frisbee
The High Fall - an Intamin Tilting Gyro Drop
Santa Monica Pier
Crazy Surfer - a Zamperla Disk-O

Disk-O

The Disk'O is a type of flat ride manufactured by Zamperla of Italy. The ride is a larger version of a Rockin' Tug, also manufactured by Zamperla.-Versions:-Ride:...


Coaster
Hollywood Filmmuseum
Pier Patrol - a Zierer

Zierer

Zierer is a German company located close to Deggendorf. Zierer manufactures Tivoli and Force line of roller coasters, as well as panoramic wheels, wave swingers, flying carpets, Hextentanz and Kontiki rides...


Wild Water Rondell
Pier Side Carousel - a Zierer Wave Swinger
Rescue 112 - a Zamperla Fire Brigade
Santa Monica Wheel - a SBF Ferris Wheel
Stormy Cruise - a Zamperla Rockin' Tug
Mystery River and Ice Age
Ice Age Adventure - an Intamin boat ride
Mystery River - an Intamin rapid ride
Shows
Movie Park Germany features many live shows as well as a
4-D movie
4-D film
4-D film is a marketing term that describes an entertainment presentation system combining a 3-D film with physical effects in the theatre, which occur in synchronization with the film...
.
Character Show - a live show featuring the Nickelodeon

Nickelodeon (TV channel)

Nickelodeon, often simply called Nick and originally named Pinwheel, is an American children's channel owned by MTV Networks, a subsidiary of Viacom International. The channel is primarily aimed at children ages 7–17, with the exception of their weekday morning program block aimed at preschoolers...


characters
Crazy Action Stunt Show - a live action stunt show
Movie Magic: Voyagers to Mars – a special effects show
Movie Switch
Shrek 4-D Adventure

Shrek 4-D

Shrek 4-D is a 4-D film at various theme parks around the world. Universal Parks & Resorts owns the main rights to the film which is currently shown at their parks in Hollywood, Florida, Japan and Singapore...



Wild West Showdown - a live show
X-Men Revenge