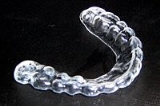 Mouthguard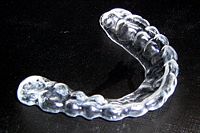 A mouthguard is a protective device for the
mouth
Mouth
The mouth is the first portion of the alimentary canal that receives food andsaliva. The oral mucosa is the mucous membrane epithelium lining the inside of the mouth....
that covers the teeth and gums to prevent and reduce injury to the teeth, arches,
lip
Lip
Lips are a visible body part at the mouth of humans and many animals. Lips are soft, movable, and serve as the opening for food intake and in the articulation of sound and speech...
s and
gum
Gingiva
The gingiva , or gums, consists of the mucosal tissue that lies over the mandible and maxilla inside the mouth.-General description:...
s. Mouthguards are most often used to prevent injury in contact sports, as a treatment for
bruxism
Bruxism
Bruxism is characterized by the grinding of the teeth and typically includes the clenching of the jaw. It is an oral parafunctional activity that occurs in most humans at some time in their lives. In most people, bruxism is mild enough not to be a health problem...
or
TMD
Temporomandibular joint disorder
Temporomandibular joint disorder , or TMJ syndrome, is an umbrella term covering acute or chronic inflammation of the temporomandibular joint, which connects the mandible to the skull. The disorder and resultant dysfunction can result in significant pain and impairment...
, or as part of certain dental procedures, such as
tooth bleaching
Tooth bleaching
Dental bleaching, also known as tooth whitening, is a common procedure in general dentistry but most especially in the field of cosmetic dentistry. A child's deciduous teeth are generally whiter than the adult teeth that follow. As a person ages the adult teeth often become darker due to changes in...
.
History
An early mouthguard was developed in 1890 by Woolf Krauze, a London dentist to protect boxers from lip cuts and lacerations. The modern mouthguard design started from the work in the 1970s done by Dr. Arthur W. S. Wood, a Canadian pediatric dentist who was aiming to reduce and prevent harm injuries to children's teeth in
ice hockey
Ice hockey
Ice hockey, often referred to as hockey, is a team sport played on ice, in which skaters use wooden or composite sticks to shoot a hard rubber puck into their opponent's net. The game is played between two teams of six players each. Five members of each team skate up and down the ice trying to take...
games.
Indications
Stock or ready made
Manufactured in a pre-formed shape in various sizes but with nearly no adjustment to fit the user's mouth. The only adjustment possible is minor trimming with a knife or scissors.
Mouth adapted or "boil and bite"
A thermo-plastic material manufactured in a pre-formed shape in various sizes that can be adapted to fit more closely to an individual's teeth and gums by heating and molding such as boiling then placing in the mouth. Some are now available that incorporate special fins within the fitting zones which increase retention and give an improved fit over tradition boil and bite mouth types. Guards are usually made of
Ethylene-vinyl acetate
Ethylene-vinyl acetate
Ethylene vinyl acetate is the copolymer of ethylene and vinyl acetate. The weight percent vinyl acetate usually varies from 10 to 40%, with the remainder being ethylene....
http://www.freepatentsonline.com/5339832.html
http://www.freepatentsonline.com/4044762.html
. This is the most popular mouthguard used by amateur and semi-professional sportsmen, providing adequate protection but relatively low comfort in comparison to the custom made guard.and they keep your gums safe from harm
Custom made
An impression of the user's teeth is used by specialist manufacturers to create a best-fit mouth protector. The impression may be obtained by specifically designed Home Impression kit from the guard manufacturer that uses dental putty, or from a dentist who will take an upper impression in dental alginate material. In Europe, the guard must be sold with a CE mark and the guard must have passed an EC Type-Examination test, performed by an accredited European Notified Body. Applying a CE mark without such certification is a criminal offence.
Flavored
In 2011, MoGo Sport LLC launched the first flavored mouthguard. Patented technology enables MoGo to embed the flavor right into the plastic resin – effectively the flavor and plastic polymers become one. As long as the plastic retains its integrity, the flavor lasts after repeated use.