 Monumental sculpture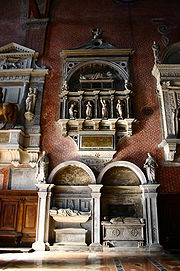 The term
monumental sculpture
is often used in
art history
Art history
Art history has historically been understood as the academic study of objects of art in their historical development and stylistic contexts, i.e. genre, design, format, and style...
and criticism, but not always consistently. It combines two concepts, one of function, and one of size, and may include an element of a third more subjective concept. It is often used for all sculptures that are large. Human figures that are perhaps half life-size or above would usually be considered monumental in this sense by art historians, although in
contemporary art
Contemporary art
Contemporary art can be defined variously as art produced at this present point in time or art produced since World War II. The definition of the word contemporary would support the first view, but museums of contemporary art commonly define their collections as consisting of art produced...
a rather larger overall scale is implied. Monumental sculpture is therefore distinguished from small portable
figurine
Figurine
A figurine is a statuette that represents a human, deity or animal. Figurines may be realistic or iconic, depending on the skill and intention of the creator. The earliest were made of stone or clay...
s, small metal or
ivory
Ivory
Ivory is a term for dentine, which constitutes the bulk of the teeth and tusks of animals, when used as a material for art or manufacturing. Ivory has been important since ancient times for making a range of items, from ivory carvings to false teeth, fans, dominoes, joint tubes, piano keys and...
relief
Relief
Relief is a sculptural technique. The term relief is from the Latin verb levo, to raise. To create a sculpture in relief is thus to give the impression that the sculpted material has been raised above the background plane...
s,
diptych
Diptych
A diptych di "two" + ptychē "fold") is any object with two flat plates attached at a hinge. Devices of this form were quite popular in the ancient world, wax tablets being coated with wax on inner faces, for recording notes and for measuring time and direction.In Late Antiquity, ivory diptychs with...
s and the like.
It is also used of sculpture used to create or form part of a
monument
Monument
A monument is a type of structure either explicitly created to commemorate a person or important event or which has become important to a social group as a part of their remembrance of historic times or cultural heritage, or simply as an example of historic architecture...
of some sort, and therefore capitals and reliefs attached to buildings will be included, even if small in size. Typical functions of monuments are as grave markers, tomb monuments or
memorial
Memorial
A memorial is an object which serves as a focus for memory of something, usually a person or an event. Popular forms of memorials include landmark objects or art objects such as sculptures, statues or fountains, and even entire parks....
s, and expressions of the power of a ruler or community, to which churches and so religious statues are added by convention, although in some contexts monumental sculpture may specifically mean just
funerary
Funerary art
Funerary art is any work of art forming, or placed in, a repository for the remains of the dead. Tomb is a general term for the repository, while grave goods are objects—other than the primary human remains—which have been placed inside...
sculpture for
church monument
Church monument
A church monument is an architectural or sculptural memorial to a dead person or persons, located within a Christian church. It can take various forms, from a simple wall tablet to a large and elaborate structure which may include an effigy of the deceased person and other figures of familial or...
s.
The third concept that may be involved when the term is used is not specific to sculpture, as the other two essentially are. The entry for "Monumental" in "A Dictionary of Art and Artists" by Peter and Linda Murray describes it as:
"The most overworked word in current art history and criticism. It is intended to convey the idea that a particular work of art, or part of such a work, is grand, noble, elevated in idea, simple in conception and execution, without any excess of virtuousity, and having something of the enduring, stable, and timeless nature of great architecture. ... It is not a synonym for 'large'.
However this does not constitute an accurate or adequate description of the use of the term for sculpture, though many uses of the term that essentially mean either large or "used in a memorial" may involve this concept also, in ways that are hard to separate. For example, when
Meyer Schapiro
Meyer Schapiro
Meyer Schapiro was a Lithuanian-born American art historian known for forging new art historical methodologies that incorporated an interdisciplinary approach to the study of works of art...
, after a chapter analysing the carved capitals at
Moissac
Moissac
Moissac is a commune in the Tarn-et-Garonne department in the Midi-Pyrénées region in southern France. It is famous world-wide mostly for the artistic heritage handed down by the ancient Saint-Pierre Abbey.-History:...
, says: "in the
tympanum
Tympanum (architecture)
In architecture, a tympanum is the semi-circular or triangular decorative wall surface over an entrance, bounded by a lintel and arch. It often contains sculpture or other imagery or ornaments. Most architectural styles include this element....
of the south portal [
(right)
] the sculpture of Moissac becomes truly monumental. It is placed above the level of the eye, and is so large as to dominate the entire entrance. It is a gigantic semi-circular relief ...", size is certainly the dominant part of what he means by the word, and Schapiro's further comments suggest that a lack of "excess of virtuousity" does not form part of what he intends to convey. Nonetheless, parts of the Murray's concept ("grand, noble, elevated in idea") are included in his meaning, although "simple in conception and execution" hardly seems to apply.
Meaning in different contexts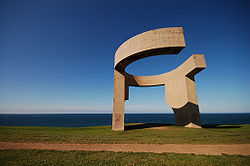 It is only in wealthy societies that the possibility of creating sculptures that are large but merely decorative really exists (at least in long-lived materials such as stone), so for most of art history the different senses of the term cause no difficulties. The term may be used differently for different periods, with breaks occurring around the Renaissance and the early 20th century: for ancient and medieval sculpture size is normally the criterion, though smaller architectural sculptures are usually covered by the term, but in the
Early Modern period
Early modern period
In history, the early modern period of modern history follows the late Middle Ages. Although the chronological limits of the period are open to debate, the timeframe spans the period after the late portion of the Middle Ages through the beginning of the Age of Revolutions...
a specific funerary function may be meant, before the typical meaning once again comes to refer to size alone for contemporary sculpture. The relevant chapters in Parts 2-4 of
The Oxford History of Western Art
are titled as follows: "Monumental Sculpture to c.1300", "Monumental Sculpture 1300-1600", "Free-standing Sculpture c.1600-c.1700", "Forms in Space c.1700-1770", "Sculptures and Publics" (1770-1914).
In art history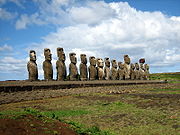 Appearance of monumental sculpture in a culture
In archeology and art history the appearance, and sometimes disappearance, of monumental sculpture (using the size criterion) in a culture, is regarded as of great significance, though tracing the emergence is often complicated by the presumed existence of sculpture in wood and other perishable materials of which no record remains; the
totem pole
Totem pole
Totem poles are monumental sculptures carved from large trees, mostly Western Red Cedar, by cultures of the indigenous peoples of the Pacific Northwest Coast of North America...
is an example of a tradition of monumental sculpture in wood that would leave no traces for archaeology. The ability to summon the resources to create monumental sculpture, by transporting usually very heavy materials and arranging for the payment of what are usually regarded as full-time sculptors, is considered a mark of a relatively advanced culture in terms of social organization.
In
Ancient Egypt
Ancient Egypt
Ancient Egypt was an ancient civilization of Northeastern Africa, concentrated along the lower reaches of the Nile River in what is now the modern country of Egypt. Egyptian civilization coalesced around 3150 BC with the political unification of Upper and Lower Egypt under the first pharaoh...
, the
Great Sphinx of Giza
Great Sphinx of Giza
The Great Sphinx of Giza , commonly referred to as the Sphinx, is a limestone statue of a reclining or couchant sphinx that stands on the Giza Plateau on the west bank of the Nile in Giza, Egypt....
probably dates to the
3rd millennium BC
3rd millennium BC
The 3rd millennium BC spans the Early to Middle Bronze Age.It represents a period of time in which imperialism, or the desire to conquer, grew to prominence, in the city states of the Middle East, but also throughout Eurasia, with Indo-European expansion to Anatolia, Europe and Central Asia. The...
, and may be older than the Pyramids of Egypt. Recent unexpected discoveries of Ancient Chinese
bronze age
Bronze Age
The Bronze Age is a period characterized by the use of copper and its alloy bronze as the chief hard materials in the manufacture of some implements and weapons. Chronologically, it stands between the Stone Age and Iron Age...
figures at
Sanxingdui
Sanxingdui
Sanxingdui is the name of an archaeological site and its deduced culture in China, now believed to be the site of an ancient Chinese city. The previously unknown Bronze Age culture was re-discovered in 1987 when archaeologists excavated remarkable artifacts, that radiocarbon dating dated as being...
, some more than twice human size, have disturbed many ideas held about early Chinese civilization, since only much smaller bronzes were previously known. Some undoubtedly advanced cultures, such as the
Indus Valley civilization
Indus Valley Civilization
The Indus Valley Civilization was a Bronze Age civilization that was located in the northwestern region of the Indian subcontinent, consisting of what is now mainly modern-day Pakistan and northwest India...
, appear to have had no monumental sculpture at all, though producing very sophisticated figurines and seals. The
Mississippian culture
Mississippian culture
The Mississippian culture was a mound-building Native American culture that flourished in what is now the Midwestern, Eastern, and Southeastern United States from approximately 800 CE to 1500 CE, varying regionally....
seems to have progressing towards its use, with small stone figures, when it collapsed. Other cultures, such as Ancient Egypt and the
Easter Island culture
History of Easter Island
Geologically one of the youngest inhabited territories on Earth, Easter Island was, for most of its history, the most isolated. Its inhabitants, the Rapanui, have endured famines, epidemics of disease and cannibalism, civil war, slave raids, various colonial contacts, and have seen their population...
, seem to have devoted enormous resources to very large-scale monumental sculpture from a very early stage.
Disappearance of monumental sculpture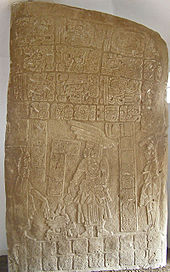 When a culture ceases to produce monumental sculpture, there may be a number of reasons. The most common is
societal collapse
Societal collapse
Societal collapse broadly includes both quite abrupt societal failures typified by collapses , as well as more extended gradual declines of superpowers...
, as in Europe during the so-called Dark Ages or the
Classic Maya collapse
Classic Maya collapse
The Classic Maya Collapse refers to the decline and abandonment of the Classic Period Maya cities of the southern Maya lowlands of Mesoamerica between the 8th and 9th centuries. This should not be confused with the collapse of the Preclassic Maya in the 2nd century AD...
in
Mesoamerica
Mesoamerica
Mesoamerica is a region and culture area in the Americas, extending approximately from central Mexico to Belize, Guatemala, El Salvador, Honduras, Nicaragua, and Costa Rica, within which a number of pre-Columbian societies flourished before the Spanish colonization of the Americas in the 15th and...
. Another may be
aniconism
Aniconism
Aniconism is the practice or belief in avoiding or shunning images of divine beings, prophets or other respected religious figures, or in different manifestations, any human beings or living creatures. The term aniconic may be used to describe the absence of graphic representations in a particular...
, usually religiously motivated, as followed the
Muslim conquests
Muslim conquests
Muslim conquests also referred to as the Islamic conquests or Arab conquests, began with the Islamic prophet Muhammad. He established a new unified polity in the Arabian Peninsula which under the subsequent Rashidun and Umayyad Caliphates saw a century of rapid expansion of Muslim power.They...
. Both the rise of Christianity (initially) and later the
Protestant Reformation
Protestant Reformation
The Protestant Reformation was a 16th-century split within Western Christianity initiated by Martin Luther, John Calvin and other early Protestants. The efforts of the self-described "reformers", who objected to the doctrines, rituals and ecclesiastical structure of the Roman Catholic Church, led...
brought a halt to religious monumental sculpture in the regions concerned, and greatly reduced production of any monumental sculpture for several centuries.
Byzantine art
Byzantine art
Byzantine art is the term commonly used to describe the artistic products of the Byzantine Empire from about the 5th century until the Fall of Constantinople in 1453....
, which had largely avoided the societal collapse in the
Western Roman Empire
Western Roman Empire
The Western Roman Empire was the western half of the Roman Empire after its division by Diocletian in 285; the other half of the Roman Empire was the Eastern Roman Empire, commonly referred to today as the Byzantine Empire....
, never resumed the use of monumental figurative sculpture, whether in religious or secular contexts, and was to ban even two-dimensional religious art for a period in the Byzantine iconoclasm.
Contemporary work
"Monumental sculpture" is still used within the stoneworking and funeral trades to cover all forms of grave headstones and other funerary art, regardless of size. In contemporary art, however, it is used to refer to all large sculptures regardless of purpose. Sculptures covered by the term in modern art are likely to be over two metres in at least one dimension, and sufficiently large not to need a high
plinth
Plinth
In architecture, a plinth is the base or platform upon which a column, pedestal, statue, monument or structure rests. Gottfried Semper's The Four Elements of Architecture posited that the plinth, the hearth, the roof, and the wall make up all of architectural theory. The plinth usually rests...
, though they may have one. Many are still commissioned as
public art
Public art
The term public art properly refers to works of art in any media that have been planned and executed with the specific intention of being sited or staged in the physical public domain, usually outside and accessible to all...
, often for placing at outdoor sites.