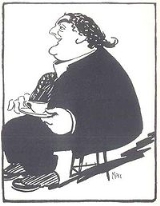 Montague Summers
Augustus Montague Summers
(10 April 1880 – 10 August 1948) was an eccentric
English
England
England is a country that is part of the United Kingdom. It shares land borders with Scotland to the north and Wales to the west; the Irish Sea is to the north west, the Celtic Sea to the south west, with the North Sea to the east and the English Channel to the south separating it from continental...
author and clergyman. He is known primarily for his scholarly work on the English
drama
Drama
Drama is the specific mode of fiction represented in performance. The term comes from a Greek word meaning "action" , which is derived from "to do","to act" . The enactment of drama in theatre, performed by actors on a stage before an audience, presupposes collaborative modes of production and a...
of the 17th century, as well as for his idiosyncratic studies on
witches
Witchcraft
Witchcraft, in historical, anthropological, religious, and mythological contexts, is the alleged use of supernatural or magical powers. A witch is a practitioner of witchcraft...
,
vampire
Vampire
Vampires are mythological or folkloric beings who subsist by feeding on the life essence of living creatures, regardless of whether they are undead or a living person...
s, and
werewolves
Werewolf
A werewolf, also known as a lycanthrope , is a mythological or folkloric human with the ability to shapeshift into a wolf or an anthropomorphic wolf-like creature, either purposely or after being placed under a curse...
, in all of which he professed to believe. He was responsible for the first English translation, published in 1928, of the notorious 15th-century witch hunter's manual, the
Malleus Maleficarum

Malleus Maleficarum

The Malleus Maleficarum is an infamous treatise on witches, written in 1486 by Heinrich Kramer, an Inquisitor of the Catholic Church, and was first published in Germany in 1487...


.
Early life
Montague Summers was the youngest of the seven children of Augustus William Summers, a rich banker and
justice of the peace
Justice of the Peace
A justice of the peace is a puisne judicial officer elected or appointed by means of a commission to keep the peace. Depending on the jurisdiction, they might dispense summary justice or merely deal with local administrative applications in common law jurisdictions...
in
Clifton
Clifton, Bristol
Clifton is a suburb of the City of Bristol in England, and the name of both one of the city's thirty-five council wards. The Clifton ward also includes the areas of Cliftonwood and Hotwells...
,
Bristol
Bristol
Bristol is a city, unitary authority area and ceremonial county in South West England, with an estimated population of 433,100 for the unitary authority in 2009, and a surrounding Larger Urban Zone with an estimated 1,070,000 residents in 2007...
. Summers was educated at
Clifton College
Clifton College
Clifton College is a co-educational independent school in Clifton, Bristol, England, founded in 1862. In its early years it was notable for emphasising science in the curriculum, and for being less concerned with social elitism, e.g. by admitting day-boys on equal terms and providing a dedicated...
before studying
theology
Theology
Theology is the systematic and rational study of religion and its influences and of the nature of religious truths, or the learned profession acquired by completing specialized training in religious studies, usually at a university or school of divinity or seminary.-Definition:Augustine of Hippo...
at
Trinity College, Oxford
Trinity College, Oxford
The College of the Holy and Undivided Trinity in the University of Oxford, of the foundation of Sir Thomas Pope , or Trinity College for short, is one of the constituent colleges of the University of Oxford in England. It stands on Broad Street, next door to Balliol College and Blackwells bookshop,...
with the intention of becoming a priest in the
Church of England
Church of England
The Church of England is the officially established Christian church in England and the Mother Church of the worldwide Anglican Communion. The church considers itself within the tradition of Western Christianity and dates its formal establishment principally to the mission to England by St...
. In 1905 he received a
fourth-class
British undergraduate degree classification
The British undergraduate degree classification system is a grading scheme for undergraduate degrees in the United Kingdom...
Bachelor of Arts degree. He then continued his religious training at the
Lichfield
Lichfield
Lichfield is a cathedral city, civil parish and district in Staffordshire, England. One of eight civil parishes with city status in England, Lichfield is situated roughly north of Birmingham...
Theological College.
Summers was ordained as
deacon
Deacon
Deacon is a ministry in the Christian Church that is generally associated with service of some kind, but which varies among theological and denominational traditions...
in 1908 and worked as a curate in Bath and
Bitton
Bitton
Bitton is a village and civil parish in South Gloucestershire, England, in the Greater Bristol area on the River Boyd.It is in the far south of the South Gloucestershire district, near the border with Bath and North East Somerset...
, in
Greater Bristol
Greater Bristol
Greater Bristol is a term used for the conurbation which contains and surrounds the city of Bristol in the South West of England. There is no official "Greater Bristol" authority, but the term is sometimes used by local, regional and national authorities, and others as a synonym for either the...
. He never proceeded to higher orders, however, probably because of rumours of his interest in
Satanism
Satanism
Satanism is a group of religions that is composed of a diverse number of ideological and philosophical beliefs and social phenomena. Their shared feature include symbolic association with, admiration for the character of, and even veneration of Satan or similar rebellious, promethean, and...
and accusations of sexual impropriety with young boys, for which he was tried and acquitted. Summers' first book,
Antinous

Antinous

Antinoüs or Antinoös was a beautiful Bithynian youth and the favourite of the Roman emperor Hadrian...


and Other Poems
, published in 1907, was dedicated to the subject of
pederasty
Pederasty
Pederasty or paederasty is an intimate relationship between an adult and an adolescent boy outside his immediate family. The word pederasty derives from Greek "love of boys", a compound derived from "child, boy" and "lover".Historically, pederasty has existed as a variety of customs and...
.
Summers also joined the growing ranks of English men of letters interested in
medievalism
Middle Ages
The Middle Ages is a periodization of European history from the 5th century to the 15th century. The Middle Ages follows the fall of the Western Roman Empire in 476 and precedes the Early Modern Era. It is the middle period of a three-period division of Western history: Classic, Medieval and Modern...
,
Catholicism
Roman Catholic Church
The Catholic Church, also known as the Roman Catholic Church, is the world's largest Christian church, with over a billion members. Led by the Pope, it defines its mission as spreading the gospel of Jesus Christ, administering the sacraments and exercising charity...
, and the
occult
Occult
The word occult comes from the Latin word occultus , referring to "knowledge of the hidden". In the medical sense it is used to refer to a structure or process that is hidden, e.g...
. In 1909 he converted to Catholicism and shortly thereafter he began passing himself off as a Catholic priest and styling himself the "
Reverend Alphonsus Joseph-Mary Augustus Montague Summers
", even though he was never a member of any Catholic
order
Religious order
A religious order is a lineage of communities and organizations of people who live in some way set apart from society in accordance with their specific religious devotion, usually characterized by the principles of its founder's religious practice. The order is composed of initiates and, in some...
or
diocese
Diocese
A diocese is the district or see under the supervision of a bishop. It is divided into parishes.An archdiocese is more significant than a diocese. An archdiocese is presided over by an archbishop whose see may have or had importance due to size or historical significance...
. Whether he was ever actually
ordained
Holy Orders
The term Holy Orders is used by many Christian churches to refer to ordination or to those individuals ordained for a special role or ministry....
as a priest is a matter of dispute.
Literary scholarship
Summers worked for several years as an English and Latin teacher at various schools, including Brockley County School in south-east
London
London
London is the capital city of :England and the :United Kingdom, the largest metropolitan area in the United Kingdom, and the largest urban zone in the European Union by most measures. Located on the River Thames, London has been a major settlement for two millennia, its history going back to its...
, before adopting writing as his full-time employment. He was interested in the theater of the seventeenth century, particularly that of the
English Restoration
English Restoration
The Restoration of the English monarchy began in 1660 when the English, Scottish and Irish monarchies were all restored under Charles II after the Interregnum that followed the Wars of the Three Kingdoms...
, and edited the plays of
Aphra Behn
Aphra Behn
Aphra Behn was a prolific dramatist of the English Restoration and was one of the first English professional female writers. Her writing contributed to the amatory fiction genre of British literature.-Early life:...
,
John Dryden
John Dryden
John Dryden was an influential English poet, literary critic, translator, and playwright who dominated the literary life of Restoration England to such a point that the period came to be known in literary circles as the Age of Dryden.Walter Scott called him "Glorious John." He was made Poet...
, William Congreve, among others. He was one of the founder members of The Phoenix, a society that performed those neglected works, and was elected a fellow of the
Royal Society of Literature
Royal Society of Literature
The Royal Society of Literature is the "senior literary organisation in Britain". It was founded in 1820 by George IV, in order to "reward literary merit and excite literary talent". The Society's first president was Thomas Burgess, who later became the Bishop of Salisbury...
in 1916.
Montague Summers also produced important studies of the
Gothic fiction
Gothic fiction
Gothic fiction, sometimes referred to as Gothic horror, is a genre or mode of literature that combines elements of both horror and romance. Gothicism's origin is attributed to English author Horace Walpole, with his 1764 novel The Castle of Otranto, subtitled "A Gothic Story"...
genre and edited two collections of Gothic horror short stories, as well as an incomplete edition of two of the seven obscure Gothic novels, known as the
Northanger Horrid Novels
Northanger Horrid Novels
The Northanger Horrid Novels are seven early works of Gothic fiction recommended by Isabella Thorpe to Catherine Morland in Jane Austen's novel Northanger Abbey :*Clermont, a Tale by Regina Maria Roche. London: Minerva Press....
, mentioned by
Jane Austen
Jane Austen
Jane Austen was an English novelist whose works of romantic fiction, set among the landed gentry, earned her a place as one of the most widely read writers in English literature, her realism and biting social commentary cementing her historical importance among scholars and critics.Austen lived...
in her Gothic parody
Northanger Abbey
Northanger Abbey
Northanger Abbey was the first of Jane Austen's novels to be completed for publication, though she had previously made a start on Sense and Sensibility and Pride and Prejudice. According to Cassandra Austen's Memorandum, Susan was written approximately during 1798–99...
. He was instrumental in rediscovering those lost works, which some had supposed were an invention of Jane Austen herself. He also published biographies of writers Jane Austen and
Ann Radcliffe
Ann Radcliffe
Anne Radcliffe was an English author, and considered the pioneer of the gothic novel . Her style is romantic in its vivid descriptions of landscapes, and long travel scenes, yet the Gothic element is obvious through her use of the supernatural...
.
The occult
Summers' career as an ostensibly Catholic clergyman was highly unusual. He wrote works of
hagiography
Hagiography
Hagiography is the study of saints.From the Greek and , it refers literally to writings on the subject of such holy people, and specifically to the biographies of saints and ecclesiastical leaders. The term hagiology, the study of hagiography, is also current in English, though less common...
on Saint Catherine of Siena and Saint
Anthony Maria Zaccaria
Anthony Maria Zaccaria
Saint Anthony Maria Zaccaria is an Italian saint.Anthony was born in the city of Cremona, Italy in 1502 to noble parents. When he was two his father died and he was brought up as an only child by his mother. At an early age, he took a private vow of chastity...
, but his primary religious interest was in the subject of the
occult
Occult
The word occult comes from the Latin word occultus , referring to "knowledge of the hidden". In the medical sense it is used to refer to a structure or process that is hidden, e.g...
. While
Aleister Crowley
Aleister Crowley
Aleister Crowley , born Edward Alexander Crowley, and also known as both Frater Perdurabo and The Great Beast, was an influential English occultist, astrologer, mystic and ceremonial magician, responsible for founding the religious philosophy of Thelema. He was also successful in various other...
, with whom he was acquainted, adopted the persona of a modern-day witch, Summers played the part of the learned Catholic witch-hunter. In the introduction to his book on
The History of Witchcraft and Demonology
(1926) he writes:
In 1928, he published the first English translation of
Heinrich Kramer
Heinrich Kramer
Heinrich Kramer also known under the Latinized name Henricus Institoris, was a German churchman and inquisitor....
's and
James Sprenger
James Sprenger
James Sprenger was a German priest. He was born in Rheinfelden, Further Austria.-With the Dominicans:...
's
Malleus Maleficarum
Malleus Maleficarum
The Malleus Maleficarum is an infamous treatise on witches, written in 1486 by Heinrich Kramer, an Inquisitor of the Catholic Church, and was first published in Germany in 1487...
("The Hammer of Witches"), a 15th century Latin text on the hunting of witches. In his introduction, Summers insists that the reality of witchcraft is an essential part of Catholic doctrine, and declares the
Malleus
to be an admirable and correct account of witchcraft and of the methods necessary to combat it. This should be contrasted with the vastly more skeptical and critical attitude of mainstream Catholic scholars, reflected for instance in the Rev.
Herbert Thurston
Herbert Thurston
Fr. Herbert Henry Charles Thurston, S.J. was an English priest of the Roman Catholic Church, a member of the Jesuit order, and a prolific scholar on liturgical, literary, historical, and spiritual matters....
's article on "Witchcraft" for the Catholic Encyclopaedia of 1912, which labels the publication of the
Malleus
a "disastrous episode."
Montague Summers then turned to vampires, producing
The Vampire: His Kith and Kin
(1928) and
The Vampire in Europe
(1929), and later to werewolves with
The Werewolf
(1933). Summers' work on the occult is notorious for his unusual and old-fashioned writing style, his display of erudition, and his purported belief in the reality of the subjects he treats.
Other pursuits
Summers cultivated his reputation for eccentricity.
The Times
The Times
The Times is a British daily national newspaper, first published in London in 1785 under the title The Daily Universal Register . The Times and its sister paper The Sunday Times are published by Times Newspapers Limited, a subsidiary since 1981 of News International...
of London wrote he was "in every way a 'character' and in some sort a throwback to the
Middle Ages
Middle Ages
The Middle Ages is a periodization of European history from the 5th century to the 15th century. The Middle Ages follows the fall of the Western Roman Empire in 476 and precedes the Early Modern Era. It is the middle period of a three-period division of Western history: Classic, Medieval and Modern...
." His biographer,
Brocard Sewell
Brocard Sewell
Michael Seymour Sewell , usually now known by his religious name Brocard Sewell, was a British Carmelite friar and literary figure....
(writing under the pseudonym "Joseph Jerome"), paints the following portrait of Summers:
Despite his conservative religiosity, Summers was an active member of both the
British Society for the Study of Sex Psychology
British Society for the Study of Sex Psychology
The British Society for the Study of Sex Psychology was founded in 1913, "to advance a particularly radical agenda in the field of sex reform, based on the writings of gurus such as [Edward] Carpenter and [Havelock] Ellis." In 1931 the Society was renamed the British Sexological Society.It seems...
, to which he contributed an essay on the
Marquis de Sade
Marquis de Sade
Donatien Alphonse François, Marquis de Sade was a French aristocrat, revolutionary politician, philosopher, and writer famous for his libertine sexuality and lifestyle...
, and of the
Order of Chaeronea
Order of Chaeronea
The Order of Chaeronea was a secret society for the cultivation of a homosexual moral, ethical, cultural and spiritual ethos. It was founded by George Cecil Ives in 1897, as a result of his realisation that homosexuals would not be accepted openly in society and must therefore have a means of...
, a secret society which cultivated a pederastic
homosexual
Homosexuality
Homosexuality is romantic or sexual attraction or behavior between members of the same sex or gender. As a sexual orientation, homosexuality refers to "an enduring pattern of or disposition to experience sexual, affectional, or romantic attractions" primarily or exclusively to people of the same...
ethos. Summers' interests also show in his edition of the poems of the sixteenth century poet
Richard Barnfield
Richard Barnfield
Richard Barnfield , English poet, was born at Norbury, Staffordshire, and brought up in Newport, Shropshire.He was baptized on 13 June 1574, the son of Richard Barnfield, gentleman. His obscure though close relationship with Shakespeare has long made him interesting to scholars...
, which partly are openly homosexual.
Death
Montague Summers died at his home in
Richmond, Surrey
London Borough of Richmond upon Thames
The London Borough of Richmond upon Thames is a London borough in South West London, UK, which forms part of Outer London. It is unique because it is the only London borough situated both north and south of the River Thames.-Settlement:...
in August 1948. An autobiography
The Galanty Show
was published posthumously in 1980, though much is left unrevealed about his life.
Books on the occult
The History of Witchcraft and Demonology, 1926
The Geography of Witchcraft, 1927 (reprinted ISBN 0-7100-7617-7)
The Vampire: His Kith and Kin, 1928 (reprinted by Senate in 1993 as simply The Vampire; reprinted with alternate title: Vampires and Vampirism ISBN 0-486-43996-8)
The Vampire in Europe, 1929 (reprinted ISBN 0-517-14989-3) (reprinted with alternate title: The Vampire in Lore and Legend ISBN 0-486-41942-8)
The Werewolf, 1933 (reprinted with alternate title: The Werewolf in Lore and Legend ISBN 0-486-43090-1)
A Popular History of Witchcraft, 1937
Witchcraft and Black Magic, 1946 (reprinted ISBN 1-55888-840-3, ISBN 0-486-41125-7)
The Physical Phenomena of Mysticism, 1947
Poetry and drama
Antinous and Other Poems, 1907
William Henry (play), 1939
Edward II (play), 1940
Other books
St. Catherine of Siena, 1903
Lourdes

Lourdes

Lourdes is a commune in the Hautes-Pyrénées department in the Midi-Pyrénées region in south-western France.Lourdes is a small market town lying in the foothills of the Pyrenees, famous for the Marian apparitions of Our Lady of Lourdes occurred in 1858 to Bernadette Soubirous...


, 1904
A Great Mistress of Romance: Ann Radcliffe

Ann Radcliffe

Anne Radcliffe was an English author, and considered the pioneer of the gothic novel . Her style is romantic in its vivid descriptions of landscapes, and long travel scenes, yet the Gothic element is obvious through her use of the supernatural...


, 1917
Jane Austen

Jane Austen

Jane Austen was an English novelist whose works of romantic fiction, set among the landed gentry, earned her a place as one of the most widely read writers in English literature, her realism and biting social commentary cementing her historical importance among scholars and critics.Austen lived...


, 1919
St. Antonio-Maria Zaccaria, 1919
Architecture and the Gothic Novel, 1931
The Restoration Theatre, 1934
Essays in Petto 1933
The Playhouse of Pepys, 1935
The Gothic Quest: a History of the Gothic Novel 1938
A Gothic Bibliography 1940
As editor or translator
Works of Mrs. Aphra Behn

Aphra Behn

Aphra Behn was a prolific dramatist of the English Restoration and was one of the first English professional female writers. Her writing contributed to the amatory fiction genre of British literature.-Early life:...


, 1915
Complete Works of Congreve, 1923
Complete Works of Wycherley

William Wycherley

William Wycherley was an English dramatist of the Restoration period, best known for the plays The Country Wife and The Plain Dealer.-Biography:...


, 1924
The Castle of Otranto

The Castle of Otranto

The Castle of Otranto is a 1764 novel by Horace Walpole. It is generally regarded as the first gothic novel, initiating a literary genre which would become extremely popular in the later 18th century and early 19th century...


by Horace Walpole, 1924
The Complete Works of Thomas Shadwell

Thomas Shadwell

Thomas Shadwell was an English poet and playwright who was appointed poet laureate in 1689.-Life:Shadwell was born at Stanton Hall, Norfolk, and educated at Bury St Edmunds School, and at Gonville and Caius College, Cambridge, which he entered in 1656. He left the university without a degree, and...


, 1927
Covent Garden Drollery, 1927
Horrid Mysteries by the Marquis de Grosse 1927 (part of an incomplete edition of the Northanger Horrid Novels

Northanger Horrid Novels

The Northanger Horrid Novels are seven early works of Gothic fiction recommended by Isabella Thorpe to Catherine Morland in Jane Austen's novel Northanger Abbey :*Clermont, a Tale by Regina Maria Roche. London: Minerva Press....


).
The Necromancer; or, The Tale of the Black Forest

The Necromancer; or, The Tale of the Black Forest

The Necromancer; or, The Tale of the Black Forest is a gothic novel by Ludwig Flammenberg first published in 1794...


by 'Ludwig Flammenberg' 1927 (part of an incomplete edition of the 'Northanger Horrid Novels').
Demoniality by Lodovico Maria Sinistrati, 1927
The Malleus Maleficarum

Malleus Maleficarum

The Malleus Maleficarum is an infamous treatise on witches, written in 1486 by Heinrich Kramer, an Inquisitor of the Catholic Church, and was first published in Germany in 1487...


of Heinrich Kramer

Heinrich Kramer

Heinrich Kramer also known under the Latinized name Henricus Institoris, was a German churchman and inquisitor....


and Jacob Sprenger, 1928
The Discovery of Witches, 1928 by Matthew Hopkins

Matthew Hopkins

Matthew Hopkins was an English witchhunter whose career flourished during the time of the English Civil War. He claimed to hold the office of Witchfinder General, although that title was never bestowed by Parliament...


(reprinted ISBN 0-404-18416-2)
Compendium Maleficarum

Compendium Maleficarum

Compendium Maleficarum is a book written in Latin by Francesco Maria Guazzo.-Translations:The book was not translated into English until 1929, when this was accomplished under the direction of the witchcraft scholar Montague Summers....


by Francesco Maria Guazzo

Francesco Maria Guazzo

Francesco Maria Guazzo, aka Guaccio, aka Guaccius was an Italian priest in Milan. He wrote a book, the Compendium Maleficarum , in which he cited numerous experts on the subject, among them Nicholas Remy....


, translated by E.A. Ashwin, 1929
Demonolatry

Daemonolatreiae libri tres

Daemonolatreiae libri tres is a 1595 work by Nicholas Remy. It was edited by Montague Summers and translated as Demonolatry in 1929.Along with the Malleus Maleficarum, it is generally considered one of the most important early works on demons and witches...


by Nicolas Remy, translated by E.A. Ashwin, 1930
The Supernatural Omnibus, 1931 (reprinted ISBN 0-88356-037-2)
Victorian Ghost Stories, 1936
The Poems of Richard Barnfield

Richard Barnfield

Richard Barnfield , English poet, was born at Norbury, Staffordshire, and brought up in Newport, Shropshire.He was baptized on 13 June 1574, the son of Richard Barnfield, gentleman. His obscure though close relationship with Shakespeare has long made him interesting to scholars...


, 1936
The Complete Works of Thomas Otway

Thomas Otway

Thomas Otway was an English dramatist of the Restoration period, best known for Venice Preserv'd, or A Plot Discover'd .-Life:...


, 1936
See also
Jerome, Joseph. Montague Summers: A Memoir. London: Cecil and Amelia Woolf, 1965 (edition limited to 750 copies).
Frank, Frederick S. Montague Summers: A Bibliographical Portrait. London: The Scarecrow Press. 1988 ISBN 0-8108-2136-2
External links