 Molluscum contagiosum
Molluscum contagiosum
is a viral infection of the
skin
Skin
-Dermis:The dermis is the layer of skin beneath the epidermis that consists of connective tissue and cushions the body from stress and strain. The dermis is tightly connected to the epidermis by a basement membrane. It also harbors many Mechanoreceptors that provide the sense of touch and heat...
or occasionally of the mucous membranes. It is caused by a DNA
poxvirus
Poxviridae
Poxviruses are viruses that can, as a family, infect both vertebrate and invertebrate animals.Four genera of poxviruses may infect humans: orthopox, parapox, yatapox, molluscipox....
called the
molluscum contagiosum virus
Molluscum contagiosum virus
The Molluscum contagiosum virus or MCV is a species of virus in the poxvirus family, which causes the disease Molluscum contagiosum in humans. Virions have a complex structure and is consistent with the structure of the poxvirus family: an envelope, surface membrane, core, and lateral bodies...
(MCV). MCV has no animal
reservoir
Natural reservoir
Natural reservoir or nidus, refers to the long-term host of the pathogen of an infectious disease. It is often the case that hosts do not get the disease carried by the pathogen or it is carried as a subclinical infection and so asymptomatic and non-lethal...
, infecting only humans. There are four types of MCV, MCV-1 to -4; MCV-1 is the most prevalent and MCV-2 is seen usually in adults and often sexually transmitted. This common viral disease has a higher incidence in children, sexually active adults, and those who are immunodeficient, and the infection is most common in children aged one to ten years old. MC can affect any area of the skin but is most common on the trunk of the body, arms, and legs. It is spread through direct contact or shared items such as clothing or towels.
The virus commonly spreads through skin-to-skin contact. This includes sexual contact or touching or scratching the bumps and then touching the skin. Handling objects that have the virus on them (
fomite
Fomite
A fomite is any inanimate object or substance capable of carrying infectious organisms and hence transferring them from one individual to another. A fomite can be anything...
s), such as a towel, can also result in infection. The virus can spread from one part of the body to another or to other people. The virus can be spread among children at day care or at school. Molluscum contagiosum is contagious until the bumps are gone (which, if untreated, may last up to 6 months or longer).
The time from infection to the appearance of lesions can range up to 6 months, with an average incubation period between 2 and 7 weeks.
Diagnosis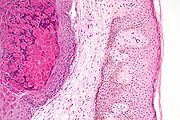 Diagnosis is made on the clinical appearance; the virus cannot routinely be cultured.
The diagnosis can be confirmed by excisional
biopsy
Biopsy
A biopsy is a medical test involving sampling of cells or tissues for examination. It is the medical removal of tissue from a living subject to determine the presence or extent of a disease. The tissue is generally examined under a microscope by a pathologist, and can also be analyzed chemically...
.
Histologically, molluscum contagiosum is characterized by
molluscum bodies
in the
epidermis
above the stratum basale, which consist of large cells with:
abundant granular eosinophilic cytoplasm (accumulated virons), and
a small peripheral nucleus.
Symptoms
Molluscum contagiosum
lesions are flesh-colored, dome-shaped, and pearly in appearance. They are often 1–5 millimeters in diameter, with a dimpled center. They are generally not painful, but they may itch or become irritated. Picking or scratching the bumps may lead to further infection or scarring. In about 10% of the cases,
eczema
Eczema
Eczema is a form of dermatitis, or inflammation of the epidermis . In England, an estimated 5.7 million or about one in every nine people have been diagnosed with the disease by a clinician at some point in their lives.The term eczema is broadly applied to a range of persistent skin conditions...
develops around the lesions. They may occasionally be complicated by secondary bacterial infections. In some cases the dimpled section may bleed once or twice. The viral infection is limited to a localized area on the topmost layer of the epidermis. Once the virus containing head of the lesion has been destroyed, the infection is gone. The central waxy core contains the virus. In a process called
autoinoculation
Autoinoculation
Autoinoculation is derived from the Latin root words "autos" and "inoculate" that mean "self implanting" or "self infection" or "implanting something from oneself". Autoinoculation can refer to both beneficial medical procedures as well as non-beneficial or harmful natural processes...
, the virus may spread to neighboring skin areas. Children are particularly susceptible to autoinoculation, and may have widespread clusters of lesions.
Treatments
Individual molluscum lesions may go away on their own and are reported as lasting generally from 6 to 8 weeks, to 2 or 3 months. However via autoinoculation, the disease may propagate and so an outbreak generally lasts longer with mean durations variously reported as 8 months, to about 18 months, and with a range of durations from 6 months to 5 years.
Treatment is often unnecessary
depending on the location and number of lesions, and no single approach has been convincingly shown to be effective. It should also be noted that treatments causing the skin on or near the lesions to rupture may spread the infection further, much the same as scratching does.
Nonetheless, treatment may be sought for the following reasons:
Medical issues including:

Bleeding
Secondary infections
Itching and discomfort
Potential scarring
Chronic keratoconjunctivitis

Keratoconjunctivitis

Keratoconjunctivitis is inflammation of the cornea and conjunctiva.When only the cornea is inflamed, it is called keratitis; when only the conjunctiva is inflamed, it is called conjunctivitis....




Social reasons

Cosmetic
Embarrassment
Fear of transmission to others
Social exclusion
Many health professionals recommend treating bumps located in the genital area to prevent them from spreading. The virus lives only in the skin and once the growths are gone, the virus is gone and cannot be spread to others. When treatment has resulted in elimination of all bumps, the infection has been effectively cured and will not reappear unless the patient is reinfected. In practice, it may not be easy to see all of the
molluscum contagiosum
bumps. Even though they
appear
to be gone, there may be some that were overlooked. If this is the case, one may develop new bumps by autoinoculation, despite their apparent absence.
Cryotherapy
Cryotherapy
Cryotherapy
Cryotherapy is the local or general use of low temperatures in medical therapy or the removal of heat from a body part. The term "cryotherapy" comes from the Greek cryo meaning cold and the word therapy meaning cure...
involves killing infected cells by "freezing" them with a pressurized liquid spray, usually liquid nitrogen or nitrous oxide. The procedure can be mildly uncomfortable to painful depending on quantity and location of infected cells. The procedure can be performed by any medical professional.
Astringents
Astringent
Astringent
An astringent substance is a chemical compound that tends to shrink or constrict body tissues, usually locally after topical medicinal application. The word "astringent" derives from Latin adstringere, meaning "to bind fast"...
chemicals applied to the surface of
molluscum
lesions to destroy successive layers of the skin include
trichloroacetic acid
Trichloroacetic acid
Trichloroacetic acid is an analogue of acetic acid in which the three hydrogen atoms of the methyl group have all been replaced by chlorine atoms....
,
podophyllin
Podophyllin
Podophyllin is a resinous powder obtained by precipitating an alcoholic tincture of the rhizome of American Mayapple or Podophyllum emodi by means of water acidified with hydrochloric acid. It varies in color from grayish to bright yellow or greenish-brown, the first-named being the purest...
resin,
potassium hydroxide
Potassium hydroxide
Potassium hydroxide is an inorganic compound with the formula KOH, commonly called caustic potash.Along with sodium hydroxide , this colorless solid is a prototypical strong base. It has many industrial and niche applications. Most applications exploit its reactivity toward acids and its corrosive...
, and
cantharidin
Cantharidin
Cantharidin, a type of terpenoid, is a poisonous chemical compound secreted by many species of blister beetle, and most notably by the Spanish fly, Lytta vesicatoria. The false blister beetles and cardinal beetles also have cantharidin.-History:...
.
Australian lemon myrtle
A 2004 study demonstrated over 90% reduction in the number of lesions in 9 out of 16 children treated once daily for 21 days with
essential oil
Essential oil
An essential oil is a concentrated hydrophobic liquid containing volatile aroma compounds from plants. Essential oils are also known as volatile oils, ethereal oils or aetherolea, or simply as the "oil of" the plant from which they were extracted, such as oil of clove...
of Australian lemon myrtle (
Backhousia citriodora
) dissolved in olive oil. However the oil may irritate normal skin at concentrations of 1%.
Benzoyl peroxide
In a small randomized controlled trial twice daily application of 10%
benzoyl peroxide
Benzoyl peroxide
Benzoyl peroxide is an organic compound in the peroxide family. It consists of two benzoyl groups bridged by a peroxide link. Its structural formula is [C6H5C]2O2. It is one of the most important organic peroxides in terms of applications and the scale of its production...
cream for 4 weeks was found to be more effective than tretinoin 0.05% cream; after 6 weeks 92% of the benzoyl peroxide group were lesion-free, compared with 45% of the tretinoin group (p = 0.02)
Cantharidin
Cantharidin
Cantharidin
Cantharidin, a type of terpenoid, is a poisonous chemical compound secreted by many species of blister beetle, and most notably by the Spanish fly, Lytta vesicatoria. The false blister beetles and cardinal beetles also have cantharidin.-History:...
is a chemical found naturally in many members of the beetle family Meloidae which causes dermal blistering. Cantharidin is not FDA approved but available through Canada or select US compounding pharmacy. Cantharidin does not cause pain upon application, and so it might be preferred by some when treating small children. It should probably not be used near the eyes or in uncooperative children, as the chemical is caustic if scratched and rubbed on the eyes. Cantharidin is usually applied with a wooden applicator like the sharp end of a wooden cotton bud. Some advocate leaving Cantharidin on unoccluded. Some advocate covering the molluscum bodies with tape for one to eight hours. Extreme caution should be used when administering Cantharidin. Despite the fact that it is used as an aphrodisiac in some countries, it is highly toxic to humans if ingested.
Tea tree oil
Another essential oil,
tea tree oil
Tea tree oil
Tea tree oil, or melaleuca oil, is a pale yellow colour to nearly clear essential oil with a fresh camphoraceous odor. It is taken from the leaves of the Melaleuca alternifolia, which is native to the northeast coast of New South Wales, Australia...
is reported to at least reduce growth and spread of lesions when used in dilute form.
Tea tree oil may cause
contact dermatitis
Contact dermatitis
Contact dermatitis is a term for a skin reaction resulting from exposure to allergens or irritants . Phototoxic dermatitis occurs when the allergen or irritant is activated by sunlight....
to those with sensitive skin, although less often in dilute form.
Over-the-counter substances
For mild cases, over-the-counter
wart
Wart
A wart is generally a small, rough growth, typically on a human's hands or feet but often other locations, that can resemble a cauliflower or a solid blister. They are caused by a viral infection, specifically by human papillomavirus 2 and 7. There are as many as 10 varieties of warts, the most...
medicines, such as
salicylic acid
Salicylic acid
Salicylic acid is a monohydroxybenzoic acid, a type of phenolic acid and a beta hydroxy acid. This colorless crystalline organic acid is widely used in organic synthesis and functions as a plant hormone. It is derived from the metabolism of salicin...
may or may not shorten infection duration. Daily topical application of
tretinoin
Tretinoin
Tretinoin is the acid form of vitamin A and is also known as all-trans retinoic acid or ATRA. It is a drug commonly used to treat acne vulgaris and keratosis pilaris. It is available as a cream or gel...
cream ("Retin-A 0.025%") may also trigger resolution. These treatments require several months for the infection to clear, and are often associated with intense inflammation and possibly discomfort.
Imiquimod
Doctors occasionally prescribe
Imiquimod
Imiquimod
Imiquimod is a prescription medication that acts as an immune response modifier. It is marketed by Meda AB, Graceway Pharmaceuticals and iNova Pharmaceuticals under the trade names Aldara and Zyclara, and by Mochida as Beselna. It is also referred to as R-837.- History :The original FDA approval...
, though the optimum schedule for its use has yet to be established. Imiquimod is a form of immunotherapy. Immunotherapy triggers the
immune system
Immune system
An immune system is a system of biological structures and processes within an organism that protects against disease by identifying and killing pathogens and tumor cells. It detects a wide variety of agents, from viruses to parasitic worms, and needs to distinguish them from the organism's own...
to fight the virus causing the skin growth. Imiquimod is applied 3 times per week, left on the skin for 6 to 10 hours, and washed off. A cure may take from 4 to 16 weeks. Small studies have indicated that it is successful about 80% of the time. Another dose regimen: apply imiquimod three times daily for 5 consecutive days each week. Imiquimod has not been approved by the FDA as a treatment for
molluscum contagiosum
. This treatment regimen is reserved for 1% Imiquimod cream. If a higher concentration is used in a similar method, chemical burns or plausible nerve damage are possible.
Systemic treatments
Cimetidine
Cimetidine
Cimetidine INN is a histamine H2-receptor antagonist that inhibits the production of acid in the stomach. It is largely used in the treatment of heartburn and peptic ulcers. It is marketed by GlaxoSmithKline under the trade name Tagamet...
(however, double blind placebo studies seem to refute this),
Griseofulvin
Griseofulvin
Griseofulvin is an antifungal drug that is administered orally. It is used both in animals and in humans, to treat fungal infections of the skin and nails...
(single case, anecdotal evidence) and
Methisazone
Methisazone
Methisazone is an antiviral drug that works by inhibiting mRNA and protein synthesis, especially in pox viruses. It has been used in the past to treat smallpox.Methisazone has been described as being used in prophylaxis since at least 1965....
have seen some use.
Surgical treatment
Surgical treatments include
cryosurgery
Cryosurgery
Cryosurgery is the application of extreme cold to destroy abnormal or diseased tissue. The term comes from the Greek words cryo and surgery meaning "hand work" or "handiwork"....
, in which
liquid nitrogen
Liquid nitrogen
Liquid nitrogen is nitrogen in a liquid state at a very low temperature. It is produced industrially by fractional distillation of liquid air. Liquid nitrogen is a colourless clear liquid with density of 0.807 g/mL at its boiling point and a dielectric constant of 1.4...
is used to freeze and destroy
lesion
Lesion
A lesion is any abnormality in the tissue of an organism , usually caused by disease or trauma. Lesion is derived from the Latin word laesio which means injury.- Types :...
s, as well as scraping them off with a
curette
Curette
A curette is a surgical instrument designed for scraping biological tissue or debris in a biopsy, excision, or cleaning procedure. In form, the curette is a small hand tool, often similar in shape to a stylus; at the tip of the curette is a small scoop, hook, or gouge...
. Application of liquid nitrogen may cause burning or stinging at the treated site, which may persist for a few minutes after the treatment. Scarring or loss of color can complicate both these treatments. With liquid nitrogen, a blister may form at the treatment site, but it will slough off in two to four weeks. Although its use is banned by the FDA in the
United States
United States
The United States of America is a federal constitutional republic comprising fifty states and a federal district...
in its pure, undiluted form, the topical blistering agent
cantharidin
Cantharidin
Cantharidin, a type of terpenoid, is a poisonous chemical compound secreted by many species of blister beetle, and most notably by the Spanish fly, Lytta vesicatoria. The false blister beetles and cardinal beetles also have cantharidin.-History:...
can be effective. Cryosurgery and curette scraping are not painless procedures. They may also leave scars and/or permanent white (depigmented) marks.
Laser
Pulsed
dye laser
Dye laser
A dye laser is a laser which uses an organic dye as the lasing medium, usually as a liquid solution. Compared to gases and most solid state lasing media, a dye can usually be used for a much wider range of wavelengths. The wide bandwidth makes them particularly suitable for tunable lasers and...
therapy for
molluscum contagiosum
may be the treatment of choice for multiple lesions in a cooperative patient (Dermatologic Surgery, 1998). The use of pulsed dye laser for the treatment of MC has been documented with excellent results. The therapy was well tolerated, without scars or pigment anomalies. The lesions resolved without scarring at 2 weeks. Studies show 96%–99% of the lesions resolved with one treatment.
The pulsed dye laser is quick and efficient, but its expense makes it less cost effective than other options. Also, not all dermatology offices have this 585 nm laser.
Prognosis
Most cases of
molluscum
will clear up naturally within two years (usually within nine months). So long as the skin growths are present, there is a possibility of transmitting the infection to another person. When the growths are gone, the possibility for spreading the infection is ended.
Unlike herpes viruses, which can remain inactive in the body for months or years before reappearing,
molluscum contagiosum
does not remain in the body when the growths are gone from the skin and will not reappear on their own. However, there is no permanent immunity to the virus, and it is possible to become infected again upon exposure to an infected person.
Advantage of treatment is to hasten the resolution of the virus. This limits the size of the "pox" scar. If left untreated, molluscum growth can reach sizes as large as a pea or a marble. Spontaneous resolution of large lesions can occur, but will leave larger crater like growth. As many treatment options are available, prognosis for minimal scarring is best if treatment is initiated while lesions are small.
See also
Acrochordon

Acrochordon

An acrochordon An acrochordon An acrochordon (plural acrochorda, and also known as a (cutaneous) skin tag, or fibroepithelial polyp, is a small benign tumour that forms primarily in areas where the skin forms creases, such as the neck, armpit, and groin. They may also occur on the face, usually on...


s (also called skin tags — similar in appearance and grow in similar areas)
Umbilicated lesions
External links