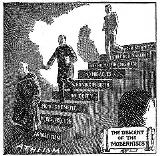 Modernism (Roman Catholicism)
Modernism
refers to theological opinions expressed during the late 19th and early 20th centuries, but with influence reaching into the 21st century, which are characterized by a break with the past. Catholic modernists form an amorphous group. The term "modernist" appears in
Pope Pius X
Pope Pius X
Pope Saint Pius X , born Giuseppe Melchiorre Sarto, was the 257th Pope of the Catholic Church, serving from 1903 to 1914. He was the first pope since Pope Pius V to be canonized. Pius X rejected modernist interpretations of Catholic doctrine, promoting traditional devotional practices and orthodox...
's 1907 encyclical
Pascendi Dominici gregis
. Modernists, and what are now termed "Neo-Modernists", generally do not openly use this label in describing themselves.
Modernists came to prominence in French and British intellectual circles and, to a lesser extent, in Italy. The Modernist movement was influenced by Protestant theologians and clergy, starting with the Tübingen school in the mid-19th century. Some modernists, however, such as
George Tyrrell
George Tyrrell
George Tyrrell was a Jesuit priest and a Modernist theologian and scholar. His attempts to evolve and adapt Catholic teaching in the context of modern ideas made him a key figure in the Modernist controversy within the Roman Catholic Church in the late 19th century.Tyrrell was born in Dublin,...
, would disagree with this; Tyrrell saw himself as loyal to the unity of the Church, and disliked liberal Protestantism.
Forms of Modernism in the Church
Modernism in the Catholic Church was the subject of the definitive encyclical
Pascendi Dominici gregis
Pascendi Dominici Gregis
Pascendi dominici gregis was a Papal encyclical letter promulgated by Pope Pius X on 8 September 1907.The pope condemned Modernism, and a whole range of other principles described as "evolutionary", which allowed change to Roman Catholic dogma...
of Pope St. Pius X. Modernism may be described under the following broad headings:
A rationalistic

Rationalism

In epistemology and in its modern sense, rationalism is "any view appealing to reason as a source of knowledge or justification" . In more technical terms, it is a method or a theory "in which the criterion of the truth is not sensory but intellectual and deductive"...


approach to the Bible

Bible

The Bible refers to any one of the collections of the primary religious texts of Judaism and Christianity. There is no common version of the Bible, as the individual books , their contents and their order vary among denominations...


. The rationalism

Rationalism

In epistemology and in its modern sense, rationalism is "any view appealing to reason as a source of knowledge or justification" . In more technical terms, it is a method or a theory "in which the criterion of the truth is not sensory but intellectual and deductive"...


that was characteristic of the Enlightenment took a protomaterialistic view of miracle

Miracle

A miracle often denotes an event attributed to divine intervention. Alternatively, it may be an event attributed to a miracle worker, saint, or religious leader. A miracle is sometimes thought of as a perceptible interruption of the laws of nature. Others suggest that a god may work with the laws...


s and of the historicity of biblical narratives. This approach sought to interpret the Bible by focussing on the text itself as a prelude to considering what the Church Fathers

Church Fathers

The Church Fathers, Early Church Fathers, Christian Fathers, or Fathers of the Church were early and influential theologians, eminent Christian teachers and great bishops. Their scholarly works were used as a precedent for centuries to come...


had traditionally taught about it. This method was readily accepted by Protestants and Anglicans. It was the natural consequence of Martin Luther's sola scriptura

Sola scriptura

Sola scriptura is the doctrine that the Bible contains all knowledge necessary for salvation and holiness. Consequently, sola scriptura demands that only those doctrines are to be admitted or confessed that are found directly within or indirectly by using valid logical deduction or valid...


doctrine, which asserts that Scripture is the highest authority, and that it can be relied on alone in all things pertaining to salvation and the Christian life.
Secularism

Secularism

Secularism is the principle of separation between government institutions and the persons mandated to represent the State from religious institutions and religious dignitaries...


and other Enlightenment

Age of Enlightenment

The Age of Enlightenment was an elite cultural movement of intellectuals in 18th century Europe that sought to mobilize the power of reason in order to reform society and advance knowledge. It promoted intellectual interchange and opposed intolerance and abuses in church and state...


ideals. The ideal of secularism can be briefly stated as follows: the best course of action in politics and other civic fields is that which flows from a common understanding of the Good by various groups and religions. By implication, Church and State should be separated and the laws of the latter, for example that forbidding murder, should cover only the common ground of beliefs held by various religious groups. From the secularists' point of view it was possible to distinguish between political ideas and structures that were religious and those that were not, but Catholic theologians in the mainstream argued, following St. Thomas Aquinas, that such a distinction was not possible, inasmuch as all aspects of society were to be organised with the final goal of Heaven

Heaven

Heaven, the Heavens or Seven Heavens, is a common religious cosmological or metaphysical term for the physical or transcendent place from which heavenly beings originate, are enthroned or inhabit...


in mind. The humanist

Humanism

Humanism is an approach in study, philosophy, world view or practice that focuses on human values and concerns. In philosophy and social science, humanism is a perspective which affirms some notion of human nature, and is contrasted with anti-humanism....


model which had been in the forefront of intellectual thought since the Renaissance

Renaissance

The Renaissance was a cultural movement that spanned roughly the 14th to the 17th century, beginning in Italy in the Late Middle Ages and later spreading to the rest of Europe. The term is also used more loosely to refer to the historical era, but since the changes of the Renaissance were not...


and the scientific revolution

Scientific revolution

The Scientific Revolution is an era associated primarily with the 16th and 17th centuries during which new ideas and knowledge in physics, astronomy, biology, medicine and chemistry transformed medieval and ancient views of nature and laid the foundations for modern science...


was however directly opposed to this view.
Modern philosophical

Philosophy

Philosophy is the study of general and fundamental problems, such as those connected with existence, knowledge, values, reason, mind, and language. Philosophy is distinguished from other ways of addressing such problems by its critical, generally systematic approach and its reliance on rational...


systems. Philosophers such as Kant

KANT

KANT is a computer algebra system for mathematicians interested in algebraic number theory, performing sophisticated computations in algebraic number fields, in global function fields, and in local fields. KASH is the associated command line interface...


and Bergson inspired the mainstream of Modernist thought. One of the latter's main currents attempted to synthesise the vocabularies

Vocabulary

A person's vocabulary is the set of words within a language that are familiar to that person. A vocabulary usually develops with age, and serves as a useful and fundamental tool for communication and acquiring knowledge...


, epistemologies, metaphysics

Metaphysics

Metaphysics is a branch of philosophy concerned with explaining the fundamental nature of being and the world, although the term is not easily defined. Traditionally, metaphysics attempts to answer two basic questions in the broadest possible terms:...


and other features of certain modern systems of philosophy with Catholicism in much the same way as the Schoolmen had earlier attempted to synthesise Platonic

Plato

Plato , was a Classical Greek philosopher, mathematician, student of Socrates, writer of philosophical dialogues, and founder of the Academy in Athens, the first institution of higher learning in the Western world. Along with his mentor, Socrates, and his student, Aristotle, Plato helped to lay the...


and Aristotelian

Aristotle

Aristotle was a Greek philosopher and polymath, a student of Plato and teacher of Alexander the Great. His writings cover many subjects, including physics, metaphysics, poetry, theater, music, logic, rhetoric, linguistics, politics, government, ethics, biology, and zoology...


philosophy with the Church's teaching.
As more naturalistic and scientific studies of history appeared, a way of thinking called
historicism
Historicism
Historicism is a mode of thinking that assigns a central and basic significance to a specific context, such as historical period, geographical place and local culture. As such it is in contrast to individualist theories of knowledges such as empiricism and rationalism, which neglect the role of...
arose which suggested that ideas are conditioned by the age in which they are expressed; thus modernists generally believed that most dogmata or teachings of the Church were novelties which arose because of specific circumstances obtaining at given points in its history. At the same time rationalism and literary criticism reduced the possible role of the miraculous, so that the philosophical systems in vogue at the time taught among other things that the existence of
God
God
God is the English name given to a singular being in theistic and deistic religions who is either the sole deity in monotheism, or a single deity in polytheism....
could never be known (see
Agnosticism
Agnosticism
Agnosticism is the view that the truth value of certain claims—especially claims about the existence or non-existence of any deity, but also other religious and metaphysical claims—is unknown or unknowable....
).
Theology
Theology
Theology is the systematic and rational study of religion and its influences and of the nature of religious truths, or the learned profession acquired by completing specialized training in religious studies, usually at a university or school of divinity or seminary.-Definition:Augustine of Hippo...
, formerly "queen of the sciences", was dethroned, and it was argued that religion must primarily be caused by, and thus be centred on, the feelings of believers. This argument bolsters the impact of secularism by weakening any position supporting the favouring of one religion over another in a given state, on the principle that if no scientific and reasonable assumption of its truth can be made, society should not be so organised as to privilege any particular religion.
Evolution of dogma
The final overall teaching of Modernism is that dogmata (the teachings of the Church, which its members are required to believe) can evolve over time – not only in their expression but also in their substance – rather than remaining the same in substance for all time. This postulate was what made Modernism unique in the history of
heresies
Heresy
Heresy is a controversial or novel change to a system of beliefs, especially a religion, that conflicts with established dogma. It is distinct from apostasy, which is the formal denunciation of one's religion, principles or cause, and blasphemy, which is irreverence toward religion...
in the Church. Previously, a heretic (someone who believed and taught something different from what the rest of the church believed) would either claim that he was right and the rest of the Church was wrong because he had received a new revelation from God, or that he had understood the true teaching of God which had previously been understood but was later lost. Both of these scenarios almost inevitably led to an organisational separation from the Church (
schism
Schism (religion)
A schism , from Greek σχίσμα, skhísma , is a division between people, usually belonging to an organization or movement religious denomination. The word is most frequently applied to a break of communion between two sections of Christianity that were previously a single body, or to a division within...
) or the offender's being ejected from it (
excommunication
Excommunication
Excommunication is a religious censure used to deprive, suspend or limit membership in a religious community. The word means putting [someone] out of communion. In some religions, excommunication includes spiritual condemnation of the member or group...
). Using the new idea that doctrines evolve, it was possible for the modernist to believe that both the old teachings of the Church
and
his new, seemingly contradictory teachings were correct — each group had its time and place. This system allows almost any type of new belief which the modernist in question might wish to introduce, and for this reason Modernism was labelled by Pope Pius X as "the synthesis of all heresies".
The "evolution of dogma" theory (see
Development of doctrine
Development of doctrine
Development of doctrine is a term used by John Henry Newman and other theologians influenced by him to describe the way Catholic teaching has become more detailed and explicit over the centuries, while later statements of doctrine remain consistent with earlier statements.-Newman's book:The term...
), much in the manner of Luther's theory of salvation
sola fide
('by faith alone') allows for a constant updating of standards of morality. Since majority moral standards shifted heavily during the 20th century, Catholics not accepting the theory were placed in the position of having to abstain from receiving Communion if they wished to engage in some of the actions of some of their fellow-religionists. As for the others, the theory that dogma can change enabled them, as they saw it, to "update" Catholic
morality
Morality
Morality is the differentiation among intentions, decisions, and actions between those that are good and bad . A moral code is a system of morality and a moral is any one practice or teaching within a moral code...
while not being concerned with possible contradictions.
Official Church response
In 1893,
Pope Leo XIII
Pope Leo XIII
Pope Leo XIII , born Vincenzo Gioacchino Raffaele Luigi Pecci to an Italian comital family, was the 256th Pope of the Roman Catholic Church, reigning from 1878 to 1903...
's encyclical
Providentissimus Deus
Providentissimus Deus
Providentissimus Deus, "On the Study of Holy Scripture", was an encyclical issued by Pope Leo XIII on 18 November 1893.In it, he reviewed the history of Bible study from the time of the Church Fathers to the present, spoke against the errors of the Rationalists and "higher critics", and outlined...
affirmed in principle the legitimacy of Biblical criticism only insofar as it was pursued in a spirit of faith. In 1903 Leo established a Pontifical Biblical Commission to oversee those studies and ensure that they were conducted with respect for the Catholic doctrines on the inspiration and interpretation of scripture.
Pope Pius X, who succeeded Leo, was the first to identify Modernism as a movement. He frequently condemned both its aims and ideas, and was deeply concerned by the ability of Modernism to allow its adherents to go on believing themselves strict Catholics while having an understanding markedly different from the traditional one as to what that meant (a consequence of the notion of evolution of dogma). In July 1907 the Holy Office published the document
Lamentabili sane exitu
Lamentabili Sane Exitu
Lamentabili Sane Exitu is a 1907 syllabus, prepared by the Holy Office and confirmed by Pope Pius X, which condemned errors in the exegesis of Holy Scripture and in the history and interpretation of dogma...
, a sweeping condemnation which distinguished sixty-five propositions as Modernist heresies. In September of the same year Pius X promulgated an encyclical
Pascendi Dominici gregis
Pascendi Dominici Gregis
Pascendi dominici gregis was a Papal encyclical letter promulgated by Pope Pius X on 8 September 1907.The pope condemned Modernism, and a whole range of other principles described as "evolutionary", which allowed change to Roman Catholic dogma...
, followed in 1910 by the introduction of an
anti-Modernist oath
Oath Against Modernism
The Oath against Modernism was issued by the Roman Catholic Pope, Saint Pius X, on September 1, 1910, and mandated that "all clergy, pastors, confessors, preachers, religious superiors, and professors in philosophical-theological seminaries" should swear to it....
to be taken by all Catholic bishops, priests and academic teachers of religion.
To ensure enforcement of these decisions, Monsignor
Umberto Benigni
Umberto Benigni
Umberto Benigni was a Catholic priest and Church historian, who was born on 30 March 1862 in Perugia, Italy and died on 27 February 1934 in Rome....
organized, through his personal contacts with theologians, an unofficial group of censors who would report to him those thought to be teaching condemned doctrine. This group was called the
Sodalitium Pianum
Sodalitium Pianum
Sodalitium Pianum is Latin for "the fellowship of Pius" . It can refer to two different groups.-In Roman Catholicism:...
, i.e. Fellowship of Pius (X), which in France was known as
La Sapinière
. Its frequently overzealous and clandestine methods often hindered rather than helped the Church in its combat with Modernism.
Since
Pope Paul VI
Pope Paul VI
Paul VI , born Giovanni Battista Enrico Antonio Maria Montini , reigned as Pope of the Catholic Church from 21 June 1963 until his death on 6 August 1978. Succeeding Pope John XXIII, who had convened the Second Vatican Council, he decided to continue it...
, most Church authorities have largely dropped the term "modernism" (perhaps because it is inherently ambiguous and can possibly be confused with the modernist movement in art), preferring instead in the interest of precision to call errors such as
secularism
Secularism
Secularism is the principle of separation between government institutions and the persons mandated to represent the State from religious institutions and religious dignitaries...
,
liberalism
Liberalism
Liberalism is the belief in the importance of liberty and equal rights. Liberals espouse a wide array of views depending on their understanding of these principles, but generally, liberals support ideas such as constitutionalism, liberal democracy, free and fair elections, human rights,...
or
relativism
Relativism
Relativism is the concept that points of view have no absolute truth or validity, having only relative, subjective value according to differences in perception and consideration....
by their several names. The older term has however remained current in the usage of many traditional Catholics and conservative critics within the Church.
Early modernists
Other, less public modernists
Suspected of Modernism
Marie-Joseph Lagrange

Marie-Joseph Lagrange

Marie-Joseph Lagrange was a Catholic priest in the Dominican Order and founder of the École Biblique in Jerusalem...


(1855–1938), founder of the École Biblique

École Biblique

The École Biblique, strictly the École biblique et archéologique française de Jérusalem, is a respected French academic establishment in Jerusalem, founded by Dominicans, and specialising in archaeology and Biblical exegesis.-Foundation:...


in Jerusalem

The École Biblique

École Biblique

The École Biblique, strictly the École biblique et archéologique française de Jérusalem, is a respected French academic establishment in Jerusalem, founded by Dominicans, and specialising in archaeology and Biblical exegesis.-Foundation:...


itself

Pierre Batiffol

Pierre Batiffol

Pierre Batiffol was a prominent French catholic priest and Church historian, known particularly as a historian of dogma....


(1861–1929), historian of dogma
Maurice Blondel

Maurice Blondel

Maurice Blondel was a French philosopher.Blondel developed a "philosophy of action" that integrated classical Neoplatonic thought with modern Pragmatism in the context of a Christian philosophy of religion...


(1861–1949), philosopher and apologist (not strictly a "modernist", yet given his role in the debate and misunderstandings of his work, one of the chief suspects)
See also
External links