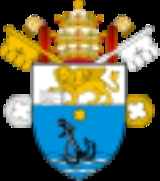 Pope Pius X
Pope Saint Pius X
(2 June 1835 – 20 August 1914), born
Giuseppe Melchiorre Sarto
, was the 257th
Pope
Pope
The Pope is the Bishop of Rome, a position that makes him the leader of the worldwide Catholic Church . In the Catholic Church, the Pope is regarded as the successor of Saint Peter, the Apostle...
of the Catholic Church, serving from 1903 to 1914. He was the first pope since
Pope Pius V
Pope Pius V
Pope Saint Pius V , born Antonio Ghislieri , was Pope from 1566 to 1572 and is a saint of the Catholic Church. He is chiefly notable for his role in the Council of Trent, the Counter-Reformation, and the standardization of the Roman liturgy within the Latin Church...
to be
canonized
Canonization
Canonization is the act by which a Christian church declares a deceased person to be a saint, upon which declaration the person is included in the canon, or list, of recognized saints. Originally, individuals were recognized as saints without any formal process...
. Pius X rejected
modernist
Modernism (Roman Catholicism)
Modernism refers to theological opinions expressed during the late 19th and early 20th centuries, but with influence reaching into the 21st century, which are characterized by a break with the past. Catholic modernists form an amorphous group. The term "modernist" appears in Pope Pius X's 1907...
interpretations of Catholic doctrine, promoting traditional devotional practices and orthodox theology. His most important reform was to publish the first Code of Canon Law, which collected the laws of the Church into one volume for the first time.