 Middle power
Middle power
is a term used in the field of
international relations
International relations
International relations is the study of relationships between countries, including the roles of states, inter-governmental organizations , international nongovernmental organizations , non-governmental organizations and multinational corporations...
to describe
states
Sovereign state
A sovereign state, or simply, state, is a state with a defined territory on which it exercises internal and external sovereignty, a permanent population, a government, and the capacity to enter into relations with other sovereign states. It is also normally understood to be a state which is neither...
that are not
superpower
Superpower
A superpower is a state with a dominant position in the international system which has the ability to influence events and its own interests and project power on a worldwide scale to protect those interests...
s or
great power
Great power
A great power is a nation or state that has the ability to exert its influence on a global scale. Great powers characteristically possess military and economic strength and diplomatic and cultural influence which may cause small powers to consider the opinions of great powers before taking actions...
s, but still have large or moderate influence and international recognition. There is no single specific definition of which countries are middle powers.
Definition
There is no standard agreed method to decide which states are middle powers. Some researchers use Gross National Product (GNP) statistics to draw lists of middle powers around the world. Economically, middle powers are generally those that are not considered too "big" or too "small", however that is defined. However, economics is not always considered the defining factor. Under the original sense of the term, a middle power was one that had some degree of influence globally, but not dominance over any one area. However, this usage is not universal, and some define middle power to include nations that can be regarded as
regional power
Regional power
In international relations, a regional power is a state that has power within a geographic region. States which wield unrivaled power and influence within a region of the world possess regional hegemony.-Characteristics:...
s.
According to academics at the
University of Leicester
University of Leicester
The University of Leicester is a research-led university based in Leicester, England. The main campus is a mile south of the city centre, adjacent to Victoria Park and Wyggeston and Queen Elizabeth I College....
and
University of Nottingham
University of Nottingham
The University of Nottingham is a public research university based in Nottingham, United Kingdom, with further campuses in Ningbo, China and Kuala Lumpur, Malaysia...
;

"middle power status is usually identified in one of two ways. The traditional and most common way is to aggregate critical physical and material criteria to rank states according to their relative capabilities. Because countries' capabilities differ, they are categorized as superpowers (or great powers), middle powers or small powers. More recently, it is possible to discern a second method for identifying middle power status by focusing on behavioural attributes. This posits that middle powers can be distinguished from superpowers and smaller powers because of their foreign policy

Foreign policy

A country's foreign policy, also called the foreign relations policy, consists of self-interest strategies chosen by the state to safeguard its national interests and to achieve its goals within international relations milieu. The approaches are strategically employed to interact with other countries...


behaviour – middle powers carve out a niche for themselves by pursuing a narrow range and particular types of foreign policy interest. In this way middle powers are countries that use their relative diplomatic

Diplomacy

Diplomacy is the art and practice of conducting negotiations between representatives of groups or states...


skills in the service of international peace and stability. Both measures are contested and controversial, though the traditional quantitative method has proved more problematic than the behavioural method."

According to Eduard Jordaan of the University of Stellenbosch;

"All middle powers display foreign policy behaviour that stabilises and legitimises the global order, typically through multilateral and cooperative initiatives. However, emerging and traditional middle powers can be distinguished in terms of their mutually-influencing constitutive and behavioural differences. Constitutively, traditional middle powers are wealthy, stable, egalitarian, social democratic

Social democracy

Social democracy is a political ideology of the center-left on the political spectrum. Social democracy is officially a form of evolutionary reformist socialism. It supports class collaboration as the course to achieve socialism...


and not regionally influential. Behaviourally, they exhibit a weak and ambivalent regional orientation, constructing identities distinct from powerful states in their regions and offer appeasing concessions to pressures for global reform. Emerging middle powers by contrast are semi-peripheral, materially inegalitarian and recently democratised states that demonstrate much regional influence and self-association. Behaviourally, they opt for reformist and not radical global change, exhibit a strong regional orientation favouring regional integration but seek also to construct identities distinct from those of the weak states in their region."

Another definition according to the Middle Power Initiative: "Middle power countries are politically and economically significant, internationally respected countries that have renounced the nuclear arms race, a standing that give them significant international credibility." Under this definition however, nuclear-armed states like India and Pakistan, as well as every state participant of the
NATO
nuclear weapons sharing would be excluded from being considered as middle powers.
Middle power diplomacy
According to Laura Neak of the
International Studies Association
International Studies Association
The International Studies Association was founded by a group of scholars and practitioners in 1959 to pursue mutual interests in international studies. Representing eighty countries, ISA has over three thousand members worldwide and is the most respected and widely known scholarly association in...
;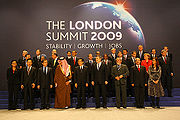 "Although there is some conceptual ambiguity surrounding the term middle power, middle powers are identified most often by their international behavior–called 'middle power diplomacy' - the tendency to pursue multilateral solutions to international problems, the tendency to embrace compromise positions in international disputes, and the tendency to embrace notions of 'good international citizenship' to guide...diplomacy. Middle powers are states who commit their relative affluence, managerial skills, and international prestige to the preservation of the international order and peace. Middle powers help to maintain the international order through coalition

Coalition

A coalition is a pact or treaty among individuals or groups, during which they cooperate in joint action, each in their own self-interest, joining forces together for a common cause. This alliance may be temporary or a matter of convenience. A coalition thus differs from a more formal covenant...


-building, by serving as mediators and "go-betweens," and through international conflict management and resolution activities, such as UN peacekeeping. Middle powers perform these internationalist activities because of an idealistic imperative they associate with being a middle power. The imperative is that the middle powers have a moral responsibility and collective ability to protect the international order from those who would threaten it, including, at times, the great or principal powers. This imperative was particularly profound during the most intense periods of the Cold War."

According to Tomoe Otsuki of the
University of British Columbia
University of British Columbia
The University of British Columbia is a public research university. UBC's two main campuses are situated in Vancouver and in Kelowna in the Okanagan Valley...
; "Middle Power does not just mean a state's size or military or economic power. Rather, 'middle power diplomacy' is defined by the issue area where a state invests its resources and knowledge. Middle Power States avoid a direct confrontation with great powers, but they see themselves as 'moral actors' and seek their own role in particular issue areas, such as
human rights
Human rights
Human rights are "commonly understood as inalienable fundamental rights to which a person is inherently entitled simply because she or he is a human being." Human rights are thus conceived as universal and egalitarian . These rights may exist as natural rights or as legal rights, in both national...
,
environment
Natural environment
The natural environment encompasses all living and non-living things occurring naturally on Earth or some region thereof. It is an environment that encompasses the interaction of all living species....
, and arms regulations. Middle powers are the driving force in the process of transnational institutional-building." (Soeya Yoshihide)
Characteristics of middle power diplomacy include : (Soeya Yoshihide)
Commitment to multilateralism

Multilateralism

Multilateralism is a term in international relations that refers to multiple countries working in concert on a given issue.International organizations, such as the United Nations and the World Trade Organization are multilateral in nature...


through global institutions and allying with other middle powers.
High degree of civil society

Civil society

Civil society is composed of the totality of many voluntary social relationships, civic and social organizations, and institutions that form the basis of a functioning society, as distinct from the force-backed structures of a state , the commercial institutions of the market, and private criminal...


penetration in the country's foreign policy.
A country that reflects and forms its national identity through a 'novel foreign policy': Peacekeeping

Peacekeeping

Peacekeeping is an activity that aims to create the conditions for lasting peace. It is distinguished from both peacebuilding and peacemaking....


, Human Security, the International Criminal Court

International Criminal Court

The International Criminal Court is a permanent tribunal to prosecute individuals for genocide, crimes against humanity, war crimes, and the crime of aggression .It came into being on 1 July 2002—the date its founding treaty, the Rome Statute of the...


, and the Kyoto Protocol

Kyoto Protocol

The Kyoto Protocol is a protocol to the United Nations Framework Convention on Climate Change , aimed at fighting global warming...



In March 2008,
Australia
Australia
Australia , officially the Commonwealth of Australia, is a country in the Southern Hemisphere comprising the mainland of the Australian continent, the island of Tasmania, and numerous smaller islands in the Indian and Pacific Oceans. It is the world's sixth-largest country by total area...
n Prime Minister
Kevin Rudd
Kevin Rudd
Kevin Michael Rudd is an Australian politician who was the 26th Prime Minister of Australia from 2007 to 2010. He has been Minister for Foreign Affairs since 2010...
defined his country's foreign policy as one of "middle power diplomacy", along the lines of similar criteria. Australia would "influence international decision-makers" on issues such as "global economic, security and environmental challenges".
The
Middle Powers Initiative
Middle Powers Initiative
The Middle Powers Initiative , a program of the Global Security Institute, is dedicated to the worldwide reduction and elimination of nuclear weapons, in a series of well-defined stages accompanied by increasing verification and control....
(MPI), a program of the
Global Security Institute
Global Security Institute
The Global Security Institute is a international organization with a mission to eliminate nuclear weapons through international cooperation and security. It aims to influence national laws, seeking to accomplish its mission by focusing on nuclear arms control, non-proliferation, and...
, highlights the importance of middle powers diplomacy. Through MPI, eight international non-governmental organizations are able to work primarily with middle power governments to encourage and educate the nuclear weapons states to take immediate practical steps that reduce nuclear dangers, and commence negotiations to eliminate nuclear weapons. Middle power countries are particularly influential in issues related to arms control, being that they are politically and economically significant, internationally respected countries that have renounced the
nuclear arms race
Nuclear arms race
The nuclear arms race was a competition for supremacy in nuclear warfare between the United States, the Soviet Union, and their respective allies during the Cold War...
, a standing that gives them significant political credibility.
History of the term
The concept of the 'middle power' dates back to the origins of the European state system. In the 15th century, the Mayor of Milan,
Giovanni Botero
Giovanni Botero
Giovanni Botero was an Italian thinker, priest, poet, and diplomat, best known for his work Della ragion di Stato . In this work, he argued against the amoral political philosophy associated with Niccolò Machiavelli's The Prince, not only because it lacked a Christian foundation but also because...
, divided the world into three types of states – grandissime (empires), mezano (middle powers) and piccioli (small powers).
According to Botero, a mezano or middle power "has sufficient strength and authority to stand on its own without the need of help from others".
The term entered Canadian political discourse after the Second World War. Prime Minister
Louis St. Laurent
Louis St. Laurent
Louis Stephen St. Laurent, PC, CC, QC , was the 12th Prime Minister of Canada from 15 November 1948, to 21 June 1957....
, for example called
Canada
Canada
Canada is a North American country consisting of ten provinces and three territories. Located in the northern part of the continent, it extends from the Atlantic Ocean in the east to the Pacific Ocean in the west, and northward into the Arctic Ocean...
"a power of the middle rank" and helped to lay out the classical definition of Canadian middle power diplomacy. When he was advocating for Canada's election to the
United Nations Security Council
United Nations Security Council
The United Nations Security Council is one of the principal organs of the United Nations and is charged with the maintenance of international peace and security. Its powers, outlined in the United Nations Charter, include the establishment of peacekeeping operations, the establishment of...
, he said that while "the special nature of [Canada's] relationship to the United Kingdom and the United States complicates our responsibilities", Canada was not a "satellite" of either but would "continue to make our decisions objectively, in the light of our obligations to our own people and their interest in the welfare of the international community." Canadian leaders believed Canada was a middle power because it was a junior partner in larger alliances (e.g.
NATO
, NORAD), was actively involved in resolving disputes outside its own region (e.g.
Suez Crisis
Suez Crisis
The Suez Crisis, also referred to as the Tripartite Aggression, Suez War was an offensive war fought by France, the United Kingdom, and Israel against Egypt beginning on 29 October 1956. Less than a day after Israel invaded Egypt, Britain and France issued a joint ultimatum to Egypt and Israel,...
), was not a former colonial power and therefore neutral in anti-colonial struggles, worked actively in the
United Nations
United Nations
The United Nations is an international organization whose stated aims are facilitating cooperation in international law, international security, economic development, social progress, human rights, and achievement of world peace...
to represent the interests of smaller nations and to prevent the dominance of the superpowers (often being elected to the
United Nations Security Council
United Nations Security Council
The United Nations Security Council is one of the principal organs of the United Nations and is charged with the maintenance of international peace and security. Its powers, outlined in the United Nations Charter, include the establishment of peacekeeping operations, the establishment of...
for such reasons), and because it was involved in humanitarian and peacekeeping efforts around the world.
List of middle powers
The following is a list of countries that have been called middle powers by academics or other experts.
The
United Kingdom
United Kingdom
The United Kingdom of Great Britain and Northern IrelandIn the United Kingdom and Dependencies, other languages have been officially recognised as legitimate autochthonous languages under the European Charter for Regional or Minority Languages...
,
China
People's Republic of China
China , officially the People's Republic of China , is the most populous country in the world, with over 1.3 billion citizens. Located in East Asia, the country covers approximately 9.6 million square kilometres...
,
France
France
The French Republic , The French Republic , The French Republic , (commonly known as France , is a unitary semi-presidential republic in Western Europe with several overseas territories and islands located on other continents and in the Indian, Pacific, and Atlantic oceans. Metropolitan France...
and
Russia
Russia
Russia or , officially known as both Russia and the Russian Federation , is a country in northern Eurasia. It is a federal semi-presidential republic, comprising 83 federal subjects...
are great powers due to strong economies and their status as
recognised
Nuclear Non-Proliferation Treaty
The Treaty on the Non-Proliferation of Nuclear Weapons, commonly known as the Non-Proliferation Treaty or NPT, is a landmark international treaty whose objective is to prevent the spread of nuclear weapons and weapons technology, to promote cooperation in the peaceful uses of nuclear energy and to...
nuclear powers
and their permanent seats on the UN Security Council. Some academics also believe that
Germany
Germany
Germany , officially the Federal Republic of Germany , is a federal parliamentary republic in Europe. The country consists of 16 states while the capital and largest city is Berlin. Germany covers an area of 357,021 km2 and has a largely temperate seasonal climate...
and
Japan
Japan
Japan is an island nation in East Asia. Located in the Pacific Ocean, it lies to the east of the Sea of Japan, China, North Korea, South Korea and Russia, stretching from the Sea of Okhotsk in the north to the East China Sea and Taiwan in the south...
are not middle powers but great powers, due to their economic strengths and global influence. The overlaps between the lists of middle powers and great powers, and between the lists of small powers and middle powers, show that there is no unanimous agreement among authorities.
Further reading