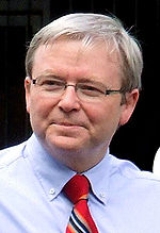 Kevin Rudd
Kevin Michael Rudd
is an Australian politician who was the 26th
Prime Minister of Australia
Prime Minister of Australia
The Prime Minister of the Commonwealth of Australia is the highest minister of the Crown, leader of the Cabinet and Head of Her Majesty's Australian Government, holding office on commission from the Governor-General of Australia. The office of Prime Minister is, in practice, the most powerful...
from 2007 to 2010. He has been
Minister for Foreign Affairs
Minister for Foreign Affairs (Australia)
In the Government of Australia, the Minister for Foreign Affairs is responsible for overseeing the international diplomacy section of the Department of Foreign Affairs and Trade. In common with international practice, the office is often informally referred to as Foreign Minister...
since 2010. A member of the
Australian Labor Party
Australian Labor Party
The Australian Labor Party is an Australian political party. It has been the governing party of the Commonwealth of Australia since the 2007 federal election. Julia Gillard is the party's federal parliamentary leader and Prime Minister of Australia...
, Rudd has served in the
House of Representatives
Australian House of Representatives
The House of Representatives is one of the two houses of the Parliament of Australia; it is the lower house; the upper house is the Senate. Members of Parliament serve for terms of approximately three years....
since the 1998 federal election, representing
Griffith, Queensland
Division of Griffith
The Division of Griffith is anAustralian Electoral Division in Queensland.The division was created in 1934, when the old seat of Oxley was abolished, and is named for Sir Samuel Griffith, 9th Premier of Queensland and principal author of the Australian Constitution...
.
Rudd was born in Queensland and grew up on a dairy farm. He joined the Australian Labor Party at the age of 15 and was
dux
Dux
Dux is Latin for leader and later for Duke and its variant forms ....
of
Nambour State High School
Nambour State High School
Nambour State High School is a co-educational, state high school located in Nambour, Queensland, Australia.Established on 2 February 1953, in 2006 the school had enrolment figures of 1,367, including adult students...
in 1974. He studied an arts degree in Asian studies at the
Australian National University
Australian National University
The Australian National University is a teaching and research university located in the Australian capital, Canberra.As of 2009, the ANU employs 3,945 administrative staff who teach approximately 10,000 undergraduates, and 7,500 postgraduate students...
, majoring in
Chinese language
Chinese language
The Chinese language is a language or language family consisting of varieties which are mutually intelligible to varying degrees. Originally the indigenous languages spoken by the Han Chinese in China, it forms one of the branches of Sino-Tibetan family of languages...
and
Chinese history
History of China
Chinese civilization originated in various regional centers along both the Yellow River and the Yangtze River valleys in the Neolithic era, but the Yellow River is said to be the Cradle of Chinese Civilization. With thousands of years of continuous history, China is one of the world's oldest...
.