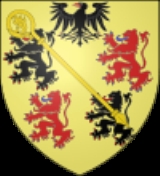 Maubeuge
Maubeuge
is a
commune
Communes of France
The commune is the lowest level of administrative division in the French Republic. French communes are roughly equivalent to incorporated municipalities or villages in the United States or Gemeinden in Germany...
in the Nord department in northern
France
France
The French Republic , The French Republic , The French Republic , (commonly known as France , is a unitary semi-presidential republic in Western Europe with several overseas territories and islands located on other continents and in the Indian, Pacific, and Atlantic oceans. Metropolitan France...
.
It is situated on both banks of the
Sambre
Sambre
The Sambre is a river in northern France and Wallonia, southern Belgium, left tributary of the Meuse River. The ancient Romans called the river Sabis.-Course:...
(here canalized), 36 km (22.4 mi) east of
Valenciennes
Valenciennes
Valenciennes is a commune in the Nord department in northern France.It lies on the Scheldt river. Although the city and region had seen a steady decline between 1975 and 1990, it has since rebounded...
and about 9 km (5.6 mi) from the
Belgian
Belgium
Belgium , officially the Kingdom of Belgium, is a federal state in Western Europe. It is a founding member of the European Union and hosts the EU's headquarters, and those of several other major international organisations such as NATO.Belgium is also a member of, or affiliated to, many...
border.
History
Maubeuge (ancient
Malbodium
, from
Latin
Latin
Latin is an Italic language originally spoken in Latium and Ancient Rome. It, along with most European languages, is a descendant of the ancient Proto-Indo-European language. Although it is considered a dead language, a number of scholars and members of the Christian clergy speak it fluently, and...
, derived from the
Old Frankish
Old Frankish
Old Frankish is an extinct West Germanic language, once spoken by the Franks. It is the parent language of the Franconian languages, of which Dutch and Afrikaans are the most known descendants...
name
Malboden
, meaning "assizes of Boden") owes its origin to
Maubeuge Abbey
Maubeuge Abbey
Mauberge Abbey was a women's religious house at Maubeuge, in what is now northern France, close to the present border with Belgium. It is best known today as the abbey built by Saint Aldegonde, and the educational institution for the young Jan Gossaert, a renaissance painter known as Mabuse after...
, a double
monastery
Monastery
Monastery denotes the building, or complex of buildings, that houses a room reserved for prayer as well as the domestic quarters and workplace of monastics, whether monks or nuns, and whether living in community or alone .Monasteries may vary greatly in size – a small dwelling accommodating only...
, for men and women, founded in the 7th century by Saint Aldego, the
relic
Relic
In religion, a relic is a part of the body of a saint or a venerated person, or else another type of ancient religious object, carefully preserved for purposes of veneration or as a tangible memorial...
s of whom are preserved in the church. It subsequently belonged to the territory of
Hainaut
County of Hainaut
The County of Hainaut was a historical region in the Low Countries with its capital at Mons . In English sources it is often given the archaic spelling Hainault....
. It was burnt by
Louis XI of France
Louis XI of France
Louis XI , called the Prudent , was the King of France from 1461 to 1483. He was the son of Charles VII of France and Mary of Anjou, a member of the House of Valois....
, by
Francis I of France
Francis I of France
Francis I was King of France from 1515 until his death. During his reign, huge cultural changes took place in France and he has been called France's original Renaissance monarch...
, and by
Henry II of France
Henry II of France
Henry II was King of France from 31 March 1547 until his death in 1559.-Early years:Henry was born in the royal Château de Saint-Germain-en-Laye, near Paris, the son of Francis I and Claude, Duchess of Brittany .His father was captured at the Battle of Pavia in 1525 by his sworn enemy,...
, and was finally assigned to France by the Treaty of Nijmegen.
It was fortified by
Vauban
Vauban
Sébastien Le Prestre, Seigneur de Vauban and later Marquis de Vauban , commonly referred to as Vauban, was a Marshal of France and the foremost military engineer of his age, famed for his skill in both designing fortifications and breaking through them...
by the command of
Louis XIV of France
Louis XIV of France
Louis XIV , known as Louis the Great or the Sun King , was a Bourbon monarch who ruled as King of France and Navarre. His reign, from 1643 to his death in 1715, began at the age of four and lasted seventy-two years, three months, and eighteen days...
, who under
Turenne
Henri de la Tour d'Auvergne, Vicomte de Turenne
Henri de la Tour d'Auvergne, Vicomte de Turenne,often called simply Turenne was the most illustrious member of the La Tour d'Auvergne family. He achieved military fame and became a Marshal of France...
first saw
military service
Military service
Military service, in its simplest sense, is service by an individual or group in an army or other militia, whether as a chosen job or as a result of an involuntary draft . Some nations require a specific amount of military service from every citizen...
there.
Besieged
Siege
A siege is a military blockade of a city or fortress with the intent of conquering by attrition or assault. The term derives from sedere, Latin for "to sit". Generally speaking, siege warfare is a form of constant, low intensity conflict characterized by one party holding a strong, static...
in 1793 by
Prince Josias of Coburg
Prince Josias of Coburg
Prince Frederick Josias of Saxe-Coburg-Saalfeld was a general in the Austrian service.-Biography:...
, it was relieved by the
victory of Wattignies
Battle of Wattignies (1793)
The Battle of Wattignies was fought at the village of Wattignies-la-Victoire, France, on 15 and 16 October 1793 during the French Revolutionary Wars. The French army commanded by Jean-Baptiste Jourdan and Lazare Carnot defeated the army of Habsburg Austria led by Prince Josias of Coburg...
, which is commemorated by a
monument
Monument
A monument is a type of structure either explicitly created to commemorate a person or important event or which has become important to a social group as a part of their remembrance of historic times or cultural heritage, or simply as an example of historic architecture...
in the town. It was unsuccessfully besieged in 1814, but was compelled to capitulate, after a vigorous resistance, in the
Hundred Days
Hundred Days
The Hundred Days, sometimes known as the Hundred Days of Napoleon or Napoleon's Hundred Days for specificity, marked the period between Emperor Napoleon I of France's return from exile on Elba to Paris on 20 March 1815 and the second restoration of King Louis XVIII on 8 July 1815...
.
As a fortress Maubeuge has an old enceinte of bastion trace which serves as the center of an important entrenched camp of 18 miles perimeter, constructed for the most part after the
War of 1870
Franco-Prussian War
The Franco-Prussian War or Franco-German War, often referred to in France as the 1870 War was a conflict between the Second French Empire and the Kingdom of Prussia. Prussia was aided by the North German Confederation, of which it was a member, and the South German states of Baden, Württemberg and...
, but since modernized and augmented.
The forts were
besieged
Siege of Maubeuge
The Siege of Maubeuge took place between August 24 and September 7, 1914 when the French garrison of the Maubeuge Fortress finally surrendered to the Germans at the start of World War I on the Western Front....
in
World War I
World War I
World War I , which was predominantly called the World War or the Great War from its occurrence until 1939, and the First World War or World War I thereafter, was a major war centred in Europe that began on 28 July 1914 and lasted until 11 November 1918...
by the
German Empire
German Empire
The German Empire refers to Germany during the "Second Reich" period from the unification of Germany and proclamation of Wilhelm I as German Emperor on 18 January 1871, to 1918, when it became a federal republic after defeat in World War I and the abdication of the Emperor, Wilhelm II.The German...
. Maubeuge suffered heavily in
World War II
World War II
World War II, or the Second World War , was a global conflict lasting from 1939 to 1945, involving most of the world's nations—including all of the great powers—eventually forming two opposing military alliances: the Allies and the Axis...
: 90% of the town centre was destroyed by bombardments in May 1940.
Heraldry
Economy
There are important foundries,
forge
Forge
A forge is a hearth used for forging. The term "forge" can also refer to the workplace of a smith or a blacksmith, although the term smithy is then more commonly used.The basic smithy contains a forge, also known as a hearth, for heating metals...
s and
blast furnace
Blast furnace
A blast furnace is a type of metallurgical furnace used for smelting to produce industrial metals, generally iron.In a blast furnace, fuel and ore and flux are continuously supplied through the top of the furnace, while air is blown into the bottom of the chamber, so that the chemical reactions...
s, together with manufactures of
machine tool
Machine tool
A machine tool is a machine, typically powered other than by human muscle , used to make manufactured parts in various ways that include cutting or certain other kinds of deformation...
s and
porcelain
Porcelain
Porcelain is a ceramic material made by heating raw materials, generally including clay in the form of kaolin, in a kiln to temperatures between and...
.
The town has a board of trade
arbitration
Arbitration
Arbitration, a form of alternative dispute resolution , is a legal technique for the resolution of disputes outside the courts, where the parties to a dispute refer it to one or more persons , by whose decision they agree to be bound...
, a communal
college
College
A college is an educational institution or a constituent part of an educational institution. Usage varies in English-speaking nations...
, a commercial and industrial
school
School
A school is an institution designed for the teaching of students under the direction of teachers. Most countries have systems of formal education, which is commonly compulsory. In these systems, students progress through a series of schools...
.
Tour de France
Maurice Garin
Maurice Garin
Maurice-Francois Garin was a road bicycle racer best known for winning the inaugural Tour de France in 1903, and for being stripped of his title in the second Tour in 1904 along with eight others, for cheating.-Origins:Garin was born the son of Maurice Clément Garin and Maria Teresa...
, the winner of the inaugural
1903 Tour de France
1903 Tour de France
The 1903 Tour de France was the first Tour de France, a cycling race set up and sponsored by the newspaper , ancestor of the current daily, . It ran from 1 July to 19 July in six stages over , and was won by Maurice Garin....
, began his cycling career in 1892 with the local Maubeuge cycling club, when he finished 5th in the Maubeuge-Hirson-Maubeuge, 200 kilometres (124 mi)race. In 2003, on the 100th anniversary of his win, he was commemorated with a street named after him.
See also
Siege of Maubeuge

Siege of Maubeuge

The Siege of Maubeuge took place between August 24 and September 7, 1914 when the French garrison of the Maubeuge Fortress finally surrendered to the Germans at the start of World War I on the Western Front....


(24 August–7 September 1914)
Communes of the Nord department
External links