 Massimo Ranieri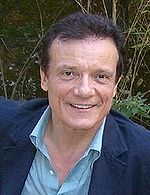 Massimo Ranieri
is an Italian
pop
Pop music
Pop music is usually understood to be commercially recorded music, often oriented toward a youth market, usually consisting of relatively short, simple songs utilizing technological innovations to produce new variations on existing themes.- Definitions :David Hatch and Stephen Millward define pop...
singer, film and stage actor.
He was born in
Naples
Naples
Naples is a city in Southern Italy, situated on the country's west coast by the Gulf of Naples. Lying between two notable volcanic regions, Mount Vesuvius and the Phlegraean Fields, it is the capital of the region of Campania and of the province of Naples...
(
at Santa Lucia
Borgo Santa Lucia
Borgo Santa Lucia is an historical rione of Naples, Italy. The area rises around the street of the same name and takes that name from the parish sanctuary of Santa Lucia a mare, of which the presence is attested since the 9th century, on the river of the sea, in spite of legend that would have it...
), the fifth of eight children in the family. When he was 10, young Giovanni would sing at restaurants, wedding receptions, etc. He was discovered by a music producer about 4 years later and was flown to New York to record an EP under the name of Gianni Rock.
He recorded 4 songs in 1964: Tanti auguri signora, Se mi aspetti stasera, Non chiudere la porta, and La Prima Volta. None of the records were successful, because young Gianni's voice was changing. Two years later, he would later re-emerge under his new stage name, Massimo Ranieri. In 1966, he made his TV debut singing "Bene Mio". A year later, he made another TV appearance singing, "Pietà per chi ti ama". In 1968, he recorded 2 more songs: "Da Bambino", Ma L'amore cos'è" and "Preghiera". But it wasn't until 1969, when he really became successful and became a teen idol making all the young girls scream for him, when he sang "O Sole Mio" on live TV. Soon, in most every TV appearance he made, you could hear the girls screaming in the background. That same year, he had a string of hits: "Rita", "Se bruciasse la citta", "Quando l'amore diventa poesia", "Il mio amore resta sempre", "Rose rosse" and "Zingara". In 1970, "Vent'anni", "Sogno d'amore", "Sei l'amore mio", "Aranjuez Amore Mio", "Candida". During that year, Massimo decided to venture into acting.
His screen debut,
Metello
Metello
Metello is a 1970 Italian drama film directed by Mauro Bolognini. It was entered into the 1970 Cannes Film Festival. It starred Massimo Ranieri as the title character.-Plot:...
received rave reviews from critics, and won Massimo the David DiDonatello award for best actor for portraying the title character. He co-starred with Anna Magnani in
La Sciantosa
La Sciantosa
"La Sciantosa" is an Italian tv movie produced by RAI television. Anna Magnani played faded singer, Flora, whose career has declined...
, later that year. In 1971, "Adagio Veneziano", "Via del Conservatorio", "Io e Te". He represented Italy in the 1971
Eurovision Song Contest
Eurovision Song Contest 1971
The Eurovision Song Contest 1971 was the sixteenth Eurovision Song Contest and the first held in Dublin, Ireland. The new voting system that was introduced in this Eurovision did have one big problem: some juries gave fewer points out than others...
in Dublin, Ireland, where he placed 5th with the song, "L'Amore E' Un Attimo. " That same year he had fathered a daughter, Cristiana, out of wedlock with
Franca Sebastiani
. He didn't want to have anything to do with her, saying that he was too young and inexperienced, and that it was damage to his career. He didn't have any contact with her until she was about 20. In 1972, "Ti Ruberei", "O Surdato 'nnamurato", "Erba di Casa Mia". In 1973, "Amo Ancora Lei". He returned to the Eurovision Song Contest that year in Luxembourg to represent Italy with "Chi sarà con te", where he placed 13th. And in 1974, "Te Voglio Bene Assaie", "Immagina", "Per Una Donna". During that year, he filmed
Salvo D'Acquisto
Salvo D'Acquisto
Salvo D'Acquisto was a member of the Italian Carabinieri, awarded the Gold Medal of Military Valor in memory of his heroism.-Life:...
, where he portrayed a Carabinieri policeman who was executed by the Nazis during World War II.
When his singing career started to decline in 1975, Massimo took a 13-year hiatus to focus on his acting career. But, in 1988, he made a comeback with the song, "Perdere L'Amore", which won him the
Sanremo Festival
Festival della canzone italiana
The Festival della canzone italiana di Sanremo is a popular Italian song contest, held annually in the city of Sanremo, in Italy, and consisting of a competition amongst previously unreleased songs...
that year. In 1997, he made another comeback with "Ti parlerò d'amore". During that year, he performed in the stage play,
La Liola
La Liola
"La Liola" is an Italian stage play written by Luigi Pirandello, which takes place in 19th century Naples. Massimo Ranieri plays the title character, Liola, a middle-aged single father by choice, of 3 young boys, each with a different mother...
, where he played the title character. That same year, he did the Italian voiceover for Quasimodo in Disney's "Hunchback of Notre Dame", where he also sang Quasimodo's part as well. On 16 October 2002, Massimo Ranieri was nominated
Goodwill Ambassador
FAO Goodwill Ambassador
The FAO Goodwill Ambassadors Programme was initiated in 1999. The main purpose of the programme is to increase public awareness and to disseminate information on issues related to food security, hunger and poverty in the world...
of the
Food and Agriculture Organization
Food and Agriculture Organization
The Food and Agriculture Organization of the United Nations is a specialised agency of the United Nations that leads international efforts to defeat hunger. Serving both developed and developing countries, FAO acts as a neutral forum where all nations meet as equals to negotiate agreements and...
of the United Nations (FAO). In 2004, he made his first French movie, a trilogy series called
Les Parisiens
Les parisiens
Les Parisiens , is a film directed by Claude Lelouch, released 15 September 2004.-Synopsis:...
, where he played a street artist. At the start of 2007, he decided to publicly acknowledge his long-lost daughter and finally embraced her for the first time on live TV. It was a tearful reunion between father and daughter. During that year, he was in a docu-film called Civico 0, where he played Guilano, a fruit vendor, who becomes homeless after the death of his mother. In 2008, he filmed his latest movie,
L'Ultimo Pulcinella
L'Ultimo Pulcinella
"L'Ultimo Pulcinella" is the latest film starring Massimo Ranieri. He plays Michaelangelo, an unemployed stage actor in Naples, Italy.-Synopsis:...
. His latest stage play, Polvere di Baghdad teams him up again with Maurizio Scaparro. Right now, he is currently on an ongoing concert tour of Italy. Massimo will be featured in a documentary about the history of music from Naples, Italy in a film called Passione directed by American actor,
John Turturro
John Turturro
John Michael Turturro is an American actor, writer and director known for his roles in the films Do the Right Thing , Miller's Crossing , Barton Fink , Quiz Show , The Big Lebowski , O Brother, Where Art Thou? and the Transformers film series...
. His latest film is the miniseries remake of the classic play,
Filumena Marturano
Filumena Marturano
Filumena Marturano is a play written in 1946 by Italian playwright and philosopher Eduardo De Filippo.-Plot:The curtain opens on Domenico Soriano, 50, a wealthy Neapolitan shop-keeper who is raging against Filumena, 48, a former prostitute...
, which is produced by Italian TV
RAI
RAI
RAI — Radiotelevisione italiana S.p.A. known until 1954 as Radio Audizioni Italiane, is the Italian state owned public service broadcaster controlled by the Ministry of Economic Development. Rai is the biggest television company in Italy...
Uno. Massimo plays the title character's husband, Domenico Soriano.