 FAO Goodwill Ambassador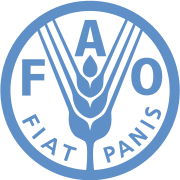 The
FAO
Fão
Fão is a town in Esposende Municipality in Portugal....
Goodwill Ambassadors Programme was initiated in 1999. The main purpose of the programme is to increase public awareness and to disseminate information on issues related to
food security
Food security
Food security refers to the availability of food and one's access to it. A household is considered food-secure when its occupants do not live in hunger or fear of starvation. According to the World Resources Institute, global per capita food production has been increasing substantially for the past...
, hunger and poverty in the world. With this Programme FAO intends to mobilize increased support and enhance the understanding of the public for the cause of "Food for All".
The Goodwill Ambassadors, through their public appearances, contacts with the international media and humanitarian work, help expand understanding of how the ideals and objectives of the Organization demand everyone's attention.
Current Ambassadors
Current FAO Goodwill Ambassadors, and the year they were appointed:
Dee Dee Bridgewater

Dee Dee Bridgewater

Dee Dee Bridgewater is an American Jazz singer. She is a three-time Grammy Award winning singer-songwriter, as well as a Tony Award - winning stage actress and host of National Public Radio's syndicated radio show JazzSet with Dee Dee Bridgewater...


(singer, Actress), 1999
Rita Levi Montalcini (neurologist), 1999
Gina Lollobrigida

Gina Lollobrigida

Gina Lollobrigida is an Italian actress, photojournalist and sculptress. She was one of the most popular European actresses of the 1950s and early 1960s. She was also an iconic sex symbol of the 1950s. Today, she remains an active supporter of Italian and Italian American causes, particularly the...


(actress, photojournalist), 1999
Miriam Makeba

Miriam Makeba

Miriam Makeba , nicknamed Mama Africa, was a Grammy Award winning South African singer and civil rights activist....


(singer), 1999 (deceased in November 2008)
Gong Li

Gong Li

Gong Li is a Chinese film actress. Gong first came into international prominence through close collaboration with Chinese director Zhang Yimou and is credited with helping to bring Chinese cinema to Europe and the United States....


(actress), 2000
Youssou N'Dour

Youssou N'Dour

Youssou N'Dour is a Senegalese singer, percussionist and occasional actor. In 2004, Rolling Stone described him as, in Senegal and much of Africa, "perhaps the most famous singer alive." He helped develop a style of popular music in Senegal, known in the Serer language as mbalax, a type of music...


(singer, percussionist), 2000
Magida al Roumi

Majida El Roumi

Magida El-Roumi was born in Kfarshima, Lebanon, on December 13, 1956. She is a Lebanese singer and a soprano, who started her musical career in the early 1970s when she participated in the talent show, Studio El Fan on Télé Liban and won the gold medal for best female singer...


, 2001
Al Bano Carrisi

Albano Carrisi

Albano Carrisi , better known as Al Bano, is an Italian singer, actor and winemaker.-Biography:He was born in the town of Cellino San Marco , where he still lives....


(singer), 2001
Gilberto Gil

Gilberto Gil

Gilberto Passos Gil Moreira , better known as Gilberto Gil or , is a Brazilian singer, guitarist, and songwriter, known for both his musical innovation and political commitment...


(musician), 2001
Mory Kanté

Mory Kanté

Mory Kanté is a vocalist and player of the kora harp. He was born into one of Guinea's best known families of griot musicians...


(vocalist), 2001
Roberto Baggio

Roberto Baggio

Roberto Baggio is a retired Italian footballer. Widely regarded as one of the finest footballers of his generation, Baggio won both the Ballon d'Or and the FIFA World Player of the Year in 1993. He is the only Italian player ever to score in three World Cups. He is also one of the top 5 all-time...


(footballer), 2002
Debbie Ferguson-McKenzie (women's athletics), 2002
Massimo Ranieri

Massimo Ranieri

Massimo Ranieri , is an Italian pop singer, film and stage actor.He was born in Naples , the fifth of eight children in the family. When he was 10, young Giovanni would sing at restaurants, wedding receptions, etc...


(singer), 2002
Dionne Warwick

Dionne Warwick

Dionne Warwick is an American singer, actress and TV show host, who became a United Nations Global Ambassador for the Food and Agriculture Organization, and a United States Ambassador of Health....


(singer, actress), 2002
Associazione Nazionale Cantanti, 2002
Maná

Maná

Maná is a pop rock band from Guadalajara, Jalisco, Mexico, whose career has spanned more than three decades. They have earned three Grammy Awards, seven Latin Grammy Awards, five MTV Video Music Awards Latin America, five Premios Juventud awards, nine Billboard Latin Music Awards and 13 Premios Lo...


(pop/rock band), 2003
Khaled

Khaled (musician)

Khaled Hadj Ibrahim , better known as Khaled, is a raï singer-songwriter and multi-instrumentalist born in Sidi El Houari in Oran Province of Algeria...


(Singer-songwriter, instrumentalist), 2003
Noa

Achinoam Nini

Achinoam Nini , also known by her professional name, Noa, is a leading Israeli international concert and recording artist.-Career:...


(Singer), 2003
Justine Pasek

Justine Pasek

Yostin "Justine" Lissette Pasek Patiño is a Panamanian model, FAO Goodwill Ambassador, and Miss Universe 2002.-Early life:Pasek was born in Kharkiv, Ukraine, the daughter of a Panamanian homemaker and Polish engineer...


(model), 2003
Oumou Sangaré

Oumou Sangaré

Oumou Sangare is a Malian Wassoulou musician, sometimes referred to as "The Songbird of Wassoulou." Wassoulou is a historic region south of the Niger River, and the music there is descended from traditional hunting songs, and is accompanied by a calabash...


(Singer), 2003
Raúl

Raúl González

Raúl González Blanco , known simply as Raúl, is a Spanish footballer who plays as a striker. He currently plays for German club Schalke 04....


(footballer), 2004
Carla Fracci

Carla Fracci

Carla Fracci is a ballet dancer and actress. Her career highlights include Nijinsky, Giselle , Complete Bell Telephone Hour Performances: Erik Bruhn 1961-1967.-FAO Ambassador:...


(dancer, actress), 2004
Ronan Keating

Ronan Keating

Ronan Patrick John Keating is an Irish recording artist, singer-songwriter, musician, and philanthropist. Keating debuted on the professional music scene alongside Keith Duffy, Mikey Graham, Shane Lynch and Stephen Gately, in 1994 as the lead singer of Boyzone. His solo career started in 1999, and...


(Singer), 2005
Beatrice Faumuina

Beatrice Faumuina

Beatrice Roini Liua Faumuina, ONZM is a New Zealand discus thrower, a gold medallist at the 1997 World Championships in Athletics. She has represented New Zealand in three Summer Olympics...


, 2005
First Lady of Paraguay

First Lady of Paraguay

First Lady of the Nation is the official post of the spouse of the President of Paraguay...


, 2005
Chucho Valdés

Chucho Valdés

Chucho Valdés is a Cuban pianist, bandleader, composer and arranger. In 1972 he founded the group Irakere, one of Cuba's best-known Latin jazz bands. Together with pianist Gonzalo Rubalcaba, Valdés is revered as one of Cuba's greatest jazz pianists...


(pianist, composer), 2006
Anggun

Anggun

Anggun Cipta Sasmi is an Indonesian singer-songwriter. She has released 12 studio albums and one soundtrack album , and her songs have also been included on various compilation albums. Her musical career began in childhood, and she achieved commercial success in Indonesia when she was 12 years old...


(Singer and songwriter), 2009
Margarita Cedeño de Fernández

Margarita Cedeño de Fernández

Margarita Cedeño de Fernández is the present First Lady of the Dominican Republic. She is the wife of President Leonel Fernández. As First Lady, she and her staff coordinate social policies for her husband's administration, generating programs of health and education for children, young people,...


(First Lady of the Dominican Republic), 2009
Pierre Cardin

Pierre Cardin

Pierre Cardin Cardin was known for his avant-garde style and his Space Age designs. He prefers geometric shapes and motifs, often ignoring the female form. He advanced into unisex fashions, sometimes experimental, and not always practical...


(fashion stylist), 2009
Carl Lewis

Carl Lewis

Frederick Carlton "Carl" Lewis is an American former track and field athlete, who won 10 Olympic medals including 9 gold, and 10 World Championships medals, of which 8 were gold. His career spanned from 1979 when he first achieved a world ranking to 1996 when he last won an Olympic title and...


, (Olympic gold medalist), 2009
Fanny Lú

Fanny Lu

Fanny Lucía Martínez Buenaventura , known professionally as Fanny Lú, is a Colombian singer-songwriter and actress from Santiago de Cali, Colombia.-Early life:...


, (singer) 2009
Patrick Vieira

Patrick Vieira

Patrick Vieira is a retired French footballer of Senegalese descent who is the Football Development Executive at Manchester City....


(footballer), 2010
Raoul Bova

Raoul Bova

Raoul Bova is an Italian actor.Bova was born in Rome to Calabrian parents. At the age of 16 he became a local champion in the 100 meter backstroke. At the age of 21 he joined the Italian Army and performed his military duty in the Bersaglieri corps...


, (actor), 2010
Céline Dion

Celine Dion

Céline Marie Claudette Dion, , , is a Canadian singer. Born to a large family from Charlemagne, Quebec, Dion emerged as a teen star in the French-speaking world after her manager and future husband René Angélil mortgaged his home to finance her first record...


, (singer), 2010
Lea Salonga

Lea Salonga

Lea Salonga-Chien is a mezzo-soprano singer and actress from the Philippines well known for originating the lead role of Kim in the musical Miss Saigon, for which she won the Olivier, Tony, Drama Desk, Outer Critics and Theatre World awards.She was the first Asian to play the roles of Éponine and...


, (singer), 2010
Susan Sarandon

Susan Sarandon

Susan Sarandon is an American actress. She has worked in films and television since 1969, and won an Academy Award for Best Actress for her performance in the 1995 film Dead Man Walking. She had also been nominated for the award for four films before that and has received other recognition for her...


, (actress), 2010
Her Highness Sheikha Fatima bint Mubarak al Ketbi, (Mother of the Nation, United Arab Emirates), 2010
See also
Goodwill Ambassador

Goodwill Ambassador

Goodwill Ambassador is a collective term sometimes used as a substitute honorific title or a title of honor for an Ambassador of Goodwill; but, most appropriately for a generic recognition, it is a job position or description that is usually indicated following the name of the individual recognized...


s
United Nations Ambassadors
UN Environment Programme
UNAIDS Joint United Nations Programme on HIV and AIDS
UNDP Goodwill Ambassadors
UNESCO Goodwill Ambassador

UNESCO Goodwill Ambassador

UNESCO Goodwill Ambassadors are celebrity advocates of UNESCO who use their talent or fame to spread the UNESCO ideals, especially attracting media attention...


s
UNFPA Goodwill Ambassador

UNFPA Goodwill Ambassador

UNFPA Goodwill Ambassadors are celebrity advocates of the United Nations Population Fund and use their talent and fame to advocate for the human right of reproductive health.-Current Goodwill Ambassadors:...


s
UNHCR Goodwill Ambassador

UNHCR Goodwill Ambassador

UNHCR Goodwill Ambassadors are celebrity representatives of the Office of the UN High Commissioner for Refugees who use their talent and fame to advocate for refugees.-Current Ambassadors:...


s
UNICEF Goodwill Ambassadors
UNIDO Goodwill Ambassador

UNIDO Goodwill Ambassador

UNIDO Goodwill Ambassadors are expert advocates of the United Nations Industrial Development Organization and use their talent and experience to advocate for sustainable industrial development in developing countries...


s
UNIFEM Goodwill Ambassadors
United Nations Messengers of Peace

United Nations Messengers of Peace

United Nations Messenger of Peace is a title bestowed by the United Nations to "distinguished individuals, carefully selected from the fields of art, music, literature and sports, who have agreed to help focus worldwide attention on the work of the United Nations.The messengers are initially chosen...


Goodwill Ambassadors
UNODC United Nations Office on Drugs and Crime
WFP World Food Programme
WHO Goodwill Ambassador

WHO Goodwill Ambassador

WHO Goodwill Ambassadors are celebrity advocates of the World Health Organization and use their talent and fame to advocate for health and well-being.-List of Goodwill Ambassadors:WHO Goodwill Ambassadors, and the year they were appointed:...


s
External links