 Marconi Electronic Systems
Marconi Electronic Systems (MES)
, or
GEC-Marconi
as it was until 1998, was the defence arm of The General Electric Company (GEC). It was demerged from GEC and acquired by
British Aerospace
British Aerospace
British Aerospace plc was a UK aircraft, munitions and defence-systems manufacturer. Its head office was in the Warwick House in the Farnborough Aerospace Centre in Farnborough, Hampshire...
(BAe) on November 30, 1999 to form
BAE Systems
BAE Systems
BAE Systems plc is a British multinational defence, security and aerospace company headquartered in London, United Kingdom, that has global interests, particularly in North America through its subsidiary BAE Systems Inc. BAE is among the world's largest military contractors; in 2009 it was the...
. GEC then renamed itself
Marconi plc
Telent plc
Telent Limited is a radio, telecommunication, and internet systems installation & services provision company. The company was formed in 2006 from the UK and German services businesses of Marconi Corporation which had not been acquired by Ericsson.- History :The company was formed in January 2006...
.
MES exists today as
BAE Systems Electronics Limited
, a subsidiary of BAE Systems, but the assets were rearranged elsewhere within that company. MES-related businesses include BAE Systems Submarine Solutions, BAE Systems Surface Ships, BAE Systems Insyte and
SELEX Galileo
SELEX Galileo
SELEX Galileo is a major defence electronics company that specialises in surveillance, protection, tracking, targeting, navigation and control, and imaging systems. It is owned by the Italian company Finmeccanica....
(now owned by
Finmeccanica
Finmeccanica
Finmeccanica S.p.A. is an Italian conglomerate. Finmeccanica is the second largest industrial group and the largest of the hi-tech industrial groups based in Italy. It works in the fields of defence, aerospace, security, automation, transport and energy...
).
History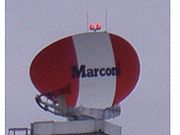 MES represented the pinnacle of GEC's defence businesses which had a heritage of almost 100 years. Following GEC's acquisition of Marconi as part of
English Electric
English Electric
English Electric was a British industrial manufacturer. Founded in 1918, it initially specialised in industrial electric motors and transformers...
in 1968 the Marconi brand was used for its defence businesses e.g. Marconi Space & Defence Systems (MSDS), Marconi Underwater Systems Ltd (MUSL). GEC's history of military products dates back to
World War I
World War I
World War I , which was predominantly called the World War or the Great War from its occurrence until 1939, and the First World War or World War I thereafter, was a major war centred in Europe that began on 28 July 1914 and lasted until 11 November 1918...
with its contribution to the war effort then including radios and bulbs.
World War II
World War II
World War II, or the Second World War , was a global conflict lasting from 1939 to 1945, involving most of the world's nations—including all of the great powers—eventually forming two opposing military alliances: the Allies and the Axis...
consolidated this position with the company involved in many important technological advances, most notably
radar
Radar
Radar is an object-detection system which uses radio waves to determine the range, altitude, direction, or speed of objects. It can be used to detect aircraft, ships, spacecraft, guided missiles, motor vehicles, weather formations, and terrain. The radar dish or antenna transmits pulses of radio...
.
Between 1945 and GEC's demerger of its defence business in 1999, the company became one of the world's most important defence contractors. GEC's major defence related acquisitions included
Associated Electrical Industries
Associated Electrical Industries
Associated Electrical Industries was a British holding company formed in 1928 through the merger of the British Thomson-Houston Company and Metropolitan-Vickers electrical engineering companies...
in 1967, English Electric Company (including its
Marconi
Marconi Company
The Marconi Company Ltd. was founded by Guglielmo Marconi in 1897 as The Wireless Telegraph & Signal Company...
subsidiary) in 1968,
Yarrow Shipbuilders
Yarrow Shipbuilders
Yarrow Limited , often styled as simply Yarrows, was a major shipbuilding firm based in the Scotstoun district of Glasgow on the River Clyde...
in 1985, parts of
Ferranti
Ferranti
Ferranti or Ferranti International plc was a UK electrical engineering and equipment firm that operated for over a century from 1885 until it went bankrupt in 1993. Known primarily for defence electronics, the Company was once a constituent of the FTSE 100 Index but ceased trading in 1993.The...
's defence business in 1990, Vickers Shipbuilding and Engineering in 1995 and
Kvaerner Govan
Kvaerner Govan
Kvaerner Govan Ltd, located at Govan in Glasgow on the River Clyde, was a shipyard subsidiary formed in 1988 when the Norwegian group Kvaerner Industrier purchased the Govan Shipbuilders division of the nationalised British Shipbuilders corporation...
in 1999. In June 1998, MES acquired
Tracor
Tracor
Tracor was a major North American defense electronics contractor which was acquired by Marconi Electronic Systems , a subsidiary of General Electric Company plc, in 1998. Following the purchase of MES by British Aerospace in November 1999 to form BAE Systems, Tracor became BAE Systems Integrated...
, a major American defence contractor, for $1.4bn.
Demerger
The 1997 merger of American corporations
Boeing
Boeing
The Boeing Company is an American multinational aerospace and defense corporation, founded in 1916 by William E. Boeing in Seattle, Washington. Boeing has expanded over the years, merging with McDonnell Douglas in 1997. Boeing Corporate headquarters has been in Chicago, Illinois since 2001...
and
McDonnell Douglas
McDonnell Douglas
McDonnell Douglas was a major American aerospace manufacturer and defense contractor, producing a number of famous commercial and military aircraft. It formed from a merger of McDonnell Aircraft and Douglas Aircraft in 1967. McDonnell Douglas was based at Lambert-St. Louis International Airport...
, which followed the forming of
Lockheed Martin
Lockheed Martin
Lockheed Martin is an American global aerospace, defense, security, and advanced technology company with worldwide interests. It was formed by the merger of Lockheed Corporation with Martin Marietta in March 1995. It is headquartered in Bethesda, Maryland, in the Washington Metropolitan Area....
, the world's largest defence contractor in 1995, increased the pressure on European defence companies to consolidate. In June 1997 British Aerospace Defence Managing Director
John Weston
John Weston (businessman)
John Weston is a British businessman.Weston was employed by BAE Systems and its predecessors from when he left university until he was ousted as CEO in 2002. In 2004 the Financial Times described Weston as one of a "core group" who turned British Aerospace around , along with Evans, Richard...
commented "Europe... is supporting three times the number of contractors on less than half the budget of the U.S.". European governments wished to see the merger of their defence manufacturers into a single entity, a European Aerospace and Defence Company.
As early as 1995 British Aerospace and the German aerospace and defence company DaimlerChrysler Aerospace (DASA) were said to be keen to create a transnational aerospace and defence company. Merger discussions began between British Aerospace and DASA in July 1998. A merger was agreed between British Aerospace Chairman
Richard Evans
Richard Evans (businessman)
Sir Richard Harry Evans, CBE, Hon FRAeS less formally known as Dick Evans, was formerly chairman of BAE Systems.In 2001 he became Chancellor of the University of Central Lancashire...
and DASA CEO
Jürgen Schrempp
Jürgen E. Schrempp
Jürgen Erich Schrempp was until December 31, 2005, the CEO of DaimlerChrysler, a German-American car and truck manufacturer. Following a decision of the board taken on July 28, 2005, he was succeeded on January 1, 2006, by Chrysler frontman Dieter Zetsche...
in December 1998.
GEC was also under pressure to participate in defence industry consolidation. Reporting the appointment of
George Simpson
George Simpson, Baron Simpson of Dunkeld
George Simpson, Baron Simpson of Dunkeld is a Labour member of the House of Lords. He was made a Life peer as Baron Simpson of Dunkeld, of Dunkeld in Perth and Kinross in 1997. In the late 1980s and early 1990s Simpson gained a reputation for turning around struggling companies...
as GEC managing director in 1996,
The Independent
had said "some analysts believe that Mr Simpson's inside knowledge of BAe, a long-rumoured GEC bid target, was a key to his appointment. GEC favours forging a national 'champion' defence group with BAe to compete with the giant US organisations." When GEC put MES up for sale on 22 December 1998, BAE abandoned the DASA merger in favour of purchasing its British rival. The merger of British Aerospace and MES was announced on 19 January 1999. Evans stated that in 2004 that his fear was that an American defence contractor would acquire MES and challenge both British Aerospace and DASA. The merger created a vertically integrated company which
The Scotsman
described as "[a combination of British Aerospace's] contracting and platform-building skills with Marconi's coveted electronics systems capability". for example combining the manufacturer of the Eurofighter with the company that provided many of the aircraft's electronic systems; British Aerospace was MES' largest customer. In contrast, DASA's response to the breakdown of the merger discussion was to merge with Aérospatiale to create the European Aeronautic Defence and Space Company (
EADS
EADS
The European Aeronautic Defence and Space Company N.V. is a global pan-European aerospace and defence corporation and a leading defence and military contractor worldwide...
), a
horizontal integration
Horizontal integration
In microeconomics and strategic management, the term horizontal integration describes a type of ownership and control. It is a strategy used by a business or corporation that seeks to sell a type of product in numerous markets...
. EADS has since considered a merger with
Thales
Thales Group
The Thales Group is a French electronics company delivering information systems and services for the aerospace, defense, transportation and security markets...
to create a "fully rounded" company.
While MES was responsible for the majority of GEC's defence sales other GEC companies achieved defence related sales, principally
GEC Alsthom
Alstom
Alstom is a large multinational conglomerate which holds interests in the power generation and transport markets. According to the company website, in the years 2010-2011 Alstom had annual sales of over €20.9 billion, and employed more than 85,000 people in 70 countries. Alstom's headquarters are...
,
GEC-Plessey Telecommunications
Marconi Communications
Marconi Communications was a principal subsidiary of the Marconi Corporation plc and was formerly known as GEC Plessey Telecommunications . The company was a world leading telecommunications manufacturer...
(GPT) and GEC Plessey Semiconductors.
Organisation
Marconi Avionics
Marconi North America
Marconi Naval Systems
Alenia Marconi Systems

Alenia Marconi Systems

Alenia Marconi Systems was a major European integrated defence electronics company and an equal shares joint venture between BAE Systems and Finmeccanica until its dissolution on May 3, 2005....


(AMS)
Matra Marconi Space

Matra Marconi Space

Matra Marconi Space was a Franco-British aerospace company.-History:Matra Marconi Space was established in 1990 as a joint venture between the space and telecommunication divisions of the Lagardère Group and the GEC group .The merged company was announced in December 1989 and was owned 51% by...



Thomson Marconi Sonar

Thomson Marconi Sonar

Thomson Marconi Sonar was formed as Ferranti Thomson Sonar Systems in 1990 by the merger of the sonar systems businesses of Thomson-CSF and Ferranti...



Marconi Research Centre

Marconi Research Centre

Marconi Research Centre is the former name of the current BAE Systems Advanced Technology Centre facility at Great Baddow in Essex, United Kingdom...



Major projects
This is a partial list:
See also
Aerospace industry in the United Kingdom
Marconi Scientists

Marconi Scientists

The GEC-Marconi scientist deaths conspiracy theory states that between 1982 and 1990 twenty-five British-based GEC-Marconi scientists and engineers who worked on the Sting Ray torpedo project, and other US Strategic Defense Initiative related projects died under mysterious circumstances...


- Article about the 25+ defence employees who have died in mysterious circumstances since the early 1980s
CMC Electronics

CMC Electronics

CMC Electronics Inc. is a Canadian electronics company. The company's corporate head office is located in Montreal, Quebec, with additional facilities located in Ottawa, Ontario and Sugar Grove, Illinois.- History :...


- formerly the Canadian Marconi Company, once part of EE/GEC & BAe
External links
"Tesla's Wardenclyffe Tower 'Long Range Weapon' research history, construction, utilization, association w/ Marconi Company / GE, and future ionospheric heater plans"
"BAE Systems - APTI/ARCO program and apparatus-owner of the HAARP facility, railgun technology, electromagnetic armor, and, a sub-corporation partner with Raytheon via British Aerospace Corporation, as well as owner of Nicola Tesla's "Wardenclyffe Tower" (first EM long-range weapon) funding company, the Marconi Company"