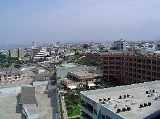 Manta
Manta
is a mid-sized city in
Manabí
Manabí Province
Manabí is a province in Ecuador. Its capital is Portoviejo. The province is named after the Manabí people.-Economy:Manabí's economy is based heavily on natural resources such as cacao, bananas, cotton, etc. It's industrial sector is based on Tuna canning, tobacco, and alcoholic beverage production...
Province,
Ecuador
Ecuador
Ecuador , officially the Republic of Ecuador is a representative democratic republic in South America, bordered by Colombia on the north, Peru on the east and south, and by the Pacific Ocean to the west. It is one of only two countries in South America, along with Chile, that do not have a border...
. It is the second most populous city in the province, the fifth most populous in the country and, economically, the third most important city of Ecuador. Manta has existed since
Pre-Columbian
Pre-Columbian
The pre-Columbian era incorporates all period subdivisions in the history and prehistory of the Americas before the appearance of significant European influences on the American continents, spanning the time of the original settlement in the Upper Paleolithic period to European colonization during...
times. It was a trading post for the Mantas. According to the 2001 census, the city had 192,322 inhabitants. Its main economic activity is
tuna
Tuna
Tuna is a salt water fish from the family Scombridae, mostly in the genus Thunnus. Tuna are fast swimmers, and some species are capable of speeds of . Unlike most fish, which have white flesh, the muscle tissue of tuna ranges from pink to dark red. The red coloration derives from myoglobin, an...
fishing. Other economic activities include
tourism
Tourism
Tourism is travel for recreational, leisure or business purposes. The World Tourism Organization defines tourists as people "traveling to and staying in places outside their usual environment for not more than one consecutive year for leisure, business and other purposes".Tourism has become a...
and a chemical industry with products from cleaning supplies to oils and margarine.
Manta possesses the largest seaport in Ecuador. The port was used by
Charles Marie de La Condamine
Charles Marie de La Condamine
Charles Marie de La Condamine was a French explorer, geographer, and mathematician. He spent ten years in present-day Ecuador measuring the length of a degree latitude at the equator and preparing the first map of the Amazon region based on astronomical observations.-Biography:Charles Marie de La...
upon his arrival in Ecuador when leading the French mission to measure the location of the equator in 1735. From Manta, Condamine started his trip inland towards
Quito
Quito
San Francisco de Quito, most often called Quito , is the capital city of Ecuador in northwestern South America. It is located in north-central Ecuador in the Guayllabamba river basin, on the eastern slopes of Pichincha, an active stratovolcano in the Andes mountains...
.
Manta has an international cargo airport, Eloy Alfaro International Airport and an important military base (known as
Manta Air Base
Manta Air Base
Manta Air Base / Eloy Alfaro International Airport is a combination civilian airport and military air base on the outskirts of Manta in the province of Manabí in western continental Ecuador. The airport, also known as Eloy Alfaro Air Base, is named in honor of Eloy Alfaro, a former president of...
or Eloy Alfaro Air Base). Between 1999-2009 Manta Air Base was used by U.S. air forces to support anti-narcotics military operations and surveillance flights against Colombian drug trafficking cartels. The lease was not renewed by the Ecuadorean government.
Manta is recognized thanks to its international film festival featuring groups from different places in the world. The Ecuadorian actor
Carlos Valencia
Carlos Valencia
Carlos Alberto Valencia Paredes is a Colombian left wing back who is a free agent.-Career:Valencia left Colombia at the age of 15 to go and play in the River Plate youth academy...
, once invited to Cannes Film Festival for his performance in
Ratas Ratones y Rateros
(1999) directed by
Sebastián Cordero
Sebastián Cordero
Sebastián Cordero is a film director, writer and editor, often recognized for his work in Ratas, Ratones, Rateros, his debut film which portrays the life in a poverty-stricken Ecuador...
, who was born in the capital city of Quito.
Sport
As in the entire country, fútbol (soccer) is the main sport of the city. The city has two professional teams: Delfín S.C. and Manta F.C. who used to be Manta S.C. and among others were Green Cross F.C., America, Juventud Italiana and River Plate However, most inhabitants are fans of
Barcelona Sporting Club
Barcelona Sporting Club
Barcelona Sporting Club is an Ecuadorian sports club based in Guayaquil, known best for its professional football team. They currently play in the Ecuadorian Serie A, the highest level of football in the country, and hold the distinction of being the only team to have never been relegated.With...
and
Club Sport Emelec
Club Sport Emelec
Club Sport Emelec is a Ecuadorian sports club based in Guayaquil that is best known for their professional football team. The football team plays in the Ecuadorian Serie A, the highest level of professional football in the country....
the teams with most fans base in Manabí.
The practice of water sports is also very significant in the city. Water sports include
surfing
Surfing
Surfing' is a surface water sport in which the surfer rides a surfboard on the crest and face of a wave which is carrying the surfer towards the shore...
, (Manta was the host for the 2004 Bodyboarding World Cup),
scuba diving
Scuba diving
Scuba diving is a form of underwater diving in which a diver uses a scuba set to breathe underwater....
,
water skiing
Water skiing
thumb|right|A slalom skier making a turn on a slalom waterski.Waterskiing is a sport where an individual is pulled behind a boat or a cable ski installation on a body of water, skimming the surface.-History:...
, kiteboarding and
kitesurfing
Kitesurfing
Kitesurfing or Kiteboarding is an adventure surface water sport that has been described as combining wakeboarding, windsurfing, surfing, paragliding, and gymnastics into one extreme sport. Kitesurfing harnesses the power of the wind to propel a rider across the water on a small surfboard or a...
. Nearby Manta,
Salinas, Ecuador
Salinas, Ecuador
Salinas is a coastal city located in the Province of Santa Elena, Ecuador. It is the seat of the canton that bears its name. The westernmost city on mainland Ecuador, Salinas is an important tourist center. Recently, Salinas was the center of controversy during the contentious "more fun, less sun,"...
, was the site of the
ISA World Junior Surfing Games Ecuador
ISA World Junior Surfing Games Ecuador
International Surfing Association in Ecuador is a part of the The International Surfing Association is recognized by the International Olympic Committee as the world governing authority for surfing and all its waveriding disciplines, including bodyboard, kneeboard, longboard, tandem, skimboard and...
in 2009.
Surfing in Ecuador
Surfing in Ecuador
See also: List of surfing areas for a list of global surfing areasEcuador has many beaches for surfing: the coast of Ecuador is 2,237 km long. Waves good for surfing are available in Ecuador year-round, and surfers enjoy the mild year-round weather, especially in the northern region where the...
is very popular because of the year round steady climate
Manta has some of South America's most breathtaking beaches. The city was selected as the site of the sixth South American
Windsurfing
Windsurfing
Windsurfing or sailboarding is a surface water sport that combines elements of surfing and sailing. It consists of a board usually two to four metres long, powered by the orthogonal effect of the wind on a sail. The rig is connected to the board by a free-rotating universal joint and comprises a...
Championship. It is renowned for its diving and sport fishing, with Black and Blue Marlins reaching even the 1.000 pound mark.
Tennis is also widely practiced in Manta. A number of ATP Challenger Series have been played in the city.
Entertainment
Manta hosts an International Theater Festival in September. Sporting events take place in November, and from January through April. The Central Bank Museum includes an important collection of
Pre-Columbian
Pre-Columbian
The pre-Columbian era incorporates all period subdivisions in the history and prehistory of the Americas before the appearance of significant European influences on the American continents, spanning the time of the original settlement in the Upper Paleolithic period to European colonization during...
craft. A MAAC cine, one of four in Ecuador, shows independent and non-Hollywood productions.
Economy
Manta possesses one of the most solid city economies in Ecuador. The main industries are fishing and tuna canning and processing. Processed tuna is exported to Europe and the U.S. International tuna corporations including
Bumble Bee
Bumble Bee (brand)
Bumble Bee Foods, LLC is a formerly American-owned company that produces canned tuna, salmon, other seafoods, and chicken. The company is headquartered in San Diego, California, United States. The brand is marketed as Clover Leaf in Canada...
, Van Camps, British Columbia Packers, and Conservas Isabel, as well as leading national tuna processor Marbelize, have sizable factories in Manta.
Other important products include vegetable oil. Large Ecuadorian corporations including La Fabril and Ales have their main factories in Manta.
According to a recent survey by "Vistazo" (important Ecuadorian magazine), Manta's metropolitan area possesses many of the largest (by revenue) companies in Ecuador (following Quito and Guayaquil which have larger companies than Manta).
Tourism is increasingly important for Manta's economy. Various cruise ships will make a port of call visit to Manta while traveling the southern Pacific Ocean.
In addition, produced in Manabí and known throughout the world are the original and official
"Panama" hats
Panama hat
A Panama hat is a traditional brimmed hat of Ecuadorian origin that is made from the plaited leaves of the toquilla straw plant...
, which are made in the nearby town of
Montecristi
Montecristi, Ecuador
Montecristi is a town in the Manabí province of Ecuador and the capital of the canton by the same name.As of the 2001 census Montecristi had 14,636 inhabitants....
. Panama hats are favorite souvenirs among visitors of Manta.
Manabí is also famous for its delicious cuisine. For those who enjoy seafood Manta is second to none.
Tourism
Manta receives numerous visits from foreign as well as local tourists. The most visited beaches include "El Murciélago", "Santa Marianita", "San Lorenzo" and "Barbasquillo". Surfers often travel to San Lorenzo to find powerful waves (regularly head high). Kitesurfing has recently become very popular in Santa Marianita (Playa Bonita) because of the excellent wind conditions and large beach.
Nearby, also, is the small town of Montecristi, founded in the early 17th century. With its colonial architecture, this small town is best known for its
wicker
Wicker
Wicker is hard woven fiber formed into a rigid material, usually used for baskets or furniture. Wicker is often made of material of plant origin, but plastic fibers are also used....
work weaving, and as the original birth place of the Panama hats which, despite their name, were historically produced in Ecuador.
Education
Manta possesses a number of Universities and High Schools. The largest and most traditional University is the Universidad Laica Eloy Alfaro; other universities include Universidad del Pacifico (Pacific University) and Manta Institute of Technology. The most traditional high schools include Colegio San Jose, and Colegio Manabi. Other foreign oriented upper class high schools include Jefferson High School (American), Julio Pierregrosse High School (Spanish), and Leonardo Da Vinci High School (Italian). These are the most prestigious high schools in the city with international standards.
Climate
Despite its near-equatorial location, the
Humboldt Current
Humboldt Current
The Humboldt Current , also known as the Peru Current, is a cold, low-salinity ocean current that flows north-westward along the west coast of South America from the southern tip of Chile to northern Peru. It is an eastern boundary current flowing in the direction of the equator, and can extend...
serves to give Manta an arid climate (
Köppen
Köppen climate classification
The Köppen climate classification is one of the most widely used climate classification systems. It was first published by Crimea German climatologist Wladimir Köppen in 1884, with several later modifications by Köppen himself, notably in 1918 and 1936...
BWh
). The city is hot and cloudy almost throughout the year, but rainfall is very erratic and almost completely confined to the month from January to April. Even then it falls mainly during El Niño events when the Humboldt Current weakens.
Sister city
Manta has two
sister cities
Town twinning
Twin towns and sister cities are two of many terms used to describe the cooperative agreements between towns, cities, and even counties in geographically and politically distinct areas to promote cultural and commercial ties.- Terminology :...
, as designated by
Sister Cities International
Sister Cities International
Sister Cities International is a nonprofit citizen diplomacy network that creates and strengthens partnerships between United States and international communities. More than 2,000 cities, states and counties are partnered in 136 countries around the world...
:
Long Beach
Long Beach, California
Long Beach is a city situated in Los Angeles County in Southern California, on the Pacific coast of the United States. The city is the 36th-largest city in the nation and the seventh-largest in California. As of 2010, its population was 462,257...
,
California
California
California is a state located on the West Coast of the United States. It is by far the most populous U.S. state, and the third-largest by land area...
, USA
Vladivostok
Vladivostok
The city is located in the southern extremity of Muravyov-Amursky Peninsula, which is about 30 km long and approximately 12 km wide.The highest point is Mount Kholodilnik, the height of which is 257 m...
,
Russia
Russia
Russia or , officially known as both Russia and the Russian Federation , is a country in northern Eurasia. It is a federal semi-presidential republic, comprising 83 federal subjects...