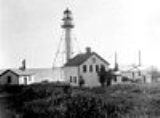 Manitou Island (Lake Superior)
Manitou Island
is a small island in
Lake Superior
Lake Superior
Lake Superior is the largest of the five traditionally-demarcated Great Lakes of North America. It is bounded to the north by the Canadian province of Ontario and the U.S. state of Minnesota, and to the south by the U.S. states of Wisconsin and Michigan. It is the largest freshwater lake in the...
, off the northeastern tip of the
Keweenaw Peninsula
Keweenaw Peninsula
The Keweenaw Peninsula is the northern-most part of Michigan's Upper Peninsula. It projects into Lake Superior and was the site of the first copper boom in the United States. As of the 2000 census, its population was roughly 43,200...
in the
U.S. state
U.S. state
A U.S. state is any one of the 50 federated states of the United States of America that share sovereignty with the federal government. Because of this shared sovereignty, an American is a citizen both of the federal entity and of his or her state of domicile. Four states use the official title of...
of
Michigan
Michigan
Michigan is a U.S. state located in the Great Lakes Region of the United States of America. The name Michigan is the French form of the Ojibwa word mishigamaa, meaning "large water" or "large lake"....
. Located approximately three miles from the mainland, it encompasses around 1000 acres (4 km²). Manitou has seen limited impact from human activity, due to its remote location and the often-treacherous waters caused by a strong current at the peninsula's tip. It is mostly forested, with scattered bogs and an inland lake known as "Perch Lake." Dense underbrush can make travel around the island rather difficult, though a few unimproved trails do exist.
The Keweenaw Land Trust protects 93 acre (0.37635798 km²) of the island as the
Manitou Island Light Station Preserve
.
History
Test pits
Mineral exploration
Mineral exploration is the process of finding ore to mine. Mineral exploration is a much more intensive, organized and professional form of mineral prospecting and, though it frequently uses the services of prospecting, the process of mineral exploration on the whole is much more involved.-Stages...
have been found on the island, hinting at a short-lived past as a possible
mining
Mining
Mining is the extraction of valuable minerals or other geological materials from the earth, from an ore body, vein or seam. The term also includes the removal of soil. Materials recovered by mining include base metals, precious metals, iron, uranium, coal, diamonds, limestone, oil shale, rock...
site. Though trees abound, Manitou's remoteness and its lack of quality timber make logging economically unfeasible. Commercial fisherman have used the island as a camping site in the past, staying overnight on the south beaches while setting their nets in the area. Today public access is facilitated by a timber and rock crib dock near the old lighthouse.
Beginning in 2002, Manitou Island became the focus of an effort by local birdwatchers to explore and document the various
avian
Bird
Birds are feathered, winged, bipedal, endothermic , egg-laying, vertebrate animals. Around 10,000 living species and 188 families makes them the most speciose class of tetrapod vertebrates. They inhabit ecosystems across the globe, from the Arctic to the Antarctic. Extant birds range in size from...
species there. Approximately 203 separate species have been recorded, including large numbers of migratory raptors and waterbirds. "On the 24th of April 2006 we recorded over 1300 raptors in the air at one time!" Observers have also compiled a "list of over 80 species as at least possible breeders." Organized orservations by the Keweenaw Audubon Society are now happening regularly. Efforts to investigate this unique habitat and its feathered residents are ongoing, in conjunction with the conservation activities of the Land Trust.
The large number of avian visitors should be understood in the larger context of other sites around Michigan and the Great Lakes. This would include
Peninsula Point Light
Peninsula Point Light
The Peninsula Point lighthouse is located on northern Lake Michigan south of Stonington, Michigan. Note: Some of the USCG literature references this light as "Point Peninsula Light".-Service:...
,
Tawas Point State Park
Tawas Point State Park
Tawas Point State Park is a Michigan state park located in Northern Michigan near the city of East Tawas. It is just over an hour drive from the Saginaw and Bay City area and a little over three hours from the Detroit area. The park contains situated on the end of a sand spit that forms Tawas Bay...
and Whitefish Point Light/
Whitefish Point Bird Observatory
Whitefish Point Bird Observatory
The Whitefish Point Bird Observatory is located in Chippewa County, Michigan, USA, adjacent to the Whitefish Point Unit of the Seney National Wildlife Refuge. It operates as a non-profit, affiliate education and research facility of the Michigan Audubon Society. The Society and the WPBO together...
(which contains a lighthouse configured like this one). Important Bird Areas are fond in many parts of Michigan.
Manitou Island Light Station
Manitou Island's most important use to date has been the Manitou Island Light Station on its eastern tip. First built in 1849, this
lighthouse
Lighthouse
A lighthouse is a tower, building, or other type of structure designed to emit light from a system of lamps and lenses or, in older times, from a fire, and used as an aid to navigation for maritime pilots at sea or on inland waterways....
is still in use, although it is unmanned and solar powered. The island is presently in the custody of the Keweenaw Land Trust, which acquired the Light Station and surrounding land in 2004. The new owners have announced plans to encourage public use of Manitou through
camping
Camping
Camping is an outdoor recreational activity. The participants leave urban areas, their home region, or civilization and enjoy nature while spending one or several nights outdoors, usually at a campsite. Camping may involve the use of a tent, caravan, motorhome, cabin, a primitive structure, or no...
,
rock collecting
Rockhounding
Amateur geology is the recreational study and hobby of collecting rocks and mineral specimens from their natural environment.-Collecting:...
,
hiking
Hiking
Hiking is an outdoor activity which consists of walking in natural environments, often in mountainous or other scenic terrain. People often hike on hiking trails. It is such a popular activity that there are numerous hiking organizations worldwide. The health benefits of different types of hiking...
,
boating
Boating
Boating is the leisurely activity of travelling by boat, or the recreational use of a boat whether powerboats, sailboats, or man-powered vessels , focused on the travel itself, as well as sports activities, such as fishing or water skiing...
, sea kayaking,
fishing
Fishing
Fishing is the activity of trying to catch wild fish. Fish are normally caught in the wild. Techniques for catching fish include hand gathering, spearing, netting, angling and trapping....
, and sightseeing at the old light station, while preserving the island's unspoilt scenery and natural habitats.
Gull Rock
Gull Rock
, a tiny islet about one-half mile off Manitou's western tip, contains a historic
lighthouse
Lighthouse
A lighthouse is a tower, building, or other type of structure designed to emit light from a system of lamps and lenses or, in older times, from a fire, and used as an aid to navigation for maritime pilots at sea or on inland waterways....
built in 1867 which still functions (like the Manitou light) as an unattended navigational aid. Recently a local preservation society acquired the islet and its dilapidated light station, with a view to its ultimate restoration.
Further reading
Crompton, Samuel Willard & Michael J. Rhein, The Ultimate Book of Lighthouses (2002) ISBN 1592231020; ISBN 978-1592231027.
Hyde, Charles K., and Ann and John Mahan. The Northern Lights: Lighthouses of the Upper Great Lakes. Detroit: Wayne State University Press, 1995. ISBN 0814325548 ISBN 9780814325544.
Jones, Ray & Bruce Roberts, American Lighthouses (Globe Pequot, September 1, 1998, 1st Ed.) ISBN 0762703245; ISBN 978-0762703241.
Jones, Ray,The Lighthouse Encyclopedia, The Definitive Reference (Globe Pequot, January 1, 2004, 1st ed.) ISBN 0762727357; ISBN 978-0762727353.
Lynn, Bruce. "A Light is on in the Graveyard [Whitefish Point]." Lighthouse Digest (Aug 1997), pp. 1–3.
Noble, Dennis, Lighthouses & Keepers: U. S. Lighthouse Service and Its Legacy (Annapolis: U. S. Naval Institute Press, 1997). ISBN 1557506388; ISBN 9781557506382.
Oleszewski, Wes, Great Lakes Lighthouses, American and Canadian: A Comprehensive Directory/Guide to Great Lakes Lighthouses, (Gwinn, Michigan: Avery Color Studios, Inc., 1998) ISBN 0-932212-98-0.
Penrod, John, Lighthouses of Michigan, (Berrien Center, Michigan: Penrod/Hiawatha, 1998) ISBN 9780942618785 ISBN 9781893624238.
Putnam, George R., Lighthouses and Lightships of the United States, (Boston: Houghton Mifflin Co., 1933).
Splake, T. Kilgore. Superior Land Lights. Battle Creek, MI: Angst Productions, 1984.
United States Coast Guard, Aids to Navigation, (Washington, DC: U. S. Government Printing Office, 1945).
Wagner, John L., Michigan Lighthouses: An Aerial Photographic Perspective, (East Lansing, Michigan: John L. Wagner, 1998) ISBN 1880311011 ISBN 9781880311011.
Wargin, Ed, Legends of Light: A Michigan Lighthouse Portfolio (Ann Arbor Media Group, 2006). ISBN 9781587262517.
Wright, Larry and Wright, Patricia, Great Lakes Lighthouses Encyclopedia Hardback (Erin: Boston Mills Press, 2006) ISBN 1550463993.
External links