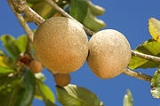 Mamey sapote
The
mamey sapote
is a
species
Species
In biology, a species is one of the basic units of biological classification and a taxonomic rank. A species is often defined as a group of organisms capable of interbreeding and producing fertile offspring. While in many cases this definition is adequate, more precise or differing measures are...
of
tree
Tree
A tree is a perennial woody plant. It is most often defined as a woody plant that has many secondary branches supported clear of the ground on a single main stem or trunk with clear apical dominance. A minimum height specification at maturity is cited by some authors, varying from 3 m to...
native to southern
Mexico
Mexico
The United Mexican States , commonly known as Mexico , is a federal constitutional republic in North America. It is bordered on the north by the United States; on the south and west by the Pacific Ocean; on the southeast by Guatemala, Belize, and the Caribbean Sea; and on the east by the Gulf of...
. Today, the tree is cultivated not only in
Mexico
Mexico
The United Mexican States , commonly known as Mexico , is a federal constitutional republic in North America. It is bordered on the north by the United States; on the south and west by the Pacific Ocean; on the southeast by Guatemala, Belize, and the Caribbean Sea; and on the east by the Gulf of...
, but also in
Central America
Central America
Central America is the central geographic region of the Americas. It is the southernmost, isthmian portion of the North American continent, which connects with South America on the southeast. When considered part of the unified continental model, it is considered a subcontinent...
, the
Caribbean
Caribbean
The Caribbean is a crescent-shaped group of islands more than 2,000 miles long separating the Gulf of Mexico and the Caribbean Sea, to the west and south, from the Atlantic Ocean, to the east and north...
, and South Florida for its fruit, which is commonly eaten in many
Latin America
Latin America
Latin America is a region of the Americas where Romance languages – particularly Spanish and Portuguese, and variably French – are primarily spoken. Latin America has an area of approximately 21,069,500 km² , almost 3.9% of the Earth's surface or 14.1% of its land surface area...
n countries. Mamey sapote is a large and highly
ornamental
Ornamental plant
Ornamental plants are plants that are grown for decorative purposes in gardens and landscape design projects, as house plants, for cut flowers and specimen display...
evergreen
Evergreen
In botany, an evergreen plant is a plant that has leaves in all seasons. This contrasts with deciduous plants, which completely lose their foliage during the winter or dry season.There are many different kinds of evergreen plants, both trees and shrubs...
tree that can reach a height of 15 to 45 meters (60 to 140 feet) at maturity. Like most fruit trees, it is mainly propagated by
grafting
Grafting
Grafting is a horticultural technique whereby tissues from one plant are inserted into those of another so that the two sets of vascular tissues may join together. This vascular joining is called inosculation...
, which ensures the new plant has the same characteristics as the parent, especially its fruit. It is also considerably faster than growing trees by
seed
Seed
A seed is a small embryonic plant enclosed in a covering called the seed coat, usually with some stored food. It is the product of the ripened ovule of gymnosperm and angiosperm plants which occurs after fertilization and some growth within the mother plant...
. The fruit is about 10 to 25 cm (4 to 10 inches) long and 8 to 12 cm (3 to 5 inches) wide and has orange flesh.
The fruit is eaten raw or made into
milkshake
Milkshake
A milkshake is a sweet, cold beverage which is made from milk, ice cream or iced milk, and flavorings or sweeteners such as fruit syrup or chocolate sauce....
s,
smoothie
Smoothie
A smoothie is a blended and sometimes sweetened beverage made from fresh fruit and in special cases can contain chocolate or peanut butter. In addition to fruit, many smoothies include crushed ice, frozen fruit, honey or contain syrup and ice ingredients...
s,
ice cream
Ice cream
Ice cream is a frozen dessert usually made from dairy products, such as milk and cream, and often combined with fruits or other ingredients and flavours. Most varieties contain sugar, although some are made with other sweeteners...
and fruit bars. Some consider the fruit to be an
aphrodisiac
Aphrodisiac
An aphrodisiac is a substance that increases sexual desire. The name comes from Aphrodite, the Greek goddess of sexuality and love. Throughout history, many foods, drinks, and behaviors have had a reputation for making sex more attainable and/or pleasurable...
. Some beauty products use oil pressed from the seed, otherwise known as sapayul oil.
The brown skin has a texture somewhat between sandpaper and the fuzz on a
peach
Peach
The peach tree is a deciduous tree growing to tall and 6 in. in diameter, belonging to the subfamily Prunoideae of the family Rosaceae. It bears an edible juicy fruit called a peach...
. The fruit's texture is creamy and soft. A mamey sapote is
ripe
Ripening
Ripening is a process in fruits that causes them to become more palatable. In general, a fruit becomes sweeter, less green, and softer as it ripens. Even though the acidity of fruit increases as it ripens, the higher acidity level does not make the fruit seem tarter, which can lead to the...
when the flesh is pink when a fleck of the skin is removed. The flesh should give slightly, as with a ripe
kiwifruit
Kiwifruit
The kiwifruit, often shortened to kiwi in many parts of the world, is the edible berry of a cultivar group of the woody vine Actinidia deliciosa and hybrids between this and other species in the genus Actinidia....
.
The mamey sapote is related to other sapotes such as
sapodilla
(
Manilkara zapota
),
abiu
Abiu
Pouteria caimito, the abiu, is a tropical fruit tree originated in the Amazonian region of South America. It will grow an average of high, and can grow as high as under good conditions. Its fruit's shape varies from round to oval with a point. When ripe, it has smooth bright yellow skin and will...
(
P. caimito
) and
canistel
Canistel
The canistel is an evergreen tree native to southern Mexico and Central America. It is cultivated in other countries, such as Brazil, Taiwan, and Vietnam for its fruit....
(
P. campechiana
), but unrelated to the black sapote (
Diospyros digyna
) and white sapote (
Casimiroa edulis
). It should not be confused with the
mammee apple
Mammee apple
Mammea americana, commonly known as mammee, mammee apple, mamey, mamey apple, Santo Domingo apricot or South American apricot, is an evergreen tree of the family Calophyllaceae, whose fruit is edible...
(
Mammea americana
).
It has different names depending on the country: mamey,
zapote colorado
(
Costa Rica
Costa Rica
Costa Rica , officially the Republic of Costa Rica is a multilingual, multiethnic and multicultural country in Central America, bordered by Nicaragua to the north, Panama to the southeast, the Pacific Ocean to the west and the Caribbean Sea to the east....
), and
zapote rojo
(
South America
South America
South America is a continent situated in the Western Hemisphere, mostly in the Southern Hemisphere, with a relatively small portion in the Northern Hemisphere. The continent is also considered a subcontinent of the Americas. It is bordered on the west by the Pacific Ocean and on the north and east...
), among others.