Mainichi Shimbun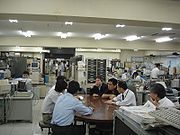 The is one of the major
newspaper
Newspaper
A newspaper is a scheduled publication containing news of current events, informative articles, diverse features and advertising. It usually is printed on relatively inexpensive, low-grade paper such as newsprint. By 2007, there were 6580 daily newspapers in the world selling 395 million copies a...
s in
Japan
Japan
Japan is an island nation in East Asia. Located in the Pacific Ocean, it lies to the east of the Sea of Japan, China, North Korea, South Korea and Russia, stretching from the Sea of Okhotsk in the north to the East China Sea and Taiwan in the south...
, published by .
History
The history of the Mainichi Shimbun begins with founding of two papers during the
Meiji period
Meiji period
The , also known as the Meiji era, is a Japanese era which extended from September 1868 through July 1912. This period represents the first half of the Empire of Japan.- Meiji Restoration and the emperor :...
. The
Tokyo Nichi Nichi Shimbun
Tokyo Nichi Nichi Shimbun
The Tokyo Nichi Nichi Shimbun was a newspaper printed in Tokyo, Japan from 1872 to 1943.In 1875, the company began the world's first newspaper delivery service....
was founded first, in 1872. The Mainichi claims that it is the oldest existing Japanese daily newspaper with its 136-year-long history. The
Osaka
Osaka
is a city in the Kansai region of Japan's main island of Honshu, a designated city under the Local Autonomy Law, the capital city of Osaka Prefecture and also the biggest part of Keihanshin area, which is represented by three major cities of Japan, Kyoto, Osaka and Kobe...
Mainichi Shimbun was founded four years later, in 1876. The two papers merged in 1911, but the two companies continued to print their newspapers independently until 1943, when both editions were placed under a Mainichi Shimbun
masthead
Masthead (publishing)
The masthead is a list, published in a newspaper or magazine, of its staff. In some publications it names only the most senior individuals; in others, it may name many or all...
. In 1966, the
Tokyo
Tokyo
, ; officially , is one of the 47 prefectures of Japan. Tokyo is the capital of Japan, the center of the Greater Tokyo Area, and the largest metropolitan area of Japan. It is the seat of the Japanese government and the Imperial Palace, and the home of the Japanese Imperial Family...
office was moved from Yurakucho to Takebashi, and in 1992, the
Osaka
Osaka
is a city in the Kansai region of Japan's main island of Honshu, a designated city under the Local Autonomy Law, the capital city of Osaka Prefecture and also the biggest part of Keihanshin area, which is represented by three major cities of Japan, Kyoto, Osaka and Kobe...
office was moved from Dojima to Nishi-Umeda.
The Mainichi has 3,200 employees working in 364 offices in Japan and 26 bureaus overseas. It is one of Japan's three largest newspapers in terms of circulation and number of employees, and has 79 associated companies, including
Tokyo Broadcasting System
Tokyo Broadcasting System
, TBS Holdings, Inc. or TBSHD, is a stockholding company in Tokyo, Japan. It is a parent company of a television network named and radio network named ....
(TBS),
Mainichi Broadcasting System
Mainichi Broadcasting System
is a broadcasting station in Osaka, Japan, affiliated with Japan Radio Network , National Radio Network , Japan News Network and TBS Network, serving in the Kansai region. MBS is also one of the major stockholders of Tokyo Broadcasting System Holdings, Inc...
(MBS) and the Sports Nippon Newspaper.
Two former Mainichi Newspapers Chief Executive Officers have gone on to become prime ministers of Japan. The Mainichi is the only Japanese newspaper company to have won a Pulitzer Prize. The Japan Newspapers Association, made up of 180 news organizations, has granted the Mainichi its Grand Prix award on 21 occasions, making the Mainichi the most frequent winner of the distinguished prize since its inception in 1957.
In addition to the Mainichi Shimbun, which is printed twice a day in several local editions, Mainichi also operates an
English language
English language
English is a West Germanic language that arose in the Anglo-Saxon kingdoms of England and spread into what was to become south-east Scotland under the influence of the Anglian medieval kingdom of Northumbria...
Web version of the defunct Mainichi Daily News, and publishes a bilingual news magazine, Mainichi Weekly. It also publishes paperbacks, books and other magazines, including a weekly news magazine, Sunday Mainichi.
Like other Japanese newspaper companies, Mainichi hosts many cultural events such as art exhibitions and sporting events. Among them, the most famous are the Sembatsu
high school baseball tournament
National High School Baseball Invitational Tournament
The National High School Baseball Invitational Tournament of Japan, commonly known as "Spring Kōshien" or "Senbatsu" , is an annual high school baseball tournament....
held every spring at
Koshien Stadium
Koshien Stadium
is a baseball park located near Kobe in Nishinomiya, Hyōgo Prefecture, Japan. The stadium was built to host the national high school baseball tournaments, and opened on April 1, 1924. It was the largest stadium in Asia at the time it was completed, with a capacity of 55,000.The name Kōshien comes...
, and the
non-professional baseball tournament
Intercity Baseball Tournament
The Intercity Baseball Tournament of Japan, commonly known as "Summer All-star" , is an annual nationwide City baseball tournament...
held every summer in the
Tokyo Dome
Tokyo Dome
Tokyo Dome is a 55,000-seat baseball stadium located in Bunkyo Ward of Tokyo, Japan.The stadium opened for business on March 17, 1988. It was built on the site of the Velodrome which was next door to the site of the predecessor ballpark, Kōrakuen Stadium...
(formerly held in
Korakuen Stadium
Korakuen Stadium
was a stadium in Tokyo, Japan. Completed in 1937, it was primarily used for baseball and was home to the Yomiuri Giants until 1988 when they moved next door, to the Tokyo Dome, which sits on the site of the Velodrome. The ballpark had a capacity of 50,000 people. In 1942 Korakuen Stadium played...
).
Partnership with MSN
On 15 January 2004, Mainichi Shimbun and
MSN Japan
Microsoft Japan
Microsoft Japan, officially , is a division of the United States-based computer technology corporation Microsoft based in Japan. The headquarters is in a skyscraper in the Shinjuku district of Tokyo.-External links:...
announced they were to merge their websites. The partnership has been known as MSN-Mainichi Interactive, effective since 1 April 2004. On 18 September 2007, Mainichi announced the launch of their new website,
mainichi.jp
, which would include "heavy use of social bookmarking, RSS and blog parts" and would "pay attention to
blog
Blog
A blog is a type of website or part of a website supposed to be updated with new content from time to time. Blogs are usually maintained by an individual with regular entries of commentary, descriptions of events, or other material such as graphics or video. Entries are commonly displayed in...
gers".
The new website began operations on 1 October 2007, marking the end of MSN-Mainichi Interactive, and was replaced by
mainichi.jp
. The English-language
Mainichi Daily News
also moved to the new website. MSN-Japan switched to
Sankei Shimbun
Sankei Shimbun
is a daily newspaper in Japan published by the . It has the sixth highest circulation for a newspaper in Japan, and is considered as one of the five "national" newspapers...
.
WaiWai controversy and cancellation
The Mainichi Daily News column WaiWai, by Australian journalist Ryann Connell, featured often-sensationalist stories, principally translated from and based on articles appearing in Japanese tabloids. The column carried a disclaimer since September 19, 2002: "WaiWai stories are transcriptions of articles that originally appeared in Japanese language publications. The Mainichi Daily News cannot be held responsible for the content of the original articles, nor does it guarantee their accuracy. Views expressed in the WaiWai column are not necessarily those held by the Mainichi Daily News or the Mainichi Newspapers Co."
In April and May 2008, an aggressive anti-WaiWai campaign appeared on internet forums including
2channel
2channel
is a Japanese textboard. In 2007 there were 2.5 million posts made every day. Launched in 1999, it has gained significant influence in Japanese society, comparable to that of traditional mass media such as television, radio, and magazines. As of 2008, the site generates revenue upwards of ¥100...
. Criticism included "contents are too vulgar" and "the stories could cause Japanese people to be misunderstood abroad."
The Mainichi editorial board responded by deleting controversial WaiWai articles and limiting archive access, but the column remained in the Sunday Mainichi. Citing continuing criticism, Mainichi's Digital Media Division shut down WaiWai on June 21. Mainichi also announced it would "severely punish the head of the Digital Media Division, which is responsible for overseeing the site, the manager responsible for the column and the editor involved with the stories." On June 25, Mainichi apologized to MDN readers.
Some advertisers responded to the campaign by pulling ads from Mainichis Japanese site.
On June 28, 2008, Mainichi announced punitive measures. Connell, who remained anonymous in the announcement, was suspended for three months ("issuing three months' disciplinary leave"). The other involved Mainichi personnel, Yutaka Asahina, Managing Director and Digital Media Division Executive Supervisor; Atsushi Hasegawa, General Manager of the Digital Media Division; Akihiko Isono, Deputy General Manager of the Digital Media Division; and Hiroshi Takahashi, Managing Editor, were either docked 10%–20% salary or "stripped of their titles" for a period of one or two months.
On July 20, 2008, Mainichi released the results of in-house investigation. Mainichi announced that it would re-organize the MDN Editorial Department on August 1 with a new chief editor, and would re-launch the MDN on September 1 as a more news-oriented site.
Mainichi said, "We continued to post articles that contained incorrect information about Japan and indecent sexual content. These articles, many of which were not checked, should not have been dispatched to Japan or the world. We apologize deeply for causing many people trouble and for betraying the public's trust in the Mainichi Shimbun."
Offices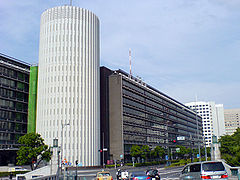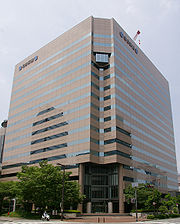 , corporate headquarters
Sponsorship
The company sponsors a number of prominent annual
road running
Road running
Road running is the sport of running on a measured course over an established road . These events would be classified as long distance according to athletics terminology, with distances typically ranging from 5 kilometers to 42.2 kilometers in the marathon. They may involve large numbers of runners...
competitions in Japan, including the
Lake Biwa Marathon
Lake Biwa Marathon
The held in Otsu, Shiga, is one of the prominent Japanese marathon races of the year. It is a male only competition and has IAAF Gold Label status. First held in 1946 and having taken place every year since then, it is Japan's oldest annual marathon race...
and the
Beppu-Ōita Marathon
Beppu-Ōita Marathon
The ' is an annual men's marathon race that takes place every February between the cities of Beppu and Ōita on the island of Kyushu in Japan. First held in 1952 as a 35 km race, the looped marathon course begins at the bottom of Takasaki Mountain and reaches Beppu's Kankoko International Port...
.
See also
Japanese media

Japanese media

The communications media of Japan include numerous television and radio networks as well as newspapers and magazines in Japan. For the most part, television networks were established based on the capital contribution from existing radio networks at that time...



Mainichi Film Awards

Mainichi Film Awards

The Mainichi Film Awards are a series of annual film awards, sponsored by Mainichi Shinbun , one of the largest newspaper companies in Japan, since 1946.-Animation awards:...



Everyday Mum
External links