 Road running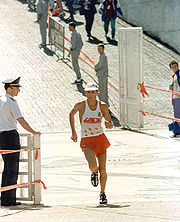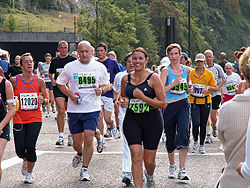 Road running
is the sport of
running
Running
Running is a means of terrestrial locomotion allowing humans and other animals to move rapidly on foot. It is simply defined in athletics terms as a gait in which at regular points during the running cycle both feet are off the ground...
on a measured course over an established
road
Road
A road is a thoroughfare, route, or way on land between two places, which typically has been paved or otherwise improved to allow travel by some conveyance, including a horse, cart, or motor vehicle. Roads consist of one, or sometimes two, roadways each with one or more lanes and also any...
(as opposed to track and
cross country running
Cross country running
Cross country running is a sport in which people run a race on open-air courses over natural terrain. The course, typically long, may include surfaces of grass and earth, pass through woodlands and open country, and include hills, flat ground and sometimes gravel road...
). These events would be classified as long distance according to athletics terminology, with distances typically ranging from 5 kilometers to 42.2 kilometers in the
marathon
Marathon
The marathon is a long-distance running event with an official distance of 42.195 kilometres , that is usually run as a road race...
. They may involve large numbers of runners or wheelchair entrants. Road running is part of a group of road events known as "road races". Road running is one aspect in the overall sport of athletics.
Road running may offer those involved a range of challenges and interests such as dealing with hills, sharp bends, varied surfaces, inclement weather, and involvement in a large group.
Aerobic
Aerobic exercise
Aerobic exercise is physical exercise of relatively low intensity that depends primarily on the aerobic energy-generating process. Aerobic literally means "living in air", and refers to the use of oxygen to adequately meet energy demands during exercise via aerobic metabolism...
fitness, or the ability of the body to use oxygen, is the biggest factor contributing to success.
The impact of running on roads puts more stress on the feet, knees and lower back than running on dirt or grass. It can compensate by providing a consistent, level surface. It may put less strain on the
Achilles tendon
Achilles tendon
The Achilles tendon , also known as the calcaneal tendon or the tendo calcaneus, is a tendon of the posterior leg. It serves to attach the plantaris, gastrocnemius and soleus muscles to the calcaneus bone.- Anatomy :The Achilles is the tendonous extension of 3 muscles in the lower leg:...
.
Courses
Race courses are usually held on the streets of major cities and towns, but can be on any road. The IAAF recognizes nine common distances for road races: 10 kilometres (6.2 mi), 15 kilometres (9.3 mi), 20 kilometres (12.4 mi), half-marathon (21.097 km or 13.1 mi), 25 kilometres (15.5 mi), 30 kilometres (18.6 mi),
marathon
Marathon
The marathon is a long-distance running event with an official distance of 42.195 kilometres , that is usually run as a road race...
(42.195 km or 26.2 mi), 100 kilometres (62.1 mi), and
Ekiden
Ekiden
is a term referring to a long-distance relay running race, typically on roads. The Japanese term originally referred to a post-horse or stagecoach which transmitted communication by stages.-History:...
marathon relay. Other common distances include 5 kilometres (3.1 mi), 8 kilometres (5 mi), 12 kilometres (7.5 mi), and 10 miles (16.1 km).
Some major events have unique distances. The "Round the Bays" run in
Auckland
Auckland
The Auckland metropolitan area , in the North Island of New Zealand, is the largest and most populous urban area in the country with residents, percent of the country's population. Auckland also has the largest Polynesian population of any city in the world...
,
New Zealand
New Zealand
New Zealand is an island country in the south-western Pacific Ocean comprising two main landmasses and numerous smaller islands. The country is situated some east of Australia across the Tasman Sea, and roughly south of the Pacific island nations of New Caledonia, Fiji, and Tonga...
is 8.4 kilometres (5.2 mi); the
Falmouth Road Race
Falmouth Road Race
The Falmouth Road Race is an annual 7-mile road race on Cape Cod from Woods Hole, a village in the town of Falmouth, Massachusetts, to Falmouth Heights.-History:...
in Falmouth, Cape Cod is 7.1 miles (11.4 km); "City to Surf" in
Sydney
Sydney
Sydney is the most populous city in Australia and the state capital of New South Wales. Sydney is located on Australia's south-east coast of the Tasman Sea. As of June 2010, the greater metropolitan area had an approximate population of 4.6 million people...
,
Australia
Australia
Australia , officially the Commonwealth of Australia, is a country in the Southern Hemisphere comprising the mainland of the Australian continent, the island of Tasmania, and numerous smaller islands in the Indian and Pacific Oceans. It is the world's sixth-largest country by total area...
is 14 kilometres (8.7 mi);
Honolulu's
Honolulu, Hawaii
Honolulu is the capital and the most populous city of the U.S. state of Hawaii. Honolulu is the southernmost major U.S. city. Although the name "Honolulu" refers to the urban area on the southeastern shore of the island of Oahu, the city and county government are consolidated as the City and...
"
Great Aloha Run
Great Aloha Run
The Kaiser Permanente Great Aloha Run is a road race that takes place annually in Honolulu, Hawaii on the third Monday in February . It is a charity event that benefits Carole Kai Charities, a philanthropic fund run by Hawaii entertainer Carole Kai. Kai and Honolulu Marathon founder Jack Scaff, M.D...
" is 8.15 miles (13.1 km); the "King Island Imperial 20" is 32 kilometres (19.9 mi) long; and the "
Charleston Distance Run
Charleston Distance Run
The Charleston Distance Run is a 15 mile road running event held annually in Charleston, West Virginia. The race starts at the corner of Virginia Street and Civic Center Drive. The course winds through Charleston's South Hills for six miles before crossing back over the South Side Bridge...
" in
Charleston, West Virginia
Charleston, West Virginia
Charleston is the capital and largest city of the U.S. state of West Virginia. It is located at the confluence of the Elk and Kanawha Rivers in Kanawha County. As of the 2010 census, it has a population of 51,400, and its metropolitan area 304,214. It is the county seat of Kanawha County.Early...
is 15 miles (24.1 km).
Most road race courses have a certificate of course accuracy which confirms that they have been measured with an accuracy of better than 0.1%, i.e. to within 10 m for a 10 km race. It is common for formally certified courses to be
intentionally lengthened
Short course prevention factor
The short course prevention factor is a multiplicative factor or coefficient used in the sport of athletics, specifically road running, to ensure that the measured length of a course is at least as long as the desired length of the course...
by one metre per km to ensure that they are not short. Measurement is normally done by means of a calibrated bicycle fitted with a
Jones Counter
Jones Counter
The Jones Counter is a device fitted to the front wheel of a bicycle which counts the revolutions of the wheel. It was invented in 1971 by Alan Jones in order to measure the length of road running race courses. It has gears that drive a mechanical digital counter. Depending on the gear ratio used,...
. If a world record is set on a race course, the course is independently remeasured to verify that it was the correct length.
Ultrarunning
Running that covers a distance farther than a marathon is called ultrarunning; the event is an
ultramarathon
Ultramarathon
An ultramarathon is any sporting event involving running longer than the traditional marathon length of .There are two types of ultramarathon events: those that cover a specified distance, and events that take place during specified time...
. Such events can be measured in distance (for example, 100 kilometers) or by time (whoever has run the farthest after 24 hours). Examples include the
London
London
London is the capital city of :England and the :United Kingdom, the largest metropolitan area in the United Kingdom, and the largest urban zone in the European Union by most measures. Located on the River Thames, London has been a major settlement for two millennia, its history going back to its...
to
Brighton
Brighton
Brighton is the major part of the city of Brighton and Hove in East Sussex, England on the south coast of Great Britain...
run in
England
England
England is a country that is part of the United Kingdom. It shares land borders with Scotland to the north and Wales to the west; the Irish Sea is to the north west, the Celtic Sea to the south west, with the North Sea to the east and the English Channel to the south separating it from continental...
which is just over 54 miles (86.9 km), the
Comrades Marathon
Comrades Marathon
The Comrades Marathon is an ultramarathon of approximately 90 km run in the Kwazulu-Natal Province of South Africa between the cities of Durban and Pietermaritzburg. It is the world's largest and oldest ultramarathon race...
run between
Pietermaritzburg
Pietermaritzburg
Pietermaritzburg is the capital and second largest city in the province of KwaZulu-Natal, South Africa. It was founded in 1838, and is currently governed by the Msunduzi Local Municipality. Its "purist" Zulu name is umGungundlovu, and this is the name used for the district municipality...
and
Durban
Durban
Durban is the largest city in the South African province of KwaZulu-Natal and the third largest city in South Africa. It forms part of the eThekwini metropolitan municipality. Durban is famous for being the busiest port in South Africa. It is also seen as one of the major centres of tourism...
in
South Africa
South Africa
The Republic of South Africa is a country in southern Africa. Located at the southern tip of Africa, it is divided into nine provinces, with of coastline on the Atlantic and Indian oceans...
which is about 89 kilometres (55.3 mi), and the
Badwater Ultramarathon
Badwater Ultramarathon
The Badwater Ultramarathon describes itself as "the world's toughest foot race". It is a course starting at below sea level in the Badwater Basin, in California's Death Valley, and ending at an elevation of 8360 feet at Whitney Portal, the trailhead to Mount Whitney...
between
Death Valley
Death Valley
Death Valley is a desert valley located in Eastern California. Situated within the Mojave Desert, it features the lowest, driest, and hottest locations in North America. Badwater, a basin located in Death Valley, is the specific location of the lowest elevation in North America at 282 feet below...
and
Mount Whitney
Mount Whitney
Mount Whitney is the highest summit in the contiguous United States with an elevation of . It is on the boundary between California's Inyo and Tulare counties, west-northwest of the lowest point in North America at Badwater in Death Valley National Park...
in the
United States
United States
The United States of America is a federal constitutional republic comprising fifty states and a federal district...
which is 135 miles (217.3 km) (with a net elevation gain of over 4,500 meters, almost 15,000 feet).
Multiday running
Beyond the ultramarathon lie the
multiday
Multiday races
Multiday races are ultramarathon running events which are typically either segmented into daily events of a specified distance or time, or staged so that runners can run as far as they want, at their own discretion, over a set course or over a set number of days...
and stage races. These events include current events such as the
Self-Transcendence 6 & 10 day
Self-Transcendence 6 & 10 day
-History:The Sri Chinmoy Marathon Team held a 1000 mile race in the spring of 1985, and later in the year held the first Sri Chinmoy Five Day Race at Flushing Meadow Park in Queens, which lasted for three consecutive years and led to the Seven Day Race, the forerunner of today's Ten Day event. The...
and
3100 mile
Self-Transcendence 3100 Mile Race
The Self-Transcendence 3100 mile race is the world's longest certified footrace according to its organizers.This multiday race is hosted by the Sri Chinmoy Marathon Team and takes place in Queens, New York in the USA from June-August every year. The course is 3,100 miles long...
races in New York,
Trans-America
Trans-American Footrace
One of the earliest twentieth century multiday races was the inaugural Trans-American footrace which took place in 1928 starting at Ascot Speedway in Los Angeles and finishing in New York City in Madison Square Garden....
, Trans-Gaul, Trans-Korea,
Trans-Europe race
Trans-Europe race
The Trans Europe Foot Race is a multiday long-distance ultramarathon that consists of crossing Europe on foot.-2003 race:The 2003 Trans Europe Foot Race was organized by Ingo Schultze. It ran from Lisbon to Moscow in 64 days and covered approximately . Out of 44 starters, there were 22 finishers...
and the cross Germany race - the Deutschlandlauf. In these events runners have to complete as many miles as possible in the given time limit - the go-as-you-please style or have to complete a given distance in a set time such as the daily stages of the trans-country races where cut-offs are enforced.
Participation
Road running is unique among athletic events because in many cases first time amateurs are welcome to participate in the same event as members of running clubs and even current world-class champions. Though often race times are recorded manually by race organizers, sometimes road races feature
electronic timing using transponders
Transponder timing
Transponder timing is a technique for measuring performance in sport events. A transponder working on a radio-frequency identification basis is attached to the athlete and emits a unique code that is detected by radio receivers located at the strategic points in an event.Prior to the use of this...
.
Road races are often community-wide events that highlight or raise money for an issue or project. In the USA, Susan G. Komen's Race for the Cure is held nationwide to raise
breast cancer
Breast cancer
Breast cancer is cancer originating from breast tissue, most commonly from the inner lining of milk ducts or the lobules that supply the ducts with milk. Cancers originating from ducts are known as ductal carcinomas; those originating from lobules are known as lobular carcinomas...
awareness. This race is also run in Germany, Italy and Puerto Rico. Similarly,
Race for Life
Race for Life
Race for Life is a series of fundraising events organised by the British charity, Cancer Research UK. They involve running, jogging or walking a 5-kilometre course and raising sponsorship for doing so. The money raised is donated to the charity to fund cancer research and campaigns...
holds races throughout the UK to raise money for Cancer Research. First person "race reports" frequently appear on the
Dead Runners Society
Dead Runners Society
The Dead Runners Society is a worldwide online running club. DRS is notable for its unusual role in the development of both the Internet and the sport of running. Founded by Chris Conn in 1991 as an electronic mailing list, DRS pre-dates widespread use of the World Wide Web. It is an early...
electronic mailing list
Electronic mailing list
An electronic mailing list is a special usage of email that allows for widespread distribution of information to many Internet users. It is similar to a traditional mailing list — a list of names and addresses — as might be kept by an organization for sending publications to...
.
Dublin
,
Ireland
Republic of Ireland
Ireland , described as the Republic of Ireland , is a sovereign state in Europe occupying approximately five-sixths of the island of the same name. Its capital is Dublin. Ireland, which had a population of 4.58 million in 2011, is a constitutional republic governed as a parliamentary democracy,...
's Women's Mini-Marathon is said to be the largest all-female event of its kind in the world.
Governing body and international organisations
The international governing body for road racing is the IAAF. National governing bodies which are affiliated to the IAAF are responsible for road races held in their country. Of the thousands of road races held each year, 238 races, including some premier ones, are members of the
Association of International Marathons and Distance Races
Association of International Marathons and Distance Races
The Association of International Marathons and Distance Races, also known as AIMS, is an association of long-distance running races. Originally founded in 1982 at a meeting in London of marathon race directors, its membership was extended in 1986 to include all road races...
(AIMS). Many race organizers (or the running clubs which conduct the races) are members of the
Road Runners Club of America
Road Runners Club of America
Founded in 1958, the Road Runners Club of America is the oldest and largest distance running organization in the United States with over 1500 running club and event members representing 200,000 individual runners active in their running communities...
. In addition, the USA Track & Field plays a role in selecting representatives for certain international competitions under the
Amateur Sports Act of 1978
Amateur Sports Act of 1978
The Amateur Sports Act of 1978, , establishes a United States Olympic Committee and provides for national governing bodies for each Olympic sport...
.
Competitors from around the world participate in what are dubbed the "elite" races for cash prizes.
Kenya
Kenya
Kenya , officially known as the Republic of Kenya, is a country in East Africa that lies on the equator, with the Indian Ocean to its south-east...
ns and
Ethiopia
Ethiopia
Ethiopia , officially known as the Federal Democratic Republic of Ethiopia, is a country located in the Horn of Africa. It is the second-most populous nation in Africa, with over 82 million inhabitants, and the tenth-largest by area, occupying 1,100,000 km2...
ns are renowned for their skill and it is rare for a race's top finishers not to include competitors from these countries. Elite level road running series include the
World Marathon Majors
World Marathon Majors
The World Marathon Majors is a championship-style competition for marathon runners that started in 2006. It comprises five annual races for the cities of Berlin, Boston, Chicago, London, and New York City. Two other races are also included in the series: the IAAF World Championships Marathon and...
, the
Great Run
Great Run
The Great Run is a series of road running events around the United Kingdom, which includes the Great North Run. The Great Run is a part of the NOVA international sporting group, which was launched by retired athlete Brendan Foster...
series, and
IAAF Road Race Label Events
IAAF Road Race Label Events
IAAF Road Race Label Events are annual running competitions which have been granted recognition by the International Association of Athletics Federations as being among the foremost competitions of their type...
.
See also
Fell running

Fell running

Fell running, also known as mountain running and hill running, is the sport of running and racing, off road, over upland country where the gradient climbed is a significant component of the difficulty...



Cross country running

Cross country running

Cross country running is a sport in which people run a race on open-air courses over natural terrain. The course, typically long, may include surfaces of grass and earth, pass through woodlands and open country, and include hills, flat ground and sometimes gravel road...



List of largest running events
Orienteering

Orienteering

Orienteering is a family of sports that requires navigational skills using a map and compass to navigate from point to point in diverse and usually unfamiliar terrain, and normally moving at speed. Participants are given a topographical map, usually a specially prepared orienteering map, which they...



Track running
Trail running

Trail running

Trail running is a variant on running that differs markedly from road running and track running. Trail running generally takes place on hiking trails, most commonly single track trails, although fire roads are not uncommon. A distinguishing characteristic of the trails is that they are often...



External links