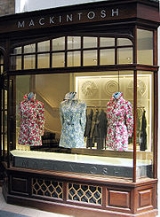 Mackintosh
The
Mackintosh
or
Macintosh
(abbreviated as mac or mack) is a form of waterproof
raincoat
Raincoat
A raincoat is a waterproof or water-resistant coat worn to protect the body from rain. The term rain jacket is sometimes used to refer to raincoats that are waist length. A rain jacket may be combined with a pair of rain pants to make a rain suit.Modern raincoats are often constructed of...
, first sold in 1824, made out of
rubber
Rubber
Natural rubber, also called India rubber or caoutchouc, is an elastomer that was originally derived from latex, a milky colloid produced by some plants. The plants would be 'tapped', that is, an incision made into the bark of the tree and the sticky, milk colored latex sap collected and refined...
ised
fabric
Textile
A textile or cloth is a flexible woven material consisting of a network of natural or artificial fibres often referred to as thread or yarn. Yarn is produced by spinning raw fibres of wool, flax, cotton, or other material to produce long strands...
. The Mackintosh is named after its
Scottish
Scotland
Scotland is a country that is part of the United Kingdom. Occupying the northern third of the island of Great Britain, it shares a border with England to the south and is bounded by the North Sea to the east, the Atlantic Ocean to the north and west, and the North Channel and Irish Sea to the...
inventor
Charles Macintosh
, though a letter
k
is added by many writers (this variant spelling "Mackintosh" is now standard).
Although the Mackintosh style of coat has become generic, a genuine Mackintosh coat should be made from rubberised or rubber laminated material.
History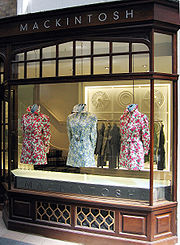 Charles Macintosh
patented his invention for waterproof cloth in 1823 and the first Mackintosh coats were made in the family's textile factory, Charles Macintosh and Co. of
Glasgow
Glasgow
Glasgow is the largest city in Scotland and third most populous in the United Kingdom. The city is situated on the River Clyde in the country's west central lowlands...
. But in 1830 the company merged with the clothing company of
Thomas Hancock
Thomas Hancock (inventor)
Thomas Hancock , elder brother of inventor Walter Hancock, was an English inventor who founded the British rubber industry...
in
Manchester
Manchester
Manchester is a city and metropolitan borough in Greater Manchester, England. According to the Office for National Statistics, the 2010 mid-year population estimate for Manchester was 498,800. Manchester lies within one of the UK's largest metropolitan areas, the metropolitan county of Greater...
. Hancock had also been experimenting with rubber coated fabrics since 1819.
Early coats had problems with smell, stiffness, and a tendency to melt in hot weather, but Hancock further improved their waterproof fabrics, patenting a method for vulcanising rubber in 1843, which solved many of the problems.
Throughout the 19th and 20th centuries, the company continued to make waterproof clothing. In 1925 the company was taken over by
Dunlop Rubber
Dunlop Rubber
Dunlop Rubber was a company based in the United Kingdom which manufactured tyres and other rubber products for most of the 20th century. It was acquired by BTR plc in 1985. Since then, ownership of the Dunlop trade-names has been fragmented.-Early history:...
.
Revival
In the mid 1990s the company which then owned the brand, Traditional Weatherwear, was on the verge of closing its factory in
Cumbernauld
Cumbernauld
Cumbernauld is a Scottish new town in North Lanarkshire. It was created in 1956 as a population overspill for Glasgow City. It is the eighth most populous settlement in Scotland and the largest in North Lanarkshire...
near Glasgow. It was then acquired by Daniel Dunko. Around the turn of the 21st century, the company made progress to establish the traditional rubberised Mackintosh coat as an upmarket brand in its own right. They collaborated with leading
fashion
Fashion design
Fashion design is the art of the application of design and aesthetics or natural beauty to clothing and accessories. Fashion design is influenced by cultural and social latitudes, and has varied over time and place. Fashion designers work in a number of ways in designing clothing and accessories....
houses such as
Gucci
Gucci
The House of Gucci, better known simply as Gucci , is an Italian fashion and leather goods label, part of the Gucci Group, which is owned by French company PPR...
,
Hermès
Hermès
Hermès International S.A., or simply Hermès is a French high fashion house established in 1837, today specializing in leather, lifestyle accessories, perfumery, luxury goods, and ready-to-wear...
,
Louis Vuitton
Louis Vuitton
Louis Vuitton Malletier – commonly referred to as Louis Vuitton , or shortened to LV – is a French fashion house founded in 1854 by Louis Vuitton. The label is well known for its LV monogram, which is featured on most products, ranging from luxury trunks and leather goods to ready-to-wear, shoes,...
and
Liberty
Liberty (department store)
Liberty is a long-established department store in Regent Street in Central London, England, in the West End shopping district.-Early years:...
. The coats became particularly popular with Japanese women, and the company won a Queen's Award for Enterprise in 2000 for its success in international trade.
In 2007 Mackintosh was bought by Tokyo firm Yagi Tsusho, which also owns Barbour.
External links