 Maccabiah Games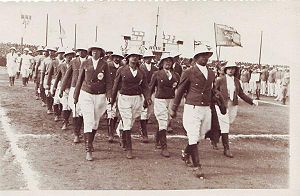 The
Maccabiah
is an international
Jewish
Judaism
Judaism ) is the "religion, philosophy, and way of life" of the Jewish people...
athletic event similar to the
Olympics
Olympic Games
The Olympic Games is a major international event featuring summer and winter sports, in which thousands of athletes participate in a variety of competitions. The Olympic Games have come to be regarded as the world's foremost sports competition where more than 200 nations participate...
held in
Israel
Israel
The State of Israel is a parliamentary republic located in the Middle East, along the eastern shore of the Mediterranean Sea...
every four years under the auspices of the Maccabi Federation, affiliated with the
Maccabi World Union
Maccabi World Union
The Maccabi World Union is an international Jewish sports organisation spanning 5 continents and more than 50 countries, with some 400,000 members...
. The Maccabiah Games is the third largest international sports competition in the world.
The third Maccabiah, scheduled for 1938, was delayed until 1950 due to the rise of
Nazism
Nazism
Nazism, the common short form name of National Socialism was the ideology and practice of the Nazi Party and of Nazi Germany...
in Europe and the outbreak of the Second World War. The Maccabiah has been a quadrennial event since 1957.
Maccabiah is open to Jewish athletes as well as Israeli athletes regardless of religion.
Arab Israelis
Arab citizens of Israel
Arab citizens of Israel refers to citizens of Israel who are not Jewish, and whose cultural and linguistic heritage or ethnic identity is Arab....
have also competed in it.
History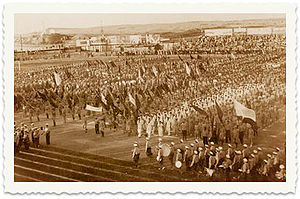 Originally conceived by Yosef Yekutieli, a 15-year-old inspired by the
1912 Stockholm Olympic Games
1912 Summer Olympics
The 1912 Summer Olympics, officially known as the Games of the V Olympiad, were an international multi-sport event held in Stockholm, Sweden, between 5 May and 27 July 1912. Twenty-eight nations and 2,407 competitors, including 48 women, competed in 102 events in 14 sports...
, the Games were first held in 1932 after 14 years of development by Yekutieli and the
Jewish National Fund
Jewish National Fund
The Jewish National Fund was founded in 1901 to buy and develop land in Ottoman Palestine for Jewish settlement. The JNF is a quasi-governmental, non-profit organisation...
. During the planning stages, the games were nicknamed the
Maccabiyon
, and 1932 was selected as the year to host the first games, marking the 1,800th anniversary of the Bar Kochba revolt.
To generate interest in the games, and collect donations with which to build a stadium in
Tel Aviv
Tel Aviv
Tel Aviv , officially Tel Aviv-Yafo , is the second most populous city in Israel, with a population of 404,400 on a land area of . The city is located on the Israeli Mediterranean coastline in west-central Israel. It is the largest and most populous city in the metropolitan area of Gush Dan, with...
(
Maccabiah Stadium
Maccabiah Stadium
The Maccabiah Stadium is a stadium on the Yarkon River in Tel Aviv, Israel. It was built in 1932 for the first Maccabiah Games and was filled to capacity for the opening ceremony...
), a group of representatives traveled by motorcycle on two separate routes, promoting the games to different communities. The first was from Palestine to
Syria
Syria
Syria , officially the Syrian Arab Republic , is a country in Western Asia, bordering Lebanon and the Mediterranean Sea to the West, Turkey to the north, Iraq to the east, Jordan to the south, and Israel to the southwest....
,
Turkey
Turkey
Turkey , known officially as the Republic of Turkey , is a Eurasian country located in Western Asia and in East Thrace in Southeastern Europe...
, Poland, Germany, France, and Belgium. The second from May 10 through July 16, 1931, went from Tel Aviv through the Sinai desert to
Cairo
Cairo
Cairo , is the capital of Egypt and the largest city in the Arab world and Africa, and the 16th largest metropolitan area in the world. Nicknamed "The City of a Thousand Minarets" for its preponderance of Islamic architecture, Cairo has long been a centre of the region's political and cultural life...
and
Alexandria
Alexandria
Alexandria is the second-largest city of Egypt, with a population of 4.1 million, extending about along the coast of the Mediterranean Sea in the north central part of the country; it is also the largest city lying directly on the Mediterranean coast. It is Egypt's largest seaport, serving...
in Egypt, and then proceeded by ship to Salonika in Greece,
Bulgaria
Bulgaria
Bulgaria , officially the Republic of Bulgaria , is a parliamentary democracy within a unitary constitutional republic in Southeast Europe. The country borders Romania to the north, Serbia and Macedonia to the west, Greece and Turkey to the south, as well as the Black Sea to the east...
,
Yugoslavia
Yugoslavia
Yugoslavia refers to three political entities that existed successively on the western part of the Balkans during most of the 20th century....
,
Czechoslovakia
Czechoslovakia
Czechoslovakia or Czecho-Slovakia was a sovereign state in Central Europe which existed from October 1918, when it declared its independence from the Austro-Hungarian Empire, until 1992...
, Austria, Germany, and France, and by ferry to Brighton and the English cities of London, Birmingham, Manchester, and Leeds to Glasgow in Scotland, and home via Beirut in Lebanon.
The
1932 Maccabiah Games
1932 Maccabiah Games
The 1932 Maccabiah Games were the first ever held during the British Mandate of Palestine. The games were opened by Tel Aviv Mayor Meir Dizengoff, who rode through the streets of Tel Aviv on a white horse...
were opened on March 28, 1932, and about 400 sportsmen took part. The games were held in athletics, football, and swimming. The second games,
1935 Maccabiah Games
1935 Maccabiah Games
The 1935 Maccabiah Games was the second Maccabiah held. These games were held despite official opposition by the British Mandatory government. A total of 28 countries were represented by 1,350 athletes. Delegations from Italy, Belgium, Holland, Turkey, France and South Africa arrived for the first...
, was held in April 1935, and about 1,350 athletes competed.
The
1997 Maccabiah Games
1997 Maccabiah Games
The 1997 Maccabiah Games are remembered for being marred by a bridge collapse that killed several participants.The 15th Maccabiah had more than 5,000 athletes from 53 countries competing in 36 sports....
were marred by a
Maccabiah Bridge Disaster
Maccabiah bridge collapse
The Maccabiah bridge collapse was the catastrophic failure of a pedestrian bridge over the Yarkon River in Tel Aviv, Israel on July 14, 1997. The collapse of the temporary wooden structure killed four and injured 60 Australian athletes who were visiting Israel to participate in the Maccabiah Games...
when a temporary bridge built for the march of athletes at the opening ceremony collapsed, plunging about 100 members of the Australian delegation into the polluted waters of Yarkon River. Four athletes were killed and 63 injured.
The
2005 Maccabiah Games
2005 Maccabiah Games
The 2005 Maccabiah Games were the 17th incarnation of the 'Jewish Olympics.' They attracted the largest attendance of any Maccabiah Games to date, including more than 900 representatives from the United States, almost 500 from Australia, and more than 2,000 from Israel, bringing the total...
attracted 900 representatives from the United States, 500 from Australia, and over 2,000 from Israel, bringing the total participants to more than 7,700. Israel finished at the top of the medal count with 227 gold medals. The United States was a distant second with 71 gold medals, while Russia came in third with 15.
The
2009 Maccabiah Games
2009 Maccabiah Games
The 2009 Maccabiah Games were the 18th incarnation of the Maccabiah Games, being held in July 2009. According to the organizing committee these were the largest games held yet. On the 13th of July, more than 6,000 Jewish athletes from all over the world joined Team Israel's 3,000 participants at...
hosted athletes from 51 countries competing in 31 sports events.
Structure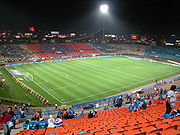 The games, always held in Israel, are in fact three separate competitions – "Open," "Juniors," and "Masters". Every Israeli citizen and every Jew not an Israeli citizen, is eligible to compete in the games. Sports in the junior games are open to any qualifying athlete aged 15 to 18. Masters' sports are divided into a number of different age categories—generally for older competitors.
Unlike the Olympic games and other major international sporting events, the sport list for the Maccabiah Games is not set in stone. The "Basic Rules" of the Maccabiah Games state that competitions will only take place if four (three, in the case of all female sports, and junior team sports) countries bring competitors for that sport.
Notable participants
Among the Olympic
gold medal
Gold medal
A gold medal is typically the medal awarded for highest achievement in a non-military field. Its name derives from the use of at least a fraction of gold in form of plating or alloying in its manufacture...
ists, world champions, and world record holders who have competed in the Maccabiah Games are
Mark Spitz
Mark Spitz
Mark Andrew Spitz is a retired American swimmer. He won seven gold medals at the 1972 Munich Olympic Games, an achievement only surpassed by Michael Phelps who won eight golds at the 2008 Olympics....
,
Lenny Krayzelburg
Lenny Krayzelburg
Lenny Krayzelburg is an American backstroke swimmer, and Olympic gold medalist and former world record holder. He swam in the 2000 and 2004 Olympics. He won a total of 4 Olympic gold medals....
,
Jason Lezak
Jason Lezak
Jason Edward Lezak is an American Olympic swimmer, winner of 4 Olympic gold medals.He formerly swam for Irvine Novaquatics. He graduated from Irvine High School in 1994, and then from the University of California, Santa Barbara in 1999. He is a member of the Rose Bowl Aquatics swim club...
, and
Marilyn Ramenofsky
Marilyn Ramenofsky
Marilyn Ramenofsky was an American freestyle swimmer. She is currently a researcher at the University of California at Davis, studying the physiology and behavior of bird migration...
(swimming);
Mitch Gaylord
Mitch Gaylord
Mitchell Jay Gaylord , is an American gymnast and Olympic gold medalist.Gaylord was born in Van Nuys, California, son of Fred and Linda Gaylord. While attending UCLA, he won the All-Around in the 1983 and 1984 U.S...
,
Abie Grossfeld
Abie Grossfeld
Abie Grossfeld is a former American gymnast and current American gymnastics coach.Grossfeld has represented the United States as a gymnastics competitor or coach in seven Olympic Games, seven World Championships, six Maccabiah Games, and five Pan American Games — in addition to many other major...
,
Ágnes Keleti
Ágnes Keleti
Ágnes Keleti is a retired Hungarian artistic gymnast. The winner of 10 Olympic medals including five gold medals, she is considered to be one of the most successful Jewish Olympic athletes of all time. She was the most successful athlete at the 1956 Summer Olympics.-Career:Keleti is Jewish, and...
,
Valery Belenky
Valery Belenky
Valery Vladimirovich Belenky is a retired Soviet/Azerbaijani/German artistic gymnast who competed in the 1992 Summer Olympics and in the 1996 Summer Olympics.He is Jewish, and was born in Baku, Azerbaijan SSR....
and
Kerri Strug
(gymnastics);
Ernie Grunfeld
Ernie Grunfeld
Ernest "Ernie" Grunfeld is the General Manager of the Washington Wizards. He was also once a professional basketball player...
,
Danny Schayes
Danny Schayes
Daniel Leslie "Danny" Schayes is a retired American professional basketball player who played in the NBA from 1981 until 1999. At 6'11" and 235 pounds, he played at center...
, (coaches);
Larry Brown
Larry Brown (basketball)
Lawrence Harvey "Larry" Brown is an American basketball coach and former player. He most recently served as head coach of the National Basketball Association's Charlotte Bobcats....
, Jordan Freed,
Nat Holman
Nat Holman
Nat Holman was one of the early pro basketball players and one of the game's most important innovators.-Career:...
and
Dolph Schayes
Dolph Schayes
Adolph "Dolph" Schayes is a retired American professional basketball player and coach in the NBA. A top scorer and rebounder, he was a member of the 1955 NBA champion Syracuse Nationals and a 12-time All-Star....
(basketball);
Carina Benninga
Carina Benninga
Carina Marguerite Benninga is a former Dutch field hockey player, who played 158 international matches for The Netherlands hockey team, in which she scored 25 goals. She was part of the gold medal winning team at the 1984 Summer Olympics and also won a bronze medal at the 1988 Seoul Olympics...
(field hockey);
Lillian Copeland
Lillian Copeland
Lillian Copeland was an American athlete, who excelled in weight throwing. She has been called "the most successful female discus thrower in U.S...
, Gerry Ashworth, and
Gary Gubner
Gary Gubner
Gary Jay Gubner was an American shotputter, weightlifter, and discus hurler. He is known for setting various shot put records, including a 53-foot throw with a 16-lb...
(track and field);
Angela Buxton
Angela Buxton
Angela Buxton is an English tennis player. She won the women's doubles title at both the French Championships and Wimbledon in 1956 with Althea Gibson.-Tennis accomplishments:...
,
Brad Gilbert
Brad Gilbert
Brad Gilbert , is an American tennis coach, a television tennis commentator, an author and former professional tennis player. He was born in Oakland, California and graduated from Piedmont High School ....
,
Julie Heldman
Julie Heldman
Julie Heldman is a retired American tennis player who won 22 professional tennis titles.In 1969 she was World No. 5, her highest career world ranking, and was ranked No. 2 in the U.S.-Tennis career:...
,
Allen Fox
Allen Fox
Dr. Allen E. Fox is a former tennis player in the 1960s and 1970s who went on to be a college coach and author. He was ranked as high as # 4 in the U.S. . Between 1961 and 1968, he ranked among the top 10 men in the U.S...
,
Nicolás Massú
Nicolás Massú
Nicolás Alejandro Massú Fried , nicknamed Vampiro , is a Chilean tennis player, a former world number nine in singles, and a two-time Olympic gold medalist...
, and
Dick Savitt
Dick Savitt
Richard "Dick" Savitt is a 6' 3" and 185-pound right-handed American male former tennis player.Savitt was ranked 2nd in the world in 1951. That year, at the age of 24, he won both the Wimbledon Singles Championship and the Australian Singles title...
(tennis); Dave Blackburn (softball);
Angelica Rozeanu
Angelica Rozeanu
Angelica Rozeanu was a Romanian table tennis player of Jewish origin, and one of the most successful female table tennis players in the history of the sport.-Table tennis career:...
(table tennis);
Sergei Charikov
Sergei Charikov
Sergey Aleksandrovich Sharikov , also known as Serguei/Sergei Charikov, is a left-handed Russian sabre fencer...
,
Vadim Gutzeit
Vadim Gutzeit
Vadim Gutzeit is an Ukrainian Olympic sabre fencer.-World Championships:...
and Mariya Mazina (fencing);
Isaac Berger
Isaac Berger
Isaac "Ike" Berger was an Olympic weightlifter for the United States. He holds 23 world weightlifting records, and is a 12-time United States national titleholder.-Early life:...
and
Frank Spellman
Frank Spellman
Frank Isaac Spellman was an American weightlifter who set several Olympic records and earned a gold medal in 1948...
(weightlifting); and
Fred Oberlander
Fred Oberlander
Fred Oberlander was an Austrian, British, and Canadian wrestler.-Wrestling career:Between 1930 and 1950 he won two Austrian Junior wrestling titles, five French Heavyweight Championships, seven British Heavyweight Championships , and the 1950 Canadian Heavyweight crown.He also won the 1935 World...
and
Henry Wittenberg
Henry Wittenberg
Henry Wittenberg was a prodigious American wrestler and Olympic champion in freestyle wrestling. He won two Olympic medals and was the first American wrestler after 1908 to achieve this feat. He at one point in his career wrestled 300 matches without losing...
(wrestling); Madison Gordon-Lavaee (volleyball);
Bruce Fleisher
Bruce Fleisher
-Early years and amateur career:Fleisher was born in Union City, Tennessee. He became involved in golf at age 7 by working as a caddie with his two brothers. Fleisher attended Miami-Dade Junior College and Furman University. In 1968 at age 19, he became the third youngest player to win the U.S....
(golf); and
Adam Bacher
Adam Bacher
Adam Marc Bacher is a South African cricketer. He is a right-handed batsman and a right-arm medium-pace bowler...
(cricket);
Boris Gelfand
Boris Gelfand
Boris Abramovich Gelfand is a Belarus-born Israeli chess Grandmaster. He won the 2011 Candidates Tournament and will challenge Viswanathan Anand for the World Chess Championship 2012.-Biography:...
and Judith Polgar (chess); Elizabeth Foody (interpretive dance); Aaron R. Schwid (bowling);
Irwin Cotler
Irwin Cotler
Irwin Cotler, PC, OC, MP was Canada's Minister of Justice and Attorney General of Canada from 2003 until the Liberal government of Paul Martin lost power following the 2006 federal election. He was first elected to the Canadian House of Commons for the constituency of Mount Royal in a by-election...
(ping pong);
Jonathan Bornstein
Jonathan Bornstein
Jonathan Rey Bornstein is an American soccer player who currently plays for UANL of the Primera División de México and for the United States national team.-Youth and College:...
(football), and
Steve March Tormé
Steve March Tormé
Steve March Tormé is an American singer and songwriter who currently resides in Appleton, Wisconsin. He is the son of the legendary Mel Tormé and former model Candy Toxton...
(fast-pitch softball).
Shawn Lipman
Shawn Lipman
Shawn Lipman is an American/South African rugby union player.He was inducted into the Jewish Sports Hall of Fame in 2004, with others such as Sandy Koufax, Mark Spitz, and Sean Green.-United States:...
, who played in
1991 Rugby World Cup
1991 Rugby World Cup
The 1991 Rugby World Cup was the second edition of the Rugby World Cup, and was jointly hosted by England, Scotland, Wales, Ireland and France; at that time, the five European countries that participated in the Five Nations Championship making it the first Rugby World Cup to be staged in the...
also competed several times in the Maccabiah.
Squash
Squash
Squash (sport)
Squash is a high-speed racquet sport played by two players in a four-walled court with a small, hollow rubber ball...
became an official sport in the 10th Maccabiah Games in 1977. The competition was held at the
Hebrew University of Jerusalem
Hebrew University of Jerusalem
The Hebrew University of Jerusalem ; ; abbreviated HUJI) is Israel's second-oldest university, after the Technion – Israel Institute of Technology. The Hebrew University has three campuses in Jerusalem and one in Rehovot. The world's largest Jewish studies library is located on its Edmond J...
, which had two courts that were covered by a tin roof and open to the air. That year, the United States team consisted of the top Jewish hardball squash players in the country. The team was led by Glenn Whitman, former captain and number one player at
Harvard University
Harvard University
Harvard University is a private Ivy League university located in Cambridge, Massachusetts, United States, established in 1636 by the Massachusetts legislature. Harvard is the oldest institution of higher learning in the United States and the first corporation chartered in the country...
. Other players included Len Bernheimer, a top ranked amateur who previously played in college at Williams, Roger Alcaly, and Bill Kaplan, captain of Harvard's varsity squash team.
External links