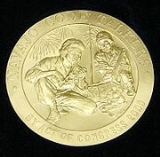 Gold medal
A
gold medal
is typically the
medal
Medal
A medal, or medallion, is generally a circular object that has been sculpted, molded, cast, struck, stamped, or some way rendered with an insignia, portrait, or other artistic rendering. A medal may be awarded to a person or organization as a form of recognition for athletic, military, scientific,...
awarded for highest achievement in a non-military field. Its name derives from the use of at least a fraction of
gold
Gold
Gold is a chemical element with the symbol Au and an atomic number of 79. Gold is a dense, soft, shiny, malleable and ductile metal. Pure gold has a bright yellow color and luster traditionally considered attractive, which it maintains without oxidizing in air or water. Chemically, gold is a...
in form of plating or alloying in its manufacture. The award concept arose in the military, initially by simple recognition of
military rank
Military rank
Military rank is a system of hierarchical relationships in armed forces or civil institutions organized along military lines. Usually, uniforms denote the bearer's rank by particular insignia affixed to the uniforms...
, and later by decorations for admission to military orders dating back to medieval times.
Since the eighteenth century, gold medals have been awarded in the arts, for example, by the Royal Danish Academy, usually as a symbol of an award to give an outstanding student some financial freedom.