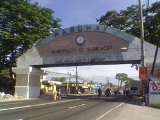 Mabalacat, Pampanga
Mabalacat
is a 1st class municipality in the northern part of the province of Pampanga,
Philippines
Philippines
The Philippines , officially known as the Republic of the Philippines , is a country in Southeast Asia in the western Pacific Ocean. To its north across the Luzon Strait lies Taiwan. West across the South China Sea sits Vietnam...
. According to the latest census, it has a population of 203,307 people in 35,134 households.
The town's name is derived from the ancient "balacat" trees which were found abundantly in the area.
The
municipality
Municipalities of the Philippines
A municipality is a local government unit in the Philippines. Municipalities are also called towns . They are distinct from cities, which are a different category of local government unit...
was recently proposed to be a
component city
Cities of the Philippines
A city is a tier of local government in the Philippines. All Philippine cities are chartered cities, whose existence as corporate and administrative entities is governed by their own specific charters in addition to the Local Government Code of 1991, which specifies the administrative structure...
. If the plans are to go through, Mabalacat will join Angeles City and
City of San Fernando
San Fernando City, Pampanga
The City of San Fernando, is a first class, component city in the Philippine province of Pampanga. It is the capital city of Pampanga and the regional center of Central Luzon...
as the province's third city.
The Land of Balacats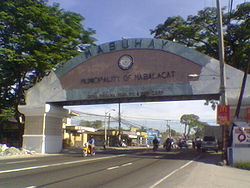 Mabalacat became a town in 1792. It was named after the balacat tree(Zizyphus Zonulata Balaco), a First class timber. Then, a settlement of a negrito tribe, the area was a virtual forest of balacat trees. "Ma-balacat" in the native kapampangan dialect means "full of balacats."
The town has a land area of 165.8 square kilometres - more than double that of Angeles City's. Roughly three-fifths of the land area of Clark Air Base belong to Mabalacat (the rest to Angeles City, where Clark's main gate is located) whose boundary extend up to the Zambales Ranges. The soil is charcoal black and shiny, a sign of fertility, and is suitable for growing rice, sugarcane and other rootcrops. Before 1712 Mabalacat was a barrio (barangay) of Bambang, now
Bamban, Tarlac
Bamban, Tarlac
Bamban is a 3rd class municipality in the province of Tarlac, Philippines. According to the latest census, it has a population of 61,644 people in 9,113 households....
. Like Porac, Santa Rita, Magalang, and Angeles City, this town never gets inundated by floods from heavy rain because it is situated on an elevated plain known as the "Upper Pampanga".
Barangays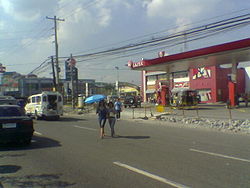 Mabalacat is politically subdivided into 27
barangay
Barangay
A barangay is the smallest administrative division in the Philippines and is the native Filipino term for a village, district or ward...
s.
Atlu-Bola
Bical
Bundagul
Cacutud
Calumpang
Camachiles
Dapdap
Dau
Dolores
Duquit
Lakandula
Mabiga
Macapagal Village
Mamatitang
Mangalit
Marcos Village
Mawaque (Mauaque)
Paralayunan
Poblacion
San Francisco
San Joaquin
Santa Ines
Santa Maria
Santo Rosario
Sapang Balen
Sapang Biabas
Tabun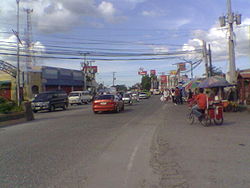 In 1853 Mabalacat had a population of 2,611 and four barangays, namely, Babangdapu, Duquit, Malabni, and Paglimbunan. In 1903 its population increased to 7,049 and already had 19 barangays. These were Bical, Bundagul, Dapdap, Dau, Dolores, Iba, Mabiga, Mamatitang, Mangalit, Matas, Mawaque, Paralayunan, Poblacion, Quitangil, San Joaquin, Santa Ines, Santa Maria, Sapang Balen, and Sapang Biabas. In 1948 its barangays increased to 20 with the addition of Fort Stotsenburg. Barangay Quitangil was renamed San Francisco.
The largest barangay is Dau, which became a barrio in 1936 by virtue of Presidential Proclamation Number 1. It is now a business nerve-center whose commercial input and output run parallel to that of downtown's. A former terminus of the
North Luzon Expressway
North Luzon Expressway
The North Luzon Expressway , and which is formerly called the North Diversion Road, and officially known as Radial Road 8 is a 4 to 8-lane limited-access toll expressway that connects Metro Manila to the provinces of the Central Luzon region in the Philippines...
, it is the most urban area in Mabalacat.
San Francisco, the second largest barangay, along with San Joaquin, Santa Ines, Poblacion, Calumpang and other barangays are categorized as urban in view of their proximity to the town proper. Sapang Balen, with a population of 203 persons, is the smallest barangay.
Resources
Mabalacat has an average annual income of PhP 56,698,280.87 derived mostly from municipal license fees, land tax, Internal Revenue allotment, roads and bridges fund. In 1997, there were 2,447 business establishments registered in the Municipality of Mabalacat, consisting of 79 manufacturers mostly involved in sash factory, iron works, ceramics, bakery and 1,806 trading companies. The financial needs are served by eleven banks, mostly concentrated in Dau. Public utilities include the Mabalacat Water System, Pampanga Electric Corporation II (PELCO II), three telephone companies namely, Datelcom Corporation (DATELCOM), Smart Communications (SMART) and Digital Telecommunications Philippines, Incorporated (DIGITEL) and one cable television network (PRO-SAT) which runs solely for Mabalacat.
There are thirty one educational institutions in Mabalacat composed of one state college,one private College, one Technical Training School, two Secondary public, two private High Schools and twenty five public Elementary schools divided into two districts, Mabalacat North and Mabalacat South. TESDA-accredited institutions offering Vocational-Technical skills abound in the area.
Private schools in Mabalacat listed with the Department of Education are:
Athena's Cradle Center, Inc., Brightstone Learning Center, Children of Fatima School, Inc., Dee Hwa Liong College Foundation, Don Bosco Academy Pampanga (originally from Bacolor but moved to Mabalacat after lahar struck the campus in Bacolor) which is run by the Salesians of St. John Bosco, Don Teodoro V. Santos Institute, Great Shepherd Christian Academy, Immanuel Montessori School, Inc., Jose C. Feliciano College, Mabalacat Christian Academy, Mary Help of Christians School, Inc., Montessori School of St. Nicholas, Nehemiah Christian School, Inc., School of the Infant Jesus, Shield of Victory Christian School, St. Anthony College of Technology,St. Mutien Marie College and Divine Grace Academy. Listed with and accredited by the Technical Education and Skills Development Authority (TESDA) is the Asian Institute of Computer Studies (AICS) a private technical school offering 2-year I.T. courses to students who has finished at least a high school education. AICS however will be offering 4-year and 5-year degree programs in the year 2011.
The people of Mabalacat are peace-loving and God-fearing as well as hardworking and industrious. They speak the Kapampangan dialect which is very rich in vocabulary and culture.
The early settlers and the Spanish era
There is no official record on the foundation of Mabalacat, but according to folk tales that were passed through generations, the first settlers were purely negritos (also known as aetas or balugas). A baluga chieftain named Caragan led his tribe in the rich balacat forests and settled themselves within its plentiful resources. Caragan was later married to Laureana Tolentino, from whom he adopted his family name. Laureana became the first Cabeza De Barangay of Mabalacat, a title now equivalent to Barangay Captain.
Attracted by the fertile soil and the abundance of wild animals and fowls, lowlanders however, have driven back the negritos to the nearby mountains and hills and claimed the land for themselves.
The famous Ablazos from San Luis, Pampanga also established settlement in Mabalacat. The brighter prospects upnorth attracted them, like how the early Spanish settlers were attracted by its fertile soil. The Ablazos are from the royal bloodlines of Dorogas, Barases and Elizaldes of the old San Luis town in the 4th district of the province.
The observance of the town fiesta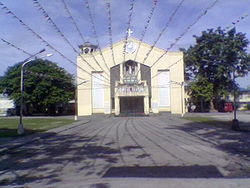 Our Lady Of Divine Grace Parish Church
Legend tells us that when the early settlers were clearing the forests, Cabezang Laureana's workers found, hidden among the bushes, a statue of the Blessed Virgin Mary and on her lap the Niño Jesus.
On February 2, the statue was presented by Caragan as a gift to Padre Maximo Manuguid, the priest of the early Mabalacat Church made of sawali and cogon grass. From then on, the town fiesta was observed on the second of February.
In 1860 a military command was established by the Spanish authorities due to lawlessness and depredations perpetrated by the negritos (also known as balugas or aetas). The Pampanga towns of Bamban, Capas, Concepcion, Victoria, Tarlac, Mabalacat, Magalang, Porac, and Floridablanca were created into what was called a "Commandancia Militar". However, in 1873 the Military Command returned Mabalacat together with the towns of Magalang, Floridablanca, and Porac to the mother province, Pampanga.
Pastorella
The pastorella (Misa de Pastores in honor of the shepherds at the birth of Jesus Christ - a set of
Latin
Latin
Latin is an Italic language originally spoken in Latium and Ancient Rome. It, along with most European languages, is a descendant of the ancient Proto-Indo-European language. Although it is considered a dead language, a number of scholars and members of the Christian clergy speak it fluently, and...
hymns of the 9-day Christmas Masses), ceased in
Pampanga
Pampanga
Pampanga is a province of the Philippines located in the Central Luzon region. Its capital is the City of San Fernando, Pampanga. Pampanga is bordered by the provinces of Bataan and Zambales to the west, Tarlac and Nueva Ecija to the north, and Bulacan to the southeast...
towns for 40 years after Vatican II. In Mabalacat, however, at Our Lady of Divine Grace Parish, pastorella lived on: in the 4:30 a.m. mass on Monday, the pastorella repertoire included the Kyrie (Lord, Have Mercy), Gloria (Glory to God in the Highest), Credo (Apostle's Creed), Sanctus (Holy) and Agnus Dei (Lamb of God). The hymns were in Latin, except for Kyrie, which was in Greek."
External links