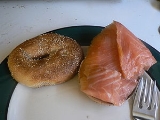 Lox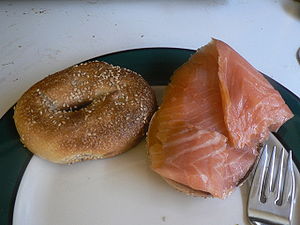 Lox
is
salmon
Salmon
Salmon is the common name for several species of fish in the family Salmonidae. Several other fish in the same family are called trout; the difference is often said to be that salmon migrate and trout are resident, but this distinction does not strictly hold true...
fillet
Fillet (cut)
A fillet is a cut or slice of boneless meat or fish.- Meat :In the case of beef, in the USA, the term most often refers to beef tenderloin, especially filet mignon.- Chicken :...
that has been
cured
Curing (food preservation)
Curing refers to various food preservation and flavoring processes, especially of meat or fish, by the addition of a combination of salt, nitrates, nitrite or sugar. Many curing processes also involve smoking, the process of flavoring, or cooking...
. In its most popular form, it is thinly sliced—less than 5 millimetre (0.196850393700787 in) in thickness—and, typically, served on a
bagel
Bagel
A bagel is a bread product, traditionally shaped by hand into the form of a ring from yeasted wheat dough, roughly hand-sized, which is first boiled for a short time in water and then baked. The result is a dense, chewy, doughy interior with a browned and sometimes crisp exterior...
, often with
cream cheese
Cream cheese
Cream cheese is a soft, mild-tasting, white cheese with a high fat content. Traditionally, it is made from unskimmed milk enriched with additional cream....
,
onion
Onion
The onion , also known as the bulb onion, common onion and garden onion, is the most widely cultivated species of the genus Allium. The genus Allium also contains a number of other species variously referred to as onions and cultivated for food, such as the Japanese bunching onion The onion...
,
tomato
Tomato
The word "tomato" may refer to the plant or the edible, typically red, fruit which it bears. Originating in South America, the tomato was spread around the world following the Spanish colonization of the Americas, and its many varieties are now widely grown, often in greenhouses in cooler...
,
cucumber
Cucumber
The cucumber is a widely cultivated plant in the gourd family Cucurbitaceae, which includes squash, and in the same genus as the muskmelon. The plant is a creeping vine which bears cylindrical edible fruit when ripe. There are three main varieties of cucumber: "slicing", "pickling", and...
and capers. Lox in small pieces is also often added and cooked into scrambled eggs, sometimes with chopped onion.
Noted for its importance in
Ashkenazic Jewish cuisine
Jewish cuisine
Jewish Cuisine is a collection of the different cooking traditions of the Jewish people worldwide. It is a diverse cuisine that has evolved over many centuries, shaped by Jewish dietary laws and Jewish Festival and Sabbath traditions...
, the food and its name were introduced to the
United States
United States
The United States of America is a federal constitutional republic comprising fifty states and a federal district...
through Scandinavian immigrants, though it was popularized by Jewish immigrants. The term
lox
derives from
Lachs
in
German
German language
German is a West Germanic language, related to and classified alongside English and Dutch. With an estimated 90 – 98 million native speakers, German is one of the world's major languages and is the most widely-spoken first language in the European Union....
and (
laks
) in Yiddish, meaning "salmon". It is a
cognate
Cognate
In linguistics, cognates are words that have a common etymological origin. This learned term derives from the Latin cognatus . Cognates within the same language are called doublets. Strictly speaking, loanwords from another language are usually not meant by the term, e.g...
of
Icelandic
Icelandic language
Icelandic is a North Germanic language, the main language of Iceland. Its closest relative is Faroese.Icelandic is an Indo-European language belonging to the North Germanic or Nordic branch of the Germanic languages. Historically, it was the westernmost of the Indo-European languages prior to the...
and
Swedish
Swedish language
Swedish is a North Germanic language, spoken by approximately 10 million people, predominantly in Sweden and parts of Finland, especially along its coast and on the Åland islands. It is largely mutually intelligible with Norwegian and Danish...
lax
,
Danish
Danish language
Danish is a North Germanic language spoken by around six million people, principally in the country of Denmark. It is also spoken by 50,000 Germans of Danish ethnicity in the northern parts of Schleswig-Holstein, Germany, where it holds the status of minority language...
and
Norwegian
Norwegian language
Norwegian is a North Germanic language spoken primarily in Norway, where it is the official language. Together with Swedish and Danish, Norwegian forms a continuum of more or less mutually intelligible local and regional variants .These Scandinavian languages together with the Faroese language...
laks
, and
Old English
Old English language
Old English or Anglo-Saxon is an early form of the English language that was spoken and written by the Anglo-Saxons and their descendants in parts of what are now England and southeastern Scotland between at least the mid-5th century and the mid-12th century...
læx
.
Sometimes called
regular
or
belly lox,
lox is traditionally made by
brining
Brining
In cooking, brining is a process similar to marination in which meat is soaked in brine before cooking.Brining makes cooked meat moister by hydrating the cells of its muscle tissue before cooking, via the process of osmosis, and by allowing the cells to hold on to the water while they are cooked,...
in a solution of
water
Water
Water is a chemical substance with the chemical formula H2O. A water molecule contains one oxygen and two hydrogen atoms connected by covalent bonds. Water is a liquid at ambient conditions, but it often co-exists on Earth with its solid state, ice, and gaseous state . Water also exists in a...
or
oil
Oil
An oil is any substance that is liquid at ambient temperatures and does not mix with water but may mix with other oils and organic solvents. This general definition includes vegetable oils, volatile essential oils, petrochemical oils, and synthetic oils....
,
salt
Salt
In chemistry, salts are ionic compounds that result from the neutralization reaction of an acid and a base. They are composed of cations and anions so that the product is electrically neutral...
,
sugar
Sugar
Sugar is a class of edible crystalline carbohydrates, mainly sucrose, lactose, and fructose, characterized by a sweet flavor.Sucrose in its refined form primarily comes from sugar cane and sugar beet...
s and
spice
Spice
A spice is a dried seed, fruit, root, bark, or vegetative substance used in nutritionally insignificant quantities as a food additive for flavor, color, or as a preservative that kills harmful bacteria or prevents their growth. It may be used to flavour a dish or to hide other flavours...
s (the
brine
Brine
Brine is water, saturated or nearly saturated with salt .Brine is used to preserve vegetables, fruit, fish, and meat, in a process known as brining . Brine is also commonly used to age Halloumi and Feta cheeses, or for pickling foodstuffs, as a means of preserving them...
). Although the term
lox
is sometimes applied to
smoked salmon
Smoked salmon
Smoked salmon is a preparation of salmon, typically a fillet that has been cured and then hot or cold smoked. Due to its moderately high price, smoked salmon is considered a delicacy.-Presentation:...
, they are different products.
There is a difference between regular and belly lox in that while both come from the same fish, the flesh on both sides of the stomach of the salmon has a wider graining of fat, is less salty tasting and thus is more desirable and more expensive. For those who prefer even less salt, Nova Scotia lox is the choice for a premium price.
Similar products
Nova or Nova Scotia salmon, sometimes called Nova lox (or simply "Nova"), is cured with a milder brine and then cold-smoked. The name dates from a time when much of the salmon in New York City

New York City

New York is the most populous city in the United States and the center of the New York Metropolitan Area, one of the most populous metropolitan areas in the world. New York exerts a significant impact upon global commerce, finance, media, art, fashion, research, technology, education, and...


came from Nova Scotia

Nova Scotia

Nova Scotia is one of Canada's three Maritime provinces and is the most populous province in Atlantic Canada. The name of the province is Latin for "New Scotland," but "Nova Scotia" is the recognized, English-language name of the province. The provincial capital is Halifax. Nova Scotia is the...


. Today, however, the name refers to the milder brining, as compared to regular lox (or belly lox), and the fish may come from other waters or even be raised on farms

Fish farming

Fish farming is the principal form of aquaculture, while other methods may fall under mariculture. Fish farming involves raising fish commercially in tanks or enclosures, usually for food. A facility that releases young fish into the wild for recreational fishing or to supplement a species'...


.
Scotch or Scottish-style salmon

Smoked salmon

Smoked salmon is a preparation of salmon, typically a fillet that has been cured and then hot or cold smoked. Due to its moderately high price, smoked salmon is considered a delicacy.-Presentation:...


. A mixture of salt and sometimes sugars, spices and other flavorings is applied directly to the meat of the fish; this is called "dry-brining" or "Scottish-style." The brine mixture is then rinsed off, and the fish is cold-smoked.
Nordic

Nordic countries

The Nordic countries make up a region in Northern Europe and the North Atlantic which consists of Denmark, Finland, Iceland, Norway and Sweden and their associated territories, the Faroe Islands, Greenland and Åland...


-style smoked salmon. The fish is salt-cured and cold-smoked.
Gravad lax or gravlax

Gravlax

Gravlax or gravad lax , gravet laks , gravlaks , graavilohi , graavilõhe , graflax is a Nordic dish consisting of raw salmon, cured in salt, sugar, and dill...


. This is a traditional Nordic means of preparing salmon

Salmon

Salmon is the common name for several species of fish in the family Salmonidae. Several other fish in the same family are called trout; the difference is often said to be that salmon migrate and trout are resident, but this distinction does not strictly hold true...


. The salmon is coated with a spice mixture, which often includes dill

Dill

Dill is a perennial herb. It is the sole species of the genus Anethum, though classified by some botanists in a related genus as Peucedanum graveolens C.B.Clarke.-Growth:...


, sugars, salt, and spices like juniper

Juniper

Junipers are coniferous plants in the genus Juniperus of the cypress family Cupressaceae. Depending on taxonomic viewpoint, there are between 50-67 species of juniper, widely distributed throughout the northern hemisphere, from the Arctic, south to tropical Africa in the Old World, and to the...


berry. It is then weighted down to force the moisture from the fish and impart the flavorings. It is often served with a sweet mustard

Mustard (condiment)

Mustard is a condiment made from the seeds of a mustard plant...


-dill sauce

Sauce

In cooking, a sauce is liquid, creaming or semi-solid food served on or used in preparing other foods. Sauces are not normally consumed by themselves; they add flavor, moisture, and visual appeal to another dish. Sauce is a French word taken from the Latin salsus, meaning salted...


.