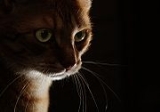 Low-key lighting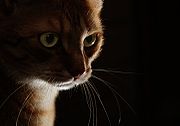 Low-key lighting
is a style of
lighting
Stage lighting
Modern stage lighting is a flexible tool in the production of theatre, dance, opera and other performance arts. Several different types of stage lighting instruments are used in the pursuit of the various principles or goals of lighting. Stage lighting has grown considerably in recent years...
for
photography
Photography
Photography is the art, science and practice of creating durable images by recording light or other electromagnetic radiation, either electronically by means of an image sensor or chemically by means of a light-sensitive material such as photographic film...
,
film
Film
A film, also called a movie or motion picture, is a series of still or moving images. It is produced by recording photographic images with cameras, or by creating images using animation techniques or visual effects...
or
television
Television
Television is a telecommunication medium for transmitting and receiving moving images that can be monochrome or colored, with accompanying sound...
. It is a necessary element in creating a
chiaroscuro
Chiaroscuro
Chiaroscuro in art is "an Italian term which literally means 'light-dark'. In paintings the description refers to clear tonal contrasts which are often used to suggest the volume and modelling of the subjects depicted"....
effect. Traditional photographic
lighting
Lighting
Lighting or illumination is the deliberate application of light to achieve some practical or aesthetic effect. Lighting includes the use of both artificial light sources such as lamps and light fixtures, as well as natural illumination by capturing daylight...
,
three-point lighting
Three-point lighting
Three-point lighting is a standard method used in visual media such as video, film, still photography and computer-generated imagery. By using three separate positions, the photographer can illuminate the shot's subject however desired, while also controlling the shading and shadows produced by...
uses a
key light
Key light
The key light is the first and usually most important light that a photographer, cinematographer, lighting cameraman, or other scene composer will use in a lighting setup. The purpose of the key light is to highlight the form and dimension of the subject. The key light is not a rigid requirement;...
, a
fill light
Fill light
In television, film, stage, or photographic lighting, a fill light may be used to reduce the contrast of a scene and provide some illumination for the areas of the image that are in shadow...
, and a back light for illumination. Low-key lighting often uses only one key light, optionally controlled with a fill light or a simple
reflector
Reflector (photography)
In photography and cinematography, a reflector is an improvised or specialised reflective surface used to redirect light towards a given subject or scene.- Types :...
.
Low key light accentuates the contours of an object by throwing areas into shade while a fill light or reflector may illuminate the shadow areas to control
contrast
Contrast (vision)
Contrast is the difference in visual properties that makes an object distinguishable from other objects and the background. In visual perception of the real world, contrast is determined by the difference in the color and brightness of the object and other objects within the same field of view...
. The relative strength of key-to-fill, known as the
lighting ratio
Lighting ratio
Lighting ratio in photography refers to the comparison of key light to the fill light . The higher the lighting ratio, the higher the contrast of the image; the lower the ratio, the lower the contrast.Light can be measured in footcandles...
, can be measured using a
light meter
Light meter
A light meter is a device used to measure the amount of light. In photography, a light meter is often used to determine the proper exposure for a photograph...
. Low key lighting has a higher lighting ratio, e.g. 8:1, than
high-key lighting
High-key lighting
High-key lighting is a style of lighting for film, television, or photography that aims to reduce the lighting ratio present in the scene. This was originally done partly for technological reasons, since early film and television did not deal well with high contrast ratios, but now is used to...
, which can approach 1:1.
The term "low key" is used in
cinematography
Cinematography
Cinematography is the making of lighting and camera choices when recording photographic images for cinema. It is closely related to the art of still photography...
to refer to any scene with a high lighting ratio, especially if there is a predominance of shadowy areas. It tends to heighten the sense of alienation felt by the viewer, hence is commonly used in
film noir
Film noir
Film noir is a cinematic term used primarily to describe stylish Hollywood crime dramas, particularly those that emphasize cynical attitudes and sexual motivations. Hollywood's classic film noir period is generally regarded as extending from the early 1940s to the late 1950s...
and
horror
Horror film
Horror films seek to elicit a negative emotional reaction from viewers by playing on the audience's most primal fears. They often feature scenes that startle the viewer through the means of macabre and the supernatural, thus frequently overlapping with the fantasy and science fiction genres...
genres.