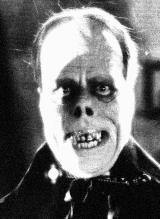 Horror film
Horror films
seek to elicit a negative emotional reaction from viewers by playing on the audience's most primal fears. They often feature scenes that startle the viewer through the means of
macabre
Macabre
In works of art, macabre is the quality of having a grim or ghastly atmosphere. Macabre works emphasize the details and symbols of death....
and the
supernatural
Supernatural
The supernatural or is that which is not subject to the laws of nature, or more figuratively, that which is said to exist above and beyond nature...
, thus frequently overlapping with the fantasy and
science fiction
Science fiction
Science fiction is a genre of fiction dealing with imaginary but more or less plausible content such as future settings, futuristic science and technology, space travel, aliens, and paranormal abilities...
genres. Horrors also frequently overlap with the thriller genre.
The term "horror movie" first appears in the writings of critics and film industry commentators in response to the release of Universal's
Dracula
Dracula (1931 film)
Dracula is a 1931 vampire-horror film directed by Tod Browning and starring Bela Lugosi as the title character. The film was produced by Universal and is based on the stage play of the same name by Hamilton Deane and John L...
(1931) and
Frankenstein
Frankenstein (1931 film)
Frankenstein is a 1931 Pre-Code Horror Monster film from Universal Pictures directed by James Whale and adapted from the play by Peggy Webling which in turn is based on the novel of the same name by Mary Shelley. The film stars Colin Clive, Mae Clarke, John Boles and Boris Karloff, and features...
(1931), but has since been applied in retrospect to similar films from the late 19th and early 20th centuries.