 Louis Alexandre Berthier
Louis Alexandre Berthier
,
1st Prince de Wagram
,
1st Duc de Valangin

Valangin

Valangin is a municipality in the district of Val-de-Ruz in the canton of Neuchâtel in Switzerland.-Geography:Valangin has an area, , of . Of this area, or 39.4% is used for agricultural purposes, while or 49.7% is forested...



,
1st Sovereign Prince de Neuchâtel
(February 20, 1753 – June 1, 1815), was a
Marshal of France
Marshal of France
The Marshal of France is a military distinction in contemporary France, not a military rank. It is granted to generals for exceptional achievements...
, Vice-
Constable of France
Constable of France
The Constable of France , as the First Officer of the Crown, was one of the original five Great Officers of the Crown of France and Commander in Chief of the army. He, theoretically, as Lieutenant-general of the King, outranked all the nobles and was second-in-command only to the King...
beginning in 1808, and Chief of Staff under
Napoleon
Napoleon I of France
Napoleon Bonaparte was a French military and political leader during the latter stages of the French Revolution.As Napoleon I, he was Emperor of the French from 1804 to 1815...
.
Early life
Alexandre was born at Versailles to Lieutenant-Colonel Jean Baptiste Berthier (1721 – 1804), an officer in the Corps of Topographical Engineers, and first wife (married in 1746) Marie Françoise L'Huillier de La Serre. He was the eldest of five children, with the three brothers also serving in the French Army, two becoming generals during the
Napoleonic Wars
Napoleonic Wars
The Napoleonic Wars were a series of wars declared against Napoleon's French Empire by opposing coalitions that ran from 1803 to 1815. As a continuation of the wars sparked by the French Revolution of 1789, they revolutionised European armies and played out on an unprecedented scale, mainly due to...
.
Military career
As a boy he was instructed in the military art by his father, an officer of the Corps de genie (Engineer Corps), and at the age of seventeen he entered the army, serving successively in the staff, the engineers and the prince de Lambesq's dragoons. In 1780 he went to North America with
Rochambeau
Jean-Baptiste Donatien de Vimeur, comte de Rochambeau
Marshal of France Jean-Baptiste Donatien de Vimeur, comte de Rochambeau was a French nobleman and general who participated in the American Revolutionary War as the commander-in-chief of the French Expeditionary Force which came to help the American Continental Army...
, and on his return, having attained the rank of colonel, he was employed in various staff posts and in a military mission to Prussia. During the
Revolution
French Revolution
The French Revolution , sometimes distinguished as the 'Great French Revolution' , was a period of radical social and political upheaval in France and Europe. The absolute monarchy that had ruled France for centuries collapsed in three years...
, as Chief of Staff of the Versailles National Guard, he protected the aunts of
Louis XVI
Louis XVI of France
Louis XVI was a Bourbon monarch who ruled as King of France and Navarre until 1791, and then as King of the French from 1791 to 1792, before being executed in 1793....
from popular violence, and aided their escape (1791).
In the war of 1792 he was at once made Chief of Staff to Marshal Lückner, and he bore a distinguished part in the Argonne campaign of
Dumouriez
Charles François Dumouriez
Charles-François du Périer Dumouriez was a French general during the French Revolutionary Wars. He shared the victory at Valmy with General François Christophe Kellermann, but later deserted the Revolutionary Army and became a royalist intriguer during the reign of Napoleon.-Early life:Dumouriez...
and
Kellermann
François Christophe Kellermann
François Christophe Kellermann or de Kellermann, 1st Duc de Valmy was a French military commander, later the Général d'Armée, and a Marshal of France...
. He served with great credit in the Vendéan War of 1793-95, and was in the next year made a general of division and chief of staff (Major-Général) to the
army of Italy
Army of Italy (France)
The Army of Italy was a Field army of the French Army stationed on the Italian border and used for operations in Italy itself. Though it existed in some form in the 16th century through to the present, it is best known for its role during the French Revolutionary Wars and Napoleonic...
, which Bonaparte had recently been appointed to command. He played an important role in the
Battle of Rivoli
Battle of Rivoli
The Battle of Rivoli was a key victory in the French campaign in Italy against Austria. Napoleon Bonaparte's 23,000 Frenchmen defeated an attack of 28,000 Austrians under Feldzeugmeister Jozsef Alvinczi, ending Austria's fourth and final attempt to relieve the Siege of Mantua...
, relieving
Barthélemy Joubert
Barthélemy Catherine Joubert
Barthélemy Catherine Joubert was a French general. He joined the royal French army in 1784 and rose rapidly in rank during the French Revolutionary Wars. Napoleon Bonaparte recognized his talents and gave him increased responsibilities...
when the latter was attacked by the Austrian general Jozsef Alvinczi. His power of work, accuracy and quick comprehension, combined with his long and varied experience and his complete mastery of detail, made him the ideal chief of staff to a great soldier; and in this capacity he was Napoleon's most valued assistant for the rest of his career.
He accompanied Napoleon throughout the brilliant campaign of 1796, and was left in charge of the army after the
Treaty of Campo Formio
Treaty of Campo Formio
The Treaty of Campo Formio was signed on 18 October 1797 by Napoleon Bonaparte and Count Philipp von Cobenzl as representatives of revolutionary France and the Austrian monarchy...
. He was in this post in 1798 when he entered Italy, invaded the Vatican, organized the Roman republic, and took the pope
Pius VI
Pope Pius VI
Pope Pius VI , born Count Giovanni Angelo Braschi, was Pope from 1775 to 1799.-Early years:Braschi was born in Cesena...
as prisoner back to Valence (France) where, after a torturous journey under Berthier's supervision, the pope died, dealing a major blow to the Vatican's political power which, however did not prove as ephemeral as that of the First Empire. After this he joined his chief in
Egypt
Egypt
Egypt , officially the Arab Republic of Egypt, Arabic: , is a country mainly in North Africa, with the Sinai Peninsula forming a land bridge in Southwest Asia. Egypt is thus a transcontinental country, and a major power in Africa, the Mediterranean Basin, the Middle East and the Muslim world...
, serving there until Napoleon's return. He assisted in the
coup d'état
Coup d'état
A coup d'état state, literally: strike/blow of state)—also known as a coup, putsch, and overthrow—is the sudden, extrajudicial deposition of a government, usually by a small group of the existing state establishment—typically the military—to replace the deposed government with another body; either...
of 18th
Brumaire
Brumaire
Brumaire was the second month in the French Republican Calendar. The month was named after the French word brume which occurs frequently in France at that time of the year....
, afterwards becoming minister of war for a time. In the campaign of Marengo he was the nominal head of the Army of Reserve, but the first consul accompanied the army and Berthier acted in reality, as always, as Chief of Staff to Napoleon.
Lest one think this was a relatively safe job, such as modern staff officers, a contemporary subordinate staff officer, Brossier, reports that at the Battle of Marengo:

"The General-in-Chief Berthier gave his orders with the precision of a consummate warrior, and at Marengo maintained the reputation that he so rightly acquired in Italy and in Egypt under the orders of Bonaparte. He himself was hit by a bullet in the arm. Two of his aides-de-camp, Dutaillis and La Borde, had their horses killed."
At the close of the campaign he was employed in civil and diplomatic business. This included a mission to Spain in August, 1800, which resulted in the retrocession of
Louisiana
Louisiana
Louisiana is a state located in the southern region of the United States of America. Its capital is Baton Rouge and largest city is New Orleans. Louisiana is the only state in the U.S. with political subdivisions termed parishes, which are local governments equivalent to counties...
to France by the
Treaty of San Ildefonso
Treaty of San Ildefonso
San Ildefonso is a town in central Spain, the summer residence of the Kings of Spain, where several treaties were signed; each is referred to, in context, as the Treaty of San Ildefonso...
, October 1, 1800, and led to the
Louisiana Purchase
Louisiana Purchase
The Louisiana Purchase was the acquisition by the United States of America of of France's claim to the territory of Louisiana in 1803. The U.S...
.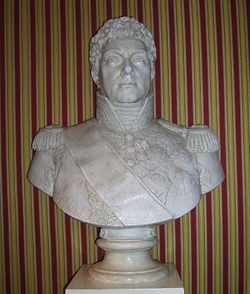 When Napoleon became emperor, Berthier was at once made a marshal of the empire. He took part in the campaigns of Austerlitz, Jena and Friedland, and was created duke of Valengin in 1806, sovereign prince of Neuchâtel in the same year and vice-constable of the empire in 1807. In 1808 he served in the
Peninsular War
Peninsular War
The Peninsular War was a war between France and the allied powers of Spain, the United Kingdom, and Portugal for control of the Iberian Peninsula during the Napoleonic Wars. The war began when French and Spanish armies crossed Spain and invaded Portugal in 1807. Then, in 1808, France turned on its...
, and in 1809 in the Austrian War, after which he was given the title of
prince of Wagram
Prince de Wagram
The French noble title Prince de Wagram began with Louis Alexandre Berthier who in 1806 was created sovereign prince of Neuchâtel by Emperor Napoleon Bonaparte...
. He was with Napoleon in Russia in 1812, Germany in 1813, and France in 1814, fulfilling, till the fall of the empire, the functions of "major-general" of the Grande Armée.
Following Napoleon's first abdication, Berthier retired to his 600 acre (2.4 km²) estate, and resumed his hobbies of
falconry
Falconry
Falconry is "the taking of wild quarry in its natural state and habitat by means of a trained raptor". There are two traditional terms used to describe a person involved in falconry: a falconer flies a falcon; an austringer flies a hawk or an eagle...
and
sculpture
Sculpture
Sculpture is three-dimensional artwork created by shaping or combining hard materials—typically stone such as marble—or metal, glass, or wood. Softer materials can also be used, such as clay, textiles, plastics, polymers and softer metals...
. He made peace with
Louis XVIII
Louis XVIII of France
Louis XVIII , known as "the Unavoidable", was King of France and of Navarre from 1814 to 1824, omitting the Hundred Days in 1815...
in 1814, and accompanied the king in his solemn entry into Paris. During Napoleon's captivity in
Elba
Elba
Elba is a Mediterranean island in Tuscany, Italy, from the coastal town of Piombino. The largest island of the Tuscan Archipelago, Elba is also part of the National Park of the Tuscan Archipelago and the third largest island in Italy after Sicily and Sardinia...
, Berthier, whom he informed of his projects, was much perplexed as to his future course, and, being unwilling to commit him, fell under the suspicion both of his old leader and of Louis XVIII. On Napoleon's return he withdrew to
Bamberg
Bamberg
Bamberg is a city in Bavaria, Germany. It is located in Upper Franconia on the river Regnitz, close to its confluence with the river Main. Bamberg is one of the few cities in Germany that was not destroyed by World War II bombings because of a nearby Artillery Factory that prevented planes from...
, where he later died.
The manner of his death is uncertain; according to some accounts he was assassinated by members of a secret society, others say that, maddened by the sight of Prussian troops marching to invade France, he threw himself from his window and was killed. Berthier was not a great field commander. When he was in temporary command in 1809, the French army in
Bavaria
Bavaria
Bavaria, formally the Free State of Bavaria is a state of Germany, located in the southeast of Germany. With an area of , it is the largest state by area, forming almost 20% of the total land area of Germany...
underwent a series of reverses. His merit as a general was completely overshadowed by the genius of his emperor, he is nevertheless renowned for his excellent organising skills and being able to understand and carry out the emperor's directions to the minutest detail.
Marriage and family
On 9 March 1808 Berthier married Duchess Maria Elisabeth Franziska in Bavaria (
Landshut
Landshut
Landshut is a city in Bavaria in the south-east of Germany, belonging to both Eastern and Southern Bavaria. Situated on the banks of the River Isar, Landshut is the capital of Lower Bavaria, one of the seven administrative regions of the Free State of Bavaria. It is also the seat of the...
, 5 May 1784 – Paris, 1 June 1849), only daughter of
Duke Wilhelm in Bavaria
Duke Wilhelm in Bavaria
Duke Wilhelm in Bavaria, full German name: Wilhelm, Herzog in Bayern was Count Palatine of Birkenfeld-Gelnhausen between 1789 and 1799 and first Duke in Bavaria from 16 February 1799 until his death in 1837...
and Countess Palatine Maria Anna of Zweibrücken-Birkenfeld, the sister of King Maximilian I Joseph of Bavaria. They had one son and two daughters:
Napoléon-Alexandre, 2nd Duke (11 September 1810 – 10 February 1887) and had issue, extinct in male line in 1918
Caroline-Joséphine (22 August 1812 – 1905)
Marie-Anne (19 February 1816 – 23 July 1878)
In Popular Culture
Berthier was portrayed by English actor
Ronald Hines
Ronald Hines
Ronald Hines is a British television actor.He has had a lengthy career, but possibly his best known role was as the husband in three of the four series of Not in Front of the Children...
in the 1974 mini-series
Napoleon and Love
Napoleon and Love
Napoleon and Love was a 1974 British television series originally aired on ITV and lasting for 9 episodes from 5 March to 30 April 1974. The series starred Ian Holm in the title role as Napoleon I and depicts his relationships with the woman who featured in his life as a backdrop to his rise and...
.
Sources
Watson, S.J., By Command of the Emperor: A Life of Marshal Berthier, The Bodley Head, London, 1957
External links
Spencer Napoleonica Collection at Newberry Library

Newberry Library

The Newberry Library is a privately endowed, independent research library for the humanities and social sciences in Chicago, Illinois. Although it is private, non-circulating library, the Newberry Library is free and open to the public...



Suggested Reading
Bukhari, Emir Napoleon's Marshals Osprey Publishing, 1979, ISBN 0850453054.
Chandler, David Napoleon's Marshals Macmillan Pub Co, 1987, ISBN 0029059305.
Connelly, Owen, Blundering to Glory: Napoleon's Military Campaigns SR Books, 1999, ISBN 0842027807.
Elting, John R. Swords around a Throne: Napoleon's Grande Armée Weidenfeld & Nicholson, 1997, ISBN 0029095018.
Haythornthwaite, Philip

Philip Haythornthwaite

Philip J. Haythornthwaite is a military historian and author, with a particular interest in the Napoleonic Wars. He has written over 40 books.-References:...


Napoleon's Commanders (2): c.1809-15 Osprey Publishing, 2002, ISBN 1841763454.
Hittle, James Donald ''the Military Staff: Its History and Development Military Service Publishing, 1952.
Macdonell, A. G. Napoleon and His Marshals Prion, 1997, ISBN 1853752223.
Pawly, Ronald Napoleon's Imperial Headquarters (1): Organization and Personnel Osprey Publishing, 2004, ISBN 184176793X.
Pawly, Ronald Napoleon's Imperial Headquarters (2): On campaign Osprey Publishing, 2004, ISBN 1841767948.
Watson, S.J. By Command of the Emperor: A Life of Marshal Berthier. Ken Trotman Ltd, ISBN 094687946X.