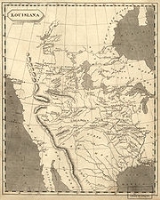 Louisiana Purchase
The
Louisiana Purchase
(
French
French language
French is a Romance language spoken as a first language in France, the Romandy region in Switzerland, Wallonia and Brussels in Belgium, Monaco, the regions of Quebec and Acadia in Canada, and by various communities elsewhere. Second-language speakers of French are distributed throughout many parts...
:
Vente de la Louisiane
"Sale of Louisiana") was the acquisition by the United States of America of 828000 square miles (2,144,510.2 km²) of
France
French First Republic
The French First Republic was founded on 22 September 1792, by the newly established National Convention. The First Republic lasted until the declaration of the First French Empire in 1804 under Napoleon I...
's claim to the territory of
Louisiana
Louisiana (New France)
Louisiana or French Louisiana was an administrative district of New France. Under French control from 1682–1763 and 1800–03, the area was named in honor of Louis XIV, by French explorer René-Robert Cavelier, Sieur de la Salle...
in 1803. The U.S. paid 60 million
francs
French franc
The franc was a currency of France. Along with the Spanish peseta, it was also a de facto currency used in Andorra . Between 1360 and 1641, it was the name of coins worth 1 livre tournois and it remained in common parlance as a term for this amount of money...
(
$
United States dollar
The United States dollar , also referred to as the American dollar, is the official currency of the United States of America. It is divided into 100 smaller units called cents or pennies....
11,250,000) plus cancellation of debts worth 18 million francs ($3,750,000), for a total sum of 15 million dollars (less than 3 cents per acre) for the Louisiana territory ($ million in dollars, less than 42 cents per acre).
The Louisiana Purchase encompassed all or part of 15 current
U.S. state
U.S. state
A U.S. state is any one of the 50 federated states of the United States of America that share sovereignty with the federal government. Because of this shared sovereignty, an American is a citizen both of the federal entity and of his or her state of domicile. Four states use the official title of...
s and two Canadian provinces.