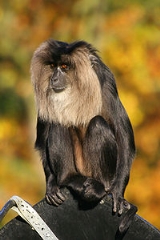 Lion-tailed Macaque
The
lion-tailed macaque
(
Macaca silenus
) is an
Old World monkey
Old World monkey
The Old World monkeys or Cercopithecidae are a group of primates, falling in the superfamily Cercopithecoidea in the clade Catarrhini. The Old World monkeys are native to Africa and Asia today, inhabiting a range of environments from tropical rain forest to savanna, shrubland and mountainous...
that is endemic to the
Western Ghats
Western Ghats
The Western Ghats, Western Ghauts or the Sahyādri is a mountain range along the western side of India. It runs north to south along the western edge of the Deccan Plateau, and separates the plateau from a narrow coastal plain along the Arabian Sea. The Western Ghats block rainfall to the Deccan...
of
South India
South India
South India is the area encompassing India's states of Andhra Pradesh, Karnataka, Kerala and Tamil Nadu as well as the union territories of Lakshadweep and Pondicherry, occupying 19.31% of India's area...
.
Physical Characteristics
The hair of the lion-tailed macaque is dark brown or black. Its outstanding characteristic is the silver-white mane which surrounds the head from the cheeks down to its chin, which gives this
monkey
Monkey
A monkey is a primate, either an Old World monkey or a New World monkey. There are about 260 known living species of monkey. Many are arboreal, although there are species that live primarily on the ground, such as baboons. Monkeys are generally considered to be intelligent. Unlike apes, monkeys...
its German name of "Beard Ape". The hairless face is black colored. With a head-to-tail length of 45 to 60 cm and a weight of 3 to 10 kg, it ranks among the smaller
macaque
Macaque
The macaques constitute a genus of Old World monkeys of the subfamily Cercopithecinae. - Description :Aside from humans , the macaques are the most widespread primate genus, ranging from Japan to Afghanistan and, in the case of the barbary macaque, to North Africa...
s. The tail is medium length with a length of approximately 25 cm and is a black tuft at the end, similar to a lion's tail. The male's tail-tuft is more developed than that of the female.
Gestation is approximately six months. The young are nursed for one year. Sexual maturity is reached at four years for females, six years for males. The life expectancy in the wild is approximately 20 years, while in captivity up to 30 years.
Behavior
The lion-tailed macaque is a
diurnal
Diurnal animal
Diurnality is a plant or animal behavior characterized by activity during the day and sleeping at night.-In animals:Animals that are not diurnal might be nocturnal or crepuscular . Many animal species are diurnal, including many mammals, insects, reptiles and birds...
rain forest dweller. It is a good climber and spends a majority of its life in the upper
canopy
Canopy (forest)
In biology, the canopy is the aboveground portion of a plant community or crop, formed by plant crowns.For forests, canopy also refers to the upper layer or habitat zone, formed by mature tree crowns and including other biological organisms .Sometimes the term canopy is used to refer to the extent...
of tropical moist evergreen forests. Unlike other macaques, it avoids humans. In group behavior, it is much like other macaques: it lives in hierarchical groups of usually ten to twenty animals, which consist of few males and many females. It is a territorial animal, defending its area first with loud cries towards the invading troops. If this proves fruitless, it brawls aggressively.
Lion-tailed macaque behaviour is characterized by typical patterns such as arboreal living, selectively feeding on a large variety of fruit trees, large inter-individual spaces while foraging, and time budgets with high proportion of time devoted to exploration and feeding. The lion-tailed macaque primarily eat indigenous fruits, leaves, buds, insects and small vertebrates in virgin forest but can adapt to rapid environmental change in areas of massive selective logging through behavioural modifications and broadening of food choices to include fruits, seeds, shoots, pith, flower, cone, mesocarp, and other parts of many non-
indigenous
Indigenous (ecology)
In biogeography, a species is defined as native to a given region or ecosystem if its presence in that region is the result of only natural processes, with no human intervention. Every natural organism has its own natural range of distribution in which it is regarded as native...
and pioneer plants.
Population
A recent assessment for IUCN reports 3000-3500 of these animals live scattered over several areas in
Karnataka
Karnataka
Karnataka , the land of the Kannadigas, is a state in South West India. It was created on 1 November 1956, with the passing of the States Reorganisation Act and this day is annually celebrated as Karnataka Rajyotsava...
,
Kerala
Kerala
or Keralam is an Indian state located on the Malabar coast of south-west India. It was created on 1 November 1956 by the States Reorganisation Act by combining various Malayalam speaking regions....
and
Tamil Nadu
Tamil Nadu
Tamil Nadu is one of the 28 states of India. Its capital and largest city is Chennai. Tamil Nadu lies in the southernmost part of the Indian Peninsula and is bordered by the union territory of Pondicherry, and the states of Kerala, Karnataka, and Andhra Pradesh...
. The lion-tailed macaque ranks among the rarest and most threatened primates. Their range has become increasingly isolated and fragmented by the spread of agriculture and tea, coffee, teak and cinchona, construction of water reservoirs for irrigation and power generation, and human settlements to support such activities. They don't live, feed or travel through plantations. Destruction of their habitat and the fact that they avoid human proximity, has led to the drastic decrease of their population.
During 1977 to 1980, public concern about the endangerment of lion-tailed macaque became the focal point of
Save Silent Valley
Save Silent Valley
Save Silent Valley was a social movement aimed at the protection of Silent valley, an evergreen tropical forest in the Palakkad district of Kerala, India. It was started in 1973 to save the Silent Valley Reserve Forest in from being flooded by a hydroelectric project. The valley was declared as...
, India's fiercest
environmental debate
Environmental movement
The environmental movement, a term that includes the conservation and green politics, is a diverse scientific, social, and political movement for addressing environmental issues....
of the decade. During 1993 to 1996, fourteen troops of lion-tailed macaques were observed in
Silent Valley National Park
Silent Valley National Park
Silent Valley National Park , is located in the Nilgiri Hills, Palakkad District in Kerala, South India...
, Kerala, one of the most undisturbed viable habitats left for the lion-tailed macaque.
A self-sustainable single population of 32 groups of lion-tailed macaques occurred in Sirsi-Honnavara, Karnataka, the northernmost population of the species. A local
census
Census
A census is the procedure of systematically acquiring and recording information about the members of a given population. It is a regularly occurring and official count of a particular population. The term is used mostly in connection with national population and housing censuses; other common...
concluded in 2007, conducted in the
Theni District
Theni District
Theni District is a district of Tamil Nadu state in South India. The city of Theni is the district headquarters. The district is divided into two natural divisions: The hilly areas constituted by parts of the three taluks Periyakulam, Uthamapalayam and Andipatti with thick vegetation and...
of Tamil Nadu, put their numbers at around 250, which was considered encouraging, because till then, there had not been any records of lion-tailed macaques in that specific area. Many zoos take part in breeding programs which help to secure the survival of this species. 368 of these macaques are reported to live in zoos.
External links