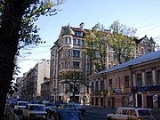 Ligovsky Prospekt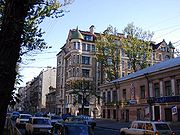 Ligovsky Prospekt

Prospekt (street)

A prospekt is a broad, multi-lane and usually straight street in urban areas. The term originated in Russian Empire, where in the first years of construction of St Petersburg the broadest avenues were called ""...



is a major street in
Saint Petersburg
Saint Petersburg
Saint Petersburg is a city and a federal subject of Russia located on the Neva River at the head of the Gulf of Finland on the Baltic Sea...
. Before the establishment of the city, it was a street leading to Novgorod, used by the people living in the villages around the delta of Neva.
During 1718 to 1725, when Saint Petersburg was the capital of
Russia
Russia
Russia or , officially known as both Russia and the Russian Federation , is a country in northern Eurasia. It is a federal semi-presidential republic, comprising 83 federal subjects...
, a building project of a canal, the
Ligovsky Canal
Ligovsky Canal
Ligovsky channel is one of the most extended channels of Saint Petersburg .It has been constructed in 1721, its length has made 23 kilometres.The channel was under construction for functioning of fountains of Summer garden....
, started. The canal was used to transfer water from the Ligi River to fountains of the
Summer Garden
Summer Garden
The Summer Garden occupies an island between the Fontanka, Moika, and the Swan Canal in Saint Petersburg and shares its name with the adjacent Summer Palace of Peter the Great.-Original:...
, here comes the name of the street and the canal. After the flood in 1777 all the fountains were demolished and later on the canal too.
Ligovsky Prospekt Today
The Ligovsky Prospekt is one of the largest streets in Saint Petersburg. It extends from
Oktyabrskiy Big Concert Hall
Oktyabrskiy Big Concert Hall
Oktyabrskiy Big Concert Hall is one of concert platforms in the centre of Saint Petersburg.Concert hall it is used basically for performance of variety actors, rock musicians, and also dancing and ballet collectives....
,
Vosstaniya Square
Vosstaniya Square
Vosstaniya Square is a major square in the Central Business District of Saint Petersburg, Russia. The square lies at the crossing of Nevsky Prospekt, Ligovsky Prospekt, Vosstaniya Street and Goncharnaya Street, in front of the Moskovsky Rail Terminal, which is the northern terminus of the line...
and
Nevsky Prospekt
Nevsky Prospekt
Nevsky Avenue |Prospekt]]) is the main street in the city of St. Petersburg, Russia. Planned by Peter the Great as beginning of the road to Novgorod and Moscow, the avenue runs from the Admiralty to the Moscow Railway Station and, after making a turn at Vosstaniya Square, to the Alexander...
, and runs through southern Saint Petersburg, onto
Moskovsky Prospekt
Moskovsky Prospekt
Moskovsky Prospekt is a 10 km-long prospekt in Saint Petersburg, Russia. It runs from Sennaya Square and Sadovaya Street, to the Victory Square, where it splits into Pulkovo Highway and Moscow Highway. It crosses Fontanka River, Zagorodny Prospekt, Obvodny Canal, and Ligovsky Prospekt...
and the Moscow Triumphal Gate.
Names of the street
Moskovskaya Street; during 1739 to the late eighteenth century
Ligovsky Canal Embankment; during the nineteenth century
Ligovskaya Street; during 1892 to 1952
Stalingradsky Prospekt; during 1952 to 1956
Ligovsky Prospekt; during 1956 to present