 Lampione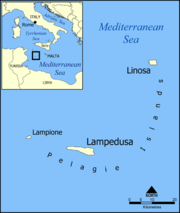 Lampione is a small rocky island located in the
Mediterranean Sea
Mediterranean Sea
The Mediterranean Sea is a sea connected to the Atlantic Ocean surrounded by the Mediterranean region and almost completely enclosed by land: on the north by Anatolia and Europe, on the south by North Africa, and on the east by the Levant...
, which belongs geographically to the
Pelagie Islands
Pelagie Islands
The Pelagie Islands , from the Greek pélagos - πέλαγος meaning "open sea", are the three small islands of Lampedusa, Linosa, and Lampione, located in the Mediterranean Sea between Malta and Tunisia, south of Sicily. To the northwest lie the island of Pantelleria and the Strait of Sicily...
and administratively to the
comune
Comune
In Italy, the comune is the basic administrative division, and may be properly approximated in casual speech by the English word township or municipality.-Importance and function:...
of
Lampedusa e Linosa
Lampedusa e Linosa
Lampedusa e Linosa is a comune in the Province of Agrigento in the Italian region of Sicily, located about 300 km south of Palermo, 220 km southwest of Agrigento, and about 260 km southeast of Tunis....
,
Province of Agrigento
Province of Agrigento
Agrigento is a province in the autonomous island region of Sicily in Italy. It has an area of 3,042 km², and a total population of 454,370...
, region of
Sicily
Sicily
Sicily is a region of Italy, and is the largest island in the Mediterranean Sea. Along with the surrounding minor islands, it constitutes an autonomous region of Italy, the Regione Autonoma Siciliana Sicily has a rich and unique culture, especially with regard to the arts, music, literature,...
,
Italy
Italy
Italy , officially the Italian Republic languages]] under the European Charter for Regional or Minority Languages. In each of these, Italy's official name is as follows:;;;;;;;;), is a unitary parliamentary republic in South-Central Europe. To the north it borders France, Switzerland, Austria and...
. It is 700 metres long and 180 metres across, and has an area of 1.2 km² and a highest elevation of 36 metres.
The islet is uninhabited, the only building being a redundant
lighthouse
Lighthouse
A lighthouse is a tower, building, or other type of structure designed to emit light from a system of lamps and lenses or, in older times, from a fire, and used as an aid to navigation for maritime pilots at sea or on inland waterways....
. According to legend, the island was a rock which had fallen from the hands of a
cyclops
Cyclops
A cyclops , in Greek mythology and later Roman mythology, was a member of a primordial race of giants, each with a single eye in the middle of his forehead...
.
Lampione is part of the Riserva Marina Isole Pelagie, and its vegetation and wildlife are strictly protected. Animal species include the endemic Podarcis filfolensis ssp. laurentimulleri,(also found on Linosa) which is a subspecies of Maltese Wall Lizard, numerous migrating birds and the
Armadillidium
Armadillidium
Armadillidium is a genus of the small terrestrial crustacean known as the woodlouse. Armadillidium are also commonly known as pill woodlice, pill bugs or roly-poly, and are often confused with pill millipedes such as Glomeris marginata. They are characterised by their ability to roll into a ball...
hirtum pelagicum, a land
crustacean
Crustacean
Crustaceans form a very large group of arthropods, usually treated as a subphylum, which includes such familiar animals as crabs, lobsters, crayfish, shrimp, krill and barnacles. The 50,000 described species range in size from Stygotantulus stocki at , to the Japanese spider crab with a leg span...
. The waters are populated by
shark
Shark
Sharks are a type of fish with a full cartilaginous skeleton and a highly streamlined body. The earliest known sharks date from more than 420 million years ago....
s, including the
sandbar shark
Sandbar shark
The sandbar shark, Carcharhinus plumbeus, is a species of requiem shark, family Carcharhinidae, native to the Atlantic Ocean and the Indo-Pacific. It is distinguishable by its very high first dorsal fin and inter-dorsal ridge....
,
grouper
Grouper
Groupers are fish of any of a number of genera in the subfamily Epinephelinae of the family Serranidae, in the order Perciformes.Not all serranids are called groupers; the family also includes the sea basses. The common name grouper is usually given to fish in one of two large genera: Epinephelus...
s,
lobster
Lobster
Clawed lobsters comprise a family of large marine crustaceans. Highly prized as seafood, lobsters are economically important, and are often one of the most profitable commodities in coastal areas they populate.Though several groups of crustaceans are known as lobsters, the clawed lobsters are most...
s and varieties of yellow and pink
coral
Coral
Corals are marine animals in class Anthozoa of phylum Cnidaria typically living in compact colonies of many identical individual "polyps". The group includes the important reef builders that inhabit tropical oceans and secrete calcium carbonate to form a hard skeleton.A coral "head" is a colony of...
.
See also
Italy–Tunisia Delimitation Agreement

Italy–Tunisia Delimitation Agreement

The Italy–Tunisia Delimitation Agreement is a 1971 treaty between Italy and Tunisia in which the two countries agreed to delimit a maritime boundary between them in the continental shelf....