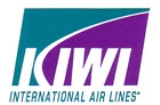 Kiwi International Air Lines
Kiwi International Air Lines
was a
Part 121
Federal Aviation Regulations
The Federal Aviation Regulations, or FARs, are rules prescribed by the Federal Aviation Administration governing all aviation activities in the United States. The FARs are part of Title 14 of the Code of Federal Regulations...
American
United States
The United States of America is a federal constitutional republic comprising fifty states and a federal district...
airline
that operated from September 21, 1992 to March 24, 1999. It had its headquarters in the Hemisphere Center in
Newark, New Jersey
Newark, New Jersey
Newark is the largest city in the American state of New Jersey, and the seat of Essex County. As of the 2010 United States Census, Newark had a population of 277,140, maintaining its status as the largest municipality in New Jersey. It is the 68th largest city in the U.S...
.
Kiwi International was founded by a group of
Eastern Air Lines
Eastern Air Lines
Eastern Air Lines was a major United States airline that existed from 1926 to 1991. Before its dissolution it was headquartered at Miami International Airport in unincorporated Miami-Dade County, Florida.-History:...
pilots led by Robert Iverson in a plan to re-employ former Eastern and Pan Am pilots and managers using their help and capital. In its history, the airline flew 8,000,000 passengers without an incident.
History
Originally, the intent was to purchase the Pan Am Shuttle. When Iverson presented a Kelso and Company backed $100,000,000 offer to Pan Am, it was rejected in favor of a
Delta Air Lines
Delta Air Lines
Delta Air Lines, Inc. is a major airline based in the United States and headquartered in Atlanta, Georgia. The airline operates an extensive domestic and international network serving all continents except Antarctica. Delta and its subsidiaries operate over 4,000 flights every day...
offer. With advice from the FAA it was decided to start a new airline. Under the name Kiwi Acquisition Group, Iverson raised $2,000,000 from pilots at $50,000 apiece with promise of employment as a Captain. The former airline employees had formed a group and called themselves Kiwis because they were no longer flying, just like the flightless
kiwi
Kiwi
Kiwi are flightless birds endemic to New Zealand, in the genus Apteryx and family Apterygidae.At around the size of a domestic chicken, kiwi are by far the smallest living ratites and lay the largest egg in relation to their body size of any species of bird in the world...
birds. When it came time to name the new airline, it was decided to keep the association name.
Kiwi first flew on September 21, 1992 using two refurbished 727-200s from
Lufthansa
Lufthansa
Deutsche Lufthansa AG is the flag carrier of Germany and the largest airline in Europe in terms of overall passengers carried. The name of the company is derived from Luft , and Hansa .The airline is the world's fourth-largest airline in terms of overall passengers carried, operating...
on routes between Newark and Chicago and Orlando. It offered gourmet meals and expanded legroom of 36 inch pitch. Within one year Kiwi had fifteen planes and 1200 employees doing $116,000,000 in business. During its expansion Kiwi's experienced cockpit and cabin crews earned the airline numerous industry awards including Best Airline in America from
Condé Nast Traveler
Condé Nast Traveler
Condé Nast Traveler is a US magazine published by Condé Nast. It has its origins in a mailing sent out by the Diners Club club beginning in 1953, listing locations that would take the card. It began taking advertising in 1955. In order to attract more advertisers, it became a full-fledged magazine,...
and the first ever "President's Award of Merit" from the Inflight Catering Association for one class in-flight service. Iverson was given a Laureatte Award from
Aviation Week and Space Technology
and secured a passenger sharing agreement from
Richard Branson
Richard Branson
Sir Richard Charles Nicholas Branson is an English business magnate, best known for his Virgin Group of more than 400 companies....
to feed Kiwi into
Virgin
Virgin Atlantic Airways
Virgin Atlantic Airways Limited is a British airline owned by Sir Richard Branson's Virgin Group and Singapore Airlines...
flights. Branson promoted the concept and called Kiwi his favorite US airline.
In 1993, Kiwi placed an order for 11
BAC One-Eleven
BAC One-Eleven
The British Aircraft Corporation One-Eleven, also known as the BAC-111, BAC-1-11 or BAC 1-11, was a British short-range jet airliner of the 1960s and 1970s...
aircraft and five options. The British designed aircraft were to be built in Romania. Romaero, the Romanian partner, failed to find funding to develop the variant, which would be equipped with modern Rolls Royce Tay engines, and scrapped the plan.
Kiwi International Air Lines enjoyed a flawless safety record and near perfect dispatch reliability rate of 99.6% in its expansion. On the strength of its market reputation, Iverson secured a $25,000,000
IPO
Initial public offering
An initial public offering or stock market launch, is the first sale of stock by a private company to the public. It can be used by either small or large companies to raise expansion capital and become publicly traded enterprises...
proposal co-managed by Dillon Read and
Goldman Sachs
Goldman Sachs
The Goldman Sachs Group, Inc. is an American multinational bulge bracket investment banking and securities firm that engages in global investment banking, securities, investment management, and other financial services primarily with institutional clients...
in fall 1994. When the pilot investors fractured along geographic lines the offer was rejected by the board. In February 1995, founder and chairman Robert Iverson departed.
After Iverson's departure, the board hired professional (non-pilot) management and advisers. In 1996, KIWI succeeded to secure a $20 million financing package from Recovery Equity Partners, a CA-based private equity fund through the effors of Conexus. At the time Kiwi received the first
tranche
Tranche
In structured finance, a tranche is one of a number of related securities offered as part of the same transaction. The word tranche is French for slice, section, series, or portion, and is cognate to English trench . In the financial sense of the word, each bond is a different slice of the deal's...
of the financing package,
ValuJet Flight 592
ValuJet Flight 592
ValuJet Flight 592 was a scheduled domestic passenger flight between Miami International Airport, Miami, Florida, and William B. Hartsfield Atlanta International Airport, Atlanta, Georgia...
and
TWA Flight 800
TWA Flight 800
Trans World Airlines Flight 800 , a Boeing 747-131, exploded and crashed into the Atlantic Ocean near East Moriches, New York, on July 17, 1996, at about 20:31 EDT, 12 minutes after takeoff, killing all 230 persons on board. At the time, it was the second-deadliest U.S...
had accidents in May and July 1996 that caused the death of more than 300 passengers. Following these unrelated accidents, the
FAA
Federal Aviation Administration
The Federal Aviation Administration is the national aviation authority of the United States. An agency of the United States Department of Transportation, it has authority to regulate and oversee all aspects of civil aviation in the U.S...
also increased its surveillance of the airline industry. Because of alleged maintenance documentation issues, Kiwi International was asked to temporarily ground 25% of its fleet. But the airline was allowed to fly again soon after.
Kiwi, called "one of the best of the recent start-up lines" by
Consumer Reports Travel Letter
, filed for bankruptcy on September 30, 1996 and after failing to find additional financing, stopped scheduled service on October 15. Ed Perkins, editor of the
Travel Letter
, noted that other members of the travel press blamed the bankruptcy on chronic
undercapitalization
Undercapitalization
Under-capitalization refers to any situation where a business cannot acquire the funds they need. An under-capitalized business may be one that cannot afford current operational expenses due to a lack of capital, which can trigger bankruptcy, may be one that is over-exposed to risk, or may be one...
, problems with the FAA, and the "media's indiscriminate innuendos about the safety of all low-fare airlines following the Valujet crash"; Perkins suggested a fourth problem for Kiwi: the "pervasive power of the giant lines' frequent-flyer programs, noting Kiwi targeted business travelers. Perkins pointed out that Kiwi's competitors were matching its fares, so their willingness to also include frequent-flyer miles, miles worth about $12-15 per one-way trip, resulting in a loss of customers for Kiwi even after it belatedly established its own program.
In July 1997, a Federal bankruptcy judge agreed to liquidate Kiwi in a $16.5 million deal: Joe Logan, Aviation Holdings and Dr. Charles C. Edwards, an orthopedic surgeon and entrepreneur who had led about 30 business enterprises over his 33 year career, bought Kiwi's assets, in a deal that included a
Huntington Station, New York
Huntington Station, New York
Huntington Station is a hamlet in Suffolk County, New York, United States. The population was 29,910 at the 2000 census....
investment firm called NJS Acquisitions, which invested $3.5 million for a 20% stake. In its first five months under Edwards hands-on leadership, Kiwi ended service from Atlanta to Palm Beach and Orlando, and added service from Newark to Boston and Tampa, from Boston to Palm Beach, from Chicago to Tampa, from Atlanta to Tampa, and (on a seasonal basis) from Orlando to
San Juan, Puerto Rico
San Juan, Puerto Rico
San Juan , officially Municipio de la Ciudad Capital San Juan Bautista , is the capital and most populous municipality in Puerto Rico, an unincorporated territory of the United States. As of the 2010 census, it had a population of 395,326 making it the 46th-largest city under the jurisdiction of...
.
By the end of 1998, Kiwi had an operating loss of $19.8 million and a net loss of $20.6 million; by February 19, 1999, the carrier owed more than $750,000 to airports. By March 23, the
U.S. Department of Transportation
United States Department of Transportation
The United States Department of Transportation is a federal Cabinet department of the United States government concerned with transportation. It was established by an act of Congress on October 15, 1966, and began operation on April 1, 1967...
(USDOT) announced plans to revoke Kiwi's
operating certificate
Operating certificate
Operating certificate is a category of license issued by a government agency allowing an individual or company to provide a controlled type of service. These certificates are generally issued for a limited time period...
for failing to meet federal fitness standards for air carriers. According to an article in
The New York Times
The New York Times
The New York Times is an American daily newspaper founded and continuously published in New York City since 1851. The New York Times has won 106 Pulitzer Prizes, the most of any news organization...
, Kiwi was the subject of two separate USDOT investigations, one about the airline's financial and managerial fitness and another about its safety—while Kiwi was on the verge of receiving a $3 million bailout from Pan American Airlines (to address the USDOT concerns about its financial and managerial situation), the termination of its operating certificate for safety reasons meant it would be months before the airline could fly again.
As of March 1999, Kiwi was a charter carrier with four leased jets flying to six cities, with 500 employees and 11 months of paid advance reservations for about 80,000 seats.
In December 1999, a bankruptcy judge approved the liquidation of the airline.
Destinations
Aguadilla (Puerto Rico), Aruba, Atlanta, Bermuda, Boston, Chicago (Midway), Las Vegas, Miami, Newark, Orlando, San Juan (Puerto Rico), St. Maarten, Tampa, and West Palm Beach.
Kiwi had three hubs:
Newark International Airport (main hub), in Newark, New Jersey

Newark, New Jersey

Newark is the largest city in the American state of New Jersey, and the seat of Essex County. As of the 2010 United States Census, Newark had a population of 277,140, maintaining its status as the largest municipality in New Jersey. It is the 68th largest city in the U.S...


.
Atlanta International Airport, in Atlanta, Georgia

Atlanta, Georgia

Atlanta is the capital and most populous city in the U.S. state of Georgia. According to the 2010 census, Atlanta's population is 420,003. Atlanta is the cultural and economic center of the Atlanta metropolitan area, which is home to 5,268,860 people and is the ninth largest metropolitan area in...


.
Miami International Airport

Miami International Airport

Miami International Airport , also known as MIA and historically Wilcox Field, is the primary airport serving the South Florida area...


, in Miami, Florida

Miami, Florida

Miami is a city located on the Atlantic coast in southeastern Florida and the county seat of Miami-Dade County, the most populous county in Florida and the eighth-most populous county in the United States with a population of 2,500,625...


.
External links
Kiwi International Air Lines timetables from airtimes.com
http://www.facebook.com/group.php?gid=146702795392 KIWI International Airlines Group at Face Book for former employees
KIWI International Air Lines, a WebEx

WebEx

WebEx Communications Inc. is a Cisco company that provides on-demand collaboration, online meeting, web conferencing and videoconferencing applications...


WebOffice website for former Kiwi International employees