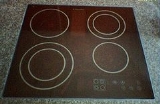 Kitchen stove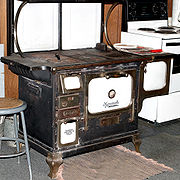 A
kitchen stove
,
cooking stove
,
cookstove
, or
cooker
is a kitchen appliance designed for the purpose of
cooking
Cooking
Cooking is the process of preparing food by use of heat. Cooking techniques and ingredients vary widely across the world, reflecting unique environmental, economic, and cultural traditions. Cooks themselves also vary widely in skill and training...
food. Kitchen stoves rely on the application of direct heat for the cooking process and may also contain an
oven
Oven
An oven is a thermally insulated chamber used for the heating, baking or drying of a substance. It is most commonly used for cooking. Kilns, and furnaces are special-purpose ovens...
, used for
baking
Baking
Baking is the technique of prolonged cooking of food by dry heat acting by convection, and not by radiation, normally in an oven, but also in hot ashes, or on hot stones. It is primarily used for the preparation of bread, cakes, pastries and pies, tarts, quiches, cookies and crackers. Such items...
.
In the industrialized world, as
stove
Stove
A stove is an enclosed heated space. The term is commonly taken to mean an enclosed space in which fuel is burned to provide heating, either to heat the space in which the stove is situated or to heat the stove itself, and items placed on it...
s replaced open fires and
brazier
Brazier
A brazier is a container for fire, generally taking the form of an upright standing or hanging metal bowl or box. Used for holding burning coal as well as fires, a brazier allows for a source of light, heat, or cooking...
s as a source of more efficient and reliable heating, models were developed that could also be used for cooking; these came to be known as
kitchen

Kitchen

A kitchen is a room or part of a room used for cooking and food preparation.In the West, a modern residential kitchen is typically equipped with a stove, a sink with hot and cold running water, a refrigerator and kitchen cabinets arranged according to a modular design. Many households have a...


stoves
.re: cooking in the Middle Ages "The division of stoves into several compartments as in our day was seldom seen. The dishes were cooked on the fire itself. When homes began to be heated with
central heating
Central heating
A central heating system provides warmth to the whole interior of a building from one point to multiple rooms. When combined with other systems in order to control the building climate, the whole system may be a HVAC system.Central heating differs from local heating in that the heat generation...
systems, there was less need for an appliance that served as both heat source and cooker and stand-alone cookers replaced them.
Cooker
and
stove
are often used interchangeably.
The fuel-burning stove is the most basic design of kitchen stove. In the developing world, such stoves are still the most common cooking appliances and new, more fuel efficient and environmentally sound biomass cook stoves are being developed for use there. Modern kitchen stoves may use alternative methods for heating food.
Natural Gas
Natural gas
Natural gas is a naturally occurring gas mixture consisting primarily of methane, typically with 0–20% higher hydrocarbons . It is found associated with other hydrocarbon fuel, in coal beds, as methane clathrates, and is an important fuel source and a major feedstock for fertilizers.Most natural...
and electric stoves are the most common today in western countries. Both are equally mature and safe, and the choice between the two is largely a matter of personal preference and pre-existing utility outlets: if a house has no gas supply, adding one just to be able to run a gas stove is an expensive endeavour. In particular, professional
chef
Chef
A chef is a person who cooks professionally for other people. Although over time the term has come to describe any person who cooks for a living, traditionally it refers to a highly skilled professional who is proficient in all aspects of food preparation.-Etymology:The word "chef" is borrowed ...
s often prefer gas cooktops, for they allow them to control the heat more finely and more quickly. On the other hand, some chefs often prefer electric ovens because they tend to heat food more evenly. According to EnergyGuide labels on appliances sold in the U.S. and EnerGuide labels in Canada, natural-gas-fueled appliances are more cost-efficient for the duration of their life. Today's major brands offer both gas and electric stoves, and many also offer dual-fuel stoves combining gas cooktops and electric ovens.
Modern kitchen stoves have both burners on the top (also known in American English as the
cooktop
or
range
and, in British English, the
hob
) and, as noted, an oven. A
cooktop
just has burners on the top and is usually installed into a
countertop
Countertop
Countertop usually refers to a horizontal worksurface in kitchens or other food preparation areas, bathrooms or lavatories, and workrooms in general. It is frequently installed upon and supported by cabinets...
. A
drop-in range
has both burners on the top and an oven and hangs from a cutout in the countertop (that is, it cannot be installed free-standing on its own).
Early kitchen stoves
Chinese
China
Chinese civilization may refer to:* China for more general discussion of the country.* Chinese culture* Greater China, the transnational community of ethnic Chinese.* History of China* Sinosphere, the area historically affected by Chinese culture...
,
Korea
Korea
Korea ) is an East Asian geographic region that is currently divided into two separate sovereign states — North Korea and South Korea. Located on the Korean Peninsula, Korea is bordered by the People's Republic of China to the northwest, Russia to the northeast, and is separated from Japan to the...
n, and
Japan
Japan
Japan is an island nation in East Asia. Located in the Pacific Ocean, it lies to the east of the Sea of Japan, China, North Korea, South Korea and Russia, stretching from the Sea of Okhotsk in the north to the East China Sea and Taiwan in the south...
ese civilizations had discovered the principle of the closed stove much earlier than the West. Already from the Chinese
Qin Dynasty
Qin Dynasty
The Qin Dynasty was the first imperial dynasty of China, lasting from 221 to 207 BC. The Qin state derived its name from its heartland of Qin, in modern-day Shaanxi. The strength of the Qin state was greatly increased by the legalist reforms of Shang Yang in the 4th century BC, during the Warring...
(221 BC–206/207 BC),
clay
Clay
Clay is a general term including many combinations of one or more clay minerals with traces of metal oxides and organic matter. Geologic clay deposits are mostly composed of phyllosilicate minerals containing variable amounts of water trapped in the mineral structure.- Formation :Clay minerals...
stoves that enclosed the fire completely are known, and a similar design known as
kamado
(かまど) appeared in the
Kofun period
Kofun period
The is an era in the history of Japan from around 250 to 538. It follows the Yayoi period. The word kofun is Japanese for the type of burial mounds dating from this era. The Kofun and the subsequent Asuka periods are sometimes referred to collectively as the Yamato period...
(3rd–6th century) in Japan. These stoves were fired by wood or
charcoal
Charcoal
Charcoal is the dark grey residue consisting of carbon, and any remaining ash, obtained by removing water and other volatile constituents from animal and vegetation substances. Charcoal is usually produced by slow pyrolysis, the heating of wood or other substances in the absence of oxygen...
through a hole in the front. In both designs, pots were placed over or hung into holes at the top of the knee-high construction. Raised
kamados
Kamado
A kamado is a traditional Japanese wood or charcoal fired earthen vessel used as a stove or oven. Modern versions of the cooker are produced and sold internationally. They are often marketed as barbecues for outdoor use.-History:...
were developed in Japan during the
Edo period
Edo period
The , or , is a division of Japanese history which was ruled by the shoguns of the Tokugawa family, running from 1603 to 1868. The political entity of this period was the Tokugawa shogunate....
(1603–1867).
In
Europe
Europe
Europe is, by convention, one of the world's seven continents. Comprising the westernmost peninsula of Eurasia, Europe is generally 'divided' from Asia to its east by the watershed divides of the Ural and Caucasus Mountains, the Ural River, the Caspian and Black Seas, and the waterways connecting...
, prior to the 18th century, people cooked over open fires fueled by
wood
Wood
Wood is a hard, fibrous tissue found in many trees. It has been used for hundreds of thousands of years for both fuel and as a construction material. It is an organic material, a natural composite of cellulose fibers embedded in a matrix of lignin which resists compression...
, which were first on the floor or on low
masonry
Masonry
Masonry is the building of structures from individual units laid in and bound together by mortar; the term masonry can also refer to the units themselves. The common materials of masonry construction are brick, stone, marble, granite, travertine, limestone; concrete block, glass block, stucco, and...
constructions. In the
Middle Ages
Middle Ages
The Middle Ages is a periodization of European history from the 5th century to the 15th century. The Middle Ages follows the fall of the Western Roman Empire in 476 and precedes the Early Modern Era. It is the middle period of a three-period division of Western history: Classic, Medieval and Modern...
, waist-high brick-and-mortar hearths and the first
chimney
Chimney
A chimney is a structure for venting hot flue gases or smoke from a boiler, stove, furnace or fireplace to the outside atmosphere. Chimneys are typically vertical, or as near as possible to vertical, to ensure that the gases flow smoothly, drawing air into the combustion in what is known as the...
s appeared, so that cooks no longer had to kneel or sit to tend to foods on the fire. The fire was built on top of the construction; the cooking done mainly in
cauldron
Cauldron
A cauldron or caldron is a large metal pot for cooking and/or boiling over an open fire, with a large mouth and frequently with an arc-shaped hanger.- Etymology :...
s hung above the fire or placed on
trivet
Trivet
A trivet is an object placed between a serving dish or bowl, and a dining table, usually to protect the table from heat damage.Trivet also refers to a tripod used to elevate pots from the coals of an open fire...
s. The heat was regulated by placing the cauldron higher or lower above the fire.
Open fire has three major disadvantages that prompted inventors even in the 16th century to devise improvements: it is dangerous, it produces much smoke, and the heat efficiency is poor. Attempts were made to enclose the fire to make better use of the heat that it generated and thus reduce the wood consumption. A first step was the
fire chamber
: the fire was enclosed on three sides by brick-and-mortar walls and covered by an iron plate. This technique also caused a change in the kitchenware used for cooking, for it required flat-bottomed
pots
Cookware and bakeware
Cookware and bakeware are types of food preparation containers commonly found in the kitchen. Cookware comprises cooking vessels, such as saucepans and frying pans, intended for use on a stove or range cooktop. Bakeware comprises cooking vessels intended for use inside an oven...
instead of cauldrons. Only in 1735 did the first design that completely enclosed the fire appear: the
Castrol stove
of the
French
France
The French Republic , The French Republic , The French Republic , (commonly known as France , is a unitary semi-presidential republic in Western Europe with several overseas territories and islands located on other continents and in the Indian, Pacific, and Atlantic oceans. Metropolitan France...
architect
Architect
An architect is a person trained in the planning, design and oversight of the construction of buildings. To practice architecture means to offer or render services in connection with the design and construction of a building, or group of buildings and the space within the site surrounding the...
François de Cuvilliés
François de Cuvilliés
François de Cuvilliés was a Belgian-born Bavarian decorative designer and architect who was instrumental in bringing the Rococo style to the Wittelsbach court at Munich and to Central Europe in general.Cuvilliés was so diminutive in stature that it was as a court dwarf he first came to the notice...
was a masonry construction with several fireholes covered by perforated iron plates. It is also known as a
stew stove
. Near the end of the 18th century, the design was refined by hanging the pots in holes through the top iron plate, thus improving heat efficiency even more.
Charcoal stoves
Stoves continued to evolve and charcoal began to replace wood as the burning material in stoves. Up until the 1970s, the top French restaurant Le Pyramid continued to use charcoal stoves. These stoves had flat tops and the heat was concentrated on one side of the stove top so that cooks could cook things at different temperatures based on where the pot or pan was located. This was called the "piano" system. After coal was replaced with gas, French chefs continued to prefer the smooth cooking surface and so the majority of French gas ovens had flat metal surfaces over the gas burners, which continues to be known as the "french style" today.
Gas stoves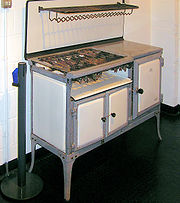 The first
gas stove
Gas stove
In cooking, a gas stove is a cooker which uses natural gas, propane, butane, liquefied petroleum gas or other flammable gas as a fuel source.-History:...
s were developed already in the 1820s, but these remained isolated experiments. At the Great Exhibition in
London
London
London is the capital city of :England and the :United Kingdom, the largest metropolitan area in the United Kingdom, and the largest urban zone in the European Union by most measures. Located on the River Thames, London has been a major settlement for two millennia, its history going back to its...
in 1851, a gas stove was shown, but only in the 1880s did this technology start to become a commercial success. The main factor in this delay was the slow growth of the gas pipe network.
Design evolution
There are still many traditional stoves made, which burn wood or solid fuel. The look and feel maybe very similar to many traditional stoves, but the way fuel is burnt has evolved. Many also have back boilers for domestic heating.
Induction cooker
Rather than applying direct heat to a cooking vessel, an
induction cooker
Induction cooker
An induction cooker uses induction heating for cooking. Unlike other forms of cooking, heat is generated directly in the pot or pan , as opposed to being generated in the stovetop by electrical coils or burning gas...
causes metal vessels to heat by
electromagnetic induction
Electromagnetic induction
Electromagnetic induction is the production of an electric current across a conductor moving through a magnetic field. It underlies the operation of generators, transformers, induction motors, electric motors, synchronous motors, and solenoids....
. This leaves the cooking top cold (or rather, only heated by proximity to the cooking vessel) and increases efficiency.
Microwave oven
Microwave oven
A microwave oven is a kitchen appliance that heats food by dielectric heating, using microwave radiation to heat polarized molecules within the food...
s use microwave radiation to directly heat the
water
Water
Water is a chemical substance with the chemical formula H2O. A water molecule contains one oxygen and two hydrogen atoms connected by covalent bonds. Water is a liquid at ambient conditions, but it often co-exists on Earth with its solid state, ice, and gaseous state . Water also exists in a...
held inside food.
Flattop grill
Flattop grill
A flattop grill is a cooking appliance that resembles a griddle but performs differently because the heating element is circular rather than straight . This heating technology creates an extremely hot and even cooking surface, as heat spreads in a radial fashion over the surface...
s are also being installed into kitchen counters and islands, which do double-duty as a direct cooking surface as well as a platform for heating pots and pans.
A
hot plate
Hot plate
A hot plate is a portable self-contained tabletop small appliance that features one, two or more gas burners or electric heating elements. A hot plate can be used as a stand alone appliance, but is often used as a substitute for one of the burners from an oven range or the cook top of a stove...
is a similar device, which is mobile and can be used as an
appropriate technology
Appropriate technology
Appropriate technology is an ideological movement originally articulated as "intermediate technology" by the economist Dr...
.
See also
Red Cross stove

Red Cross stove

The Red Cross stove is a kitchen stove used for cooking and heating a home of the late 19th and early 20th-century. The reason for the name "Red Cross" was because of the advertising logo used in promoting the product, which had a red Gothic cross.-History:...



Electric stove

Electric stove

An electric stove converts electricity into heat to cook and bake.- History :On September 20, 1859, George B. Simpson was awarded US patent #25532 for an 'electro-heater' surface heated by an platinum-wire coil powered by batteries; in his words, useful to "warm rooms, boil water, cook...



Gas stove

Gas stove

In cooking, a gas stove is a cooker which uses natural gas, propane, butane, liquefied petroleum gas or other flammable gas as a fuel source.-History:...



Beverage-can stove

Beverage-can stove

A beverage-can stove is a homemade, ultralight portable stove. The simple design is made entirely from aluminium cans and burns alcohol. Countless variations on the basic design exist....



Portable stove

Portable stove

A portable stove is a cooking stove specially designed to be portable and lightweight, as for camping or picnicking, or for use in remote locations where an easily transportable means of cooking or heating is needed...



Hot plate

Hot plate

A hot plate is a portable self-contained tabletop small appliance that features one, two or more gas burners or electric heating elements. A hot plate can be used as a stand alone appliance, but is often used as a substitute for one of the burners from an oven range or the cook top of a stove...



Pressure cooker
Rocket stove

Rocket stove

A rocket stove is an innovative clean and efficient cooking stove using small diameter wood fuel which is burned in simple high-temperature combustion chamber containing an insulated vertical chimney which ensures complete combustion prior to the flames reaching the cooking surface. The principles...



Biomass Cook Stoves
Slow cooker

Slow cooker

A slow cooker, also known as a Crock-Pot or Slo-Cooker , is a countertop electrical cooking appliance that is used for simmering, which requires maintaining a relatively low temperature compared to other cooking methods for many hours, allowing unattended cooking...



Solar cooker

Solar cooker

A solar cooker, or solar oven, is a device which uses the energy of sunlight to heat food or drink to cook it or sterilize it. High-tech versions, for example electric ovens powered by solar cells, are possible, and have some advantages such as being able to work in diffuse light. However at...



Extractor hood

Extractor hood

An extractor hood is a device containing a mechanical fan that hangs above the stove or cooktop in the kitchen. It removes airborne grease, combustion products, smoke, odors, heat, and steam from the air by a combination of filtration and evacuation of the air.-Name:The device is known as an...