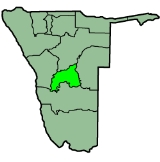 Khomas Region
Khomas
is one of the thirteen
regions
Regions of Namibia
The administrative division of Namibia is tabled by Delimitation Commissions and accepted or declined by the National Assembly. The First Delimitation Commission chaired by Judge President Johan Strydom suggested in 1992 that Namibia be divided into 13 Regions, a number that has not been amended...
of
Namibia
Namibia
Namibia, officially the Republic of Namibia , is a country in southern Africa whose western border is the Atlantic Ocean. It shares land borders with Angola and Zambia to the north, Botswana to the east and South Africa to the south and east. It gained independence from South Africa on 21 March...
. It contains the capital city
Windhoek
Windhoek
Windhoek is the capital and largest city of the Republic of Namibia. It is located in central Namibia in the Khomas Highland plateau area, at around above sea level. The 2001 census determined Windhoek's population was 233,529...
and provides for this reason superior transportation infrastructure. It has well-developed economical, financial, and trade sectors. Khomas Region occupies 4.5% of the land area of Namibia but has the highest population of any of its regions (15%). Whites and coloureds are about 46.7% of population.
Khomas is one of only three regions to have neither shoreline nor a foreign border. It borders the following regions:
Politics
The region comprises nine
constituencies
Constituencies of Namibia
Each of the 13 regions in Namibia are further subdivided into electoral constituencies. The number and size of each constituency varies with the size and population of each region. There are currently 107 constituencies in Namibia...
:
Tobias Hainyeko

Tobias Hainyeko constituency

Tobias Hainyeko constituency is a constituency in Katutura, Windhoek, Khomas Region, Namibia. The constituency was created from the eastern portion of the Hakahana Constituency as part of splitting measures by the Third Delimitation Commission of Namibia, a body that infrequently decides on the...



Moses ǁGaroëb

Moses ǁGaroëb (constituency)

Moses ǁGaroëb is the name of an electoral constituency in Windhoek, the capital of Namibia. It was created in 2003 at the recommendation of the Third Delimitation Commission which suggested that the constituency of Hakahana be split. Since then, the suburb of Hakahana falls into two different...



Samora Machel
Katutura Central

Katutura Central

Katutura Central is a constituency in the Khomas Region of Namibia, comprising the extensions 2-5 and 7-11 of the suburb Katutura. its population is 21,243...



Katutura East

Katutura East

Katutura East is a constituency in the Khomas Region of Namibia. Its population is 17,737. It consists of the extensions 1, 6, and 19 of the suburb Katutura, a township within Windhoek that was founded by the then Apartheid government of Namibia for black people in the 1950s.The first councillor...



Khomasdal North

Khomasdal North

Khomasdal North is a constituency in Windhoek in the Khomas Region of Namibia. Its population is 26,621. The constituency consists of parts of the suburbs Khomasdal, Katutura, and Otjomuise.The first councillor of this constituency was Karel Persendt...



Windhoek West

Windhoek West

Windhoek West is a suburb of Windhoek, the capital of Namibia. Its population is 38,969.. The Polytechnic of Namibia is located in Windhoek-West.Electorally, Windohoek West is located in the Windhoek West constituency.-References:...



Windhoek East

Windhoek East

Windhoek East is a constituency in the Khomas Region of Namibia. It consists of the upper-class suburbs of Windhoek: Auasblick, Avis, Klein Windhoek, Ludwigsdorf, Luxury Hill, Olympia, and Suiderhof...



Windhoek Rural

Windhoek Rural

Windhoek Rural is a constituency in the Khomas Region of Namibia. its population is 20,212. This constituency contains all settlements in the Khomas Region that are outside the city of Windhoek, among them:...



John Pandeni
Khomas is important electorally, as nearly 17% of the total votes in the 2004 election came from this region.
2004 parliamentary election
SWAPO won Khomas Region by a wide majority, though with a lower percentage of the total vote than nationally.
Demographics
According to the Namibia 2001 Population and Housing Census, Khomas had a population of 250,262 (123,613 females and 126,648 males or 102 males for every 100 females) growing at an annual rate of 4%. The fertility rate was 4.9 children per woman. 93% lived in urban areas while 7% lived in rural areas, and with an area of 37,007km
2
, the population density was 6.8 persons per km
2
. By age, 11% of the population was under 5 years old, 18% between 5-14 years, 67% between 15-59 years, and 4% 60 years and older. The population was divided into 58,580 households, with an average size of 4.2 persons. 36% of households had a female head of house, while 64% had a male. For those 15 years and older, 61% had never married, 24% married with certificate, 3% married traditionally, 7% married concensually, 2% were divorced or separated, and 2% were widowed.
The most commonly spoken languages at home were Oshiwambo (37% of households),
Afrikaans
Afrikaans
Afrikaans is a West Germanic language, spoken natively in South Africa and Namibia. It is a daughter language of Dutch, originating in its 17th century dialects, collectively referred to as Cape Dutch .Afrikaans is a daughter language of Dutch; see , , , , , .Afrikaans was historically called Cape...
(24%), and
Nama
Nama language
The Khoekhoe language, or Khoekhoegowab, also known by the ethnic term Nàmá and previously the now-discouraged term Hottentot, is the most widespread of the Khoisan languages. It belongs to the Khoe language family, and is spoken in Namibia, Botswana, and South Africa by three ethnic groups, the...
/Damara (13%). For those 15 years and older, the literacy rate was 94%. In terms of education, 87% of girls and 86% of boys between the ages of 6-15 were attending school, and of those 15 years and older, 76% had left school, 12% were currently at school, and 8% had never attended.
The employment rate for the labor force (46% of those 15+) was 71% employed and 29% unemployed. For those 15+ years old and not in the labor force (50%), 55% were students, 25% homeakers, and 20% retired, too old, etc.
Among households, 98% had safe water, 20% no toilet facility, 69% electricity for lighting, 83% access to
radio
Radio
Radio is the transmission of signals through free space by modulation of electromagnetic waves with frequencies below those of visible light. Electromagnetic radiation travels by means of oscillating electromagnetic fields that pass through the air and the vacuum of space...
, and 9% had wood or charcoal for cooking. In terms of households' main sources of income, 1% derived it from farming, 74% from wages and salaries, 7% cash remittances, 11% from business or non-farming, and 4% from pension.
For every 1000 live births there were 53 female infant deaths and 54 male. The life expectancy at birth was 56 years for females and 54 for males. Among children younger than 15, 5% had lost a mother, 10% a father, and 1% were orphaned by both parents. 4% of the entire population had a disability, of which 22% were deaf, 44% blind, 11% had a speech disability, 9% hand disability, 15% leg disability, and 4% mental disability.