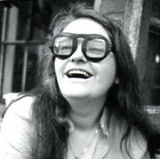 Kate Millett
Kate Millett
is an American lesbian
feminist
Feminism
Feminism is a collection of movements aimed at defining, establishing, and defending equal political, economic, and social rights and equal opportunities for women. Its concepts overlap with those of women's rights...
writer and activist. A seminal influence on
second-wave feminism
Second-wave feminism
The Feminist Movement, or the Women's Liberation Movement in the United States refers to a period of feminist activity which began during the early 1960s and lasted through the early 1990s....
, Millet is best known for her 1970 book
Sexual Politics
Sexual Politics
Sexual Politics is a classic feminist text written by Kate Millett, said to be "the first book of academic feminist literary criticism", and "one of the first feminist books of this decade to raise nationwide male ire"....
.
Career
Millett received her
B.A.
Bachelor of Arts
A Bachelor of Arts , from the Latin artium baccalaureus, is a bachelor's degree awarded for an undergraduate course or program in either the liberal arts, the sciences, or both...
at the
University of Minnesota
University of Minnesota
The University of Minnesota, Twin Cities is a public research university located in Minneapolis and St. Paul, Minnesota, United States. It is the oldest and largest part of the University of Minnesota system and has the fourth-largest main campus student body in the United States, with 52,557...
in 1956, where she was a member of the
Kappa Alpha Theta
Kappa Alpha Theta
Kappa Alpha Theta , also known as Theta, is an international fraternity for women founded on January 27, 1870 at DePauw University, formerly Indiana Asbury...
sorority. She later obtained a
first-class degree
British undergraduate degree classification
The British undergraduate degree classification system is a grading scheme for undergraduate degrees in the United Kingdom...
, with honors, from
St Hilda's College, Oxford
St Hilda's College, Oxford
St Hilda's College is one of the constituent colleges of the University of Oxford in England.The college was founded in 1893 as a hall for women, and remained an all-women's college until 2006....
in 1958.
Millett moved to Japan in 1961. Two years later, Millett returned to the United States with fellow sculptor Fumio Yoshimura whom she married in 1965. The two divorced in 1985. She was active in feminist politics in late 1960s and the 1970s. In 1966, she became a committee member of
National Organization for Women
National Organization for Women
The National Organization for Women is the largest feminist organization in the United States. It was founded in 1966 and has a membership of 500,000 contributing members. The organization consists of 550 chapters in all 50 U.S...
.
Sexual Politics
originated as her
Ph.D.
Ph.D.
A Ph.D. is a Doctor of Philosophy, an academic degree.Ph.D. may also refer to:* Ph.D. , a 1980s British group*Piled Higher and Deeper, a web comic strip*PhD: Phantasy Degree, a Korean comic series* PhD Docbook renderer, an XML renderer...
dissertation, which was awarded by
Columbia University
Columbia University
Columbia University in the City of New York is a private, Ivy League university in Manhattan, New York City. Columbia is the oldest institution of higher learning in the state of New York, the fifth oldest in the United States, and one of the country's nine Colonial Colleges founded before the...
in 1970. Here Millett offers a comprehensive critique of
patriarchy
Patriarchy
Patriarchy is a social system in which the role of the male as the primary authority figure is central to social organization, and where fathers hold authority over women, children, and property. It implies the institutions of male rule and privilege, and entails female subordination...
in Western society and literature. In particular, Millett critiques the
sexism
Sexism
Sexism, also known as gender discrimination or sex discrimination, is the application of the belief or attitude that there are characteristics implicit to one's gender that indirectly affect one's abilities in unrelated areas...
and
heterosexism
Heterosexism
Heterosexism is a system of attitudes, bias, and discrimination in favor of opposite-sex sexuality and relationships. It can include the presumption that everyone is heterosexual or that opposite-sex attractions and relationships are the only norm and therefore superior...
of the modern novelists
D. H. Lawrence
D. H. Lawrence
David Herbert Richards Lawrence was an English novelist, poet, playwright, essayist, literary critic and painter who published as D. H. Lawrence. His collected works represent an extended reflection upon the dehumanising effects of modernity and industrialisation...
,
Henry Miller
Henry Miller
Henry Valentine Miller was an American novelist and painter. He was known for breaking with existing literary forms and developing a new sort of 'novel' that is a mixture of novel, autobiography, social criticism, philosophical reflection, surrealist free association, and mysticism, one that is...
, and
Norman Mailer
Norman Mailer
Norman Kingsley Mailer was an American novelist, journalist, essayist, poet, playwright, screenwriter, and film director.Along with Truman Capote, Joan Didion, Hunter S...
, contrasting their perspectives with the dissenting viewpoint of the homosexual author
Jean Genet
Jean Genet
Jean Genet was a prominent and controversial French novelist, playwright, poet, essayist, and political activist. Early in his life he was a vagabond and petty criminal, but later took to writing...
.
In 1971, Millett started buying and restoring fields and buildings near
Poughkeepsie, New York
Poughkeepsie (city), New York
Poughkeepsie is a city in the state of New York, United States, which serves as the county seat of Dutchess County. Poughkeepsie is located in the Hudson River Valley midway between New York City and Albany...
. The project eventually became the Women's Art Colony/Tree Farm, a community of female lesbian artists and writers that is supported by the sale of Millett's silk-screen prints and by selling Christmas trees that have been hand-sheared by the artists in residence.
Millett's 1971 film
Three Lives
is a 16mm documentary made by an all-woman crew, including co-director Susan Kleckner, cameraperson Lenore Bode, and editor Robin Mide, under the name Women's Liberation Cinema. The 70-minute film focuses on reminiscences of three women recounting the stories of their lives. The subjects are Mallory Millett-Jones (the director's sister), Lillian Shreve, a chemist, and Robin Mide, an artist.
Her book
Flying
(1974) tells of her marriage with Yoshimura and her love affairs with women.
Sita
(1977) is a meditation on Millett's doomed love affair with a female college administrator who was ten years her senior. In 1979, Millett went to
Iran
Iran
Iran , officially the Islamic Republic of Iran , is a country in Southern and Western Asia. The name "Iran" has been in use natively since the Sassanian era and came into use internationally in 1935, before which the country was known to the Western world as Persia...
to work for women's rights, was soon deported, and wrote about the experience in
Going to Iran
. In
The Loony-Bin Trip
(1990), she describes her experience of being incarcerated in psychiatric facilities, her experience of being diagnosed as "bipolar", and her decision to discontinue lithium therapy. She won her own sanity trial in St. Paul. On a dare with her lawyer, together they changed the State of Minnesota's commitment law.
Millett was a contributor to On The Issues Magazine and was interviewed at length for an
article
in the magazine by Merle Hoffman.
Millett is active in the
anti-psychiatry
Anti-psychiatry
Anti-psychiatry is a configuration of groups and theoretical constructs that emerged in the 1960s, and questioned the fundamental assumptions and practices of psychiatry, such as its claim that it achieves universal, scientific objectivity. Its igniting influences were Michel Foucault, R.D. Laing,...
movement. As a representative of
MindFreedom International
MindFreedom International
MindFreedom International is an international coalition of over one hundred grassroots groups and thousands of individual members from fourteen nations. It was founded in 1990 to advocate against forced medication, medical restraints, and involuntary electroconvulsive therapy. Its stated mission is...
, she spoke out against psychiatric torture at the United Nations during the negotiations of the text of the Convention on the Rights of Persons with Disabilities (2005).
In the late 1990s and early 2000s, Millett was involved in a dispute with the New York City authorities who wanted to evict her from her home at 295
Bowery
Bowery
Bowery may refer to:Streets:* The Bowery, a thoroughfare in Manhattan, New York City* Bowery Street is a street on Coney Island in Brooklyn, N.Y.In popular culture:* Bowery Amphitheatre, a building on the Bowery in New York City...
as part of a massive redevelopment plan. Millett and others held out, but ultimately lost their battle. Their building was demolished, and the residents were re-located.
Controversy
The Basement: Meditations on a Human Sacrifice
, Millett's semi-fictional book about the 1965 torture and murder of American teenager Sylvia Likens by
Gertrude Baniszewski
Gertrude Baniszewski
Gertrude Nadine Baniszewski , also known as Gertrude Wright and Nadine van Fossan, was an Indiana divorcée who, with the aid of most of her own children and neighborhood children, such as Ricky Hobbs and Coy Hubbard, oversaw and facilitated the prolonged torture, mutilation, and eventual murder of...
, drew controversy for her defense of the crime. Millett argued for a feminist interpretation of the crime:

[The murder of Sylvia Likens] is the story of the suppression of women. Gertrude seems to have wanted to administer some terrible truthful justice to this girl: that this was what it was to be a woman.

More generally, humanities scholar
Camille Paglia
Camille Paglia
Camille Anna Paglia , is an American author, teacher, and social critic. Paglia, a self-described dissident feminist, has been a Professor at The University of the Arts in Philadelphia, Pennsylvania since 1984...
has described Millet's scholarship as deeply flawed, declaring that "American feminism's nose dive began" when Millet achieved prominence.
Films
Des fleurs pour Simone de Beauvoir (2007)
The Real Yoko Ono (2001) (TV)
"Bookmark" .... (1 episode, 1989)

Daughters of de Beauvoir (TV episode, 1989)

Not a Love Story: A Film About Pornography (1981)
Three Lives (1971, Producer)
Playboy: The Story of X (1998) (Archive Footage)
External links