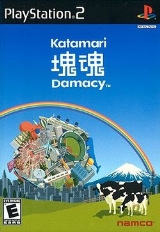 Katamari Damacy
Katamari Damacy
is a third-person puzzle-action video game that is published and developed by
Namco
Namco
is a Japanese corporation best known as a former video game developer and publisher. Following a merger with Bandai in September 2005, the two companies' game production assets were spun off into Namco Bandai Games on March 31, 2006. Namco Ltd. was re-established to continue domestic operation of...
for the
PlayStation 2
PlayStation 2
The PlayStation 2 is a sixth-generation video game console manufactured by Sony as part of the PlayStation series. Its development was announced in March 1999 and it was first released on March 4, 2000, in Japan...
video game console
Video game console
A video game console is an interactive entertainment computer or customized computer system that produces a video display signal which can be used with a display device to display a video game...
. It was first released in
Japan
Japan
Japan is an island nation in East Asia. Located in the Pacific Ocean, it lies to the east of the Sea of Japan, China, North Korea, South Korea and Russia, stretching from the Sea of Okhotsk in the north to the East China Sea and Taiwan in the south...
, and then later in
South Korea
South Korea
The Republic of Korea , , is a sovereign state in East Asia, located on the southern portion of the Korean Peninsula. It is neighbored by the People's Republic of China to the west, Japan to the east, North Korea to the north, and the East China Sea and Republic of China to the south...
and
North America
North America
North America is a continent wholly within the Northern Hemisphere and almost wholly within the Western Hemisphere. It is also considered a northern subcontinent of the Americas...
. The game resulted from a school project from the Namco Digital Hollywood Game Laboratory, and was developed for less than $1 million. In designing Katamari Damacy, the development team aimed to maintain four key points: novelty, ease of understanding, enjoyment, and humor.
The game's plot concerns a diminutive prince on a mission to rebuild the
star
Star
A star is a massive, luminous sphere of plasma held together by gravity. At the end of its lifetime, a star can also contain a proportion of degenerate matter. The nearest star to Earth is the Sun, which is the source of most of the energy on Earth...
s,
constellation
Constellation
In modern astronomy, a constellation is an internationally defined area of the celestial sphere. These areas are grouped around asterisms, patterns formed by prominent stars within apparent proximity to one another on Earth's night sky....
s, and
Moon
Moon
The Moon is Earth's only known natural satellite,There are a number of near-Earth asteroids including 3753 Cruithne that are co-orbital with Earth: their orbits bring them close to Earth for periods of time but then alter in the long term . These are quasi-satellites and not true moons. For more...
, which were accidentally destroyed by his father, the King of All Cosmos.
"Here we are. Earth. Full of things as usual."

"Woo, tangent."

"Maybe We'll invent a Cosmic Esperanto."

"So, we were thinking about working out."

"It is not your fault. It is our fault for believing in you."

"Sending Things to Earth - trees... elephants... hopes... dreams..."

"The prince broke up the moon he just made. Rich people sure are different."