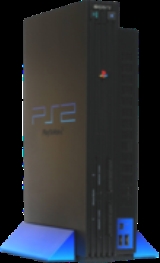 PlayStation 2
The
PlayStation 2
is a
sixth-generation
History of video game consoles (sixth generation)
The sixth-generation era refers to the computer and video games, video game consoles, and video game handhelds available at the turn of the 21st century. Platforms of the sixth generation include the Sega Dreamcast, Sony PlayStation 2, Nintendo GameCube, and Microsoft Xbox...
video game console
Video game console
A video game console is an interactive entertainment computer or customized computer system that produces a video display signal which can be used with a display device to display a video game...
manufactured by
Sony
Sony
, commonly referred to as Sony, is a Japanese multinational conglomerate corporation headquartered in Minato, Tokyo, Japan and the world's fifth largest media conglomerate measured by revenues....
as part of the
PlayStation series
PlayStation
The is a 32-bit fifth-generation video game console first released by Sony Computer Entertainment in Japan on December 3, .The PlayStation was the first of the PlayStation series of consoles and handheld game devices. The PlayStation 2 was the console's successor in 2000...
. Its development was announced in March 1999 and it was first released on March 4, 2000, in Japan. Its primary competitors were
Sega
Sega
, usually styled as SEGA, is a multinational video game software developer and an arcade software and hardware development company headquartered in Ōta, Tokyo, Japan, with various offices around the world...
's Dreamcast,
Microsoft
Microsoft
Microsoft Corporation is an American public multinational corporation headquartered in Redmond, Washington, USA that develops, manufactures, licenses, and supports a wide range of products and services predominantly related to computing through its various product divisions...
's
Xbox
Xbox
The Xbox is a sixth-generation video game console manufactured by Microsoft. It was released on November 15, 2001 in North America, February 22, 2002 in Japan, and March 14, 2002 in Australia and Europe and is the predecessor to the Xbox 360. It was Microsoft's first foray into the gaming console...
, and
Nintendo
Nintendo
is a multinational corporation located in Kyoto, Japan. Founded on September 23, 1889 by Fusajiro Yamauchi, it produced handmade hanafuda cards. By 1963, the company had tried several small niche businesses, such as a cab company and a love hotel....
's
GameCube
Nintendo GameCube
The , officially abbreviated to NGC in Japan and GCN in other regions, is a sixth generation video game console released by Nintendo on September 15, 2001 in Japan, November 18, 2001 in North America, May 3, 2002 in Europe, and May 17, 2002 in Australia...
.
The PS2 is the
best-selling console
of all time, having reached over 150 million units sold as of January 31, 2011.