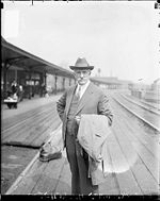 James Henry Breasted
James Henry Breasted
was an
American
United States
The United States of America is a federal constitutional republic comprising fifty states and a federal district...
archaeologist and
historian
Historian
A historian is a person who studies and writes about the past and is regarded as an authority on it. Historians are concerned with the continuous, methodical narrative and research of past events as relating to the human race; as well as the study of all history in time. If the individual is...
. After completing his PhD at the University of Berlin in 1894, he joined the faculty of the University of Chicago. In 1901 he became director of the Haskell Oriental Museum at the University of Chicago, where he continued to concentrate on Egypt. In 1919 he became the founder of the
Oriental Institute
Oriental Institute
Oriental Institute may refer to a number of institutes of Oriental studies:United States* Oriental Institute, Chicago, part of the University of ChicagoEngland* Oriental Institute, Oxford, part of the University of Oxford...
at the University, designed to be a center for research into the rise of civilization in the Near East. In 1905 Breasted was promoted to professor in the first chair in Egyptology and Oriental History in the United States.
Early life and education
Breasted's English and Dutch ancestors came to the American continent in the 17th century with the surname Van Breestede. His father was a small hardware business owner in the 8,000-strong town of
Rockford
Rockford, Illinois
Rockford is a mid-sized city located on both banks of the Rock River in far northern Illinois. Often referred to as "The Forest City", Rockford is the county seat of Winnebago County, Illinois, USA. As reported in the 2010 U.S. census, the city was home to 152,871 people, the third most populated...
,
Illinois
Illinois
Illinois is the fifth-most populous state of the United States of America, and is often noted for being a microcosm of the entire country. With Chicago in the northeast, small industrial cities and great agricultural productivity in central and northern Illinois, and natural resources like coal,...
, where just months after the
assassination of Lincoln
Abraham Lincoln assassination
The assassination of United States President Abraham Lincoln took place on Good Friday, April 14, 1865, as the American Civil War was drawing to a close. The assassination occurred five days after the commanding General of the Army of Northern Virginia, Robert E. Lee, and his battered Army of...
and end of the
Civil War
American Civil War
The American Civil War was a civil war fought in the United States of America. In response to the election of Abraham Lincoln as President of the United States, 11 southern slave states declared their secession from the United States and formed the Confederate States of America ; the other 25...
, Breasted was born.
He was educated at
North Central College
North Central College
North Central College is a leading liberal arts college providing students at different stages of life and from different ethnic, economic and religious backgrounds with comprehensive educational programs.-Academics:...
(then North-Western College) (B.A. 1888), the
Chicago Theological Seminary
Chicago Theological Seminary
The Chicago Theological Seminary is a seminary of the United Church of Christ. It prepares women and men for leadership in the church and society through Master of Divinity , Master of Arts in Religious Studies , Master of Sacred Theology , Doctor of Ministry , and Doctor of Philosophy programs...
, and
Yale University
Yale University
Yale University is a private, Ivy League university located in New Haven, Connecticut, United States. Founded in 1701 in the Colony of Connecticut, the university is the third-oldest institution of higher education in the United States...
(M.A. 1892), where he studied under the Hebrew scholar
William Rainey Harper
William Rainey Harper
William Rainey Harper was one of America's leading academics of the late 19th and early 20th centuries. Harper helped to organize the University of Chicago and Bradley University and served as the first President of both institutions.-Early life:Harper was born on July 26, 1856 in New Concord,...
. Harper encouraged Breasted to go to the University of Berlin, where he earned his PhD (1894) under the instruction of
Adolf Erman
Adolf Erman
Johann Peter Adolf Erman was a renowned Egyptologist and lexicographer.-Life:Born in Berlin, he was the son of Georg Adolf Erman and grandson of Paul Erman....
. He was the first American citizen to obtain a PhD in
Egyptology
Egyptology
Egyptology is the study of ancient Egyptian history, language, literature, religion, and art from the 5th millennium BC until the end of its native religious practices in the AD 4th century. A practitioner of the discipline is an "Egyptologist"...
.
James Henry Breasted was born on Aug. 27, 1865, in Rockford, III. He graduated from North Central College in 1888 and attended Chicago Theological Seminary but transferred to Yale to study Hebrew. He received a master's degree from Yale in 1891 and, on the advice of William Rainey Harper, went to Berlin. There Breasted studied under Adolf Erman, who had just established a new school of Egyptology, concentrating systematically on grammar and lexicography. Breasted received his doctorate from Berlin in 1894 with a dissertation on the solar hymns of Ikhnaton. He also married the same year and made the first of his many trips to Egypt on his honeymoon, spending much time exploring, and learning Arabic.
Upon his return to the United States, Breasted joined the faculty of the University of Chicago in 1894 as an assistant in Egyptology. By 1905 he was a full professor in Egyptology and Oriental history. In addition, he became director of the Haskell Oriental Museum in 1901 and chairman of the Department of Oriental Languages in 1915, a post he held until 1925.
In his early scholarly years Breasted embarked on several ambitious projects, one being to translate all extant Egyptian historical texts into English. The Ancient Records of Egypt: Historical Documents (5 vols., 1906) became a standard work and established his reputation. Breasted also wrote monographs and textbooks. His History of Egypt (1905) was the first scholarly history of the ancient Nile written in the United States and attracted much favorable comment.
From 1905 to 1907 Breasted directed the Nubian expedition of the University of Chicago, which developed his interest in Egyptian religious thought. This culminated in the Morse Lectures at Union Theological Seminary, published as Development of Religion and Thought in Ancient Egypt (1912). Here he took an evolutionary posture and traced man's moral ideas from Egypt. Breasted also continued to write texts, alone and in collaboration. The most famous of these was Ancient Times (1916), revised as The Conquest of Civilization (1926). The emphasis was upon man raising himself through intelligence and religious growth.
In 1919 Breasted originated the Oriental Institute of the Near East and directed the first expedition to Egypt and western Asia in 1919-1920. He was released from teaching duties in 1925 to devote full time to the institute, became Burton distinguished service professor in 1930, and retired in 1933. In 1933 he also published his best-known work, The Dawn of Conscience, an elaboration of earlier ideas.
Breasted died in New York City on Dec. 2, 1935, having securely established the study of Egyptology in the United States.
Marriage and family
That same year he married Frances Hart, who was in Germany learning the language and studying music together with her sisters. The couple honeymooned in Egypt. It turned into a working vacation as Breasted had been recruited to build a collection of Egyptian antiquities for the University of Chicago. Hart and her sisters were in Germany at the same time as Breasted, learning
German
German language
German is a West Germanic language, related to and classified alongside English and Dutch. With an estimated 90 – 98 million native speakers, German is one of the world's major languages and is the most widely-spoken first language in the European Union....
and studying music.
Hart died four decades later in 1934. The widower Breasted would marry one of her sisters.
Academic career
Breasted was in the forefront of the generation of archaeologist-historians who broadened the idea of Western Civilization to include the entire Near East in Europe's cultural roots. Breasted coined the term "
Fertile Crescent
Fertile Crescent
The Fertile Crescent, nicknamed "The Cradle of Civilization" for the fact the first civilizations started there, is a crescent-shaped region containing the comparatively moist and fertile land of otherwise arid and semi-arid Western Asia. The term was first used by University of Chicago...
" to describe the archaeologically important area including parts of present-day Iraq, Syria, Lebanon, Jordan, Palestine and Israel.
He became an instructor at the
University of Chicago
University of Chicago
The University of Chicago is a private research university in Chicago, Illinois, USA. It was founded by the American Baptist Education Society with a donation from oil magnate and philanthropist John D. Rockefeller and incorporated in 1890...
in 1894 soon after earning his doctorate. Five years later, UC agreed to let him accept the
Prussian Academy
Prussian Academy
Prussian Academy may refer to:*Prussian Academy of the Arts, now the Akademie der Künste, Berlin*Prussian Academy of Sciences*Prussian Military Academy...
's invitation to work on their Egyptian dictionary project. From 1899 to 1908, he did field work in Egypt, which established his reputation. He began to publish numerous articles and monographs, as well as his
History of Egypt from the Earliest Times Down to the Persian Conquest
in 1905. At that time he was promoted to Professor of Egyptology and Oriental History for Chicago (the first such chair in the United States).
In 1901, Breasted was appointed Director of the Haskell Oriental Museum (forerunner of the Oriental Institute), which had opened at the University of Chicago in 1896. Though the Haskell Oriental Museum contained works of art from both the Near East and the Far East, Breasted's principal interest was in Egypt. He began to work on a compilation of all the extant
hieroglyphic
Egyptian hieroglyphs
Egyptian hieroglyphs were a formal writing system used by the ancient Egyptians that combined logographic and alphabetic elements. Egyptians used cursive hieroglyphs for religious literature on papyrus and wood...
inscriptions, which was published in 1906 as
Ancient Records of Egypt

Ancient Records of Egypt

Ancient Records of Egypt is the 5-volume work by James Henry Breasted in 1905–06. It was part of a proposed three-part set of translations of original texts by different authors, which at the time were difficult to find:...


.
It continues to be an important collection of translated texts; as Peter A. Piccione wrote in the preface to its 2001 reprint, it "still contains certain texts and inscriptions that have not been retranslated since that time."
Through the years, as Breasted built up the collection of the Haskell Oriental Museum, he dreamed of establishing a research institute, "a laboratory for the study of the rise and development of civilization" that would trace Western civilization to its roots in the ancient Middle East. As World War I wound down, he sensed an opportunity. He wrote to John D. Rockefeller Jr., son of the major donor to the University, and proposed founding what would become the Oriental Institute. He planned a research trip through the Middle East, which he suggested was ready to receive scholars. Rockefeller responded by pledging $50,000 over five years for the Oriental Institute. He separately assured the University of Chicago President Judson to pledge another $50,000 to the cause. The University of Chicago contributed additional support and, in May 1919, the Oriental Institute was founded.
Breasted had two key objectives for the field trip: to purchase antiquities for the Oriental Institute and to select sites for future excavation. The group ultimately consisted of Breasted and four of his students (or former students): Ludlow Bull, William Edgerton (both graduate students in Egyptology); Daniel Luckenbill (professor of Assyriology at the University of Chicago), and William Shelton (a former student who was a professor of Semitic languages at
Emory University
Emory University
Emory University is a private research university in metropolitan Atlanta, located in the Druid Hills section of unincorporated DeKalb County, Georgia, United States. The university was founded as Emory College in 1836 in Oxford, Georgia by a small group of Methodists and was named in honor of...
).
The general itinerary of the expedition was:
August 1919: from Chicago to England, by way of New York and France
September 1919: England
October 1919: from England to Cairo, by way of Paris, Venice, and Alexandria
November 1919: Egypt
December 1919: Egypt
January 1920: Egypt
February 1920: from Egypt to Bombay
March 1920: Bombay to Basra, Mesopotamia
April 1920: Mesopotamia
May 1920: from Mesopotamia to Arab State (today Syria) and Beirut
June 1920: from Damascus to Jerusalem, Haifa, Cairo, and London
July 1920: to Chicago
As Breasted scouted future archaeological sites and visited antiquities dealers, he came to know many of the British political figures and scholars working in Egypt. These included
Gertrude Bell
Gertrude Bell
Gertrude Margaret Lowthian Bell, CBE was an English writer, traveller, political officer, administrator, and archaeologist who explored, mapped, and became highly influential to British imperial policy-making due to her extensive travels in Greater Syria, Mesopotamia, Asia Minor, and Arabia. Along...
,
Howard Carter
Howard Carter
Howard Carter may refer to:* Howard Carter , English archaeologist who discovered Tutankhamun's tomb* Howard Carter , American basketball player...
, Lord Carnarvon, Lord Allenby, and the Arab leader
Faisal
Faisal I of Iraq
Faisal bin Hussein bin Ali al-Hashemi, was for a short time King of the Arab Kingdom of Syria or Greater Syria in 1920, and was King of the Kingdom of Iraq from 23 August 1921 to 1933...
, who would become king of Iraq. Due to Breasted's extensive travels and knowledge of the political situation throughout the Middle East, Lord Allenby, at that time the High Commissioner for Egypt, requested that he inform the British Prime Minister and Earl Curzon about the hostility of the western Arabs to the occupying British forces before returning to America.
Breasted's acquisitions were significant for the growth and scope of the collections of the Oriental Institute and the
Art Institute of Chicago
Art Institute of Chicago
The School of the Art Institute of Chicago is one of America's largest accredited independent schools of art and design, located in the Loop in Chicago, Illinois. It is associated with the museum of the same name, and "The Art Institute of Chicago" or "Chicago Art Institute" often refers to either...
. One of his most well-known purchases was the
mummy
Mummy
A mummy is a body, human or animal, whose skin and organs have been preserved by either intentional or incidental exposure to chemicals, extreme coldness , very low humidity, or lack of air when bodies are submerged in bogs, so that the recovered body will not decay further if kept in cool and dry...
of
Meresamun
Meresamun
Meresamun was an ancient Egyptian singer-priestess in the inner sanctum at the temple in Karnak. Her mummy, ca. 800 BC, is on exhibit at the Oriental Institute of Chicago Museum of the University of Chicago...
, a singer in the interior of the Temple of
Amun
Amun
Amun, reconstructed Egyptian Yamānu , was a god in Egyptian mythology who in the form of Amun-Ra became the focus of the most complex system of theology in Ancient Egypt...
at
Karnak
Karnak
The Karnak Temple Complex—usually called Karnak—comprises a vast mix of decayed temples, chapels, pylons, and other buildings, notably the Great Temple of Amun and a massive structure begun by Pharaoh Ramses II . Sacred Lake is part of the site as well. It is located near Luxor, some...
. On this trip, Breasted showed far greater confidence in his selections, as well as a talent for negotiating with dealers. Although he did not considered himself a connoisseur of Egyptian art, he developed a keen eye for objects of beauty that were also highly instructive.
The first excavation of the Oriental Institute was in Egypt at
Medinet Habu
Medinet Habu (temple)
Medinet Habu is the name commonly given to the Mortuary Temple of Ramesses III, an important New Kingdom period structure in the location of the same name on the West Bank of Luxor in Egypt...
, one of the sites which he had recommended. Breasted returned to Egypt frequently; in 1922 and 1923 he aided
Howard Carter
Howard Carter
Howard Carter may refer to:* Howard Carter , English archaeologist who discovered Tutankhamun's tomb* Howard Carter , American basketball player...
in deciphering the seals from the recently discovered Tomb of
Tutankhamun
Tutankhamun
Tutankhamun , Egyptian , ; approx. 1341 BC – 1323 BC) was an Egyptian pharaoh of the 18th dynasty , during the period of Egyptian history known as the New Kingdom...
. [5] On April 25, 1923, Breasted became the first archaeologist to be elected to membership in the
National Academy of Sciences
United States National Academy of Sciences
The National Academy of Sciences is a corporation in the United States whose members serve pro bono as "advisers to the nation on science, engineering, and medicine." As a national academy, new members of the organization are elected annually by current members, based on their distinguished and...
. The honor helped to legitimize the struggling profession of archaeology in American academic circles.
Breasted died on December 2, 1935 of a
streptococcus
Streptococcus
Streptococcus is a genus of spherical Gram-positive bacteria belonging to the phylum Firmicutes and the lactic acid bacteria group. Cellular division occurs along a single axis in these bacteria, and thus they grow in chains or pairs, hence the name — from Greek στρεπτος streptos, meaning...
infection after returning from his last expedition.
While at Chicago, Breasted had a home built near the university. Its carriage house was designed to look like a
mastaba
Mastaba
A mastaba, or "pr-djt" , is a type of ancient Egyptian tomb in the form of a flat-roofed, rectangular structure with outward sloping sides that marked the burial site of many eminent Egyptians of Egypt's ancient period...
. The house is now used as the fraternity house of
Phi Gamma Delta
Phi Gamma Delta
The international fraternity of Phi Gamma Delta is a collegiate social fraternity with 120 chapters and 18 colonies across the United States and Canada. It was founded at Jefferson College, Pennsylvania, in 1848, and its headquarters are located in Lexington, Kentucky, USA...
.
Breasted is buried in Greenwood Cemetery,
Rockford, Illinois
Rockford, Illinois
Rockford is a mid-sized city located on both banks of the Rock River in far northern Illinois. Often referred to as "The Forest City", Rockford is the county seat of Winnebago County, Illinois, USA. As reported in the 2010 U.S. census, the city was home to 152,871 people, the third most populated...
. His grave site is marked with a large
Aswan
Aswan
Aswan , formerly spelled Assuan, is a city in the south of Egypt, the capital of the Aswan Governorate.It stands on the east bank of the Nile at the first cataract and is a busy market and tourist centre...
granite cube, marked simply with his name and "historian and archaeologist."
External links