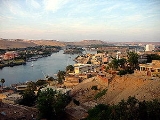 Aswan
Aswan
(ˌæsˈwɑːn , ʔɑˈsˁwɑːn, ,
Ancient Egyptian
Egyptian language
Egyptian is the oldest known indigenous language of Egypt and a branch of the Afroasiatic language family. Written records of the Egyptian language have been dated from about 3400 BC, making it one of the oldest recorded languages known. Egyptian was spoken until the late 17th century AD in the...
:
Swenet
,
Coptic
Coptic language
Coptic or Coptic Egyptian is the current stage of the Egyptian language, a northern Afro-Asiatic language spoken in Egypt until at least the 17th century. Egyptian began to be written using the Greek alphabet in the 1st century...
:
Swān
,
Syene
), formerly spelled
Assuan
, is a city in the south of
Egypt
Egypt
Egypt , officially the Arab Republic of Egypt, Arabic: , is a country mainly in North Africa, with the Sinai Peninsula forming a land bridge in Southwest Asia. Egypt is thus a transcontinental country, and a major power in Africa, the Mediterranean Basin, the Middle East and the Muslim world...
, the capital of the
Aswan Governorate
Aswan Governorate
Aswan Governorate is one of the governorates of Egypt. The southernmost governorate in Upper Egypt, its capital is Aswan.The Aswan Governorate borders Qena Governorate to the north, Red Sea Governorate to the east, New Valley Governorate to the west, and Sudan to the south...
.
It stands on the east bank of the
Nile
Nile
The Nile is a major north-flowing river in North Africa, generally regarded as the longest river in the world. It is long. It runs through the ten countries of Sudan, South Sudan, Burundi, Rwanda, Democratic Republic of the Congo, Tanzania, Kenya, Ethiopia, Uganda and Egypt.The Nile has two major...
at the first cataract and is a busy market and tourist centre. The modern city has expanded and includes the formerly separate community on the island of
Elephantine
Elephantine
Elephantine is an island in the River Nile, located just downstream of the First Cataract at the southern border of Ancient Egypt. This region is referred to as Upper Egypt because the land is higher than that near the Mediterranean coast. The island may have received its name because it was a...
.
Aswan is the ancient city of
Swenet
, which in antiquity was the frontier town of
Ancient Egypt
Ancient Egypt
Ancient Egypt was an ancient civilization of Northeastern Africa, concentrated along the lower reaches of the Nile River in what is now the modern country of Egypt. Egyptian civilization coalesced around 3150 BC with the political unification of Upper and Lower Egypt under the first pharaoh...
facing the south.