 Jacob Cats
Jacob Cats
was a
Dutch
Netherlands
The Netherlands is a constituent country of the Kingdom of the Netherlands, located mainly in North-West Europe and with several islands in the Caribbean. Mainland Netherlands borders the North Sea to the north and west, Belgium to the south, and Germany to the east, and shares maritime borders...
poet, humorist,
jurist
Jurist
A jurist or jurisconsult is a professional who studies, develops, applies, or otherwise deals with the law. The term is widely used in American English, but in the United Kingdom and many Commonwealth countries it has only historical and specialist usage...
and
politician
Politician
A politician, political leader, or political figure is an individual who is involved in influencing public policy and decision making...
. He is most famous for his
emblem book
Emblem book
Emblem books are a category of mainly didactic illustrated book printed in Europe during the 16th and 17th centuries, typically containing a number of emblematic images with explanatory text....
s.
Early years
Having lost his mother at an early age, and being adopted with his three brothers by an uncle, Cats was sent to school at
Zierikzee
Zierikzee
Zierikzee is a small city, located on the former island of Schouwen in the Dutch province of Zeeland. It is a part of the municipality of Schouwen-Duiveland, and lies about 26 km southwest of Hellevoetsluis....
. He then studied law at
Leiden
and at
Orléans
Orléans
-Prehistory and Roman:Cenabum was a Gallic stronghold, one of the principal towns of the Carnutes tribe where the Druids held their annual assembly. It was conquered and destroyed by Julius Caesar in 52 BC, then rebuilt under the Roman Empire...
, and, returning to Holland, he settled at the Hague, where he began to practise as an advocate. His pleading in defence of a person accused of
witchcraft
Witchcraft
Witchcraft, in historical, anthropological, religious, and mythological contexts, is the alleged use of supernatural or magical powers. A witch is a practitioner of witchcraft...
brought him many clients and some reputation. He had a serious love affair about this time, which was broken off on the very eve of marriage by his catching a tertian fever which defied all attempts at cure for some two years. For medical advice and change of air Cats went to England, where he consulted the highest authorities in vain. He returned to Zeeland to die, but was cured mysteriously with the powder of a travelling doctor (later sources claim he was a
quack
Quack
A quack is a person who pretends, professionally or publicly, to have skill, knowledge, or qualifications he or she does not possess.Quack may also refer to:* Quack , an independent-comics series published by Star Reach in the 1970s...
). He married in 1602 a lady of some property, Elizabeth van Valkenburg, and thenceforward lived at
Grijpskerke
Grijpskerke
Grijpskerke is a town in the Dutch province of Zeeland. It is a part of the municipality of Veere, and lies about 6 km northwest of Middelburg.Grijpskerke was a separate municipality until 1966. Before 1816, it was called "Grijpskerke en Poppendamme"....
in Zeeland, where he devoted himself to farming and poetry.
Diplomatic career
In 1621, on the expiration of the twelve year truce with Spain, the breaking of the dykes drove him from his farm. He was made pensionary (stipendiary magistrate) of
Middelburg
Middelburg
Middelburg is a municipality and a city in the south-western Netherlands and the capital of the province of Zeeland. It is situated in the Midden-Zeeland region. It has a population of about 48,000.- History of Middelburg :...
; and two years afterwards of
Dordrecht
Dordrecht
Dordrecht , colloquially Dordt, historically in English named Dort, is a city and municipality in the western Netherlands, located in the province of South Holland. It is the fourth largest city of the province, having a population of 118,601 in 2009...
. In 1627 Cats came to England on a mission to
Charles I
Charles I of England
Charles I was King of England, King of Scotland, and King of Ireland from 27 March 1625 until his execution in 1649. Charles engaged in a struggle for power with the Parliament of England, attempting to obtain royal revenue whilst Parliament sought to curb his Royal prerogative which Charles...
, who made him a
knight
Knight
A knight was a member of a class of lower nobility in the High Middle Ages.By the Late Middle Ages, the rank had become associated with the ideals of chivalry, a code of conduct for the perfect courtly Christian warrior....
. In 1636 he was made
Grand Pensionary
Grand Pensionary
The Grand Pensionary was the most important Dutch official during the time of the United Provinces. In theory he was only a civil servant of the Estates of the dominant province among the Seven United Provinces: the county of Holland...
of Holland, and in 1648 keeper of the
great seal
Great Seal of the Realm
The Great Seal of the Realm or Great Seal of the United Kingdom is a seal that is used to symbolise the Sovereign's approval of important state documents...
; in 1651 he resigned his offices, but in 1657 he was sent a second time to England on what proved to be an unsuccessful mission to
Oliver Cromwell
Oliver Cromwell
Oliver Cromwell was an English military and political leader who overthrew the English monarchy and temporarily turned England into a republican Commonwealth, and served as Lord Protector of England, Scotland, and Ireland....
.
Poetry
In the seclusion of his villa of Sorgvliet (Fly-from-Care), near the Hague, he lived from this time till his death, occupied in the composition of his autobiography (
Eighty-two Years of My Life
, first printed at Leiden in 1734) and of his poems. He became famous in his own lifetime from his moralistic
Emblem book
Emblem book
Emblem books are a category of mainly didactic illustrated book printed in Europe during the 16th and 17th centuries, typically containing a number of emblematic images with explanatory text....
s, most notably
Sinne en Minnebeelden
, for which Adrian van der Venne cut the plates. He died on 12 September 1660, and was buried by torchlight, and with great ceremony, in the Klooster-Kerk at the Hague. He is still spoken of as Father Cats by his countrymen.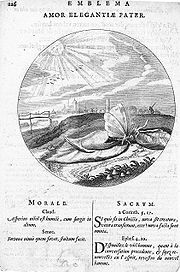 Cats was contemporary with
Hooft
Pieter Corneliszoon Hooft
Pieter Corneliszoon Hooft - Knight in the Order of Saint Michael - was a Dutch historian, poet and playwright from the period known as the Dutch Golden Age.-Life:...
and Vondel and other distinguished Dutch writers in the golden age of Dutch literature, but his
Orangist
Orangism (Netherlands)
Orangism is a monarchist political support for the House of Orange-Nassau as monarchy of the Netherlands. It played a significant role in the political history of the Netherlands since the Dutch revolt...
and Calvinistic opinions separated him from the liberal school of Amsterdam poets. He was, however, intimate with
Constantijn Huygens
Constantijn Huygens
Constantijn Huygens , was a Dutch Golden Age poet and composer. He was secretary to two Princes of Orange: Frederick Henry and William II, and the father of the scientist Christiaan Huygens.-Biography:...
, whose political opinions were more nearly in agreement with his own. Hardly known outside of Holland, among his own people for nearly two centuries he enjoyed an enormous popularity. His diffuseness and the antiquated character of his matter and diction, have, however, come to be regarded as difficulties in the way of study, and he is more renowned than read. A statue to him was erected at Brouwershaven in 1829.
Works
See Jacob Cats, Complete Works (1790–1800, 19 vols.), later editions by van Vloten (Zwolle, 1858–1866; and at Schiedam, 1869–1870): Pigott, Moral Emblems, with Aphorisms, etc., from Jacob Cats (1860); and P. C. Witsen Geijsbeek,
Het Leven en de Verdiensten van Jacob Cats
(1829). Southey has a very complimentary reference to Cats in his Epistle to Allan Cunningham.
Emblemata or Minnebeelden with Maegdenplicht (1618)
Selfstryt (1620)
Houwelick (1625)
Spiegel van den ouden en nieuwen Tyt (1632)
Ouderdom, Buytenleven en Hofgedachten op Sorgvliet (1664)
Gedachten op slapelooze nachten (1661)
Legacy
Cats' moralistic poems were told and retold like nursery rhymes over several generations. Even today many of his coined phrases are still colloquialisms in the daily language.
Many of Cat's moral poems were set to music. A selection of these,
Klagende Maeghden en andere liederen
, was recorded in 2008 by the Utrecht ensemble
Camerata Trajectina
Camerata Trajectina
Camerata Trajectina is a Dutch early music ensemble.The ensemble was founded in Utrecht in 1974 by Jos van Veldhoven and Jan Nuchelmans...
.