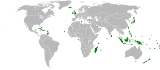 Island nation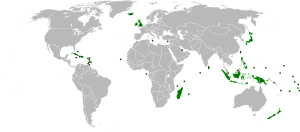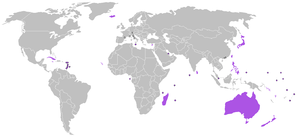 An
island country
is a
state
Sovereign state
A sovereign state, or simply, state, is a state with a defined territory on which it exercises internal and external sovereignty, a permanent population, a government, and the capacity to enter into relations with other sovereign states. It is also normally understood to be a state which is neither...
whose primary territory consists of one or more
island
Island
An island or isle is any piece of sub-continental land that is surrounded by water. Very small islands such as emergent land features on atolls can be called islets, cays or keys. An island in a river or lake may be called an eyot , or holm...
s or parts of islands. As of 2011, 47 (approximately 25%) of the 193 UN member states are island countries.
Politics
The percentage of island countries that are
democratic
Democracy
Democracy is generally defined as a form of government in which all adult citizens have an equal say in the decisions that affect their lives. Ideally, this includes equal participation in the proposal, development and passage of legislation into law...
is higher than that of continental countries, although historically they have been more prone to political instability.
War
Island countries have often been the basis of maritime conquest and historical rivalry between other countries.
Island countries are more susceptible to attack by large, continental countries due to their size and dependence on
sea lines of communication
Sea lines of communication
Sea lines of communication is a term describing the primary maritime routes between ports, used for trade, logistics and naval forces...
and air lines of communication.
Many island countries are also vulnerable to predation by mercenaries and other foreign invaders.
However, their isolation also makes them a difficult target.
Natural resources
Many island countries rely heavily on
fish
Fish (food)
Fish is a food consumed by many species, including humans. The word "fish" refers to both the animal and to the food prepared from it. Fish has been an important source of protein for humans throughout recorded history.-Terminology:...
for their main supply of food.
Some are turning to
renewable energy
Renewable energy
Renewable energy is energy which comes from natural resources such as sunlight, wind, rain, tides, and geothermal heat, which are renewable . About 16% of global final energy consumption comes from renewables, with 10% coming from traditional biomass, which is mainly used for heating, and 3.4% from...
—such as
wind power
Wind power
Wind power is the conversion of wind energy into a useful form of energy, such as using wind turbines to make electricity, windmills for mechanical power, windpumps for water pumping or drainage, or sails to propel ships....
,
hydropower
Hydropower
Hydropower, hydraulic power, hydrokinetic power or water power is power that is derived from the force or energy of falling water, which may be harnessed for useful purposes. Since ancient times, hydropower has been used for irrigation and the operation of various mechanical devices, such as...
,
geothermal power
Geothermal power
Geothermal energy is thermal energy generated and stored in the Earth. Thermal energy is the energy that determines the temperature of matter. Earth's geothermal energy originates from the original formation of the planet and from radioactive decay of minerals...
and
biodiesel
Biodiesel
Biodiesel refers to a vegetable oil- or animal fat-based diesel fuel consisting of long-chain alkyl esters. Biodiesel is typically made by chemically reacting lipids with an alcohol....
from copra oil—to combat the rise in
oil
Oil
An oil is any substance that is liquid at ambient temperatures and does not mix with water but may mix with other oils and organic solvents. This general definition includes vegetable oils, volatile essential oils, petrochemical oils, and synthetic oils....
prices.
Geography
Some island countries are more affected by climate change than other countries. Some low-lying island countries are slowly being submerged by the rising water levels of the
Pacific Ocean
Pacific Ocean
The Pacific Ocean is the largest of the Earth's oceanic divisions. It extends from the Arctic in the north to the Southern Ocean in the south, bounded by Asia and Australia in the west, and the Americas in the east.At 165.2 million square kilometres in area, this largest division of the World...
.
Climate change also impacts island countries by causing natural disasters such as tropical cyclones, hurricanes, flash floods and
drought
Drought
A drought is an extended period of months or years when a region notes a deficiency in its water supply. Generally, this occurs when a region receives consistently below average precipitation. It can have a substantial impact on the ecosystem and agriculture of the affected region...
.
Economics
Many island countries rely heavily on imports and are greatly affected by changes in the global economy.
The economies of island countries are usually smaller and more vulnerable to shipping costs, environmental damage to infrastructure, and isolation from other economies than those of larger, continental countries (excluding Japan, Australia and the U.K.)
The dominant industry for many island countries is
tourism
Tourism
Tourism is travel for recreational, leisure or business purposes. The World Tourism Organization defines tourists as people "traveling to and staying in places outside their usual environment for not more than one consecutive year for leisure, business and other purposes".Tourism has become a...
.
Composition
Island countries are typically small with relatively low populations.
Some island countries are centred on one or two major islands, such as the
United Kingdom
United Kingdom
The United Kingdom of Great Britain and Northern IrelandIn the United Kingdom and Dependencies, other languages have been officially recognised as legitimate autochthonous languages under the European Charter for Regional or Minority Languages...
,
Trinidad and Tobago
Trinidad and Tobago
Trinidad and Tobago officially the Republic of Trinidad and Tobago is an archipelagic state in the southern Caribbean, lying just off the coast of northeastern Venezuela and south of Grenada in the Lesser Antilles...
,
New Zealand
New Zealand
New Zealand is an island country in the south-western Pacific Ocean comprising two main landmasses and numerous smaller islands. The country is situated some east of Australia across the Tasman Sea, and roughly south of the Pacific island nations of New Caledonia, Fiji, and Tonga...
and
Singapore
Singapore
Singapore , officially the Republic of Singapore, is a Southeast Asian city-state off the southern tip of the Malay Peninsula, north of the equator. An island country made up of 63 islands, it is separated from Malaysia by the Straits of Johor to its north and from Indonesia's Riau Islands by the...
. Others are spread out over hundreds or thousands of smaller islands, such as the
Philippines
Philippines
The Philippines , officially known as the Republic of the Philippines , is a country in Southeast Asia in the western Pacific Ocean. To its north across the Luzon Strait lies Taiwan. West across the South China Sea sits Vietnam...
,
Indonesia
Indonesia
Indonesia , officially the Republic of Indonesia , is a country in Southeast Asia and Oceania. Indonesia is an archipelago comprising approximately 13,000 islands. It has 33 provinces with over 238 million people, and is the world's fourth most populous country. Indonesia is a republic, with an...
, and the
Maldives
Maldives
The Maldives , , officially Republic of Maldives , also referred to as the Maldive Islands, is an island nation in the Indian Ocean formed by a double chain of twenty-six atolls oriented north-south off India's Lakshadweep islands, between Minicoy Island and...
. Some island countries share their islands with other countries; these include the United Kingdom and the
Republic of Ireland
Republic of Ireland
Ireland , described as the Republic of Ireland , is a sovereign state in Europe occupying approximately five-sixths of the island of the same name. Its capital is Dublin. Ireland, which had a population of 4.58 million in 2011, is a constitutional republic governed as a parliamentary democracy,...
,
Haiti
Haiti
Haiti , officially the Republic of Haiti , is a Caribbean country. It occupies the western, smaller portion of the island of Hispaniola, in the Greater Antillean archipelago, which it shares with the Dominican Republic. Ayiti was the indigenous Taíno or Amerindian name for the island...
and the
Dominican Republic
Dominican Republic
The Dominican Republic is a nation on the island of La Hispaniola, part of the Greater Antilles archipelago in the Caribbean region. The western third of the island is occupied by the nation of Haiti, making Hispaniola one of two Caribbean islands that are shared by two countries...
, and
Indonesia
Indonesia
Indonesia , officially the Republic of Indonesia , is a country in Southeast Asia and Oceania. Indonesia is an archipelago comprising approximately 13,000 islands. It has 33 provinces with over 238 million people, and is the world's fourth most populous country. Indonesia is a republic, with an...
, which shares islands with
Papua New Guinea
Papua New Guinea
Papua New Guinea , officially the Independent State of Papua New Guinea, is a country in Oceania, occupying the eastern half of the island of New Guinea and numerous offshore islands...
,
Brunei
Brunei
Brunei , officially the State of Brunei Darussalam or the Nation of Brunei, the Abode of Peace , is a sovereign state located on the north coast of the island of Borneo, in Southeast Asia...
,
East Timor
East Timor
The Democratic Republic of Timor-Leste, commonly known as East Timor , is a state in Southeast Asia. It comprises the eastern half of the island of Timor, the nearby islands of Atauro and Jaco, and Oecusse, an exclave on the northwestern side of the island, within Indonesian West Timor...
and
Malaysia
.
Geographically, the country of
Australia
Australia
Australia , officially the Commonwealth of Australia, is a country in the Southern Hemisphere comprising the mainland of the Australian continent, the island of Tasmania, and numerous smaller islands in the Indian and Pacific Oceans. It is the world's sixth-largest country by total area...
is considered a
continent
Continent
A continent is one of several very large landmasses on Earth. They are generally identified by convention rather than any strict criteria, with seven regions commonly regarded as continents—they are : Asia, Africa, North America, South America, Antarctica, Europe, and Australia.Plate tectonics is...
al landmass rather than an island, covering the largest landmass of the
Australian continent
Australia (continent)
Australia is the world's smallest continent, comprising the mainland of Australia and proximate islands including Tasmania, New Guinea, the Aru Islands and Raja Ampat Islands...
. In the past, however, it was considered an island country for tourism purposes and is still often referred to as such.
Climate change
Climate change poses a threat to island nations. Rising sea levels provide obstacles including reduced land use, water scarcity and sometimes even resettlement issues for island nations. In 2011, the Center for Climate Change Law (CCCL) held a conference attended by 272 registrants from 39 island nations titled Legal Issues for Threatened Island Nations.
See also
Archipelago

Archipelago

An archipelago , sometimes called an island group, is a chain or cluster of islands. The word archipelago is derived from the Greek ἄρχι- – arkhi- and πέλαγος – pélagos through the Italian arcipelago...



List of countries
List of islands (by country)
Micronation

Micronation

Micronations, sometimes also referred to as model countries and new country projects, are entities that claim to be independent nations or states but which are not recognized by world governments or major international organizations...



Pacific Islands Forum

Pacific Islands Forum

The Pacific Islands Forum is an inter-governmental organization that aims to enhance cooperation between the independent countries of the Pacific Ocean. It was founded in 1971 as the South Pacific Forum...



Small Island Developing States

Small Island Developing States

Small Island Developing States are low-lying coastal countries that tend to share similar sustainable development challenges, including small but growing populations, limited resources, remoteness, susceptibility to natural disasters, vulnerability to external shocks, excessive dependence on...