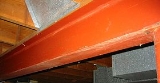 I-beam
-beams
, also known as
H-beams
,
W-beams
(for "wide flange"),
rolled steel joist
(RSJ), or
double-T
(especially in
Polish
Polish language
Polish is a language of the Lechitic subgroup of West Slavic languages, used throughout Poland and by Polish minorities in other countries...
,
Spanish
Spanish language
Spanish , also known as Castilian , is a Romance language in the Ibero-Romance group that evolved from several languages and dialects in central-northern Iberia around the 9th century and gradually spread with the expansion of the Kingdom of Castile into central and southern Iberia during the...
and
German
German language
German is a West Germanic language, related to and classified alongside English and Dutch. With an estimated 90 – 98 million native speakers, German is one of the world's major languages and is the most widely-spoken first language in the European Union....
) are
beams
Beam (structure)
A beam is a horizontal structural element that is capable of withstanding load primarily by resisting bending. The bending force induced into the material of the beam as a result of the external loads, own weight, span and external reactions to these loads is called a bending moment.- Overview...
with an - or H-shaped
cross-section
Cross section (geometry)
In geometry, a cross-section is the intersection of a figure in 2-dimensional space with a line, or of a body in 3-dimensional space with a plane, etc...
. The horizontal elements of the "" are
flange
Flange
A flange is an external or internal ridge, or rim , for strength, as the flange of an iron beam such as an I-beam or a T-beam; or for attachment to another object, as the flange on the end of a pipe, steam cylinder, etc., or on the lens mount of a camera; or for a flange of a rail car or tram wheel...
s, while the vertical element is the
web
. The web resists shear forces while the flanges resist most of the bending moment experienced by the beam.
Beam theory
Euler-Bernoulli beam equation
Euler–Bernoulli beam theory is a simplification of the linear theory of elasticity which provides a means of calculating the load-carrying and deflection characteristics of beams. It covers the case for small deflections of a beam which is subjected to lateral loads only...
shows that the -shaped section is a very efficient form for carrying both
bending
Bending
In engineering mechanics, bending characterizes the behavior of a slender structural element subjected to an external load applied perpendicularly to a longitudinal axis of the element. The structural element is assumed to be such that at least one of its dimensions is a small fraction, typically...
and
shear
Shearing (physics)
Shearing in continuum mechanics refers to the occurrence of a shear strain, which is a deformation of a material substance in which parallel internal surfaces slide past one another. It is induced by a shear stress in the material...
loads in the plane of the web.