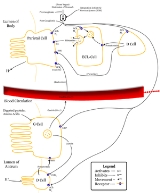 Gastric acid
Gastric acid
is a digestive fluid, formed in the
stomach
Stomach
The stomach is a muscular, hollow, dilated part of the alimentary canal which functions as an important organ of the digestive tract in some animals, including vertebrates, echinoderms, insects , and molluscs. It is involved in the second phase of digestion, following mastication .The stomach is...
. It has a
pH
PH
In chemistry, pH is a measure of the acidity or basicity of an aqueous solution. Pure water is said to be neutral, with a pH close to 7.0 at . Solutions with a pH less than 7 are said to be acidic and solutions with a pH greater than 7 are basic or alkaline...
of 1 to 2 and is composed of
hydrochloric acid
Hydrochloric acid
Hydrochloric acid is a solution of hydrogen chloride in water, that is a highly corrosive, strong mineral acid with many industrial uses. It is found naturally in gastric acid....
(HCl) (around 0.5%, or 5000 parts per million), and large quantities of
potassium chloride
Potassium chloride
The chemical compound potassium chloride is a metal halide salt composed of potassium and chlorine. In its pure state, it is odorless and has a white or colorless vitreous crystal appearance, with a crystal structure that cleaves easily in three directions. Potassium chloride crystals are...
(KCl) and
sodium chloride
Sodium chloride
Sodium chloride, also known as salt, common salt, table salt or halite, is an inorganic compound with the formula NaCl. Sodium chloride is the salt most responsible for the salinity of the ocean and of the extracellular fluid of many multicellular organisms...
(NaCl). The acid plays a key role in digestion of proteins, by activating digestive enzymes, and making ingested proteins unravel so that digestive enzymes can break down the long chains of amino acids.
Gastric acid is produced by cells lining the stomach, which are coupled to systems to increase acid production when needed.