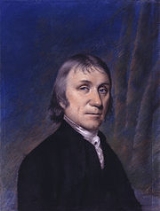 Joseph Priestley
Joseph Priestley
,
FRS
Royal Society
The Royal Society of London for Improving Natural Knowledge, known simply as the Royal Society, is a learned society for science, and is possibly the oldest such society in existence. Founded in November 1660, it was granted a Royal Charter by King Charles II as the "Royal Society of London"...
(13 March 1733 (
O.S.
Old Style and New Style dates
Old Style and New Style are used in English language historical studies either to indicate that the start of the Julian year has been adjusted to start on 1 January even though documents written at the time use a different start of year ; or to indicate that a date conforms to the Julian...
) – 6 February 1804) was an 18th-century English theologian,
Dissenting
English Dissenters
English Dissenters were Christians who separated from the Church of England in the 16th, 17th and 18th centuries.They originally agitated for a wide reaching Protestant Reformation of the Established Church, and triumphed briefly under Oliver Cromwell....
clergy
Clergy
Clergy is the generic term used to describe the formal religious leadership within a given religion. A clergyman, churchman or cleric is a member of the clergy, especially one who is a priest, preacher, pastor, or other religious professional....
man,
natural philosopher
Natural philosophy
Natural philosophy or the philosophy of nature , is a term applied to the study of nature and the physical universe that was dominant before the development of modern science...
,
chemist
Chemistry
Chemistry is the science of matter, especially its chemical reactions, but also its composition, structure and properties. Chemistry is concerned with atoms and their interactions with other atoms, and particularly with the properties of chemical bonds....
, educator, and
political theorist
Political philosophy
Political philosophy is the study of such topics as liberty, justice, property, rights, law, and the enforcement of a legal code by authority: what they are, why they are needed, what, if anything, makes a government legitimate, what rights and freedoms it should protect and why, what form it...
who published over 150 works. He is usually credited with the discovery of
oxygen
Oxygen
Oxygen is the element with atomic number 8 and represented by the symbol O. Its name derives from the Greek roots ὀξύς and -γενής , because at the time of naming, it was mistakenly thought that all acids required oxygen in their composition...
, having isolated it in its
gas
Gas
Gas is one of the three classical states of matter . Near absolute zero, a substance exists as a solid. As heat is added to this substance it melts into a liquid at its melting point , boils into a gas at its boiling point, and if heated high enough would enter a plasma state in which the electrons...
eous state, although
Carl Wilhelm Scheele
Carl Wilhelm Scheele
Carl Wilhelm Scheele was a German-Swedish pharmaceutical chemist. Isaac Asimov called him "hard-luck Scheele" because he made a number of chemical discoveries before others who are generally given the credit...
and
Antoine Lavoisier
Antoine Lavoisier
Antoine-Laurent de Lavoisier , the "father of modern chemistry", was a French nobleman prominent in the histories of chemistry and biology...
also have a claim to the discovery.
During his lifetime, Priestley's considerable scientific reputation rested on his invention of soda water, his writings on
electricity
Electricity
Electricity is a general term encompassing a variety of phenomena resulting from the presence and flow of electric charge. These include many easily recognizable phenomena, such as lightning, static electricity, and the flow of electrical current in an electrical wire...
, and his discovery of several "airs" (gases), the most famous being what Priestley dubbed "dephlogisticated air" (oxygen).