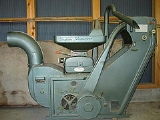 Huller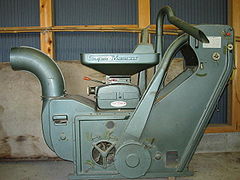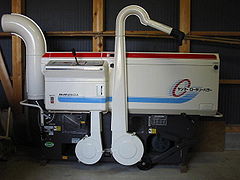 A
rice huller
or
rice husker
is an
agricultural machine
Agricultural machinery
Agricultural machinery is machinery used in the operation of an agricultural area or farm.-Hand tools:The first person to turn from the hunting and gathering lifestyle to farming probably did so by using his bare hands, and perhaps some sticks or stones. Tools such as knives, scythes, and wooden...
used to automate the process of removing the chaff and the outer
husk
Husk
Husk in botany is the outer shell or coating of a seed. It often refers to the leafy outer covering of an ear of maize as it grows on the plant. Literally, a husk or hull includes the protective outer covering of a seed, fruit or vegetable...
s of
rice
Rice
Rice is the seed of the monocot plants Oryza sativa or Oryza glaberrima . As a cereal grain, it is the most important staple food for a large part of the world's human population, especially in East Asia, Southeast Asia, South Asia, the Middle East, and the West Indies...
grain. Throughout history, there have been numerous techniques to hull rice. Traditionally, it would be pounded using some form of
mortar and pestle
Mortar and pestle
A mortar and pestle is a tool used to crush, grind, and mix solid substances . The pestle is a heavy bat-shaped object, the end of which is used for crushing and grinding. The mortar is a bowl, typically made of hard wood, ceramic or stone...
. Machinery has now been developed to hull and polish the rice. These machines are most widely developed and used throughout
Asia
Asia
Asia is the world's largest and most populous continent, located primarily in the eastern and northern hemispheres. It covers 8.7% of the Earth's total surface area and with approximately 3.879 billion people, it hosts 60% of the world's current human population...
where the most popular type is the
Engelberg huller
Engelberg Huller Company
The Engelberg Huller Company was established in 1888 in Syracuse, New York, by John R. Montague, to manufacture and distribute the Engelberg Huller machine which was invented by Brazilian, mechanical engineer and inventor, Evaristo Conrado Engelberg, to remove the husks and shells from rice and...
designed by
Evaristo Conrado Engelberg
Evaristo Conrado Engelberg
Evaristo Conrado Engelberg was a Brazilian mechanical engineer and inventor. He is the inventor of the Engelberg huller, a machine used to strip the husks from rice and coffee during the milling process...
and first patented in 1885.
The Engelberg huller uses steel rollers to remove the husk. Other types of huller include the disk or
cono
huller which uses an abrasive rotating disk to first remove the husk before passing the grain to conical rollers which polish it. Rubber rollers may be used to reduce the amount of breakage of the grains, so increasing the yield of the best quality
head rice
, but the rubber rollers tend to require frequent replacement, which can be a significant drawback.