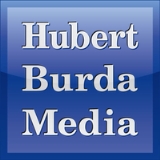 Hubert Burda Media
Hubert Burda Media
is a German privately held, family-owned global media company with its origins in printing and magazine publishing. The company is headquartered in
Offenburg
Offenburg
Offenburg is a city located in the state of Baden-Württemberg, Germany. With about 60,000 inhabitants, it is the largest city and the capital of the Ortenaukreis.Offenburg also houses University of Applied Sciences Offenburg...
and
Munich
Munich
Munich The city's motto is "" . Before 2006, it was "Weltstadt mit Herz" . Its native name, , is derived from the Old High German Munichen, meaning "by the monks' place". The city's name derives from the monks of the Benedictine order who founded the city; hence the monk depicted on the city's coat...
, has additional main offices in Berlin and Hamburg and has more than 7400 employees.
Hubert Burda
Hubert Burda
Hubert Burda is a German art historian and publisher. Hubert Burda is CEO and owner of Hubert Burda Media, publishing more than 250 magazines inside and outside Germany...
is CEO and owner of the company.
History
Hubert Burda Media began as an Offenburg, Germany, printing facility in 1898, founded by
Franz Burda I
Franz Burda I
Franz Burda was a German Publisher and a founder of Hubert Burda Media.- Life and Work :...
. The company expanded between 1898 and 1945 to include the production of dressmaking patterns and magazines. During the second world war, Burda Media stopped publishing their 'S rag' magazine and only printed maps for the
German General Staff
German General Staff
The German General Staff was an institution whose rise and development gave the German armed forces a decided advantage over its adversaries. The Staff amounted to its best "weapon" for nearly a century and a half....
. In 1949, Franz Burda II and his wife
Aenne Burda
Aenne Burda
Aenne Burda , born Anna Magdalene Lemminger, was a German publisher of the Burda Group, a media group based in Offenburg and Munich, Germany. She was one of the symbols of German economic miracle.- Biography :...
began publishing women's fashion magazines.
In 2009 Burda ceased his print magazines
Young
,
Tomorrow
and
Amica
because of the print media crises.
Today
Since its beginning, the company has branched out to include six separate business divisions, which are listed below:
Magazines
Today Hubert Burda Media publishes over 250 magazines worldwide with almost 70 titles in its German home market. The portfolio ranges from women, fashion and entertainment (
Burda Moden
,
Bunte
Bunte
Bunte is a German weekly magazine; coverage includes celebrity, gossip, news and lifestyle matters. It is published by Bunte Entertainment Verlag GmbH, a wholly owned subsidiary of Hubert Burda Media....
,
InStyle
,
Freundin
,
Lisa
), news, men and lifestyle (
FOCUS
Focus (magazine)
Magazines with the name Focus include:* Focus , a German weekly news magazine* Focus , a Christian religion magazine published in the United States...
,
Super Illu
,
TV Spielfilm
,
Max
), food and living (
Mein Schöner Garten
,
Meine Familie & Ich
,
Das Haus
) to consumer technology (
CHIP
CHIP (magazine)
CHIP is a computer and communications magazine published by the CHIP Holding in 15 countries of Europe and Asia...
,
Tomorrow
). As a publisher the company is a market leader domestically, but also in several
East European
Eastern Europe
Eastern Europe is the eastern part of Europe. The term has widely disparate geopolitical, geographical, cultural and socioeconomic readings, which makes it highly context-dependent and even volatile, and there are "almost as many definitions of Eastern Europe as there are scholars of the region"...
countries,
Russia
Russia
Russia or , officially known as both Russia and the Russian Federation , is a country in northern Eurasia. It is a federal semi-presidential republic, comprising 83 federal subjects...
and
Turkey
Turkey
Turkey , known officially as the Republic of Turkey , is a Eurasian country located in Western Asia and in East Thrace in Southeastern Europe...
.
Vogel Burda Group
Vogel Burda Group
CHIP Holding GmbH is a German-based publishing house owned by Hubert Burda Media. Its core activity is the publication of special-interest, country- and language-specific print and online media in the information and communication technology sector...
is a joint venture with Vogel Media Group which publishes special interest ICT media in 17 countries throughout
Europe
Europe
Europe is, by convention, one of the world's seven continents. Comprising the westernmost peninsula of Eurasia, Europe is generally 'divided' from Asia to its east by the watershed divides of the Ural and Caucasus Mountains, the Ural River, the Caspian and Black Seas, and the waterways connecting...
and
Asia
Asia
Asia is the world's largest and most populous continent, located primarily in the eastern and northern hemispheres. It covers 8.7% of the Earth's total surface area and with approximately 3.879 billion people, it hosts 60% of the world's current human population...
. Early 2000s, Burda Group together with a local Media in Vietnam released an edition named
Thế giới phụ nữ
(literally:
Women's World
) and gained some successes. This kind of partnership helps Vietnamese newspaper and magazine industry get an international direction for promoting.
Printing
Burda Druck is the official printing division of the company. It runs three plants in Offenburg, Germany, Vieux-Thann, France, and Bratislava, Slovakia. These plants print Burda's approximately 250 magazines, as well as serving various external clients.
Digital
Burda Digital hold shares in 15 high-growth companies that specialize in new digital business divisions. These companies also offer integrated IT services. Hubert Burda Media is an online pioneer in Germany and holds a strong line of digital businesses, including the portal network
Tomorrow Focus
Tomorrow Focus
Tomorrow Focus AG, which has its registered office in Munich, Germany, is an exchange-listed internet group and one of the leading providers of digital media content in Germany. Its principal shareholder is Hubert Burda Media. TOMORROW FOCUS AG was created at the end of 2001 by the merger of Focus...
,Cyberport (online retailer of home entertainment electronics), computeruniverse.net (online retailer of home entertainment electronics), HolidayCheck (hotel review platform), Ino24 (online insurance comparison), Escapio (online niche hotel booking) and Mynetfair (consumer goods platform).
Customer service
Burda Direct runs 17 call centers throughout Europe. The division works for more than 100 clients, while maintaining customer relationships with more than 12 million people. It is one of the largest direct marketing and customer service providers for the publishing sector.
Services
BurdaYukom Publishing GmbH works in the fields of business-to-business and business-to-customer solutions. They produce in-house and promotional materials for more than 40 companies.
Broadcasting
Burda Broadcast and FOCUS TV Productions are owned by Hubert Burda Media. They include approximately 30 direct and indirect radio stations, one television channel (
Focus Gesundheit
Focus Gesundheit
Focus Gesundheit is a German television channel about health, nutrition, medicine and workout. It is connected to Focus TV Produktions GmbH, which is also behind the current affairs programme Focus TV which airs on ProSieben....
), and various television programs.
Public events and corporate philanthropy
Major events organized by Hubert Burda Media include
Bambi
Bambi (prize)
The Bambi - Deutschlands Wichtigster Medienpreis, often simply called Bambi Awards and stylized as BAMBI, are presented annually by Hubert Burda Media to recognize excellence in international media and television "with vision and creativity who affected and inspired the German public that year",...
, the international media and TV awards, and the annual DLD Conference (Digital Life Design).
The not-for-profit Hubert Burda Foundation, created in 1999, oversees all of the company's charitable and scientific activities. The foundation oversees three main organizations:
The Felix Burda Foundation, established in 2001. Its aim is to reduce the number of new cases of intestinal cancer diagnosed in Germany each year through awareness campaigns.
The Burda Academy for the Third Millennium has been in existence since 1994. This academy organises the lecture programme "The Iconic Turn – new world imagery" and various other conferences on scientific developments for the future.
Prizes in literature
The annual Herman Lenz Award, established in 1999, replacing the Petrarca Prize, founded in 1975. It is an annual meeting for young poets and writers focusing on German literature and authors. The Hubert Burda Prize for new eastern European literature is intended to seek out, support and promote young poets from eastern Europe.
The Centre for Innovative Communications, at
Ben-Gurion University of the Negev
Ben-Gurion University of the Negev
Ben-Gurion University of the Negev is a university in Beersheba, Israel, established in 1969. Ben-Gurion University of the Negev has a current enrollment of 17,400 students, and is one of Israel's fastest growing universities....
in
Beersheba
Beersheba
Beersheba is the largest city in the Negev desert of southern Israel. Often referred to as the "Capital of the Negev", it is the seventh-largest city in Israel with a population of 194,300....
,
Israel
Israel
The State of Israel is a parliamentary republic located in the Middle East, along the eastern shore of the Mediterranean Sea...
, created in 1999, also falls under the
aegis
Aegis
An aegis is a large collar or cape worn in ancient times to display the protection provided by a high religious authority or the holder of a protective shield signifying the same, such as a bag-like garment that contained a shield. Sometimes the garment and the shield are merged, with a small...
of the Hubert Burda Foundation.
External links