 Houston Grand Opera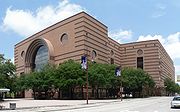 Houston Grand Opera
Houston Grand Opera (HGO) was founded in 1955 through the joint efforts of Maestro
Walter Herbert
Walter Herbert (conductor)
Walter Herbert was an American conductor and impresario of German birth, as well as a world champion at contract bridge....
and cultural leaders Mrs. Louis G. Lobit, Edward Bing and Charles Cockrell. From its modest beginnings – HGO's inaugural season featured a mere two performances of two operas,
Salome
Salome (opera)
Salome is an opera in one act by Richard Strauss to a German libretto by the composer, based on Hedwig Lachmann's German translation of the French play Salomé by Oscar Wilde. Strauss dedicated the opera to his friend Sir Edgar Speyer....
and Madame Butterfly HGO has grown into a company of international stature that presents six to eight productions per season.
HGO's mission is to contribute to the cultural enrichment of Houston and the nation by producing and performing world-class opera, and by creating a diverse, innovative, and balanced program of performances, events, and community and education projects that reach the widest possible public. Its core values are excellence, relevance and affordability.
With an operating budget of $20 million in fiscal year 2011 (the 2010/11 season), HGO is a true cultural service provider to the greater Houston area and the Gulf Coast region, serving over 5 million people annually. One of the country's principal commissioners and producers of new works, HGO has introduced 43 world premieres and six American premieres since 1973. HGO has received a
Tony Award
Tony Award
The Antoinette Perry Award for Excellence in Theatre, more commonly known as a Tony Award, recognizes achievement in live Broadway theatre. The awards are presented by the American Theatre Wing and The Broadway League at an annual ceremony in New York City. The awards are given for Broadway...
, two Grammy Awards, and two Emmy Awards—the only opera company in the world to have won all three honors.
Company Foundation
The HGO Association has 166 members: a 34-member Board of Directors, chaired by Beth Madison, as of August 1, 2011, one honorary director, and 131 Trustees. The Board of Directors meets four times, and the Trustees meet three times each year. The opera employs over 1,000 people annually, 120 of whom are full-time staff. On May 25, 2011, the Board of Directors appointed Patrick Summers as Artistic and Music Director, occupying the Margaret Alkek Williams Chair. At the same time, Perryn Leech was named Managing Director. They succeed Anthony Freud, OBE, the company's General Director from 2005–2011, who resigned at the end of the 2010–11 season to assume leadership of
Lyric Opera of Chicago
Lyric Opera of Chicago
Lyric Opera of Chicago is one of the leading opera companies in the United States. It was founded in Chicago in 1952, under the name 'Lyric Theatre of Chicago' by Carol Fox, Nicolà Rescigno and Lawrence Kelly, with a season that included Maria Callas's American debut in Norma...
.
The permanent artistic foundation of HGO rests on three pillars: the HGO Orchestra, HGO Chorus and HGO Studio. During Patrick Summers' thirteen years with the company, the HGO Orchestra has reached a new level of virtuosity, adding many great masterworks to its repertoire. The HGO Chorus, which was created at the same time as HGO itself in 1955, has become one of the world's most acclaimed opera choruses under the direction of Chorus Master Richard Bado.
HGO's 2011–2012 season consists of 31 performances of six mainstage productions:
The Barber of Seville
The Barber of Seville
The Barber of Seville, or The Futile Precaution is an opera buffa in two acts by Gioachino Rossini with a libretto by Cesare Sterbini. The libretto was based on Pierre Beaumarchais's comedy Le Barbier de Séville , which was originally an opéra comique, or a mixture of spoken play with music...
,
Fidelio
Fidelio
Fidelio is a German opera in two acts by Ludwig van Beethoven. It is Beethoven's only opera. The German libretto is by Joseph Sonnleithner from the French of Jean-Nicolas Bouilly which had been used for the 1798 opera Léonore, ou L'amour conjugal by Pierre Gaveaux, and for the 1804 opera Leonora...
,
La traviata
La traviata
La traviata is an opera in three acts by Giuseppe Verdi set to an Italian libretto by Francesco Maria Piave. It is based on La dame aux Camélias , a play adapted from the novel by Alexandre Dumas, fils. The title La traviata means literally The Fallen Woman, or perhaps more figuratively, The Woman...
,
The Rape of Lucretia
,
Don Carlos
Don Carlos
Don Carlos is a five-act grand opera composed by Giuseppe Verdi to a French language libretto by Camille du Locle and Joseph Méry, based on the dramatic play Don Carlos, Infant von Spanien by Friedrich Schiller...
and
Mary Stuart
.
Artists who have appeared at HGO
Thomas Allen, Stig Andersen,
José Carreras
José Carreras
Josep Maria Carreras i Coll , better known as José Carreras , is a Spanish Catalan tenor particularly known for his performances in the operas of Verdi and Puccini...
,
Plácido Domingo
Plácido Domingo
Plácido Domingo KBE , born José Plácido Domingo Embil, is a Spanish tenor and conductor known for his versatile and strong voice, possessing a ringing and dramatic tone throughout its range...
, Bruce Ford,
Donald Gramm
Donald Gramm
Donald Gramm was an American bass-baritone whose career was divided between opera and concert performances. His appearances were primarily limited to the United States, which at the time was unusual for an American singer...
,
Nicolai Ghiaurov
Nicolai Ghiaurov
Nicolai Ghiaurov was a Bulgarian opera singer and one of the most famous bass singers of the postwar period. He was admired for his powerful, sumptuous voice, and was particularly associated with roles of Verdi.Ghiaurov married the Italian soprano Mirella Freni in 1978...
,
Marcello Giordani
Marcello Giordani
Marcello Giordani is an Italian operatic tenor who has sung leading roles in opera houses throughout Europe and the United States. He has had a distinguished association with the New York Metropolitan Opera, where he has sung in over 170 performances since his debut there in 1993...
, Franz Grundheber,
Dmitri Hvorostovsky
Dmitri Hvorostovsky
Dmitri Aleksandrovich Hvorostovsky , is a leading baritone opera singer from Russia.Hvorostovsky was born in Krasnoyarsk in Siberia. He studied at the Krasnoyarsk School of Arts under Yekatherina Yofel and made his debut at Krasnoyarsk Opera House, in the role of Marullo in Rigoletto...
,
Sergei Leiferkus
Sergei Leiferkus
Sergei Leiferkus is an operatic baritone from Russia, known for his dramatic technique and powerful voice particularly in Russian and Italian language repertoire. He is most notable for his roles as Scarpia in Tosca, Iago in Otello, Grand-prétre de Dagon in Samson et Dalila and Simon Boccanegra...
,
Sherrill Milnes
Sherrill Milnes
Sherrill Milnes is an American operatic baritone most famous for his Verdi roles. From 1965 until 1997 he was associated with the Metropolitan Opera....
,
Leo Nucci
Leo Nucci
Leo Nucci is an Italian operatic baritone, particularly suited to Verdi roles.Born at Castiglione dei Pepoli, near Bologna, he studied with Giuseppe Marchese and made his stage debut in Spoleto, as Figaro in Il barbiere di Siviglia, in 1967, he then joined the chorus of La Scala in Milan, and...
,
Luciano Pavarotti
Luciano Pavarotti
right|thumb|Luciano Pavarotti performing at the opening of the Constantine Palace in [[Strelna]], 31 May 2003. The concert was part of the celebrations for the 300th anniversary of [[St...
,
Samuel Ramey
Samuel Ramey
Samuel Edward Ramey is an American operatic bass with a long, distinguished career.During his best years, he was greatly admired for his range and versatility, having possessed a sufficiently accomplished bel canto technique to enable him to sing the music of Handel, Mozart, Rossini, yet power...
,
Bo Skovhus
Bo Skovhus
Bo Skovhus is a Danish opera singer .Skovhus studied at the Royal Academy of Music in Aarhus, at the Royal Academy for Opera of Copenhagen and in New York with Oren Brown....
,
Thomas Stewart
Thomas Stewart
Thomas Stewart was an illegitimate son of King Robert II of Scotland. In 1380, Avignon Pope Clement VII provided Thomas with the Archdeaconry of the Bishopric of St. Andrews, as well as the canonry of Stobo in the Bishopric of Glasgow...
,
Norman Treigle
Norman Treigle
Norman Treigle was an American operatic bass-baritone, who was acclaimed for his great abilities as a singing-actor, and specialized in roles that evoked villainy and terror....
,
Richard Tucker
Richard Tucker
Richard Tucker was an American operatic tenor.-Early life:Tucker was born Rivn Ticker in Brooklyn, New York, into a family of Romanian immigrants from Bessarabia. His father, Shmul Ticker, and mother Fanya-Tsipa Ticker had already adopted the surname "Tucker" by the time their son entered first...
,
Ramón Vargas
Ramón Vargas
Ramón Vargas is an award-winning Mexican operatic tenor. Since his debut in the early '90s, he has developed to become one of the most acclaimed tenors of the 21st century. Known for his most expressive and agile lyric tenor voice, he is especially successful in the bel canto...
,
Jon Vickers
Jon Vickers
Jonathan Stewart Vickers, CC , known professionally as Jon Vickers, is a retired Canadian heldentenor.Born in Prince Albert, Saskatchewan, he was the sixth in a family of eight children. In 1950, he was awarded a scholarship to study opera at The Royal Conservatory of Music in Toronto...
,
Gosta Winbergh
Gösta Winbergh
Gösta Winbergh was a Swedish tenor and Mozart admirer.Winbergh was born in Stockholm. He is often mentioned as among Sweden's and, indeed, the world's finest tenors, included with Jussi Björling and Nicolai Gedda....
.
Josephine Barstow
Josephine Barstow
Dame Josephine Clare Barstow DBE is an English soprano.-Education and early career:Josephine Barstow was born in Sheffield and educated at the University of Birmingham. She made her professional debut with the touring company Opera for All in 1964...
,
Cecilia Bartoli
Cecilia Bartoli
Cecilia Bartoli is an Italian coloratura mezzo-soprano opera singer and recitalist. She is best-known for her interpretation of the music of Mozart and Rossini, as well as for her performances of lesser-known Baroque and classical music...
, Renate Behle,
Hildegard Behrens
Hildegard Behrens
Hildegard Behrens was a German soprano with a wide repertory including Wagner, Weber, Mozart, Richard Strauss, and Alban Berg roles.-Biography:...
,
Denyce Graves
Denyce Graves
Denyce Graves is an American mezzo-soprano opera singer.-Early life:Graves was born on March 7, 1964, to Charles Graves and Dorothy Graves-Kenner. She is the middle of three children and was raised by her mother on Galveston Street, S.W., in the Bellevue section of Washington...
,
Ghena Dimitrova
Ghena Dimitrova
Ghena Dimitrova was a Bulgarian operatic soprano. Her voice was known for its power and extension used in operatic roles such as Turandot in a career spanning four decades.-Early career:...
,
Mirella Freni
Mirella Freni
Mirella Freni, birth name Mirella Fregni, is an Italian opera soprano whose repertoire includes Verdi, Puccini, Mozart and Tchaikovsky...
,
Renée Fleming
Renée Fleming
Renée Fleming is an American soprano specializing in opera and lieder. Fleming has a full lyric soprano voice.Fleming has performed coloratura, lyric, and lighter spinto soprano repertoires. She has sung roles in Italian, German, French, Czech, and Russian, aside from her native English. She also...
,
Elizabeth Futral
Elizabeth Futral
Elizabeth Futral is an American coloratura soprano who has won acclaim throughout the United States as well as in Europe, South America, and Japan....
,
Susan Graham
Susan Graham
Susan Graham is an American mezzo-soprano.Raised in Midland, Texas, she is a graduate of Texas Tech University and the Manhattan School of Music. She studied the piano for 13 years...
,
Maria Guleghina
Maria Guleghina
Maria Agasovna Guleghina is a Ukrainian-Russian soprano opera singer, particularly associated with the Italian repertory.-Biography:Maria Guleghina was born in Odessa, Ukraine , to an Armenian father and a Ukrainian mother, where she studied voice at the Music Conservatory with Evgeny Nikolaevich...
,
Galina Gorchakova
Galina Gorchakova
-Beginnings:Gorchakova was born in Novokuznetsk to a musical family. She moved to Novosibirsk in Siberia with her parents who were singers at the opera house there. It was in that city that she attended music school, college and the Conservatoire from which she graduated in 1988...
,
Rita Gorr
Rita Gorr
Rita Gorr , is a Belgian operatic mezzo-soprano. She possessed a large, rich-toned voice and was an intense singing-actress, especially in dramatic roles such as Ortrud and Amneris , two of her greatest roles....
,
Marilyn Horne
Marilyn Horne
Marilyn Horne is an American mezzo-soprano opera singer. She specialized in roles requiring a large sound, beauty of tone, excellent breath support, and the ability to execute difficult coloratura passages....
,
Kiri Te Kanawa
Kiri Te Kanawa
Dame Kiri Jeanette Te Kanawa, ONZ, DBE, AC is a New Zealand / Māori soprano who has had a highly successful international opera career since 1968. Acclaimed as one of the most beloved sopranos in both the United States and Britain she possesses a warm full lyric soprano voice, singing a wide array...
,
Evelyn Lear
Evelyn Lear
Evelyn Lear is an American soprano and opera singer.During her career between 1959 and 1992, Evelyn Lear appeared in more than forty operatic roles, appeared with every major opera company in the US and won a Grammy Award in 1966...
,
Catherine Malfitano
Catherine Malfitano
Catherine Malfitano is an American operatic soprano. She is generally considered to be one of America's leading operatic sopranos...
,
Eva Marton
Éva Marton
Éva Marton is a Hungarian dramatic soprano, particularly known for her operatic portrayals of Puccini's Turandot and Tosca, and Wagnerian roles.- Vocal training and early years :...
Susanne Mentzer
Susanne Mentzer
Susanne Mentzer is an operatic mezzo-soprano. She is best known for singing trouser roles, such as Cherubino in Mozart's Le nozze di Figaro, Idamante in Mozart's Idomeneo, Octavian in Richard Strauss' Der Rosenkavalier and the composer in Strauss' Ariadne auf Naxos, as well as other music of...
,
Leontyne Price
Leontyne Price
Mary Violet Leontyne Price is an American soprano. Born and raised in the Deep South, she rose to international acclaim in the 1950s and 1960s, and was one of the first African Americans to become a leading artist at the Metropolitan Opera.One critic characterized Price's voice as "vibrant",...
,
Patricia Racette
Patricia Racette
Patricia Lynn Racette is an American operatic soprano. A winner of the Richard Tucker Award in 1998, she has been a regular presence at major opera houses internationally. Racette has enjoyed long-term partnerships with the San Francisco Opera, where she has been a regular performer since 1989,...
,
Regina Resnik
Regina Resnik
Regina Resnik is an American operatic singer.Regina Resnik, the American mezzo-soprano, started a dramatic career ten months after earning her B.A. in Music at Hunter College. The role was Lady Macbeth under Fritz Busch in December, 1942 with the New Opera Company. A few months later, she sang...
,
Leonie Rysanek
Leonie Rysanek
Leopoldine "Leonie" Rysanek was an Austrian dramatic soprano.-Biography:Rysanek was born in Vienna and made her operatic debut in 1949 in Innsbruck. In 1951 the Bayreuth Festival reopened and the new leader Wieland Wagner asked her to sing Sieglinde...
,
Beverly Sills
Beverly Sills
Beverly Sills was an American operatic soprano whose peak career was between the 1950s and 1970s. In her prime she was the only real rival to Joan Sutherland as the leading bel canto stylist...
, Elisabeth Soederstrom,
Renata Scotto
Renata Scotto
Renata Scotto is an Italian soprano and opera director.Recognized for her sense of style, musicality and as a remarkable singer-actress, Scotto is considered one of the preeminent singers of her generation, specializing in the bel canto repertoire with excursions into the verismo and Verdi...
,
Frederica von Stade
Frederica von Stade
Frederica von Stade is an American mezzo-soprano. Born in Somerville, New Jersey, she acquired the nickname "Flicka" in her childhood. Von Stade attended the Mannes College of Music in New York City. She made her debut with the Metropolitan Opera in 1970 and in 1971 appeared as Cherubino in The...
,
Joan Sutherland
Joan Sutherland
Dame Joan Alston Sutherland, OM, AC, DBE was an Australian dramatic coloratura soprano noted for her contribution to the renaissance of the bel canto repertoire from the late 1950s through to the 1980s....
, Ilona Tokody, Béatrice Uria-Monzon,
Carol Vaness
Carol Vaness
Carol Vaness is an American lyric soprano.Carol Vaness was born in San Diego and launched her professional career in 1977 with the San Francisco Opera...
,
Dunja Vejzovic
Dunja Vejzovic
Dunja Vejzovic , née Crnković, in Zagreb, Croatia, on October 20, 1943, is an acclaimed operatic soprano who began her career with the Zagreb National Theatre, where she made her "real" debut in 1970, as Ariel in Stjepan Šulek's Oluja...
,
Ingvar Wixell
Ingvar Wixell
Ingvar Wixell was a Swedish baritone who had an active international career in operas and concerts from 1955-2003. He mostly sang roles from the Italian repertory, and, according to The New York Times, "was best known for his steady-toned, riveting portrayals of the major baritone roles of...
and
Dolora Zajick
Dolora Zajick
Dolora Zajick is an American mezzo-soprano who specializes in the Verdian repertoire. Zajick is arguably the leading exponent in the dramatic Verdian mezzo-soprano repertoire....
.
HGO Studio
One of HGO's most visible and valued projects is its young artist development program, the Houston Grand Opera Studio. Founded in 1977 by composer
Carlisle Floyd
Carlisle Floyd
Carlisle Floyd is an American opera composer. The son of a Methodist minister, he based many of his works on themes from the South...
and HGO's then-General Director
David Gockley
David Gockley
David Gockley is an American opera company administrator. He served as general director of Houston Grand Opera from 1972 to 2005 and has been general director of San Francisco Opera since 2006.-Biography:...
, the mission of Houston Grand Opera Studio is to provide career development for young artists who have demonstrated potential to make major contributions to the opera/musical theater profession. The Studio's goal is to develop well-rounded professionals prepared for all performance aspects in the fields of opera and music theater and in all genres: traditional European operas, contemporary opera and works of musical theater by American composers from diverse cultural backgrounds, innovative interpretations of the standard repertoire, recitals, concerts with orchestra, and fully staged productions.
Houston Grand Opera's mainstage programming and annual Studio performances provide members with the widest range of performance opportunities and styles. The Houston Grand Opera Studio provides the necessary time, training and experience to aid each member's artistic development from promising student to practicing professional.
The Training and Development Process
Each season Houston Grand Opera Studio provides eight to twelve young artists with the opportunity to study and perform under a highly respected professional staff of teachers and performers. Studio artists commit themselves to an intense individualized study program while in residence in Houston from September through May. Classes in voice, acting, stage movement, diction and languages are scheduled regularly. Extensive individual coachings are part of the daily work and career counseling sessions are provided throughout the year. Special classes focusing on topics such as fight choreography, audition techniques, taxes and personal finance, Alexander technique, performer's stress management, public relations, and agent representation are conducted by experts in their field. Adjunct instructors include master coaches and conductors.
The Studio requires its artists to commit to the standards and demands of the profession. Because the training process is progressive and each member's artistic development is unique, the Studio program allows artists to continue their training over a two to three year period with opportunities for advanced study abroad. The mainstage performance exposure enables Studio artists to be reviewed individually by local, national and international press.
Performing Experience
Based upon their level of ability, the artists are assigned supporting roles in HGO's mainstage productions. Additional performance experience includes principal roles in student matinees, study cover assignments of major roles and paid public engagements for community outreach. These assignments provide the opportunity to learn major roles, expand repertoire and demonstrate individual abilities. Other opportunities include Studio-produced recitals, concerts, and occasionally, full scale productions.
The Studio recognizes performance experience with newer forms of music theater and in innovative stagings of standard repertoire as an essential training element in developing well-rounded professionals. Given HGO's commitment to commissioning and producing new works and the success of its Opera New World program, Studio artists are provided opportunities to create new roles and premiere new pieces.
Performing and Networking
Studio artists interact with professional singers, conductors, stage directors, designers and technicians of national and international acclaim and follow a standard rehearsal and production schedule for a major opera company. Houston Grand Opera arranges auditions for Studio artists throughout the year with artist management, visiting general directors of other opera companies, and guest conductors and stage directors.
HGOco
To re-establish the company's relevance to the community, in 2007 HGO established HGOco, a far-reaching initiative established to break down barriers to the arts by creating opportunities for observation, participation, and creation. The "co" in HGOco represents a focus on company, community, connection, and collaboration. Maximizing the resources of the entire company (staff, chorus, orchestra, designers, technicians, guest artists, etc.) and collaborating with kindred organizations, HGOco seeks to change the way people involve art in their lives. These efforts include all of HGO's education and community-engaging activities. In its first three years, HGOco has reached more than 600,000 people and collaborated with over 70 organizations throughout the Houston area. Among HGOco's programs are a wide range of performances outside the Wortham—361 in the 2009–2010 season.
Song of Houston
Houston's colorful past, present and future set the stage for HGOco's Song of Houston – an ongoing initiative that commissions works based on stories that define the unique character of our city.
Song of Houston makes opera relevant through stories that engage hearts and minds. These stories are told through local, national and international collaborative community and educational projects.
Commissions
The Refuge, Christopher Theofanidis and Leah Lax, 2007
Cruzar la Cara de la Luna / To Cross the Face of the Moon, Jose "Pepe" Martinez and Leonard Foglia, 2010
Courtside, Jack Perla and Eugene Chan, 2011
Your Name Means the Sea, Franghiz Alizadeh, 2011
Iranian Opera (new, untitled): composer, Farnoosh Moshir, 2012
Cambodian Opera (new, untitled): composer, Catherine Filoux, 2012.
Teacher Workshops
Each Teacher Workshop is an hour-long presentation and discussion on an HGO dress rehearsal, encouraging teachers to incorporate opera and the arts into their curriculum.
Storybook opera
In this 30-minute program, a singing artist presents an opera-based storybook to children grades Pre-K through 2. Presentations are available in English, Spanish or in a special Bilingual version. Standard repertoire includes Westward Ho, Carlotta by Candace Fleming, Opera Cat (or the Spanish version: Alma, la Gata de la Ópera) by Tess Weaver, The Dog Who Sang at the Opera by Jim West & Marshell Izen and El Gallo Bantam de la Ópera by Mary Jane Auch.
Opera to Go!
Opera to Go! presents fully staged, portable operas at schools and public venues around Houston, reaching over 50,000 students each year. The 45-minute-long shows are mostly in English and are designed specifically for elementary or high school audiences. Standard repertoire includes: Hänsel und Gretel, Cinderella in Spain,
Strega Nona
Strega Nona
Strega Nona is an original children's book written and illustrated by Tomie dePaola about an elderly lady who helps her fellow villagers out with their troubles, most notably by curing headaches, helping single women find husbands, and ridding people of warts...
,
The Princess and the Pea
The Princess and the Pea
"The Princess and the Pea" is a literary fairy tale by Hans Christian Andersen about a young woman whose royal identity is established by a test of her physical sensitivity. The tale was first published with three others by Andersen in an inexpensive booklet on 8 May 1835 in Copenhagen by C.A...
,
The Velveteen Rabbit
The Velveteen Rabbit
The Velveteen Rabbit or How Toys Become Real is a children's novel written by Margery Williams and illustrated by William Nicholson. It chronicles the story of a stuffed rabbit and his quest to become real through the love of his owner. The book was first published in 1922 and has been republished...
and
Romeo and Juliet
Romeo and Juliet
Romeo and Juliet is a tragedy written early in the career of playwright William Shakespeare about two young star-crossed lovers whose deaths ultimately unite their feuding families. It was among Shakespeare's most popular archetypal stories of young, teenage lovers.Romeo and Juliet belongs to a...
.
Student Performances
Students in grades 4 – 8 are invited to experience the magic of opera at the Wortham Theater Center in a Student Matinee, a two-hour version of a selected main-stage opera.
At High School Night, High School students have the opportunity to enjoy a full-length weeknight performance of a selected main-stage opera.
High School Voice Studio
The year-long scholarship program prepares eight high school seniors for their transition into a university or conservatory music program. After being selected from auditions held in their junior year, members train throughout their senior year in private weekly voice lessons, monthly master classes and vocal coachings. They present two recitals, the final recital being adjudicated with scholarships awarded to the top three finalists. All members meeting performance standards receive stipends to assist with college expenses.
Summer Camps
Through three different camps, HGOco hosts over 100 students in grades 3 – 12 at the Wortham Theater Center.
The Opera Experience – Campers develop a better understanding of healthy singing and improve music reading/theory skills by performing Broadway-Style songs.
Create an Opera – Campers write words, compose music, design and build sets, props and costumes, and perform their own opera based on a popular children's story.
The Art of Opera – Campers rehearse and perform a fully staged opera or music theater work.
Children's chorus
HGO's children's chorus provides outstanding opportunity for young, talented singers from the Houston area to perform in mainstage productions alongside leading artists.
Guild
Houston Grand Opera Guild was founded in October 1955 by Mr. and Mrs. William W. Bland, Mrs. Edger Haden, and Mrs. John L. Abercrombie. The mission of the HGO Guild is to promote and support Houston Grand Opera in all its activities. A non-profit organization with over 2,300 volunteer members who perform roles such as backstage tours, hosting artists, educational talks, fund raising events, and operating the Guild Boutique, HGO Guild is committed to fostering and encouraging an active, educated, and increasingly diverse audience to experience grand opera.
Throughout the year, the Guild offers a variety of educational activities introducing opera to school students. Forty five minute presentations have been developed for over 15 operas and include video clips and background notes which help students understand the history of the singers, opera composers and opera librettos. Each year the Houston Grand Opera schedules a High School Night and two Student Matinees from within one of the operas of the HGO season. By providing presentations for classes attending these operas, HGO Guild members help students increase their attention to and enjoyment of the opera. Other popular activities include panel discussions with distinguished speakers as well as awarding scholarships to young artists.
The work by the volunteers is also recognized, and each year the Guild honors volunteers who have made significant contributions to its programs as well as honoring non-members who has made singular contributions to the Guild or to the opera company itself. The Guild's Board of Directors oversees all the activities as well as manages its finances. Houston Grand Opera has been home to many of the great singers, conductors, directors, and designers since its inception in 1955. The HGO Guild has played an important and instrumental role in making Houston Grand Opera one of the premier opera companies in the world today.
Touring
The company has toured extensively both internationally and nationally The first national tour in 1975 to the Kennedy Center saw the company present
Scott Joplin
Scott Joplin
Scott Joplin was an American composer and pianist. Joplin achieved fame for his ragtime compositions, and was later dubbed "The King of Ragtime". During his brief career, Joplin wrote 44 original ragtime pieces, one ragtime ballet, and two operas...
's
Treemonisha
Treemonisha
Treemonisha is an opera composed by the famed African-American ragtime composer Scott Joplin. Though it encompasses a wide range of musical styles other than ragtime, and Joplin did not refer to it as such, it is sometimes incorrectly referred to as a "ragtime opera"...
, which was recorded by
Deutsche Grammophon
Deutsche Grammophon
Deutsche Grammophon is a German classical record label which was the foundation of the future corporation to be known as PolyGram. It is now part of Universal Music Group since its acquisition and absorption of PolyGram in 1999, and it is also UMG's oldest active label...
. This was quickly followed in 1976 by the national, Broadway and European tour of
George Gershwin
George Gershwin
George Gershwin was an American composer and pianist. Gershwin's compositions spanned both popular and classical genres, and his most popular melodies are widely known...
's
Porgy and Bess
Porgy and Bess
Porgy and Bess is an opera, first performed in 1935, with music by George Gershwin, libretto by DuBose Heyward, and lyrics by Ira Gershwin and DuBose Heyward. It was based on DuBose Heyward's novel Porgy and subsequent play of the same title, which he co-wrote with his wife Dorothy Heyward...
. During the same year and while
Porgy and Bess
Porgy and Bess
Porgy and Bess is an opera, first performed in 1935, with music by George Gershwin, libretto by DuBose Heyward, and lyrics by Ira Gershwin and DuBose Heyward. It was based on DuBose Heyward's novel Porgy and subsequent play of the same title, which he co-wrote with his wife Dorothy Heyward...
was playing on Broadway, HGO also presented a revival of another important American opera,
John Philip Sousa
John Philip Sousa
John Philip Sousa was an American composer and conductor of the late Romantic era, known particularly for American military and patriotic marches. Because of his mastery of march composition, he is known as "The March King" or the "American March King" due to his British counterpart Kenneth J....
's
El Capitan
El Capitan
El Capitan is a vertical rock formation in Yosemite National Park, located on the north side of Yosemite Valley, near its western end. The granite monolith extends about from base to summit along its tallest face, and is one of the world's favorite challenges for rock climbers.The formation was...
at the Kennedy Center.
The new staging of
Porgy and Bess
Porgy and Bess
Porgy and Bess is an opera, first performed in 1935, with music by George Gershwin, libretto by DuBose Heyward, and lyrics by Ira Gershwin and DuBose Heyward. It was based on DuBose Heyward's novel Porgy and subsequent play of the same title, which he co-wrote with his wife Dorothy Heyward...
with the complete Gershwin score was artistically acclaimed. As a consequence, it helped to turn public opinion around about the work, which was then recorded by
RCA Records
RCA Records
RCA Records is one of the flagship labels of Sony Music Entertainment. The RCA initials stand for Radio Corporation of America , which was the parent corporation from 1929 to 1985 and a partner from 1985 to 1986.RCA's Canadian unit is Sony's oldest label...
. HGO won a
Tony award
Tony Award
The Antoinette Perry Award for Excellence in Theatre, more commonly known as a Tony Award, recognizes achievement in live Broadway theatre. The awards are presented by the American Theatre Wing and The Broadway League at an annual ceremony in New York City. The awards are given for Broadway...
and a
Grammy Award
Grammy Award
A Grammy Award — or Grammy — is an accolade by the National Academy of Recording Arts and Sciences of the United States to recognize outstanding achievement in the music industry...
for the production – the only opera company to receive these illustrious prizes.
Internationally, HGO has performed at the Edinburgh Festival, Paris, Milan, Berlin, Cairo, Zurich, Genoa and Palermo, and to Japan, Canada and Israel.
In September 2011, HGO will present six performances of Cuzar la cara de la luna at the prestigious
Théâtre du Châtelet
Théâtre du Châtelet
The Théâtre du Châtelet is a theatre and opera house, located in the place du Châtelet in the 1st arrondissement of Paris, France.One of two theatres built on the site of a châtelet, a small castle or fortress, it was designed by Gabriel Davioud at the request of Baron Haussmann between 1860 and...
, Paris, France for their 2011-12 season. A specially commissioned work, Cruzar la cara de la luna is the world's first
Mariachi
Mariachi
Mariachi is a genre of music that originated in the State of Jalisco, in Mexico. It is an integration of stringed instruments highly influenced by the cultural impacts of the historical development of Western Mexico. Throughout the history of mariachi, musicians have experimented with brass, wind,...
opera.
Broadcast and Surtitles
In 1984, Houston Grand Opera began using surtitles on all non-English productions, becoming one of the first opera companies in the United States to do so. HGO's performances are broadcast nationally to an audience of 444,000 over the
WFMT
WFMT
WFMT is an FM radio station in Chicago, Illinois, featuring a format of fine arts, classical music programming, and shows exploring such genres as folk and jazz). The station is managed by Window To The World Communications, Inc., owner of WTTW, one of Chicago's two Public Broadcasting Service ...
Radio Network.
The Genevieve P. Demme Archives and Resource Center
In 1989, Houston Grand Opera became the first performing arts organization in Houston and the second major U.S opera company to establish its own archives and resources center. The facility preserves valuable materials from throughout the company's history. The archive houses 3500 linear feet of institutional records including programs, artists files, production records, audio and video recordings, financial records and photographic images in a wide range of formats. The archives and Resource Center is named for Genevieve P. Demme, a longtime member of the board of trustees and historian of Houston Grand Opera Association.
Wortham Theater Center
In 1987, HGO officially moved into its home at the Wortham Theater Center, a 437500 square feet (40,645.1 m²) facility featuring two theaters—the Alice and George Brown Theater and the Roy and Lillie Cullen Theater—which together comprise over 3,300 seats. The $72million state-of-the-art-facility was built entirely with private funds during a major downturn in Houston's economy and was given to the City of Houston which owns and operates the facility. In 1997, improvements were made to the Wortham Center that included the addition of 180 seats in the main orchestra section and the expansion and reconfiguration of the orchestra pit. Further renovations resulting in a major expansion of the orchestra pit were completed in 2005.
Nexus Initiative
The Nexus Initiative is a ground-breaking audience development program which will allow more Houston community members to experience the joy of live performance. Funded by a consortium of Houston's visionary corporate leaders, Nexus provides $10 tickets to eligible groups attending HGO for the first time such as, students, community, church, service and cultural organizations, and senior citizens. The Nexus Initiative also underwrites student matinees, High School Night, and HGO's radio broadcast. . The Nexus Initiative has received leadership support from
Anadarko Petroleum Corporation
Anadarko Petroleum Corporation
Anadarko Petroleum Corporation is one of the world's largest independent oil and gas exploration and production companies, with approximately 2.3 billion barrels of oil equivalent of proved reserves and production of 206 million BOE as of December 31, 2008. Anadarko employs a worldwide...
,
Chevron
Chevron Corporation
Chevron Corporation is an American multinational energy corporation headquartered in San Ramon, California, United States and active in more than 180 countries. It is engaged in every aspect of the oil, gas, and geothermal energy industries, including exploration and production; refining,...
and KPMG LLP.
World premieres
Your Name Means the Sea, Franghiz Alizadeh, 2011
Courtside, Jack Perla and Eugene Chan, 2011
Cruzar la Cara de la Luna / To Cross the Face of the Moon, Jose "Pepe" Martinez, 2010
A Way Home, Ethan Frederick Greene and Irene Keliher, 2010
Brief Encounter

Brief Encounter (opera)

Brief Encounter is an opera in two acts by composer André Previn. The English libretto by John Caird is based on Noël Coward's play Still Life and Coward's screenplay for the 1945 David Lean film Brief Encounter. Commissioned by the Houston Grand Opera, the opera premiered on May 1, 2009 in...


, André Previn

André Previn

André George Previn, KBE is an American pianist, conductor, and composer. He is considered one of the most versatile musicians in the world, and is the winner of four Academy Awards for his film work and ten Grammy Awards for his recordings. -Early Life:Previn was born in...


and John Caird

John Caird (director)

John Newport Caird is a British stage director and writer of plays, musicals and operas. He is an Honorary Associate Director of the Royal Shakespeare Company, a regular director with the Royal National Theatre of Great Britain and the Principal Guest Director of the Royal Dramatic Theatre,...


, 2009
Sleeping Beauty, Edward Charles Winkler, 2008 (OTG)
Last Acts

Last Acts

Last Acts is a chamber opera in two acts by Jake Heggie to a libretto by Gene Scheerwhich is based on the unpublished play Some Christmas Letters by Terrence McNally...


(Three Decembers), Jake Heggie

Jake Heggie

Jake Heggie is an American composer and pianist.Jake Heggie is the composer of the operas Dead Man Walking , The End of the Affair , At The Statue of Venus , To Hell and Back , and Moby-Dick , as well as the stage work For a Look or a Touch...


and Gene Scheer, 2008
The Refuge, Christopher Theofanidis and Leah Lax, 2007
Send (who are you? I love you), Michael John LaChiusa

Michael John LaChiusa

Michael John LaChiusa is an American musical theatre and opera composer, lyricist, and librettist. He is best known for complex, musically challenging shows such as Hello Again, Marie Christine, The Wild Party, and See What I Wanna See...


, 2006
Strega Nona, Mary Carol Warwick and Mary Ann Pendino, 2006 (OTG)
Lysistrata, or the Nude Goddess

Lysistrata (opera)

Lysistrata, or The Nude Goddess is an opera in two acts by composer Mark Adamo. The work is based on Aristophanes's fifth century play Lysistrata. The opera had its world premiere at the Houston Grand Opera on March 4, 2005. It was subsequently produced in March 2006 at the New York City...


, Mark Adamo

Mark Adamo

Mark Adamo is an Italian American composer and librettist born in Philadelphia, Pennsylvania. While he has composed the symphonic cantata "Late Victorians, "Four Angels: Concerto for Harp and Orchestra," and six substantial choral works, the composer's principal work has been for the opera house:...


, 2005
The Princess and the Pea, Mary Carol Warwick and Mary Ann Pendino, 2005 (OTG)
Salsipuedes, a tale of Love, War and Anchovies, Daniel Catán

Daniel Catán

Daniel Catán was a Mexican composer of Russian Sephardic Jewish descent known particularly for his operas and his creative friendship with the tenor Plácido Domingo.-Career:...


and Eliseo Alberto / Francisco Hinojosa, 2004
The End of the Affair

The End of the Affair (opera)

The End of the Affair is a chamber opera with music by Jake Heggie and a libretto by Heggie and Leonard Foglia.Based on the Graham Greene novel of the same title, it is set in London in 1944 and 1946 and focuses on Maurice and Sarah, who vows to end their illicit affair if his life is spared in a...


, Jake Heggie and Heather McDonald, 2004
The Velveteen Rabbit, Mary Carol Warwick and Kate Pogue, 2004 (OTG)
The Little Prince

The Little Prince (opera)

The Little Prince, subtitled A Magical Opera, is an opera in two acts by Rachel Portman to an English libretto by Nicholas Wright, based on the 1943 book of the same name by Antoine de Saint-Exupéry...


, Rachel Portman

Rachel Portman

Rachel Mary Berkeley Portman, OBE is a British composer, best known for her film work. She was the first female composer to win an Academy Award in the category of Best Original Score...


and Nicholas Wright

Nicholas Wright (playwright)

Nicholas Wright is a British dramatist. He opened and ran the Theatre Upstairs at the Royal Court Theatre, was joint artistic director of the Royal Court and is a former literary manager and associate director of the Royal National Theatre. Wright began acting as a child, and trained at The...


, 2003
Sibanda!, Michael Remson, 2003 (OTG)
The Emperor's New Clothes, Mary Carol Warwick and Kate Pogue, 2001 (OTG)
Cold Sassy Tree

Cold Sassy Tree (opera)

Cold Sassy Tree is an opera composed by Carlisle Floyd, based on the 1984 novel by Olive Ann Burns.Cold Sassy Tree was Floyd's tenth opera and his first comic opera. It had its world premiere on April 14, 2000, at the Houston Grand Opera, with a production staged by Australian filmmaker Bruce...


, Carlisle Floyd

Carlisle Floyd

Carlisle Floyd is an American opera composer. The son of a Methodist minister, he based many of his works on themes from the South...


, 2000
Resurrection, Tod Machover

Tod Machover

Tod Machover , is a composer and an innovator in the application of technology in music. He is the son of Wilma Machover, a pianist and Carl Machover, a computer scientist....


and Laura Harrington

Laura Harrington

Laura Harrington is an American actress.Harrington is perhaps best known for her role as the main character's sister in the 1993 film What's Eating Gilbert Grape. Her character was aged around 20 though the actress herself was 35 at the time...


with additional materials by Braham Murray, 1999
Little Women

Little Women (opera)

Little Women is the first opera composed by American composer Mark Adamo to his own libretto after Louisa May Alcott's tale of growing up in New England after the American Civil War, Little Women. The opera also includes text by John Bunyan , Johann Wolfgang von Goethe Little Women (1998) is the...


, Mark Adamo, 1998 (HGOS)
Cinderella in Spain/Cinderella en España, Mary Carol Warwick and Kate Pogue, 1998 (OTG)
Jackie O

Jackie O (opera)

Jackie O is a chamber opera in two acts composed by Michael Daugherty to a libretto by Wayne Koestenbaum. The 90 minute work, commissioned by Houston Grand Opera in 1995 and premiered in 1997, is inspired by American musical and popular culture of the late 1960s and episodes in the life of...


, Michael Daugherty

Michael Daugherty

Michael Kevin Daugherty is an American composer, pianist, and teacher. Influenced by popular culture, Romanticism, and Postmodernism, Daugherty is one of the most colorful and widely performed American concert music composers of his generation...


and Wayne Koestenbaum

Wayne Koestenbaum

Wayne Koestenbaum is an American poet and cultural critic. He received a B.A. from Harvard University, an M.A. from Johns Hopkins University, and a Ph.D. from Princeton University...


, 1997 (HGOS)
Florencia en el Amazonas

Florencia en el Amazonas

Florencia en el Amazonas is an opera in two acts composed by Daniel Catán. It contains elements of magical realism in the style of Gabriel García Márquez and uses a libretto by Marcela Fuentes-Berain, one of his pupils...


, Daniel Catán and Marcela Fuentes-Berain, 1996
The Tibetan Book of the Dead, a liberation through hearing, Ricky Ian Gordon

Ricky Ian Gordon

Ricky Ian Gordon is an American composer of songs, stage musicals and opera. The death of his lover from AIDS inspired Dream True and Orpheus and Euridice...


and Jean-Claude van Itallie, 1996 (HGOS)
Puppy and the Big Guy, Sterling Tinsley and Kate Pogue, 1995 (OTG)
Harvey Milk, Stewart Wallace

Stewart Wallace

Stewart Wallace is an American composer and cantor. He has spent much of his career composing experimental operas, from the dance-centered Kabbalah to the surrealist Hopper's Wife...


and Michael Korie, 1995
The Outcast (fully realized version), Noa Ain, 1994
The Dracula Diary, Robert Moran

Robert Moran

Robert Moran is an American composer of operas and ballets as well as numerous orchestral, vocal, chamber and dance works.-Life:...


and James Skofield, 1994 (HGOS)
TEXAS!, Mary Carol Warwick and Kate Pogue, 1993 (OTG)
The Achilles Heel, Craig Bohmler and Mary Carol Warwick, 1993 (TOT)
Desert of Roses, Robert Moran and Michael John LaChiusa, 1992
ATLAS: an opera in three parts, Meredith Monk

Meredith Monk

Meredith Jane Monk is an American composer, performer, director, vocalist, filmmaker, and choreographer. Since the 1960s, Monk has created multi-disciplinary works which combine music, theatre, and dance, recording extensively for ECM Records.-Life and work:Meredith Monk is primarily known for her...


, 1991
The Passion of Jonathan Wade (new version), Carlisle Floyd, 1991
New Year

New Year (opera)

New Year is an opera in three acts by composer Michael Tippett, who wrote his own libretto. It was first performed by Houston Grand Opera on 27 October 1989, in a production by Peter Hall....


, Sir Michael Tippett

Michael Tippett

Sir Michael Kemp Tippett OM CH CBE was an English composer.In his long career he produced a large body of work, including five operas, three large-scale choral works, four symphonies, five string quartets, four piano sonatas, concertos and concertante works, song cycles and incidental music...


, 1989
Where's Dick?, Stewart Wallace and Michael Korie, 1989 (TOT)
The Making of the Representative for Planet 8

The Making Of The Representative For Planet 8 (opera)

The Making of the Representative for Planet 8 is a full-scale opera by Philip Glass with a libretto by Doris Lessing.The opera was co-commissioned by English National Opera, Houston Grand Opera, Het Muziektheater, Amsterdam and Theater Kiel, and co-produced with Artpark, Lewiston, New York...


, Philip Glass

Philip Glass

Philip Glass is an American composer. He is considered to be one of the most influential composers of the late 20th century and is widely acknowledged as a composer who has brought art music to the public .His music is often described as minimalist, along with...


and Doris Lessing

Doris Lessing

Doris May Lessing CH is a British writer. Her novels include The Grass is Singing, The Golden Notebook, and five novels collectively known as Canopus in Argos....


, 1988
Nixon in China

Nixon in China (opera)

Nixon in China is an opera in three acts by John Adams, with a libretto by Alice Goodman. Adams' first opera, it was inspired by the 1972 visit to China by US President Richard Nixon. The work premiered at the Houston Grand Opera on October 22, 1987, in a production by Peter Sellars with...


, John Adams and Alice Goodman

Alice Goodman

Alice Goodman , American poet, was educated at Harvard University and Cambridge where she studied English and American literature. She received her Master of Divinity degree from the Boston University School of Theology. She has written the libretti for two of the operas of John Adams, Nixon in...


, 1987
A Quiet Place

A Quiet Place

A Quiet Place is an American opera in three acts, with music by Leonard Bernstein to a libretto by Stephen Wadsworth. The work is a sequel to Bernstein's 1951 short opera Trouble in Tahiti. In its initial form A Quiet Place was in one act; the premiere, on June 17, 1983, was a double bill: Trouble...


, Leonard Bernstein

Leonard Bernstein

Leonard Bernstein August 25, 1918 – October 14, 1990) was an American conductor, composer, author, music lecturer and pianist. He was among the first conductors born and educated in the United States of America to receive worldwide acclaim...


and Stephen Wadsworth, 1983
Starbird, Henry Mollicone

Henry Mollicone

Henry Mollicone is an American composer and musical instructor. He currently resides in Saratoga, California.-Career:Mollicone is known for his one-act operas, including Emperor Norton, Starbird, and The Mask of Evil. One of his most popular works is the one-act chamber opera The Face on the...


and Kate Pogue, 1980 (TOT)
Willie Stark, Carlisle Floyd, 1981
Bilby's Doll, Carlisle Floyd, 1976
The Seagull

The Seagull (opera)

The Seagull is an opera in 3 acts by Thomas Pasatieri to an English libretto by Kenward Elmslie. The plot is based on Anton Chekhov's 1896 play, The Seagull.-Performance History:...


, Thomas Pasatieri

Thomas Pasatieri

Thomas Pasatieri is an American opera composer.He began composing at age 10 and, as a teenager, studied with Nadia Boulanger...


and Kenward Elmslie

Kenward Elmslie

Kenward Gray Elmslie is an American writer, performer, editor and publisher associated with the New York School of poetry.-Life and career:...


, 1974
American premieres
Akhnaten

Akhnaten (opera)

Akhnaten is an opera in three acts based on the life and religious convictions of the pharaoh Akhenaten , written by the American minimalist composer Philip Glass in 1983. Akhnaten had its world premiere on March 24, 1984 at the Stuttgart State Opera, under the German title Echnaton...


, Philip Glass, 1984
La donna del lago

La donna del lago

La donna del lago is an opera by Gioachino Rossini with a libretto by Andrea Leone Tottola, based on The Lady of the Lake, a poem by Sir Walter Scott.This opera was the first to be based on Scott's romantic works...


(new critical edition), Gioacchino Rossini

Gioacchino Rossini

Gioachino Antonio Rossini was an Italian composer who wrote 39 operas as well as sacred music, chamber music, songs, and some instrumental and piano pieces...


, 1981
The Panther, Philip Glass, 1981 (HGOS)
Robinson Crusoé

Robinson Crusoé

Robinson Crusoé is an opéra comique, or operetta, by Jacques Offenbach.The French libretto was written by Eugène Cormon and Hector-Jonathan Crémieux, which was loosely adapted from the novel Robinson Crusoe by Daniel Defoe, though the work owes more to British pantomime than to the book...


, Jacques Offenbach

Jacques Offenbach

Jacques Offenbach was a Prussian-born French composer, cellist and impresario. He is remembered for his nearly 100 operettas of the 1850s–1870s and his uncompleted opera The Tales of Hoffmann. He was a powerful influence on later composers of the operetta genre, particularly Johann Strauss, Jr....


, 1977 (TOT)
Rinaldo

Rinaldo (opera)

Rinaldo is an opera by George Frideric Handel composed in 1711. It is the first Italian language opera written specifically for the London stage. The libretto was prepared by Giacomo Rossi from a scenario provided by Aaron Hill. The work was first performed at the Queen's Theatre in London's...


(stage premiere), George Frideric Handel

George Frideric Handel

George Frideric Handel was a German-British Baroque composer, famous for his operas, oratorios, anthems and organ concertos. Handel was born in 1685, in a family indifferent to music...


, 1975
OTG = work was premiered by Opera to Go!
TOT = work was premiered by Texas Opera Theater, HGO's former touring company
HGOS = work was premiered by Houston Grand Opera Studio
Audio Recordings
Three Decembers: Last Acts, Albany, 2008
The Refuge, Albany, 2008
Cold Sassy Tree, Albany, 2005
Of Mice and Men, Albany, 2004
Florencia en el Amazonas, Albany, 2002
Resurrection, Albany, 2002
Little Women, Ondine, 2001
Jackie O, Argo/Decca, 1997
Song of Majnun, Delos, 1997
The Dracula Diary, Catalyst/BMG, 1994
ATLAS: an opera in three parts, ECM, 1992
Nixon in China, Nonesuch, 1988
Treemonisha, Deutsche Grammophon, 1982
Porgy and Bess, RCA, 1976
Nationally Televised Productions
Little Women, PBS's Great Performances, August 2001
La Cenerentola, PBS's Great Performances, April 1996
Nixon in China, PBS's Great Performances, April 1988
Aida, PBS's Great Performances, October 1987
Treemonisha, PBS, February 1986
Willie Stark, PBS's Great Performances, October 1981
Video Recordings
Little Women, Naxos, DVD, 2010
La Cenerentola, London/Decca,VHS and DVD, 1996
Treemonisha, Kultur Video, VHS, 1982
Radio Broadcasts
WFMT Radio Network, 2007–present
Australian Broadcast Corporation broadcasts HGO's performances, 2003
European Broadcast Union broadcasts HGO's performances, 2002–present
New York City's WQXR broadcasts HGO's performances, 2002–present>
NPR's World of Opera broadcasts HGO's performances nationally, 1999–2007
KUHF 88.7FM broadcasts HGO's seasons locally, 1996–1999
KRTS 92.1FM broadcasts HGO's seasons locally, 1987–1995
Emmy Awards
Hitting the High Cs, Marion Kessell and Rick Christie, 1998
Nixon in China, John Adams and Alice Goodman, 1987
Grammy Awards
Nixon in China, John Adams and Alice Goodman, 1987
Porgy and Bess, George Gershwin and DuBose Heyward, 1976
External links
Sources