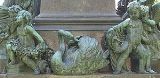 Fidelio
Fidelio
is a German opera in two acts by
Ludwig van Beethoven
Ludwig van Beethoven
Ludwig van Beethoven was a German composer and pianist. A crucial figure in the transition between the Classical and Romantic eras in Western art music, he remains one of the most famous and influential composers of all time.Born in Bonn, then the capital of the Electorate of Cologne and part of...
. It is Beethoven's only opera. The German
libretto
Libretto
A libretto is the text used in an extended musical work such as an opera, operetta, masque, oratorio, cantata, or musical. The term "libretto" is also sometimes used to refer to the text of major liturgical works, such as mass, requiem, and sacred cantata, or even the story line of a...
is by Joseph Sonnleithner from the French of
Jean-Nicolas Bouilly
Jean-Nicolas Bouilly
Jean-Nicolas Bouilly was a French playwright, librettist, children's writer, and politician of the French Revolution...
which had been used for the 1798 opera Léonore, ou L'amour conjugal by
Pierre Gaveaux
Pierre Gaveaux
Pierre Gaveaux was a French operatic tenor and composer, notable for creating the role of Jason in Cherubini's Médée and for composing the first operatic version of the story that later found fame as Fidelio....
, and for the 1804 opera
Leonora
Leonora (opera)
Leonora, ossia L'amore coniugale is an opera in two acts by the Italian composer Ferdinando Paer. The libretto, by Giovanni Schmidt, is based on Léonore ou L'Amour conjugal by Jean-Nicolas Bouilly, which was also the source of Beethoven's Fidelio...
by
Ferdinando Paer
Ferdinando Paer
-Biography:Paer was born at Parma. His father was a trumpeter with the Ducal Bodyguards and also performed at church and court events. His name, Ferdinando, was after Duke Ferdinand of Parma and was given to him by Archduchess Maria Amalia of Austria, Duke Ferdinand's wife...
(a score of which was owned by Beethoven). The opera tells how Leonore, disguised as a prison guard named "Fidelio", rescues her husband Florestan from death in a political prison.
Bouilly's scenario fits Beethoven's aesthetic and political outlook: a story of personal sacrifice, heroism and eventual triumph (the usual topics of Beethoven's "middle period") with its underlying struggle for liberty and justice mirroring contemporary political movements in Europe.
As elsewhere in Beethoven's vocal music, the music is not especially kind to the singers.