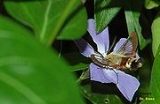 Hemaris tityus
Hemaris tityus
, the
Narrow-bordered Bee Hawk-moth
, is one of two similar species of
sphingid moth
Sphingidae
Sphingidae is a family of moths , commonly known as hawk moths, sphinx moths and hornworms, that includes about 1,200 species . It is best represented in the tropics but there are species in every region . They are moderate to large in size and are distinguished among moths for their rapid,...
occurring in Britain that closely mimic a
bumblebee
Bumblebee
A bumble bee is any member of the bee genus Bombus, in the family Apidae. There are over 250 known species, existing primarily in the Northern Hemisphere although they are common in New Zealand and in the Australian state of Tasmania.Bumble bees are social insects that are characterised by black...
. It has a wide range, from
Ireland
Ireland
Ireland is an island to the northwest of continental Europe. It is the third-largest island in Europe and the twentieth-largest island on Earth...
across temperate
Europe
Europe
Europe is, by convention, one of the world's seven continents. Comprising the westernmost peninsula of Eurasia, Europe is generally 'divided' from Asia to its east by the watershed divides of the Ural and Caucasus Mountains, the Ural River, the Caspian and Black Seas, and the waterways connecting...
to the
Ural Mountains
Ural Mountains
The Ural Mountains , or simply the Urals, are a mountain range that runs approximately from north to south through western Russia, from the coast of the Arctic Ocean to the Ural River and northwestern Kazakhstan. Their eastern side is usually considered the natural boundary between Europe and Asia...
, western
Siberia
Siberia
Siberia is an extensive region constituting almost all of Northern Asia. Comprising the central and eastern portion of the Russian Federation, it was part of the Soviet Union from its beginning, as its predecessor states, the Tsardom of Russia and the Russian Empire, conquered it during the 16th...
,
Novosibirsk
Novosibirsk
Novosibirsk is the third-largest city in Russia, after Moscow and Saint Petersburg, and the largest city of Siberia, with a population of 1,473,737 . It is the administrative center of Novosibirsk Oblast as well as of the Siberian Federal District...
and the
Altai
Altai Republic
Altai Republic is a federal subject of Russia . Its capital is the town of Gorno-Altaysk. The area of the republic is . Population: -Geography:...
. It is also known from the Tian Shan eastwards across
Mongolia
Mongolia
Mongolia is a landlocked country in East and Central Asia. It is bordered by Russia to the north and China to the south, east and west. Although Mongolia does not share a border with Kazakhstan, its western-most point is only from Kazakhstan's eastern tip. Ulan Bator, the capital and largest...
to north-eastern
China
China
Chinese civilization may refer to:* China for more general discussion of the country.* Chinese culture* Greater China, the transnational community of ethnic Chinese.* History of China* Sinosphere, the area historically affected by Chinese culture...
and southwards to
Tibet
Tibet
Tibet is a plateau region in Asia, north-east of the Himalayas. It is the traditional homeland of the Tibetan people as well as some other ethnic groups such as Monpas, Qiang, and Lhobas, and is now also inhabited by considerable numbers of Han and Hui people...
. There is a separate population found from
Turkey
Turkey
Turkey , known officially as the Republic of Turkey , is a Eurasian country located in Western Asia and in East Thrace in Southeastern Europe...
to northern
Iran
Iran
Iran , officially the Islamic Republic of Iran , is a country in Southern and Western Asia. The name "Iran" has been in use natively since the Sassanian era and came into use internationally in 1935, before which the country was known to the Western world as Persia...
.
It appears in May and June and is a lively day-flier (unlike most other sphingids), generally active from mid-morning to mid-afternoon.
It frequents marshy woodland and damp moorland, and has a wide distribution across temperate Europe and Western Asia, but is generally quite scarce.
The larvae feed on devil's-bit scabious (
Succisa pratensis
Succisa pratensis
Succisa pratensis Moench, also known as Devil's-bit Scabious, is a flowering plant of the genus Succisa in the family Dipsacaceae. It differs from other similar species in that it has 4 lobed flowers, whereas Small Scabious and Field scabious have 5 lobes and hence it has been placed in a separate...
) and field scabious (
Knautia arvensis
Knautia arvensis
Knautia arvensis, commonly known as Field Scabious, is a species in the genus Knautia.It is a perennial plant that grows between 25 and 100 cm. It prefers grassy places and dry soils, avoiding heavy soils, and flowers between July and September. The flowered head is flatter than similar...
).
Wingspan 40–50 mm (1.6–2 ).