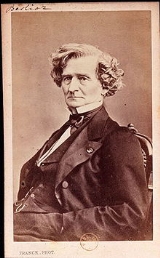 Hector Berlioz
Hector Berlioz
was a French
Romantic
Romantic music
Romantic music or music in the Romantic Period is a musicological and artistic term referring to a particular period, theory, compositional practice, and canon in Western music history, from 1810 to 1900....
composer, best known for his compositions
Symphonie fantastique
Symphonie Fantastique
Symphonie Fantastique: Épisode de la vie d'un Artiste...en cinq parties , Op. 14, is a program symphony written by the French composer Hector Berlioz in 1830. It is one of the most important and representative pieces of the early Romantic period, and is still very popular with concert audiences...
and
Grande messe des morts
Requiem (Berlioz)
The Grande Messe des morts, Op. 5 by Hector Berlioz was composed in 1837. The Grande Messe des Morts is one of Berlioz's best-known works, with a tremendous orchestration of woodwind and brass instruments, including four antiphonal offstage brass ensembles placed at the corners of the concert stage...
(Requiem). Berlioz made significant contributions to the modern orchestra with his
Treatise on Instrumentation
Treatise on Instrumentation
Grand traité d'instrumentation et d'orchestration modernes, abbreviated in English as the Treatise on Instrumentation is a technical study of Western musical instruments, written by Hector Berlioz...
. He specified huge orchestral forces for some of his works; as a conductor, he performed several concerts with more than 1,000 musicians. He also composed around 50 songs. His influence was critical for the further development of
Romanticism
Romanticism
Romanticism was an artistic, literary and intellectual movement that originated in the second half of the 18th century in Europe, and gained strength in reaction to the Industrial Revolution...
, especially in composers like
Richard Wagner
Richard Wagner
Wilhelm Richard Wagner was a German composer, conductor, theatre director, philosopher, music theorist, poet, essayist and writer primarily known for his operas...
,
Nikolai Rimsky-Korsakov
Nikolai Rimsky-Korsakov
Nikolai Andreyevich Rimsky-Korsakov was a Russian composer, and a member of the group of composers known as The Five.The Five, also known as The Mighty Handful or The Mighty Coterie, refers to a circle of composers who met in Saint Petersburg, Russia, in the years 1856–1870: Mily Balakirev , César...
,
Franz Liszt
Franz Liszt
Franz Liszt ; ), was a 19th-century Hungarian composer, pianist, conductor, and teacher.Liszt became renowned in Europe during the nineteenth century for his virtuosic skill as a pianist. He was said by his contemporaries to have been the most technically advanced pianist of his age...
,
Richard Strauss
Richard Strauss
Richard Georg Strauss was a leading German composer of the late Romantic and early modern eras. He is known for his operas, which include Der Rosenkavalier and Salome; his Lieder, especially his Four Last Songs; and his tone poems and orchestral works, such as Death and Transfiguration, Till...
,
Gustav Mahler
Gustav Mahler
Gustav Mahler was a late-Romantic Austrian composer and one of the leading conductors of his generation. He was born in the village of Kalischt, Bohemia, in what was then Austria-Hungary, now Kaliště in the Czech Republic...
and many others.
Hector Berlioz was born in France at
La Côte-Saint-André
La Côte-Saint-André
La Côte-Saint-André is a commune in the Isère department in south-eastern France.-See also:*Communes of the Isère department...
in the
département
of
Isère
Isère
Isère is a department in the Rhône-Alpes region in the east of France named after the river Isère.- History :Isère is one of the original 83 departments created during the French Revolution on March 4, 1790. It was created from part of the former province of Dauphiné...
, near
Grenoble
Grenoble
Grenoble is a city in southeastern France, at the foot of the French Alps where the river Drac joins the Isère. Located in the Rhône-Alpes region, Grenoble is the capital of the department of Isère...
.