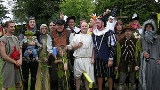 Costume party
A
fancy dress party
or a
costume party
(
American English
American English
American English is a set of dialects of the English language used mostly in the United States. Approximately two-thirds of the world's native speakers of English live in the United States....
), mainly in contemporary
Western culture
Western culture
Western culture, sometimes equated with Western civilization or European civilization, refers to cultures of European origin and is used very broadly to refer to a heritage of social norms, ethical values, traditional customs, religious beliefs, political systems, and specific artifacts and...
, is a type of
party
Party
A party is a gathering of people who have been invited by a host for the purposes of socializing, conversation, or recreation. A party will typically feature food and beverages, and often music and dancing as well....
where guests dress up in a
costume
Costume
The term costume can refer to wardrobe and dress in general, or to the distinctive style of dress of a particular people, class, or period. Costume may also refer to the artistic arrangement of accessories in a picture, statue, poem, or play, appropriate to the time, place, or other circumstances...
.
The origins of fancy dress parties in the UK can in some respects be traced to
masked balls
Masquerade ball
A masquerade ball is an event which the participants attend in costume wearing a mask. - History :...
of the 18th century period,
although Fancy Dress parties of the modern kind are a largely Victorian conception expanded upon by the Edwardians.
Notable amongst early events in the 20th century was the Chelsea Arts ball.